Now that America's longest war has come to an end, what does the future of warfare look like?
That was the focus of many questions put to a panel of former and current military officers Thursday night at the Southeast Armed Services YMCA during a community conversation hosted by The Gazette and KKTV.
"I believe … the next major conflict will start in cyber," rather than land, sea, air or space, said Lt. Gen. (Ret.) Harry Raduege. "It will be attacks against our information and ability to pass information."
"There is nothing in the Army today, or the Navy or the Air Force, or space that doesn't depend on the operational domain of cyberspace and that's why it has become so critically important," added Raduege, who served more than 30 years in the Air Force in a variety of roles in information technology and cyber operations is now CEO of the National Cybersecurity Center, a Colorado Springs-based think tank that focuses on information security and blockchain technology.
"You can imagine what would happen with an attack on GPS satellites, or our early-warning satellites to determine whether or not there is a missile attack that's being aimed at us."
Col. (Ret.) Schuyler Foerster – visiting professor of political science at Colorado College and former Scowcroft Professor for National Security Studies at the Air Force Academy – agreed.
"If you are Russia or China and you want to weaken America's democrat institutions, the military force that you might have used 50 years ago is too dangerous," he said. "Cyber becomes not only the possible first step … it might be the only necessary step."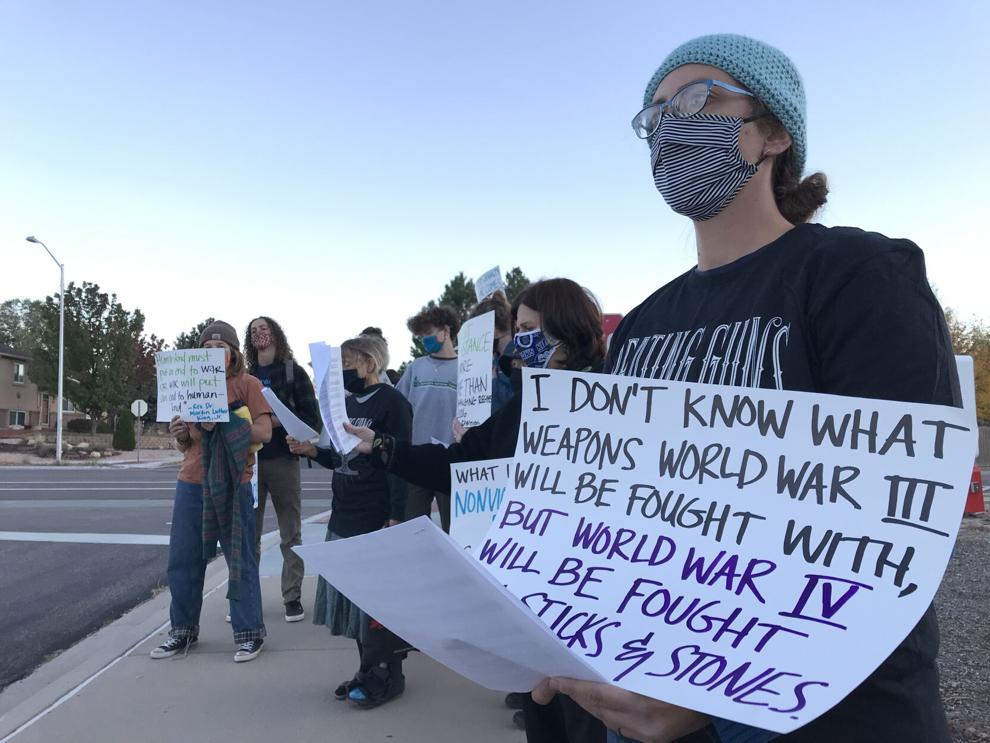 The threat posed by China was also a dominant theme of the panel discussion Thursday. Top U.S. military commander Gen. Mark Milley confirmed Wednesday that this year China performed a nuclear-capable hypersonic weapons test, by launching a rocket into space, which orbited the Earth before re-entering the atmosphere and heading toward a target.
"What we saw was a very significant event of a test of a hypersonic weapon system, and it is very concerning," Milley told Bloomberg Television.
Panelist Lt. Gen. (Ret.) Chris Miller – former Air Force deputy chief of staff for strategic plans and programs and currently the Helen and Arthur E. Johnson Chair for the Study of Profession of Arms at the Academy – said America and others have been working toward hypersonic missiles for a long time.
"Every major military power has been working for years on developing hypersonic missile capability," he said. That's not news. It's really hard. Even if a successful test happened that doesn't mean a successful capability has been fielded."
Maj. Jamil Brown, the only active-duty member of the panel, serves in the Space Force and told the crowd that "Star Wars"-like conflict in space is unlikely, but the first salvos of space wars may have already been fired by countries developing anti-satellite weapons and stealing U.S. space technology. 
"When you start taking about what space conflict is going to look like, we have to be very careful about how we are talking about space," he said. "Are we going to see "Star Wars" tomorrow? No, we're not. But one could argue there have been a lot of small, little advances over the years that could potentially lead to a lot more confrontation and conflict."
Brown is an Academy Institute for Future Conflict fellow, political science instructor, and he coordinates future conflict research opportunities between faculty, cadets and potential partners.
The fifth and final panelist was Lt. Col. (Ret.) Kyleanne Hunter, a former AH-1W Super Cobra Marine Corps combat veteran. She is director of the Strategy and Warfare Center at the Air Force Academy and is an assistant professor of military and strategic studies.
She praised cadets for their dedication and commitment to this country.
"We still have 17- to 24-year-olds who despite the fact that they grew up here under a time of a forever war when they've never known a time the U.S. not be involved in armed conflict, and they are signing up at a time when they are being told that democracy is under attack," she said.
"Our biggest strength isn't just that we fit into a system of democracy, but that democracy is still an ideal that people are willing to die for everywhere around the world."
As many of the roughly 50 in attendance arrived for the discussion, a group of about two dozen war protesters stood on the sidewalk singing and holding signs.
Amy Zimbelman, a conference minister – something like a bishop – with Mountain States Mennonite Conference, which represents 17 churches in Colorado and New Mexico, stood next to fellow church members, peace and justice activists and Colorado College students.
The Colorado Springs resident had issue with the forum's title: After Afghanistan: The Future of Warfare.
"The way the conversation is framed makes it sound as though warfare is just a foregone conclusion," she said. "We need to look at other alternatives. We need to take seriously, active, non-violent resistance in our world."
Colorado College freshman Wiley Holbrooke, 19, of Telluride, and four friends recently completed a class titled: The Foundations of Radical Nonviolence.
"We learned about how to prioritize people," and "we believe war leads to more suffering," he said. 
The students and some of those holding signs outside sat through the 90-minute discussion and talked with panelists afterwards.