Defenders of ousted Air Force Academy Commandant Brig. Gen. Kristin Goodwin insist she's a victim of conspiracy.
Bitter staffers, they say, angered by Goodwin's insistence on hard work, have pushed investigations that led to a quick decision from a boss who never warned the Air Force's first openly gay general that she faced trouble.
Several Goodwin supporters have contacted The Gazette and related what they claim is the general's side of the story since she was removed from her post last week.
"She epitomizes what the Air Force wants from its commanders," said retired Col. Alex Mezynski, who has known Goodwin for 25 years.
Mezynski said she rose to general while showing a placid personality that others couldn't master.
"I wish I had her patience," he said.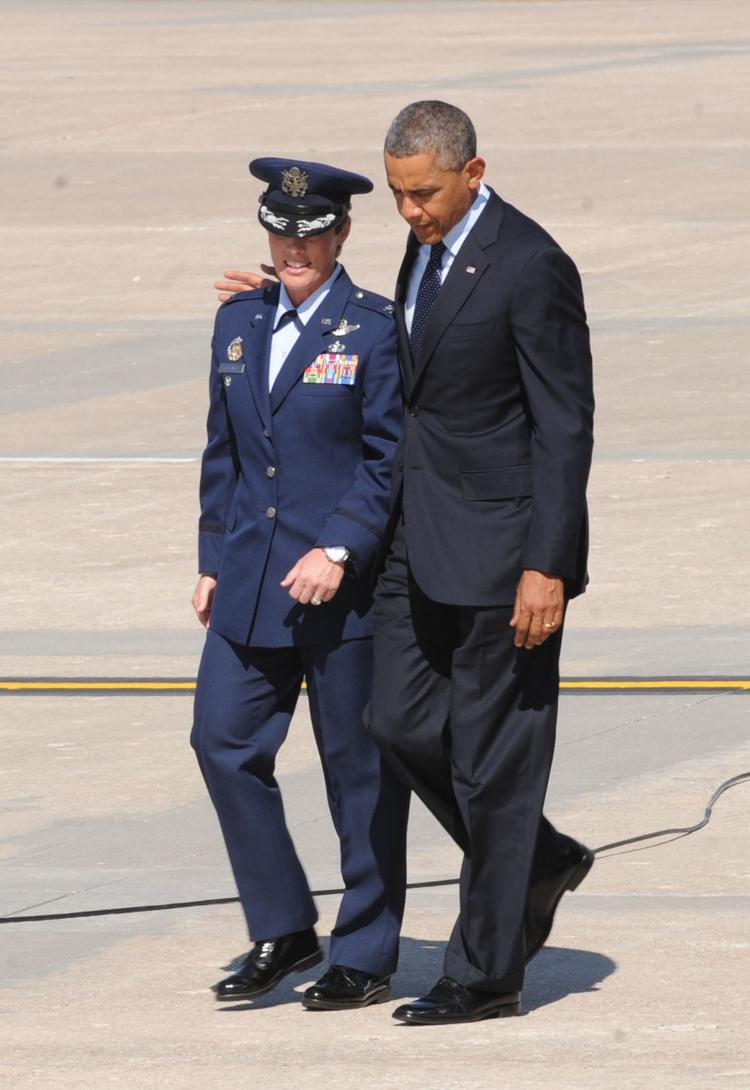 The supporters, most of whom talked to The Gazette on condition their names would not be used, portray Goodwin as calm, confident and determined to root out laziness within her staff, leading to her downfall. Some of them say they suspect the general's critics are angered by her sexual orientation as much as her conduct.
"Prior to the arrival of Gen. Goodwin, staff had self-selected the aspects of their jobs they wanted to do, while letting the remainder of their responsibilities slide," a sergeant at the academy wrote in an email. "Gen. Goodwin corrected this in short fashion, in turn causing consternation among the less-initiated."
Critics, however, have said Goodwin is at best caustic and at worst unstable.
The academy has said little about her ouster, as leaders cannot discuss an investigation into the general's conduct until it's completed by the Pentagon. Officers familiar with the Goodwin case say the investigation preceded an internal climate survey, which gave Goodwin bad marks for poor morale and lack of trust in her command.
A trailblazer's methodical rise
Goodwin's sudden fall contrasts with her steady rise, often boosted by high-level supporters and stellar efficiency reports that saw her grab some of the Air Force's most sought-after posts.
Classmates from Goodwin's academy days say the future general didn't stand out in her first tour in Colorado Springs. "Average" is a term they use. But she stood out when she had a parachute strapped to her back. As a member of the school's Wings of Blue parachute team, she piled up scores of jumps and honors for her precision in the sky.
Goodwin set her sights on staying in the sky after graduating. She pinned on her lieutenant's bars within days after the military lifted its ban on women in combat cockpits, and she began a career in one of the Air Force's more secretive aircraft, an electronic warfare variant of the venerable C-130 transport that's known as "Compass Call."
But Goodwin's ambitions went beyond flying. As a captain in 1999, she headed to the Pentagon for an assignment that would change her career. As an Air Force intern, she worked with the Pentagon's top brass and helped woo lawmakers. It was a two-year assignment that put her in the spotlight with the Pentagon's elite and led to an elite job.
Goodwin became one of fewer than 100 B-2 bomber pilots in the nation. Congress only bought 21 of the $2 billion stealthy planes that were designed during the Cold War to steal into Soviet airspace and deliver nuclear weapons. The plane's scarcity, diminutive crew of two and secretive systems and nuclear missions made flying the B-2 the Air Force's rarest pilot assignment.
That job was followed by more plum assignments, as a National Defense Fellow at the Pentagon and in a top policy post at Pacific Command in Hawaii.
She added her first command to a growing resume leading a squadron for the famed 509th Bomb Wing, renowned for dropping the only atomic weapons ever used in combat.
"I think it highlights how women are still breaking barriers," Goodwin said on taking the new job in 2010. "And that if we work hard, keep our eye on our dreams and don't give up, we can achieve opportunities out there that are still available."
By 2014, after serving at a think tank and as top aide to a four-star general, Goodwin landed another plum assignment: leading one of the Air Force's five bomb wings. As the first woman to lead a bomber wing and the first openly gay woman to take a command of that scope, Goodwin was something of a rock star at Barksdale Air Force Base in Louisiana during a period when the Pentagon and White House were focused on increasing diversity in the ranks.
"Bombers are the most visible and flexible key component of the nuclear enterprise," she said in an Air Force recruiting advertisement that held her up as a trailblazer.
From there, Goodwin got the nod as the Air Force's most-influential colonel: senior military adviser to Obama-era Air Force Secretary Deborah Lee James.
It was a post that led Goodwin to the academy and to the job she was set to get next: head of Air Force operations at the Pentagon.
Changing the tone at the academy
Goodwin came to the academy in 2017 to take over a role that some jokingly call a gap year for newly minted generals. The commandant of cadets oversees 4,000 would-be officers and 200 airmen.
As the head of military training at the school, the commandant makes sure basic training happens and cadets stay fit and out of jail.
Few commandants have made waves, and those who have usually paid a price.
Famed fighter pilot Robin Olds came home from Vietnam and famously gave cadets a one-finger salute as a form of introduction to his new regime to prepare cadets for war with tough military training. He was quickly told to shave his mustache and quit picking fights.
Taco Gilbert arrived in 2001 and famously cracked down on discipline in the cadet wing. From pornography to purloined textbooks, cadets faced his wrath at a record clip. He was removed as commandant in 2003 amid a sexual assault scandal. Critics said Gilbert compared a rape victim who had been drinking to walking down a dark alley "with $100 bills hanging out of my pockets."
While the commandant's post is seen as a launchpad to a third and fourth star, Gilbert and Olds retired as brigadiers.
Those cautionary tales didn't faze Goodwin as she took the commandant's post. Privileges offered in the more permissive past to cadets were revoked and tough training ensued.
"One of her themes that applies to cadets, staff and all the agencies that support the mission of the academy is 'Don't Walk Past a Problem,'" the school's civilian oversight board said of the new commandant. "Gen. Goodwin emphasized accountability is needed in the Cadet Wing and the permanent party. Training was the order of the day."
Critics say Goodwin came across as cool and nearly callous. She's known by friends and enemies for being undemonstrative.
And supporters say her policies, while militarily sound, created critics.
"Gen. Goodwin created discomfort for a fair amount of individuals upon taking the mantle as commandant," a supporter said.
Critics say the general's singular drive for higher standards and higher office created a toxic environment.
Goodwin's B-2 call sign was "Duchess." Behind her back, critics, including cadets, turned the call sign against her by appending the word "the" before her royal nickname.
Several complaints have arisen during Goodwin's two years at the academy, including other investigations carried out by the Air Force Inspector General's Pentagon arm that were deemed insufficient for action.
Her supporters say those complaints were easily slapped down, and Goodwin was told the latest claims brought by academy workers and airmen would meet the same fate.
Her many backers say it would shock them if claims of misconduct by Goodwin were found to be true.
"She is a great officer," a supporter said in an email. "Always very professional."
Goodwin was stunned when her boss, academy Superintendent Lt. Gen. Jay Silveria, removed her from her post. It's the rarest of moves — relieving a general officer a month before they are scheduled to change jobs.
While the academy's leaders say the investigation prevents them from discussing the allegations, Silveria offered an explanation Friday, albeit an incomplete one.
"The Air Force rightly holds commanders to an extremely high standard and thoroughly investigates any allegation brought forward. This is not something that is done lightly," Silveria said in an email. "This is about ensuring a healthy command climate for our cadets and the people who work in the cadet wing."
Leaving on a high note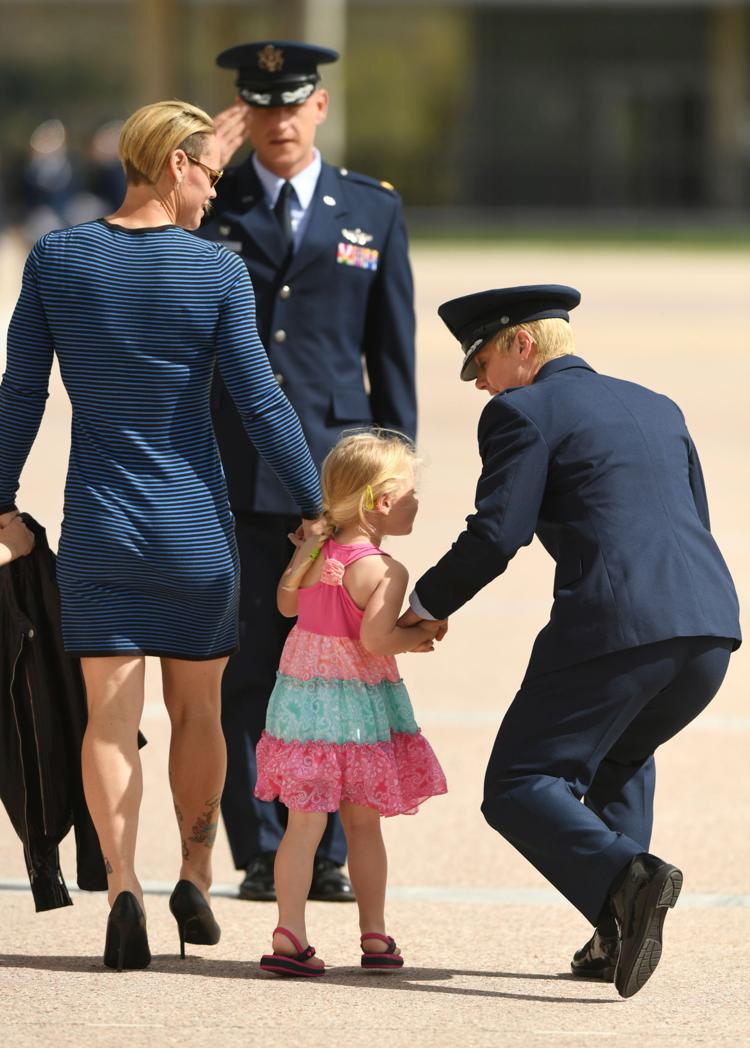 Four days before she was ousted, Goodwin was eager to publish a column of farewell to the Pikes Peak region.
She's so determined to leave on a high note that she sent the column along even after Monday's bombshell news.
"It has been my great privilege to serve as the 28th commandant of cadets at the United States Air Force Academy," Goodwin wrote. "As my tenure closes, I wanted to reflect on our partnership these last two years."
Goodwin restated her tough standards and desire to get cadets ready for war.
"At the academy, we are focused on molding leaders of character from the excellent candidates arriving here from communities across the nation," she wrote. "We prepare them to enter into the world's finest Air Force through a commitment to rigorous military training, top-notch educational opportunities, and athletic excellence."
Goodwin addressed how she wants her family to remember her time as commandant.
"The natural beauty of Colorado and the generosity and friendly spirit of its citizens hold a special place in our hearts as we begin the next chapter of our lives," she wrote. "You have made the last two years here unforgettable, and we will always be grateful."
In his email, Silveria concluded by stating his admiration for Goodwin. No timeline has been given for when the Air Force will wrap up its probe into her actions.
"I have the utmost respect for everything Gen. Goodwin has accomplished throughout her career and want the best for her and her family," Silveria wrote. "We have to allow time for the investigation to appropriately assess the complaint and trust the process to establish the facts while protecting the rights of all involved."