This story is part of a yearlong series about Colorado's broken mental health care system. Read more of the series here. 
---
When they're active duty, members of the U.S. military have access to some of the best mental health care in the country.
Fort Carson's 25,000 soldiers, for example, can take advantage of innovative programs in a combination unseen in the civilian world. Mental health care providers are now embedded within their units, offering treatment and updates to commanders who understand, in no uncertain terms, that their team's psychological health is their responsibility.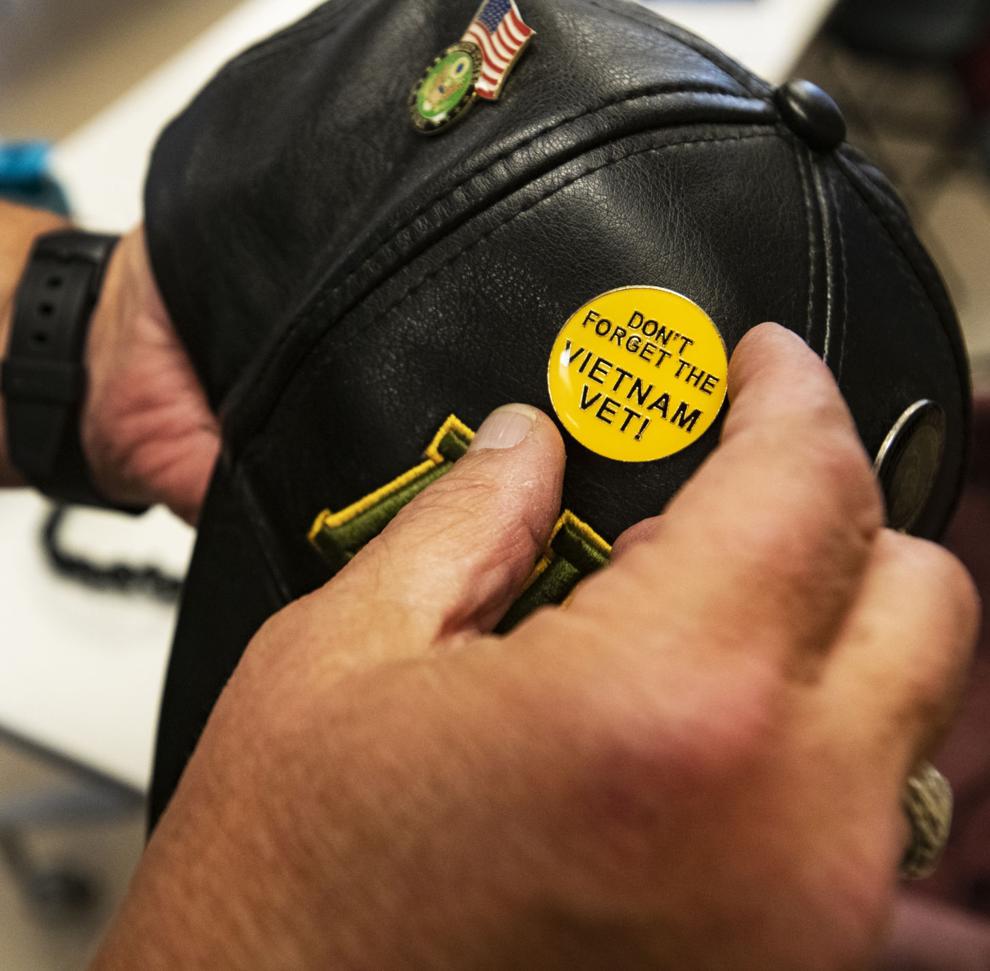 Troops get the latest therapy from eye-movement desensitization and reprocessing, group therapy, one-on-one psychotherapy and programs with horses, art and music. Fort Carson also joined a pilot program with the federal Public Health Service to develop the post's Warrior Recovery Center, which treats damaged brains and injured minds simultaneously.
But the minute those warriors step back into the civilian world, things often fall apart.
Only half of post-9/11 veterans with diagnosed mental illness even get care, according to a study by the National Academies of Sciences, Engineering and Medicine, and when they do seek treatment at the VA, they often are greeted by some of the nation's longest wait times for mental health treatment — more than three weeks on average.
Add paperwork hassles, confusing rules on care options and a shrinking number of providers, and some say the deadfalls in the system are hitting veterans just as hard as the bombs and bullets of Iraq and Afghanistan.
"Bureaucracy kills," explained Mt. Carmel Veterans Service Center Chief Operating Officer Bob McLaughlin, whose nonprofit offers no- and low-cost mental health care to 150 veterans a week who have struggled to get help elsewhere.
At its most benign, bureaucracy confuses.
"These guys are dealing with so many issues already," said Colorado Springs therapist Michael Sunich, whose Gone West Consulting focuses on treating veterans. "A lot of them are on edge and in pain. The last thing they need is one more complication, one more thing going wrong."
The chance for a 'do-over'
When David Conley separated from the military in 1989, he left with mortal baggage.
The guilt, that he'd been responsible for a plane crash that killed four, ate at his soul, eventually driving him to drugs, which led to crime, which led to six years in prison. After struggling to find a job after his release, he got a vocational degree and now works as a peer support specialist for the Colorado Springs Department of Veterans Affairs.
"I'm happy for the chance to get my do-over," Conley said.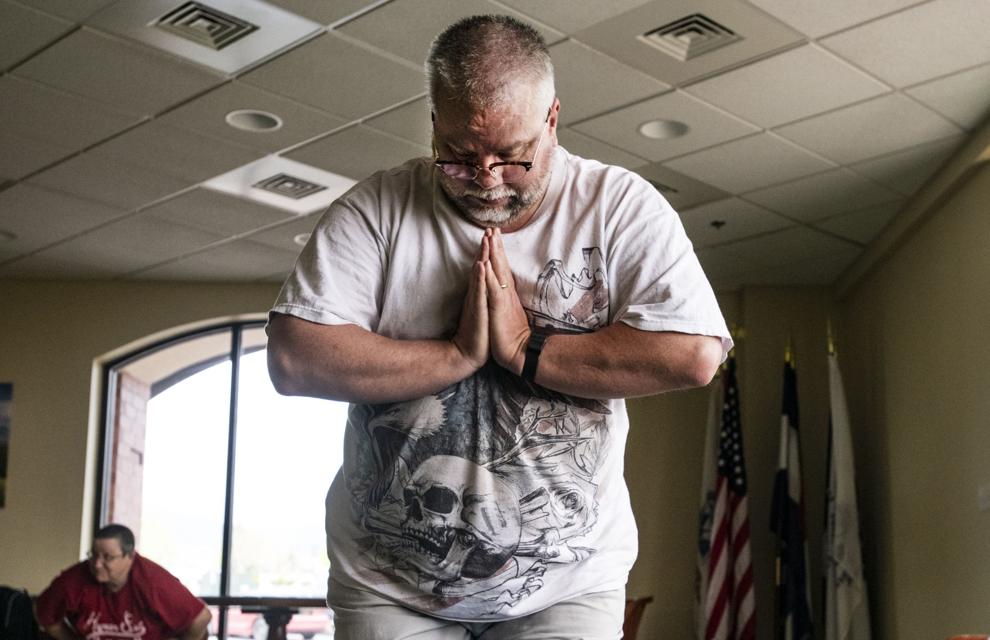 That new beginning came with new frustrations, though. It wasn't until two years ago, when he started running the VA's weekly "Veteran X" Post Traumatic Stress Disorder support group at Mt. Carmel, that Conley realized how much he didn't understand about successfully negotiating life, and the system, as a wounded warrior.
In many ways, the charity sector — especially in Colorado Springs, where you "can't throw a rock without hitting a (veterans) nonprofit" — has stepped in to fill the gaps for veterans struggling in the civilian world. For such warriors, though, an "overwhelming" wealth of overlapping resources can present its own barrier.
- Archives - Other Than Honorable: The Gazette's investigative series on lack of care for combat veterans that won the Pulitzer Prize in 2014.
"There's just so much, and navigating this is like walking through a jungle and looking for that one piece of fruit you need. Some of these guys in this group, it took them 20, 30 years to get this information," Conley said. "I've learned more from this group in the last two years — about how to get my benefits straight, how to navigate life — than in four years working for the VA or any of the years since I got out of service."
VA leaders say they have worked to cut bureaucracy for the Pikes Peak region's more than 100,000 veterans and they have also begun offering new mental health services, including some same-day appointments.
"We have been working very hard to make sure we are providing mental health service at the time and place of need," said Joanna Kadis, who oversees regional mental health services from her office in Denver.
The agency has added staff and offered more opportunities for veterans to seek private-sector health care under the new version of a congressionally mandated program meant to expand veterans' access to care. VA leaders say they have cut down on the required paperwork, allowing veterans to sign up for help with a single form.
But the National Academies of Sciences, Engineering and Medicine issued a report last year saying post-9/11 veterans find that bureaucratic barriers to getting VA care cause them to turn away from mental health services.
"The process of accessing VA mental health services has been burdensome and unsatisfying for many … veterans," the study found. "The changes … veterans would like to see at the VA include, for example, making the process for scheduling appointments easier and improving customer service."
A retool for Vet Choice
That, essentially, means there have been no great strides toward a fix in the years since a damning VA watchdog report found that patients at the Springs' Floyd K. Lindstrom VA Clinic faced some of the nation's longest wait times — in some cases, up to a month or more — for an appointment. Clinic records for June showed 15% of patients were still waiting a month or more for care, with an average wait of more than two weeks for a mental health visit.
To try to allay such crises and make sure vets were being cared for in a timely manner, lawmakers in 2014 pushed through an insurance-like program, Veterans Choice, to allow more VA patients to see private doctors in their communities.
In 2016, doctor-strapped and overburdened VA locations nationwide began relying more heavily on the federally funded stop-gap initiative. Soon after, the idea stopped working as designed when the company contracted to manage Vet Choice for the Western region began sitting on provider reimbursements for months and throwing up a nightmarish firewall for caregivers seeking reauthorizations for longtime patients.
By the time the VA reclaimed the program from the for-profit subcontractor last fall, many providers were owed tens of thousands of dollars and a growing number were dropping from the network. Those who stayed did so because they were committed to continuing to treat their veteran clients, and temporarily, at least, they could afford it.
And, like Sunich, who at one point last year was owed more than $20,000 for unreimbursed Vet Choice claims, they hoped things were going to get better — for them and for their patients.
"The guys I work with … I can't just tell them, 'Sorry, I'm not getting paid so I can't see you anymore,' " Sunich said.
Eight months and two rebrands later, the "new and improved" Vet Choice program, launched June 6, comes courtesy of the 2018 MISSION Act, an acronym hoagie that stands for Maintaining Internal Systems and Strengthening Integrated Outside Networks.
"We understand any transformation of this size and on such a rapid timeline is not without risk," VA Eastern Colorado Health Care System incumbent acting director Duane Gill, whose office is based in Aurora, said in a prepared statement.
More than a month after the transition, Sunich said that payments have picked up and things seem to be hitting a groove. But he has been here before.
"I'm just going to keep doing what I'm doing, helping veterans, as long as I can keep the doors open," he said.
Actively avoiding therapy
The VA's mental health missteps contrast starkly with care in the military, where leaders have spent much of the past 17 years wrestling with mental health treatment and changing a culture where troops too often shunned mental illness as a weakness rather than a wound.
The military estimates that more than one soldier in five who serves in combat overseas will come home with mental wounds.
"The way we address stigma is to talk about these matters head-on," said Col. John Yeaw, who heads the mental health program at Fort Carson's Evans Army Community Hospital.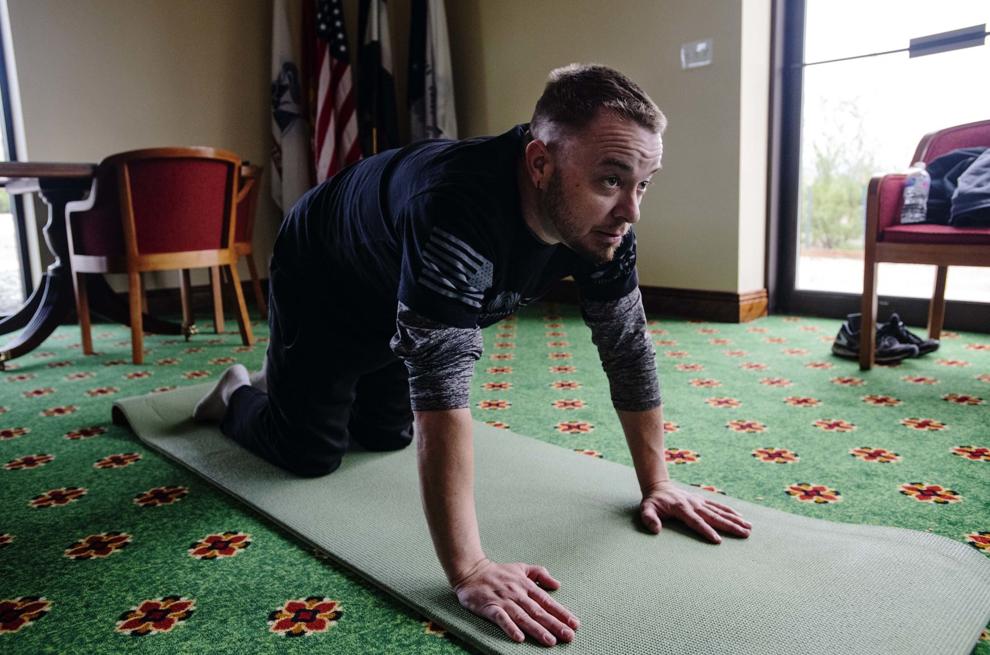 The Army had a spotty record on dealing with mental health in the early years of the post-9/11 wars until a string of scandals forced the service to change its ways.
The change was big.
"The large part is the leadership knows they have ready access to behavioral health," Yeaw said.
In 31-year-old Army veteran Kevin Ogo's experience, attitude shifts at the top, awareness and "access" to counselors in every brigade doesn't necessarily mean help is getting to those who need it.
"When I was filling out that (mental health) questionnaire, and the friends I know who filled out that questionnaire several times before and after deployment, we would never have checked the box saying we needed help," said Ogo, who separated in 2015 after eight years of service and three combat deployments.
Admit you're struggling, as Ogo once did, and you may be "command referred" to a therapist once a week, and that, he said, is a "punishment."
"During that time, I was not a soldier actively engaging in my unit to prepare them for the next deployment, so I was a piece of crap that day," he said. "I did everything I could after that to not see a therapist again."
Investing in healing
Overall, the Defense Department is expected to spend $50 billion on health care for troops in 2020. That's more than 8% of the Pentagon's budget, with a significant amount aimed at combating mental illness in the ranks.
In many cases, mental ailments such as post-traumatic stress are hidden within injured brains.
The signature weapon of America's enemies in Afghanistan and Iraq has been the roadside bomb, which commonly causes closed-head injuries. At Fort Carson's Warrior Recovery Center, such injuries, and others, are treated through an integrated approach that addresses visible and hidden wounds.
"We develop new neural pathways through lots of different angles," explained Robin Dahmen, a nurse at the Fort Carson center.
The center, where most troops arrive in civilian clothing, is packed with art supplies, guitars, drums and exercise equipment. An old Wii gaming system is nearly always in use as brain-injury survivors hone their fine-motor skills.
"It's a matter of getting the patient invested in something for healing," said Health Service Capt. Alicia Souvignier, who runs the center.
The hardest part about healing brains and minds, the captain said, is overcoming grief, loss and the pain of mental ills. The center stresses family involvement and builds a community around the wounded.
"We offer treatment to prepare readiness for change," Souvignier said.
The 'kindling effect'
Fort Carson's elaborate treatment facility serves a strictly military purpose: returning soldiers to combat.
Like the rest of the military medical system, from orthopedic services to an emphasis on weight loss for overweight troops, mental health care builds troops who can be effective in battle.
In a recent visit to Colorado Springs, Vice Adm. Raquel Bono, the Pentagon's top doctor who leads its Defense Health Agency, had nothing but praise for the strides the military has made in treating mental wounds.
A new goal is easing conditions for those who can't return to the fight and are sent to the civilian world on disability status.
Leaders now know that mental illness can be fixed for most, she said.
"That's such an important piece," she said.
The Defense Department is tightening its bonds with the VA, Bono said, with one tool being the transition to electronic medical records that will follow the disabled when they leave the service.
Bono says life changes, especially big ones like leaving the service, can exacerbate the hidden wounds of war.
"The transition of any life event seems to be a trigger," she said.
A few miles north of Fort Carson at Family Care Center, one of the region's largest private centers treating mental illness among veterans, retired Army Lt. Col. Chuck Weber misses the days when he had resources like those available to active-duty service members.
Weber, a psychiatrist who founded the center after leaving the Army, says the military's financial resources are difficult to replicate in the civilian world, where he wages a daily battle to get Veterans Affairs to pay its bills.
"I literally haven't gotten paid," he said in early May, referring to a pile of past-due VA bills that had hit the six-digit range for his office alone.
Five weeks after the big Vet Choice rebrand, Weber reported that the outstanding debt has been whittled to about $40,000 and the VA is "actually starting to listen on some aspects of bureaucratic challenges" that will help lighten the load and streamline the process for vets and providers.
"Positive changes, but slow," he said.
As a provider, though, Weber is lucky: His practice is big enough he can ride out the losses, and he's also got three specialists on staff who deal with wrangling VA referrals, records and fighting for money.
"My overhead costs are high to meet (VA) guidelines," Weber said.
A West Point graduate, Weber said he's sticking with the evolving MISSION program despite the VA's history of unpaid bills.
He said too many veterans hit the civilian world and see their problems pile up, leaving them ripe for mental health crises from underlying wounds suffered in combat.
"We call it the kindling effect," he said. "How much kindling does it take before it catches fire?"
Treatable … even curable
For many veterans, isolation provides the incendiary base layer.
Most service members left home and family when they joined up.
Those who leave the military with mental illness often find themselves in places like Colorado Springs, a supportive community, but one that can still be several time zones away from the homes they left for the military.
"They married their high school sweetheart and dragged them away from all their family," Weber said of some veterans. "A lot of isolation and whatever (mental illness) they were building just grows."
Like cancer and other ills, mental illness can also cause death.
"Most veterans you ask, if they have to count the people they've lost to suicide and battle, suicide always wins," said Ogo, who founded the peer support group Warriors First in 2016 after his own battles with PTSD led to drugs, crime and incarceration at the El Paso County Jail.
"When you're getting out of the military, they kind of tell you you should probably check your head, but not a lot of people do that, and the people I know who are veterans struggle a lot," he said.
The VA estimates that 20 veterans per day across the nation take their own lives. It's a problem that is highlighted again and again by veterans groups and in social media posts and news stories.
In Denver, the VA's Dr. Edgar Villareal is trying to slow that death rate.
The VA in recent months has kicked off a nationwide effort to stem suicide among veterans, and the agency's Denver office now has eight specialists assigned to the task, Villareal said.
One problem that's already apparent: Most veterans who kill themselves aren't getting VA care for mental illness or anything else.
"Whenever we hear 20 a day, 14 of those of veterans, unfortunately, are not in VA care," he said.
Villareal's office is focused on community outreach, offering training sessions around the state that teach the symptoms and signs of suicidal risk. The VA experts are also working to get the community to understand that mental illness is treatable and even curable.
"We're talking about changing the conversation about mental health issues," he said.
Villareal, an expert in post-traumatic stress treatment, said he's also focused on making it easier for veterans to get care. Bureaucracy, paperwork headaches, canceled appointments and other foibles can make PTSD worse, he said, "because one of the primary challenges of recovering from PTSD is avoidance and avoiding seeking care."
That means any hurdle placed in front of mental health treatment can make a veteran veer away.
"When they encounter a barrier, it's very easy for the PTSD to latch on to that," Villareal said.
'VA understands its challenges'
The VA says it is focused on smoothing things out for veterans and making mental health care easier. The effort includes a push to cut wait times and red tape.
A big part of Villareal's work includes connecting veterans with "community partners" including McLaughlin's Mt. Carmel Center off 8th Street west of downtown Colorado Springs.
McLaughlin, a retired Army colonel whose duties have included managing transitions for departing Fort Carson troops, says suicide is a big concern at the nonprofit.
"The epiphany I had after going through my own transition out of the Army was we need to make it easier for veterans to get mental health treatment," he said.
Mt. Carmel has become the treatment provider of last resort for many local veterans. With a program staffed mainly by college interns in the final stages of training for mental health careers, the center offers a free — or at least affordable — option for veterans in need.
"We have gotten so many cases where people are referred to us when they are at the end of their rope," McLaughlin said.
Fixing the VA is something that could take years, he said, but veterans in the Pikes Peak region, who live in the congressional district with America's highest concentration of veterans, don't have that kind of time.
"The VA understands its challenges," McLaughlin said. "The good news is they have a community partner in Mt. Carmel."
Colorado Springs Republican U.S. Rep. Doug Lamborn isn't convinced VA leaders truly understand the agency's shortcomings, though.
He has battled with the VA for years to fix its infamous wait times in Colorado Springs, and his staff members continue to take calls from frustrated veterans five days a week.
"When I hear some of the horror stories, that truly bothers me," said Lamborn, son of a World War II veteran.
Lamborn has been one of the leading advocates in Congress for programs that give veterans more access to private doctors for services including mental health care. But he's also worried about the VA's history of poisoning private options by not paying doctors and putting patients through paperwork nightmares.
"VA still has so much bureaucracy and red tape," he said. "The effects of someone who doesn't get the treatment they need and deserve can really have ripple effects through the community."
Seeking legislative help
Identifying a problem and a way it might be addressed, big-picture, however, is easier conceptualized than done.
In April 2018, disabled veteran Lee Cole checked himself out of a local mental health treatment facility against doctors' advice and hopped a tourist shuttle to a craggy wilderness area southwest of downtown. Before hiking up to the precipice where he would jump to his death, he shot a Facebook Live video in which he outlined his plan to end his life.
The video posted about three hours after his release from the hospital, his brother Clay Cole said.
Had the family — or, really, anyone with a stake in veterans' health — known about Lee's discharge, Clay said, he believes things could have played out differently that day.
"They should have not released him, alone. They had our contact info, and there are veterans resources here in town where he would have not been left alone. That is the number one thing they teach us in suicide awareness," said Clay, a member of the Army Reserve who served 14 years active duty. "I just can't believe that they did that … especially with his mental health history."
For a while after his brother's death, Clay tried to drum up support for legislation that would make it illegal for a hospital to discharge an at-risk mental health patient unless someone was there to collect them and provide a continuum of care and supervision.
A year later, he reports there has been no "traction" on a bill that certainly would run afoul of powerful health information privacy laws.
"Just because I want something, that doesn't mean anything," Clay said.
After learning about Lee's story last year, local veterans advocate, author and Family Care Center counselor Duane France decided to push for a "Green Alert" bill that, if taken up and adopted by state legislators, would establish a system similar to the Amber alerts that would enlist the public's help in locating missing, at-risk veterans.
When the proposal was floated last legislative session, it received pushback from veterans groups amid concerns about privacy issues, said France, a retired Army noncommissioned officer.
"There wasn't enough time to have some of the conversations and debates around it. Some of the veterans organizations, mostly up in Denver, weren't sure about some of the impacts," France said.
The "Green Alert" bill wasn't officially killed, but France said it likely won't be reintroduced next session, as lawmakers continue to discuss and consider other avenues to address the crisis.
"Just like anything else, was it (the "Green Alert" bill) a perfect solution? Probably not," France said. "But it's a matter of, we've got to do something, of taking action rather than just having conversations about this."