As many as 200 Fort Carson soldiers were ordered to head south, Army Secretary Mark Esper and Colorado Republican U.S. Sen. Cory Gardner used stops in Colorado Springs on Wednesday to voice approval for the Trump administration's move to use thousands of troops to seal America's border with Mexico.
The local soldiers — attached to a pair of logistics companies from the post's 4th Sustainment Brigade — will be joined on "Operation Faithful Patriot" by planners from U.S. Northern Command at Peterson Air Force Base, which is overseeing the border mission.
Sources at Fort Carson say the entire units may not ship out, with just elements of the companies assigned to border duty. That move could significantly cut the number of troops involved. Exact numbers were not released.
The troops aren't heading to the border with loaded rifles. Instead, they will support Border Patrol efforts, a news release from Northern Command said.
The command said troops will provide "planning, engineering, transportation, logistics and medical support to the U.S. Customs and Border Protection."
The border mission is the first of its kind in more than a century, dating to when Gen. John J. Pershing led Army forces against Mexican rebel leader Pancho Villa, and comes as Fort Carson's forces are heavily committed overseas. The post has about 10,000 soldiers deployed, mostly in Afghanistan. Another 5,000 troops from the post are about to head overseas to Afghanistan and Kuwait.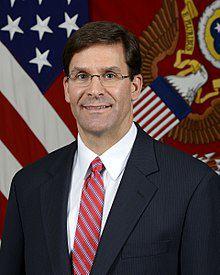 Esper, who spent Wednesday visiting with Fort Carson leaders, troops and families, said the border mission won't interfere with the Army's combat readiness and efforts to modernize its formations.
"We get missions all the time and its something we have to manage," Esper said.
The border mission initially will involve more than 5,000 Army troops, with most of them coming from Fort Hood, Texas.
Gardner, who has been a critic of some Trump administration moves, said he likes the border plan.
"We have to have a secure border," Gardner said after his meeting with Esper.
For Fort Carson, securing the border means sending two units that can help manage supplies for other Army units.
The headquarters company of the 4th Sustainment Brigade and the headquarters of the brigade's 68th Combat Sustainment Support Battalion were ordered to the border. The 4th Sustainment Brigade has trained with Northern Command to provide assistance in natural disasters, with its troops helping with relief after Hurricane Maria struck Puerto Rico in 2017.
At the border, the Fort Carson soldiers and their comrades from other posts will assist the Border Patrol, but won't be directly busting undocumented immigrants. That's because the Posse Comitatus Act of 1878 forbids use of active-duty troops to enforce U.S. laws.
While the active-duty Army is new to border work, part-time troops have been active on the border over the past 12 years.
In 2006, President George W. Bush authorized the call-up of more than 32,000 National Guard troops to back the Border Patrol in its efforts to stem illegal immigration from Mexico. That $1.2 billion, two-year program saw Guard members keep watch on the ground and in the air while also providing logistic and administrative support to law enforcement.
In 2010, President Barack Obama sent another contingent of Guard troops to the border to help catch undocumented immigrants.
Trump's mission, while drawing wide praise from Republican lawmakers, has drawn criticism from Democrats and immigrant rights groups including the American Civil Liberties Union.
The Fort Carson deployments come as Trump offers another immigration plan, which would deny citizenship to children of undocumented immigrants born on U.S. soil.
Addressing that move, Gardner said adequate border security must come first.
I think the way we address this has to be through border security," Gardner said. "If we make our border security work, this isn't an issue."
Contact Tom Roeder: 636-0240 Twitter: @xroederx
Sources at Fort Carson say the entire units may not ship out, with just elements of the companies assigned to border duty. That move could significantly cut the number of troops involved.