Retired U.S. Air Force Col. Oliver Cellini, a decorated fighter pilot who always said his greatest pride was that he never lost a wingman, embarked on his final flight Sept. 12.
Cellini, of Colorado Springs, served in World War II and Korea and — at 107 — was recognized as Colorado's oldest veteran and the oldest member of the Order of Daedalians, the social and professional organization of American military pilots.
"One of our most distinguished, if not the most distinguished member, is Ollie Cellini. And we all almost revere him," said Daedalian Randy Cubero in February, at a birthday party held for Cellini at the Springs' Brookdale Briargate assisted living community. "He was a pilot extraordinaire."
Cellini grew up in Chicago, and, before turning his aspirations skyward, excelled much closer to the ground, helping lead the Hoosier wrestling team to an NCAA Championship in 1932 and even qualifying to compete in the 1936 Summer Olympics in Berlin — an invitation Cellini had to turn down because he couldn't afford the trip.
"They wouldn't give us a god-darned thing. We had to furnish everything for ourselves at that time. Now, I guess they pay for everything," he said, reflecting on the episode in a 2017 interview with The Gazette.
After college and ROTC, Cellini spent 13 months with the Army before joining the Army Air Corps and heading off to flight school. His first station was at Selfridge Field, now Selfridge Air National Guard Base, near Detroit, where he was among the first test pilots for a powerful new twin-engine fighter plane, the Lockheed P-38 Lightning.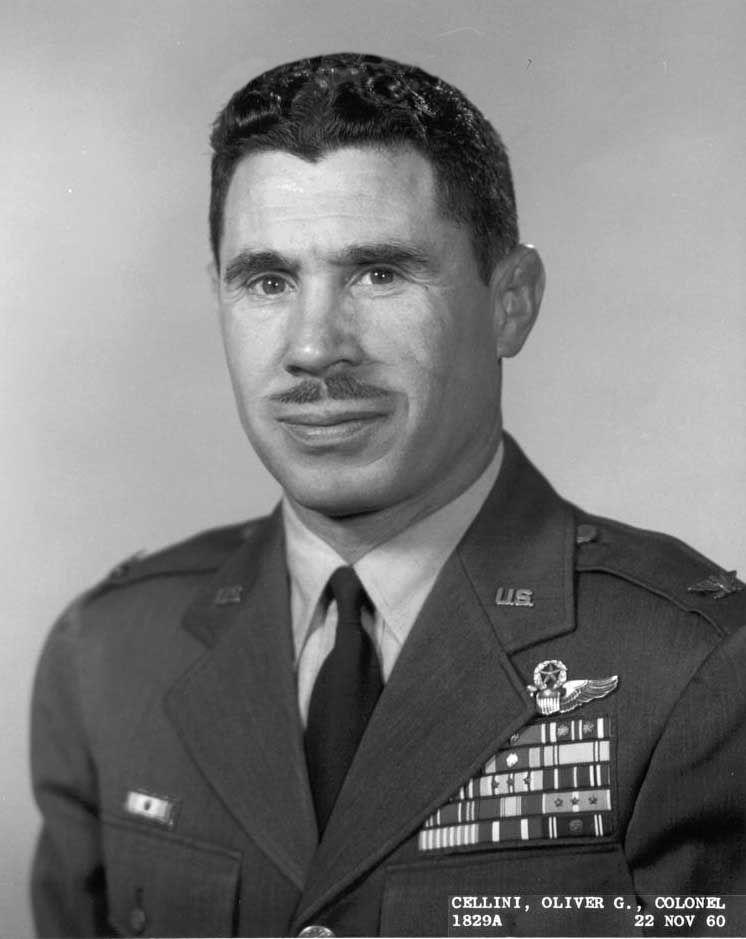 Cellini described how the experience made a pilot "feel like you were the direct descendant of Jesus Christ." He went on to teach waves of ace pilots who followed in his path, including late Colorado Springs resident Col. Frank Royal, whose original fighter plane is on display at the city's National Museum of World War II Aviation.
Before heading to combat in World War II, Cellini commanded the 311th and then the 312th "Jug" squadrons at Tallahassee, Fla. His work training Chinese gunnery pilots earned him a personal visit and medal from Chiang Kai-shek, leader of the Republic of China.
In China, Cellini served under Maj. Gen. Claire Lee Chennault, commander of the 14th Air Force and leader of the famed "Flying Tigers," and led a squadron that patrolled the Burma Hump. He later served in Korea, flying 87 missions in 18 months in Southeast Asia.
He returned to the U.S., to Otis Air Force Base in Cape Cod, Mass., where he became commander of the newly formed 551st Air Early Warning Wing. Cellini and his family settled in the Springs in 1966, when he was posted at Ent Air Force Base, now the Olympic and Paralympic Training Centers on East Boulder Street.
After retiring in 1968 he pursued different professions, including real estate, but always remained active in the flying and military communities. He even taught daughter Linda to fly, arguably because he was starting to lose his hearing and needed someone to help out with navigation in the air.  
Cellini was a skilled marksman and hunter, and continued to golf and fish well into his hundreds, joyously chasing a knack that eluded, but failed to deter, said Linda. 
"Dad was quite a guy who lived his life to the fullest. He was something of a rebel. He did things his way," she said. "I'm grateful he lived such a long life as it allowed me to know him better. I miss him."