The Senate took two steps Friday to address drinking water tainted with perfluorinated compounds, setting aside cash to reimburse Pikes Peak region utilities for cleanup and scheduling a hearing to investigate the federal government's role in what a committee is calling a "chemical crisis."
The money comes from an amendment to the annual defense budget that could repay $9 million to water utilities in Security, Widefield and Fountain for work in 2016 targeting dangerous levels of perfluorinated compounds in the Widefield aquifer.
The contamination has been tied to use of a toxic firefighting foam at Peterson Air Force Base, but the military has refused to repay utilities for their spending to filter water and buy supplies from other sources. The military has said that without congressional action to the contrary, it can only pay for work that was preapproved by the Pentagon.
U.S. Sens. Michael Bennet and Cory Gardner of Colorado successfully pushed a measure that will cover the expenses. It now faces scrutiny in the House.
The problems in Colorado and at 126 other sites tied to military use of perfluorinated compounds will be discussed Sept. 26 at a hearing before the Senate's Homeland Security and Governmental Affairs Committee.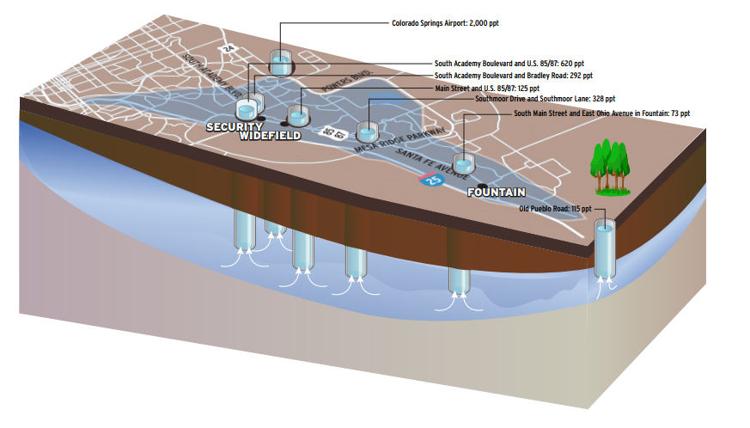 Sen. Gary Peters, D-Mich., asked for the probe into health impacts of the chemical, with has been linked to ailments ranging from high cholesterol to cancer.
More than a dozen sites in Michigan have been found to have elevated levels of the compounds in drinking water.
"I am pleased that this hearing will help shed light on the (perfluorinated chemical) problem, determine the necessary steps to clean up the contamination and get some answers for the Michigan families, service members and veterans, who were exposed to toxic … chemicals," Peters said in a statement.
Contact Tom Roeder: 636-0240 Twitter: @xroederx