Dripping with rain, the 13th Air Support Operations Squadron handed their unit's flag to Lt. Col. Michael Schonbachler on Friday afternoon, signaling him as their new squadron commander.
Under overcast skies and a stoic Cheyenne Mountain, the squadron conducted its command change at Fort Carson's Founders Field along with the families and friends of the incoming and outgoing commanders.
The 13th Air Support Operations Squadron — or the Gunslingers, as they call themselves — is a tactical air control party squadron that assists combat missions on the ground with information and aerial firepower. The squadron was reactivated in 1994 at Fort Carson after being disbanded near the end of World War II.
The squadron is also the only Air Force unit stationed at Fort Carson.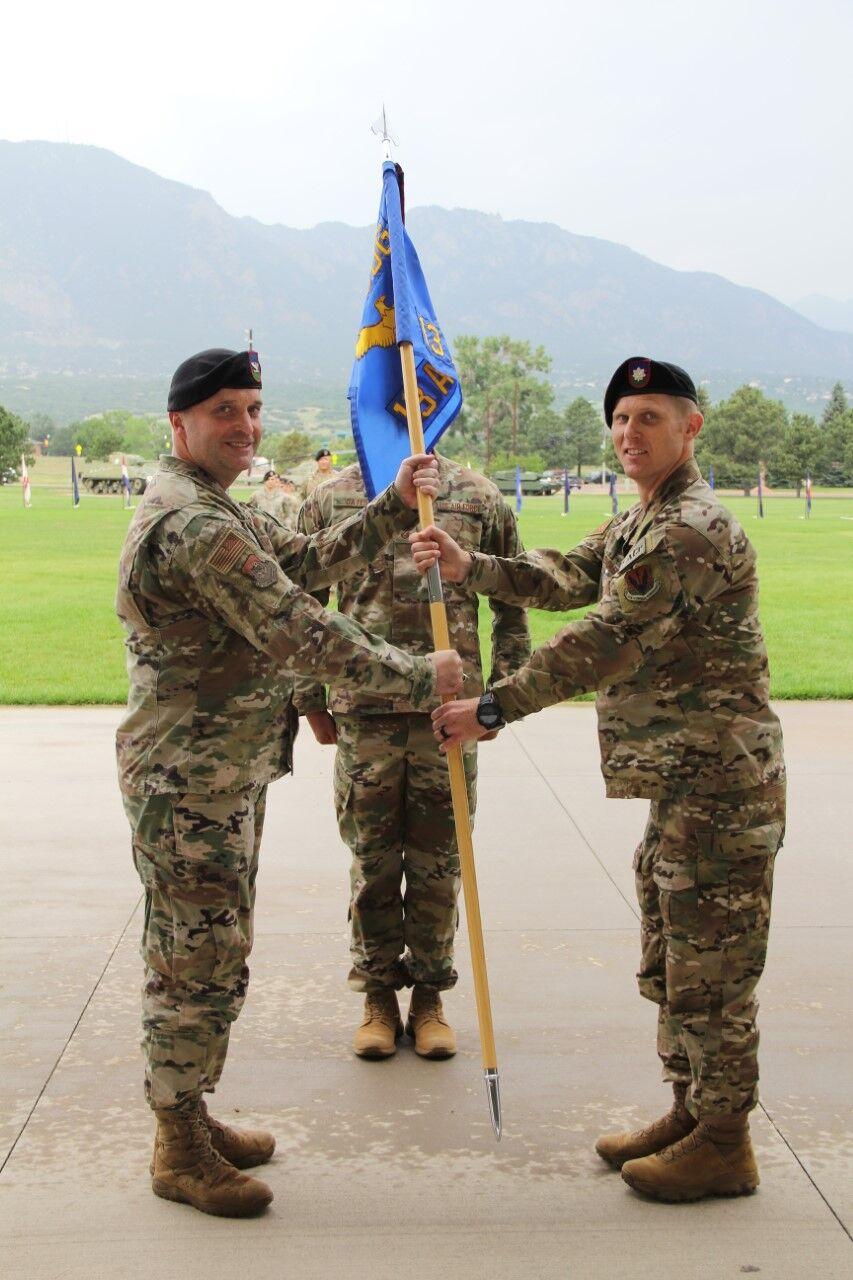 Most recently, Schonbachler was the director of operations for the 1st Air Support Operations Group stationed at Joint Base Lewis-McChord in Washington, a position he said would help him as he attempted to fill Cude's big shoes.
"I'm going to take that experience which I had previously and apply it to this job," Schonbachler said. "I have a great team around me to help guide me in this process as well."
Some of his posts before that include combat assignments as a B-52 electronic warfare officer and a stint as a division chief in the Air Force's headquarters in the Pentagon.
"You are armed with unique perspectives and experience that will help to build upon the foundation you inherit today," Col. Leland Cowie II told Schonbachler.
Schonbachler commissioned into the Air Force from the University of Wyoming in 2004, and is a senior navigator who has flown in five different aircraft and logged more than 1,390 flight hours.
Lt. Col. Craig Cude, the squadron's outgoing commander, received a Meritorious Service Medal on Friday for his stint as commander, during which he provided forces that supported 12,000 missions and launched 5,000 air strikes, and secured $1.4 million for an air support operations building that helped modernize practices for the squadron. Cude is a senior pilot with the Air Force, and has over 1,220 flight hours.
"I'm highly confident in his ability to take command, I've been meeting with him for several weeks before this," Cude said about Schonbachler. "Him and I see eye to eye, we're not the same on everything but we have a similar vision that we want to continue supporting."
Cude's next assignment is to command ROTC troops at Worcester Polytechnic Institute, where he says he hopes to be able to spend more time with his wife and kids as a member of the college's faculty.