About 1,000 cadets will pin on lieutenant bars as new officers of the Space Force or Air Force following Wednesday's graduation ceremony at the Air Force Academy.
The graduation begins at 9:30 a.m. at Falcon Stadium and includes keynote speaker Army Gen. Mark A. Milley, chairman of the Joint Chiefs of Staff. Click or tap here for live coverage from the stadium.
Once graduation concludes around 12:30 p.m., the Thunderbirds will begin their 30-minute air show with F-16 pilots showing off their tight formation flying and aerial displays.
Here is what you need to know if you are attending or traveling past the Air Force Academy on Interstate 25:
Watch from home
For complete coverage of Air Force Academy graduation, visit gazette.com beginning Wednesday morning. Offerings will include a graduation live video feed, photo galleries, a live blog and more.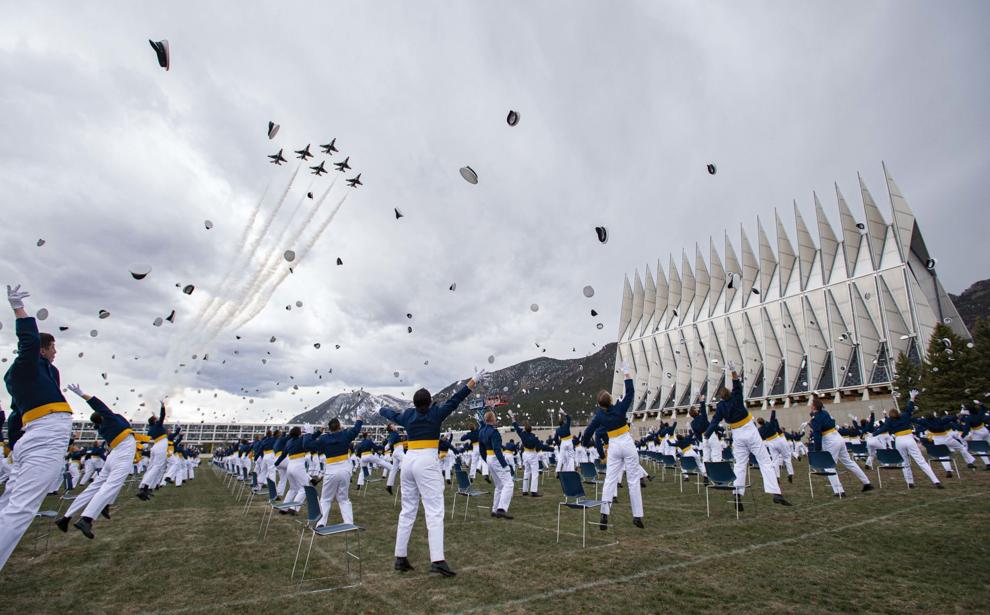 Base access
Both the north and south gates open at 7 a.m. Expect traffic issues and long lines at the stadium and on the interstate prior to and following the event.
Seating
Only those with tickets will be allowed on base and into Falcon Stadium. Graduating cadets were each given eight tickets, thus filling 8,000 of the roughly 46,000 capacity. Guests must sit in their assigned seats as part of the coronavirus mitigation efforts.
Masks
Face masks are optional for anyone fully vaccinated (at least two weeks beyond the final dose). The exception is that all individuals must wear a mask when using federal transportation, like riding on a base shuttle bus. Guests not fully vaccinated must wear a mask.
Bird watching
The Thunderbirds will fly into town Monday, making a pass over the academy about 11:30 a.m.
They'll practice for their graduation show Tuesday between 10:30-11:45 a.m.
The Thunderbirds will perform their 30-minute routine over Falcon Stadium on Wednesday beginning around 12:30 to 1 p.m., once cadets toss their caps skyward.
If you want to see them, stake out a parking place early and don't park on Interstate 25.
The Santa Fe Trail and several roads beneath the show will be closed during the practice and performance.
The following roads will be closed from 10 a.m.-noon Tuesday, and 10 a.m.- 2:30 p.m. Wednesday:
Stadium Boulevard, from Tri-intersection Bridge to Parade Loop;
Community Center Drive, from Stadium Boulevard to East Douglass Drive;
Academy Drive, from Stadium Drive to the Falcon Club;
The Santa Fe Trail from Tri-intersection Bridge to Parade Loop.
"The academy remains closed to non-DoD ID card holders and will not be accessible for viewing the Thunderbird fly-overs, either May 25 or 26," a press release stated.
Find more information about graduation at www.usafa.edu/about/traditions/graduation. To learn more about the Thunderbirds, visit www.afthunderbirds.com.