The Air Force Academy graduated nearly 1,000 seniors Saturday at an 11 a.m. ceremony, but with some distinct differences from previous graduations.
The class of 2020 lived in isolation since coronavirus hit, and their fellow classmates, 3,000 of them, were sent home to study online. They graduated in isolation, too, with family and well-wishers watching online.
The class of 2020 graduated six weeks ahead of schedule after spending more than a month in lockdown. The last time cadets from any federal service academy were allowed to graduate early came at the height of World War II, before the Air Force Academy opened. Until the pandemic, the cadets had not been placed on lockdown since 9/11.
12:55 p.m. The ceremony has concluded. Thank you for following along wit our live coverage. Stay tuned to gazette.com for full coverage to come from Senior Military Editor Tom Roeder and videojournalist Christian Murdock, as well as video from KKTV's Mike Petkash.
They cut it close but hats were tossed, And these kids, in the biggest moment of their lives so far, are staying 8 feet apart. #USAFAGrad2020

— Tom Roeder (@xroederx) April 18, 2020
The following is the Thunderbird's post-ceremony Front Range flight plan.
Tomorrow's Colorado Flight PathNote: the flyover serves as a salute to the healthcare workers, first responders and other essential personnel on the front line against #COVID in the Centennial State 🏔#AirForceSalutes pic.twitter.com/JfZMTfEBA1

— Thunderbirds (@AFThunderbirds) April 18, 2020
12:48 p.m. Class of 2020 has been dismissed. The Thunderbirds flew over and the new second lieutenants are now celebrating. Some are donning masks. Others are bumping elbows and raising chairs in the air.
12:47 p.m. All new second lieutenants have now been sworn in. The Air Force song is now playing.
12:46 p.m. Many cadets who have raised their right hand are using that hand to attempt to keep their caps on. It appears to be windy.
12:45 p.m. Air Force cadets first class are raising their right hand to take the oath of office.
12:44 p.m. Goldfein is now coming forward to issue the oath of office to Air Force cadets. "Cadets, and this is the last time anyone will ever call you that, please stand," Goldfein said.
12:42 p.m. Space Force cadets are being asked to stand as Raymond comes to the podium and issues the oath of office. They are now raising their right hands.
12:41 p.m. Thirteen international students are in the class of 2020. Some of these students are unfurling their countries' flags.
12:39 p.m. "Aim high; fly, fight and win; and always keep that target in sight. God bless our Air Force, our Space Force, and God bless the United States of America," Pence says. Cadets give him a standing ovation.
12:36 p.m. The Doolittle Raiders "inspired a national, gave people confidence we would prevail," and "I believe with all my heart" that around the country, those viewing the ceremony are inspired by these graduating cadets as well.
12:35 p.m. "The American people are doing their duty, and now comes yours, to defend this nation. And this you will do. Long after the coronavirus is defeated, your mission will go on. So take what you've learned here and put it into practice."
12:33 p.m. "America has shown, like all of you, that we are a nation of courage. And with the courage, strength and compassion of the American people, we will get through this ... We will heal our land."
12:31 p.m. "You're an inspiration to every American," Pence tells cadets. "America is being tested," and while we're making progress in slowing the spread of the virus, more than 37,000 "of our countrymen" have lost their lives to the virus, Pence says. But "when hardship comes, Americans come together. We rise to the challenge."
"You see it in the doctors and nurses on the front lines," he says. "You see it in the farmers and grocers and truckers keeping food on the table, and the automakers making tens of thousands of pieces of equipment that will save American lives."
12:28 p.m. "You've come from the rest of us, but you're the best of us," Pence tells the class, calling them "elite."
12:26 p.m. Fifty-one cadets have siblings who are academy graduates, Pence says. "I don't know what it's like to sit in that chair you're sitting in. My life didn't take me into the uniform of the Unite States. But I am the proud father of a U.S. Marine and the father-in-law of a Naval Academy graduate. So I can testify right now, I know how your parents feel, and they couldn't be more proud." He asked cadets to rise to their feet and applaud their loved ones. Some cadets have taken off their hats and are waving them.
12:25 p.m. "Back in Indiana we have an old saying, when you see a box turtle on a fence post, one thing's for sure, he had help getting there," and that's true of these cadets as well, Pence says.
12:23 p.m. NASA just announced that next month, American astronauts will return to space on American rockets from American soil, Pence says.
12:22 p.m. Nearly half of the class will go to pilot training, flying the most sophisticated aircraft known to man, Pence says.
12:21 p.m. "We honor each and every one of you, those who are here, and those who are not," Pence said, perhaps hinting at the class's two recent deaths, thought to be suicides. "You did it, class of 2020. You proved yourself, and today you will graduate from this storied institution and you will become officers in the United States armed forces."
12:20 p.m. "As American contends with what President Trump right calls the 'invisible enemy,' you will commence your duty to defend this nation ... and for that you have the thanks and admiration of the American people."
"American is the land of the free because of the home of the brave, and you are the brave."
12:18 p.m. "We gather at a time of national crisis," Pence said. "Every state and territory in our land are under disaster declarations" for the first time in our history, he said. "Like all of you have done throughout your time here, even in those difficult recent days that have passed, just like you, the American people have risen to the challenge."
12:16 p.m. "It's an honor to be here at this historic institution on ... what is a historic day," he said. "I know we gather at a time of great challenge in the life of our nation," he said. "This is an awesome sight, and I wouldn't be anywhere else but with the 62nd class of the Air Force Academy, the class of 2020." He brings greetings from "a friend of mine," President Donald Trump.
12:15 p.m. Pence has taken the podium.
12:10 p.m. Barbara Barrett, secretary of the Air Force, has taken the podium. She says everyone has a "face mask at the ready" and tells the cadets that today, "you are living history."
12:07 p.m. Goldfein is referencing the 78th anniversary of the Doolittle Raid, saying the cadets will today join the "long blue line" filled with airmen like the Doolittle raiders. "Are you up for the challenge?"
12:06 p.m. "I will tell you while I was going through my six years here," Goldfein said before pausing and nodding knowingly as cadets laughed and cheered.
12:05 p.m. Gen. David Goldfein, chief of staff of the Air Force, has taken the podium, calling the class of 2020 "my class."
12:03 p.m. Fifty years ago yesterday, Apollo 13 returned to Earth. "Class of 2020, now is your time to make history," Raymond said. Raymond is exiting the podium.
12:03 p.m. One airman was just spotted wearing a mask.
12 p.m. The first class, of '59, with 306 cadets, was historic, Raymond said. The class of '80, the first class to include female cadets, was also historic. The third he would also classify as historic is '20. He's about to address cadets joining Space Force, saying they are numbers three through 88 on the roster of the Space Force, though the force has 16,000 active-duty troops and civilians on its roster.
11:58 a.m. Gen. John "Jay" W. Raymond, the first chief of the Space Force, is being introduced. "Although I am not an academy graduate, I view this as my academy," he said. "In a few minutes when you raise your hand to take the oath of office, know that our air and space forces are even better because you're on our team."
11:56 a.m. The class of 1959, the first class, persevered through adversity as well, Silveria said, and reached out to him in solidarity with the class of 2020. Silveria presented a plaque from the class of '59 to '20.
11:54 a.m. Lt. Gen. Jay Silveria has taken the podium. "Under the current circumstances, we are honored to have your support from wherever you may be turning in," he says before thanking the Colorado Springs community for flying flags in support of the class.
11:51 a.m. The ceremony will pause of a moment of silence for those who have gone before, as well as for "all we have been through as a nation," an emcee says.
11:50 a.m. The academy's command chaplain, Col. Paul Sutter, has now taken the podium and is offering a prayer. These cadets, "with 20/20 vision, have their target in sight" after walking through the "depths of Jack's Valley," he said.
11:48 a.m. The National Anthem is being played.
11:45 a.m. Pence continues to stand at attention as the last of the cadets filter in. The live-stream is playing greetings and congratulations from dignitaries who might usually be in attendance, including U.S. Sen. Michael Bennet, U.S. Sen. Cory Gardner and Defense Secretary Mark Esper.
11:41 a.m. Cadets continue to filter in to formation. Again, no sight of masks from the Department of Defense's live feed.
11:40 a.m. Quite a few cadets' faces are tear-streaked, Roeder reports.
11:37 a.m. From our Roeder:
I have covered these ceremonies since 2003. I can't tell you how strikingly different and emotional today seems. #USAFAGrad2020

— Tom Roeder (@xroederx) April 18, 2020
11:36 a.m. Attendees are being welcomed to the graduation of the 62nd class. Cadets have now begun marching from Vandenberg Hall.
11:35 a.m. Pence, clad in a long black dress coat, en route to the rostrum. No sign of masks today on the academy yet.
11:34 a.m. Indeed, it has. Pence is being introduced.
11:33 a.m. "We're ready to roll" can be heard on the rostrum, so perhaps the ceremony will soon begin in earnest.
11:30 a.m. There's a lull in activity. Just the chatter between those on the rostrum is audible, Roeder reports, adding, "There is something palpably melancholy here. The emotion seems to match the gray sky."
11:29 a.m. Cadets are in formation but are not currently wearing masks.
11:19 a.m. The academy band has started playing, with many musicians wearing masks. All members appear to be spaced six feet apart. Cadets are in formation. Pence is now in place, Roeder reports.
11:18 a.m. It looks like the ceremony is about to get underway.
Security just took bleach to the podium. "You saw me do it," the cleaner in question said to a hot mike. #USAFAGrad2020

— Tom Roeder (@xroederx) April 18, 2020
11:11 a.m. Some graduation trivia during this delay. President John F. Kennedy delivered the commencement address on June 5, 1963. At 9:45 a.m. that day, a crowd of 45,000 watched a Marine One VH-3A helicopter carry the nation's 35th president to the north edge of Falcon Stadium. He climbed out of the copter and stepped into a Lincoln convertible, a model that in a few months would become infamous. He stood in the back seat, waving as his driver took two slow circular routes around the field.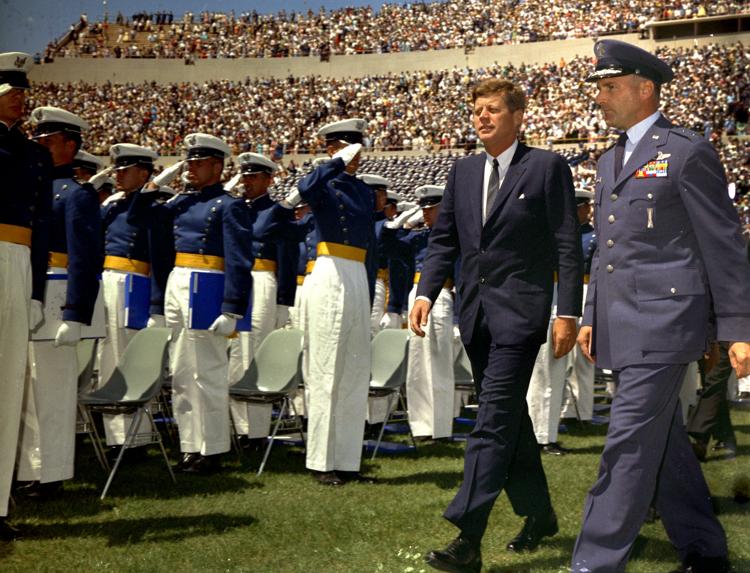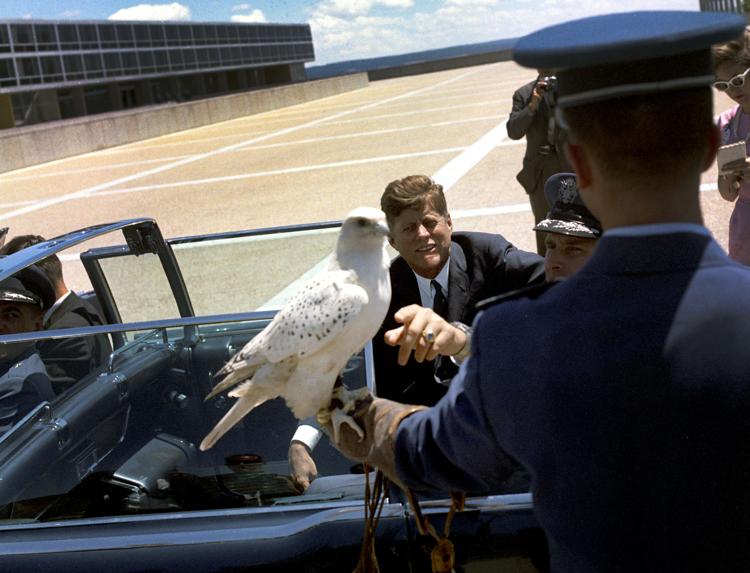 11:09 a.m. This just in from reader Gerald Jones, who writes, "Our son graduated from the USAFA in 2010. We had this banner for the class of 2010, and we are glad to share our joy for the class of 2020 a decade later."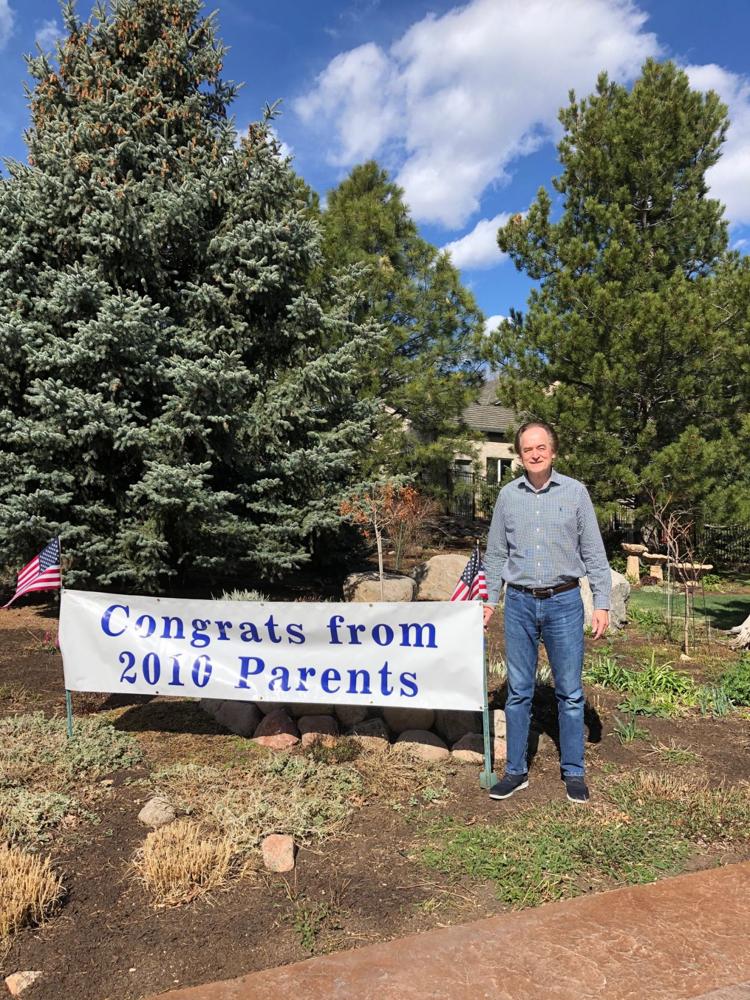 11:06 a.m. It appears the ceremony is running a bit behind, Petkash tweets.
11:01 a.m. The long roll call of cadets is off, as well as the honor guard of cadets behind the podium, Roeder tweets. "This ceremony will be about two hours shorter than usual. It is nearly silent at the academy about 10 minutes away from graduation," he adds.
10:55 a.m. The ceremony is set to kick off in about five minutes. 
10:43 a.m. The Air Force Thunderbirds will perform a series of flyovers after their performance at graduation, slated for 12:08 p.m., to honor Colorado's frontline coronavirus responders. The flyovers are slated to start at 12:50 p.m. and will last an hour.
The flyovers will take place over Greeley, Windsor, Fort Collins, Loveland, Longmont, Boulder, the Denver metropolitan area, Buckley Air Force Base, Colorado Springs, Fort Carson and Pueblo. "Residents along the flight path can expect a few seconds of jet noise as the aircraft pass overhead, along with the site of six high-performance fighter aircraft flying close in precise formation," according to a Friday press release from the Air Force.
"Our team is honored to extend our heartfelt gratitude to the countless Coloradans working every day to support their communities during this difficult time in our nation," said Lt. Col. John Caldwell, Thunderbirds commander. "We want Coloradans to look up from their homes and enjoy the display of American resolve and pride while keeping frontline responders in their hearts."
The Thunderbirds will fly in "super delta" formation over the academy, with eight planes in formation. Just six planes will participate in the thank-you flyovers throughout the rest of the state.
The F-16s are flying out of Nellis Air Force Base in Nevada this morning.
10:37 a.m. A heartwarming tweet to Roeder.
Sending all your reports to our 81-year-old mom in #Missouri. This is her first grandchild to graduate college.

— Jackie Chiles (@Jchiles_esq) April 18, 2020
10:36 a.m. More than half of the class of 2020 is headed to pilot training, Roeder tweets. Eighty-eight of the nearly 1,000 cadets graduating today will cross-commission into the Space Force.
10:26 a.m. Polis and Pence are having a relatively lengthy conversation outside of the steps of Air Force Two, with lots of hand gesturing. The two reached out as if they would shake hands, but thought better of it. Polis continues to wear his mask during the conversation.
10:31 a.m. Pence has entered a black SUV with both an American flag and an Air Force flag. He will presumably be en route to the academy shortly. The SUV has now departed with a law enforcement escort, flags waving in the breeze.
10:29 a.m. Pence has moved along, past Polis, and is greeting airmen who are lining the airfield, none of whom appear to be wearing masks. Polis just re-entered into conversation with Pence, who was speaking with an airman.
10:28 a.m. The conversation between the two politicians continues and has been ongoing for at least five minutes.
10:23 a.m. Gov. Polis is among those on hand at the Colorado Springs Airport to greet Pence, who just arrived. Based on a view feed from Fox 21 News, Polis appears to be the only individual wearing a face mask.
10:20 a.m. There is heavy traffic between I-25 Exit 163 and Exit 149, tweets the state transportation department. Heavy traffic is expected through Monument into Colorado Springs.
10:12 a.m. Air Force Two, carrying Vice President Mike Pence, who will attend the graduation ceremony, appears to have landed, according to a live feed from Fox 21 News.
10:06 a.m. Cadets will attend the graduation in dress blues with masks on, Roeder reports.
9:50 a.m. The academy is tweeting out pictures of banners ordered by loved ones to honor cadets, since family and friends are not allowed at the ceremony due to the pandemic.
Always! Thanks, Mom, Dad, & Patrick! #USAFAGrad2020 #ThankAParent pic.twitter.com/DDkomWjpzE

— U.S. Air Force Academy (@AF_Academy) April 18, 2020
Not without you! #ThankAParent #USAFAGrad2020 pic.twitter.com/Hl0QBshCfp

— U.S. Air Force Academy (@AF_Academy) April 18, 2020
🇺🇸❤️ #USAFAGrad2020 #ThankAParent pic.twitter.com/sJG9dXfyM7

— U.S. Air Force Academy (@AF_Academy) April 18, 2020
Can't get to grad without you! #ThankAParent #USAFAGrad2020 pic.twitter.com/1Xtw2Dom1a

— U.S. Air Force Academy (@AF_Academy) April 18, 2020
#ThankAParent #USAFAGrad2020 pic.twitter.com/qh6a83vDVv

— U.S. Air Force Academy (@AF_Academy) April 18, 2020
9:48 a.m. Roeder and Murdock are waiting in Polaris Hall before the cadets head out, marching eight feet apart. They will march the same path they took to basic training, up the "core values" ramp, Roeder tweets.
9:43 a.m. Colorado's U.S. Sen. Michael Bennet tweeted a picture of himself and an American flag in this morning honor of the class of 2020.
Congratulations to the @AF_Academy Class of 2020! We're proud of all you have accomplished and grateful for your service. #USAFAGrad2020 pic.twitter.com/sm6NAL6s9S

— Michael Bennet (@SenatorBennet) April 18, 2020
9:23 a.m. The academy is not satisfied with Roeder's hat, apparently. No comment on whether we at The Gazette are either. (We kid.)
We can find you a Falcons hat if you'd like, Tom. 🇺🇸 https://t.co/052rFGXE3t

— U.S. Air Force Academy (@AF_Academy) April 18, 2020
9:22 a.m. Here's a seen from the prep for the ceremony from Mike Petkash, a videographer with Gazette news partner KKTV.
#USAFAGrad2020 preparations are underway for the 967 United States Air Force Cadets to graduate spaced eight feet apart. pic.twitter.com/ULDE5YtfXD

— Petkash Photog KKTV (@mpetkash) April 18, 2020
8:58 a.m. Flags will be flying throughout Colorado Springs today in honor of the class of 2020. Feel like hoisting Old Glory but don't have one? Pick up a copy of today's Gazette — the entirety of page A5 is an American flag, printed in color.
8:48 a.m. In coronavirus news, Murdock is the first coworker Roeder has seen in person since March 13. Gazette staffers have been largely working remotely in and following social-distancing requirements. Under Gov. Jared Polis' stay-at-home order, journalists are considered essential like fire, EMS, grocery workers and medical personnel.
8:44 a.m. Gazette Senior Military Editor Tom Roeder, and photographer Christian Murdock, at are on scene at the academy ahead of the 11 a.m. start of the graduation ceremony. Cadets were sworn in overnight in individual commissioning ceremonies, Roeder says. The hat toss is scheduled for 12:08 p.m. Nearly 1,000 — 967 — cadets will graduate.