RUSH • On the plains far east of Colorado Springs, on a tumbleweed corner of this town with a name that contradicts its actual pace, it's as if time has no power, nor any other trouble in the world.
Except time does pass here. In 2018, 58 years after it opened, the Rush Cafe closed. Rush's gathering place, the place where farmers sat for coffee and pie, the place where old and young converged after church or any other day for all-you-can-eat suppers and holiday specials, was no more.
But then one afternoon a man who had always wanted his own restaurant happened upon the post office across the street, the box of a building proudly flying the American flag.
By sheer coincidence, Rush was his name. Jason Rush. He'd driven past cow pastures and junkyards and abandoned trailer homes to get here to Colorado 94 and Rush Road. He looked over at the vacated Rush Cafe and said to himself, "That's gonna be mine."
And so it was March 14. A city escapee, Rush opened for St. Paddy's weekend, serving corned beef and cabbage — reestablishing one of the cafe's long-lasting traditions. It seemed the whole town showed up.
"I did over 110 people the first day, 100 the next day," Rush said. "And then the COVID thing."
Two days later, he was forced to close. Maybe time didn't defeat the Rush Cafe, but COVID-19 would.
Or maybe it would not.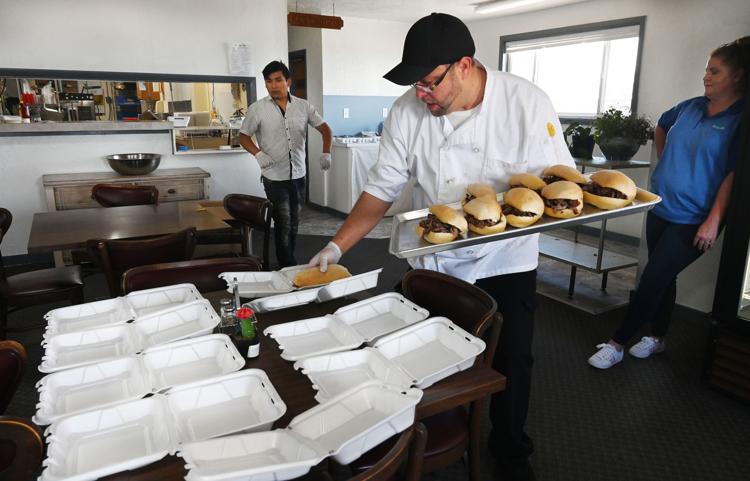 These old, wooden chairs and tables would have to be empty. The Folger's fill-up in the corner would have to go. But as he shifted to takeout only, Rush learned something about his new people and what this restaurant meant to them, the only one around for many miles.
"The whole community was like, 'We're not gonna let you shut down,'" he said.
And so there he was one Wednesday this month, doing what few restaurateurs have done lately, let alone one who was looking at about $400 in his bank account not long ago: He was calling for help, begging a worker to come in for extra pay. Rush was wiping sweat from his brow, grilling burgers and dropping potatoes in the fryer.
The men in their dirty blue jeans would be lining up soon for their own burgers. But first, Rush had 35 boxes to fill — 19 for every departing senior at the school and the rest for staff.
Usually on Wednesdays, a bus had been going out to the students' homes to deliver paper assignments, because many of them don't have internet access. The bus had also been bringing food from the lunch ladies, because food can be a struggle for far too many.
The pandemic has been tough on the kids. No school. No 4-H meetings. No church. There are fears of baseball getting canceled.
And so on this Wednesday, the school wanted to do something special. The Rush Cafe was called.
"He's phenomenal," school secretary Stacy Tebo said of the chef as she waited and he scurried around the kitchen. "We're just thrilled to have him. He just came outta the blue."
Also before the pandemic, also as if outta the blue, came the food pantry across the street. Here at the cafe, Tebo looked out the window at the scene: old-timers Lonnie and John in their cowboy hats and orange vests, directing people where to park.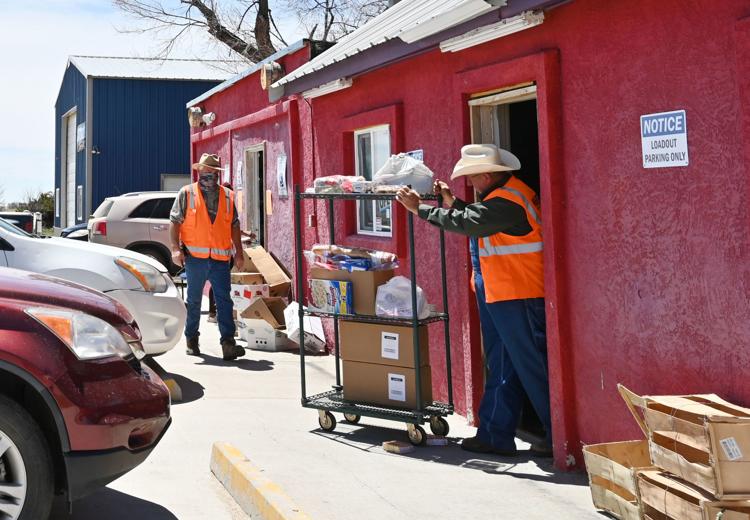 "This is probably the most traffic in Rush you'll ever see," Tebo said.
Just as the coronavirus flipped cities — busy to silent — so it has here at this dusty corner, which suddenly bustles. Look here to see how Rush has been holding up in all of this.
"Better than the city, I'd say," said John McLaughlin, the pantry volunteer loading goods into back seats. "Out here, this is neighbors helping neighbors. We have to take care of ourselves out here."
That's what volunteers knew back in January, when they turned this dilapidated, tin-roofed structure into a pantry.
"We were open not quite two months," said one of them, Deb Brinkman. "And then this stuff hit."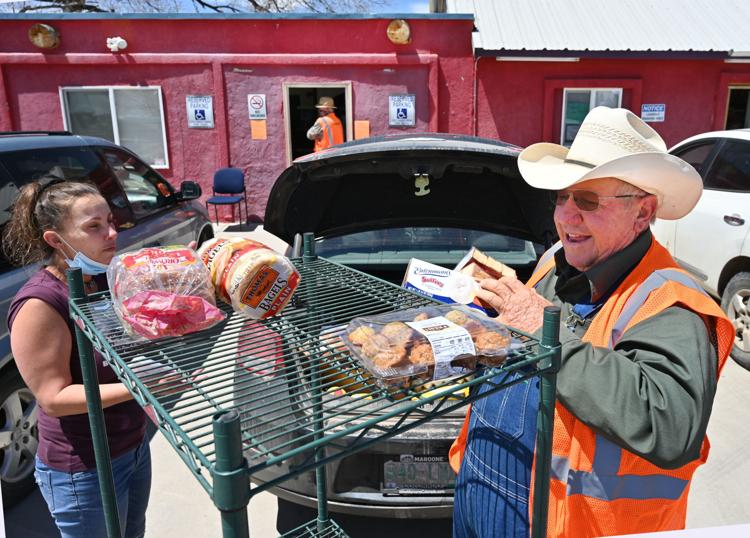 And then the pantry got overwhelmed. From serving about 60 families a week to closer to 100, said leader Aleta Fields.
This was becoming more people's only place for groceries. Fewer could afford the big box stores. And even if they could, they weren't about to drive 20 or 40 miles to Falcon or the Springs and risk the crowds.
Pantries everywhere were strained, and Rush was no exception.
"That first month, we didn't know if we'd be able to stay open," Fields said.
But she held onto a Bible story about fish and bread multiplying. Held onto faith that food would show up.
And across the street, along came the new guy in town.
Rush had gotten help in trying to open the cafe. The man who came to lift him in a cherry-picker to install the restaurant sign. The owner of the gas station down the road who gave him a big spoon to mix beef stew. The love he'd gotten that first weekend open. Now Rush needed to step up.
To the pantry he brought food he had previously planned to sell. He learned bleach was needed as well. That was something he could order from his supplier.
And then locals started asking him for other things. Flour. Yeast. Cleaning supplies. Toilet paper. He'd order and sell at face value, no profit.
"Anyone need food for their piggies or chickies?" went one Facebook post, a regular call-out. "I have clean food scraps. Free of course."
So not one but two places of need emerged on this little corner, just in time. However unlikely, it's turned out to be the right place for Rush to launch his restaurant dream.
"For being in the middle of nowhere," he said, "I do a lot of business."
It's an odd sight in the middle of nowhere, this busy corner. So it was on this day to an area rancher, who pulled up to the post office in his Ford pickup and looked curiously over to the pantry.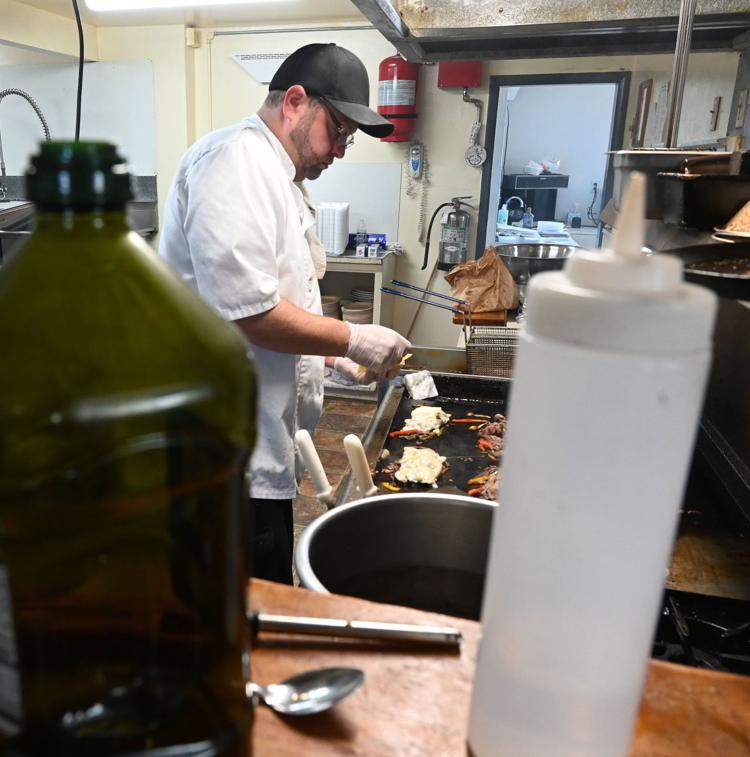 He came over to ask Fields what was up. He drove away with her beaming.
"This gentleman said he's going to donate us a whole cow!" she reported to fellow volunteers. "Getting it butchered himself!"
"Praise God!" McLaughlin said, celebrating with helpers around him.
And here at this corner where life indeed looks different but where old ways prevail, they did something not often seen these days: They hugged each other tight.