CAÑON CITY • On their way north, Robert Henderson and his wife will stop by "The Study Hall" of the Air Force Academy, the sculpture garden displaying the bronze magnificence of World War II planes.
"There's always people around taking pictures," he says, "asking me to get out of the way."
A wry smile stretches the creator's wrinkled face. He's inside his headquarters, a building calling no attention to itself among the others of the industrial zone here behind the tracks and the river. No, the man known as the Warbird Sculptor doesn't need attention.
"I don't see him as needing or feeling like he wants to be remembered," says Cheryl, his wife of 38 years. "As long as he leaves behind people's history, I think he's just fine with it all."
Kenneth Cobb, the sergeant who served in Vietnam, and Danny Dietz, the fallen Navy Seal, are only a couple of the life-sized statues that will be around long after Henderson. It's strange, he says: Several family members died at age 69, and he figured that was the curse, that was when he would go, too. But here is, about to turn 75, still breathing, though with some labor after a lifetime of smoking.
"This last year, my uncle died, my brother died. I'm it now! It's like, What? Wow. How can this be?"
Greeting him through the office door is his mom as he never got to see her. Laura Colleene Swain is cast in bronze, wearing the jumpsuit made for those in the Women Airforce Service Pilots ranks. She was indeed a pilot, the main inspiration for her son flying later, but she never actually joined that program.
"She met my father, and that disqualifies you when you get married," Henderson says. "So she didn't do the WASP thing."
Instead, she went on to a hard life. Her husband, Henderson's father, suffered a gruesome death in the oil fields before the boy turned 1. She was 23, alone with two babies and another on the way.
She married again, to a pilot who would lose his leg in a crash. She would care for him as she cared for her daughter, who was crippled by polio. Meanwhile, her motorhead son lived recklessly: racing cars and speeding atop motorcycles on Oklahoma roads, colliding with a wheat truck at 14 and almost dying, Henderson recalls. Why, he thinks now, did he add to her grief?
"She just kept having this stuff in her life. And it's like, you know, I sit here feeling sorry for myself. When you put it in perspective, doesn't make a lot of sense, does it? That's what I'm trying to do with my life. Just put things in perspective."
He's in a reflective mood, meandering the corridors of his workshop of three decades, and he stops to address his nickname. The Warbird Sculptor would like it to be known that he is more than warbirds and soldiers.
He steps into a room keeping shiny figures of the female form, pronounced breasts and curving hips. "Uhm," he utters, "well, I'm an abstract artist, you see."
•••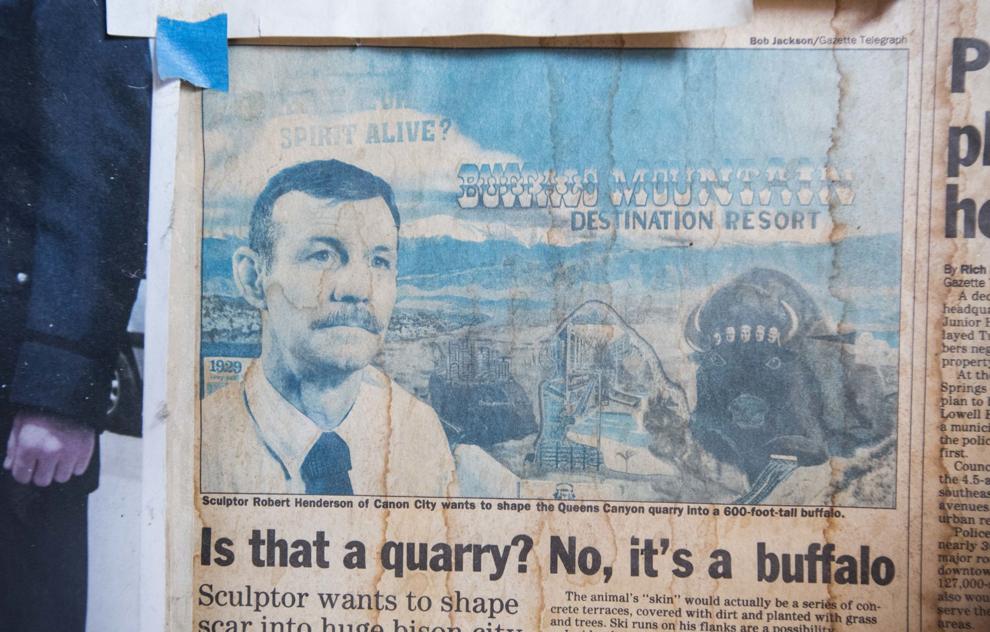 Also in this room, the story of Genesis covers one wall, Henderson's brass depiction of sea and stars forming, animals joining land and sky, man and woman meeting, an apple dangling. In one corner is the late Sister Andree, whom Henderson knew as integral to hospice care in town. An Indian man, a life-sized shaman he knew, sits in another corner.
"That's another one of the pioneer Jews," Henderson says, motioning to a bust as part of a series. Henderson is not Jewish, but he wants people to know about Florence Prag Kahn, the first Jewish congresswoman.
"This is another gal I like to talk about," he says at the bust of Pancho Barnes, and he rattles off the history of the legendary aviator.
Elsewhere is the likeness of Harriet Quimby, the first woman to fly across the English Channel.
This corner is for the busts of famous drivers who raced to early graves. In that corner is "Yip" Harburg, the lyricist who wrote "Over the Rainbow," his face dissolved in laughter.
Here is John Denver's bust. There is Walter Cronkite. Is that Abe Lincoln? No, that's a young Levi Strauss, the man behind the blue jeans. Here is Nikola Tesla, a coil springing his head above the workshop clutter.
"This is one of my latest pieces," Henderson says before the unrecognizable face of Darryl Biggerstaff, the man credited for the college in town.
"A banker, a lovely man," the artist says. "And he took his own life. All the money in the world didn't do him any good."
He, like all of the others, were not paid jobs for Henderson. "I do it because it needs to be done."
•••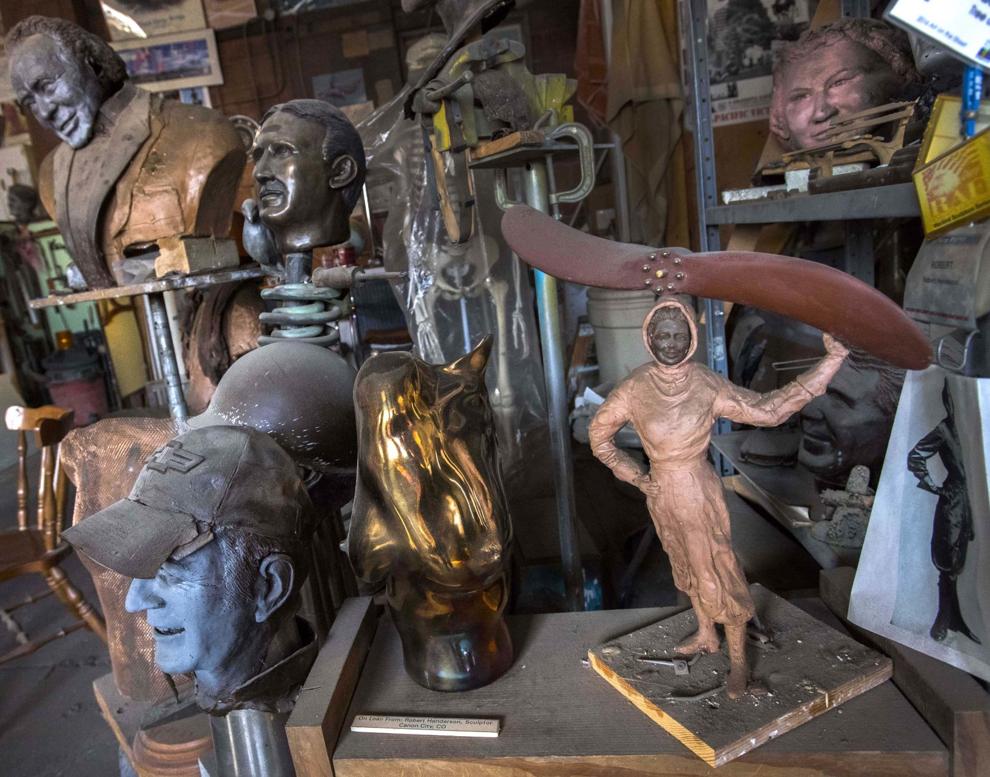 The busts were born in the years after his first major work: the P-51 installed in 1989 at the Air Force Academy. Next came the P-38, the P-47, the P-40 and then the biggest of all, the B-17.
"I feel a failure up there," Henderson says. A story could have been better told, he says.
Then again, "it's never good enough for Robert," his wife says. Cheryl describes him as "a loner," starting at the workshop around 7 a.m., getting home for dinner at 6 p.m. maybe. The soldier memorials are particularly exhausting, "a sad process for him," she says, that includes him hosting family members to inspect the replica of their loved one.
He can imagine their pain as the father of a retired Air Force colonel who flew in and out of Baghdad, shots whizzing by his C-5. Henderson can recall his teenage days, when word about his cousin came home. "One of the first casualties in Vietnam," he says.
Henderson signed up for the 45th Infantry Division, part of the National Guard, doing his time before the war escalated. "Get in, get out, have it behind," went his thinking, "because I'm a gentle soul, I think."
But through his 20s, he lived hard and fast. One more friend in a box, and he finally quit racing, turning his focus to a career in commercial piloting. Things were good, until he lost his license due to medical reasons. All that smoking caught up to him.
He moved to Greeley in "a late-life crisis," says Cheryl, whom he met there. They were both getting divorced. And as he was picking up jobs, figuring out what to do with himself, he was struggling with the death of his mother. She was at the end of a bout with breast cancer.
"She wanted me to build her a form, a female form, just before she died," Henderson says. "I think she was telling me to sculpt at that time."
He's quiet for a moment. "She died before I had it done."
•••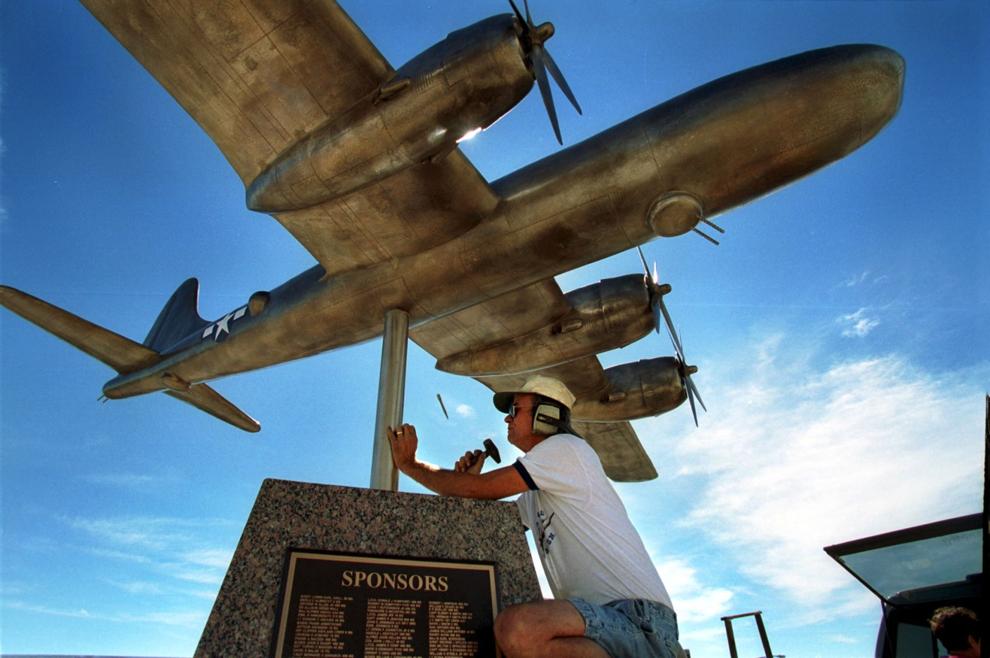 The abstract work, the female forms, are a way of coping, Cheryl has observed. "Cathartic for him," she says.
For him, everything represents a story not to be forgotten. And at his age, better to keep working than to rest, Henderson figures. Even Sundays are for working.
"See that clock tower down there? I'm the winder."
He does the oiling and mechanical maintenance, too, because the guy who was doing that is dead.
"So I'm it. But you see how I wear out? Notice I have to stop and catch my breath? When I climb up there, I'm worn out. So I keep a book up there."
He'll read a chapter or two, then crank, then read some more. Right now it's "Wind, Sand and Stars," by Antoine de Saint-Exupéry, the Frenchman who died at the controls of his plane but not before waxing poetic about life.
Henderson has read it before. But high in the clock tower, he finds deeper meaning.
One line is about being a man. It is to be responsible, the author writes. It is to seek knowledge and also lend it. "It is to feel, as we place our stone, that we are contributing to the building of the world."