Almost three decades later, Fruita's renegades easily confess to their crimes.
"We didn't quite understand the rules and broke them," says George Gatseos, one of those who in the 1990s built trails on Bureau of Land Management swaths enveloping the town. "But it's definitely worked out, I'd say."
Indeed, mountain biking has kept Fruita from fading with the desert dust. The little Western hamlet with an agricultural heritage was on the brink of bankruptcy when Over the Edge Sports opened in 1995 in a crumbling storefront. Gatseos is general manager of the shop, headquarters for the singletrack paradise known by riders everywhere.
"We were the weird dudes in tights for a long time," Gatseos says. "But the city and the people here, I think, have really grown to appreciate what (mountain biking) has done to the city."
Every year, he organizes the celebration of the savior sport. That's the Fruita Fat Tire Festival, happening this weekend and likely to welcome 1,500 people. Or 2,500 if the weather is good, Gatseos says.
"When you build trails, you kind of want people to come ride them," he says, reflecting on the fest's start 24 years ago. So a small group gathered, loading up on pasta carbs and riding the day away on the splendid network known as 18 Road.
That trailhead this weekend will play host to vendors lining up with their latest and greatest set of wheels. Riders can pay to test them on epic terrain. Or, of course, they can set out on their own saddle, finishing up downtown, where beer will flow and industry reps in tents will show off new gear.
Those unfamiliar with the land can get a proper introduction by registering for guided rides. On Friday, it'll be the swoopy Kessel Run, named for "Star Wars" and fit for beginners — though confident riders can achieve warp speed. Saturday guides will head to the vaunted Pumps Bumps and Rollers trail. And Sunday is for Joe's Ridge, an intermediate local rite of passage inducing big smiles.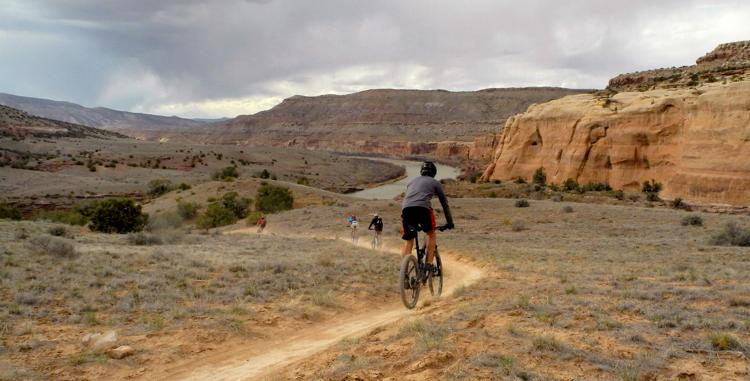 The whole weekend is for smiling, Gatseos says. "From the beginning, it wasn't competitive or racing. It was just fun. That's what we're still all about."
SETH BOSTER, the Gazette