FLORENCE • When a writer comes here, locals assume he wants to know what it's like to live in the "Alcatraz of the Rockies." They recall this as the intent of a national publication some time ago.
"They called us the scruffy little town that was afraid to go outside," Gayle MacKinnon says. "So that's the joke. We're just the scruffy little town out in the boonies."
It would make for a dramatic angle: small-town folk quaking in the shadow of the "Supermax" prison holding some of the land's most notorious outlaws ("El Chapo" arrived this week for his life sentence).
But this would be a wrong angle, MacKinnon and other long-time residents insist. "Fake news," they would call it.
Sure, people are on high alert when the whistle from the fire station blows three times, signaling a prison break. But they say this is rare. Rare like the whistle blowing twice for severe weather; locals know this pocket of south-central Colorado to be a protected, sunny oasis.
But every day at noon, the whistle blows once. This is a tradition from the coal days, when the miners were called in for lunch. A gritty heritage is also symbolized by the smokestack of an old cement plant. And by the prison, an oil pump said to be the longest-going in the country represents another important industry here. "A historic oil town," reads the welcome sign into Florence.
So yes, "scruffy" seems to fit.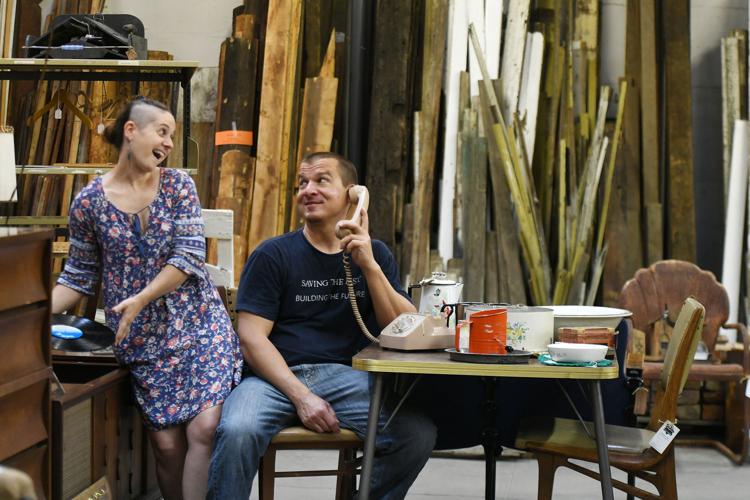 "We call all our dogs scruffy," Peg Piltingsrud says. That's part of the joke.
Truth is, there's much more now to the town she came to in the '60s, the daughter of the drugstore owner, welcoming coal-stained men who at the end of the day lined up to buy cigarettes.
Piltingsrud went on to marry a military man, so she got to see what the rest of the world had to offer. But when it came time to settle, she thought of Florence — "a great little town," the welcome sign also reads.
"It still is that," Piltingsrud says. Still a great little town where people take care of their own, helping neighbors and rooting on the football team, suspicious of outsiders as they are of government and corporations. Still a great little town, though it's not the thriving economic center envisioned by James McCandless, the oilman who from his fields saw a community rise, incorporated in 1887 and named for his daughter.
Piltingsrud and her sisters have seen the new Florence come to be. One opened a coffee shop, a success despite the old-timers thinking nobody would pay $2 for a cup. And another in 1996 opened one of the town's first antique shops, laying the foundation for the reputation that continues today. "The antique capital of Colorado," Florence calls itself.
In recent years, people have found 20-plus antique shops lined up here, one after another along the quaint main street of Victorian buildings and big, leafy trees. But with Cañon City's Royal Gorge nearby, and with the mountain destinations of Westcliffe and Salida to the south and west, many skip Florence.
"It's a hidden gem," Erin Sauer says. Which explains why she and her partner, Barna Kasa, started a business here a couple of years ago.
The pioneer, do-it-yourself attitude prevails in Florence, and Salvage Antiques is where people find the widgets, latches and knobs they need to keep their homes in mid-century order. In the back they can find wood, windows and doors salvaged from farms — items that mostly inspire one's next artistic project.
And indeed, Florence fancies itself artistic. Look no farther than the Bell Tower Cultural Center, the church-turned-hub for classes in painting, quilting and jewelry-making. The Florence Arts Council promotes these as well as concerts featuring global talent. The music is as unexpected here as any treasure one might find strolling the creaking floors of downtown.
"There's so much here," Kasa says, "and people don't know about it."
He's trying to change that, a young thinker within the chamber of commerce and merchants association. He's got a long list of outdoor recreation recommendations on finditinflorence.com, everything from rafting to hiking to biking to rock climbing.
The site lists a wide variety of eateries, too. For a while, leaders thought restaurants were missing from town, but now they proclaim you can taste the world in Florence, choosing from Indian, Japanese and Italian, with German on the way (not to mention $10.95 filets mignons at Quincy's). Florence's latest jump into modern Colorado: a brewery, courtesy of Hans Prahl, whose business is a gold-standard in marketing from Kasa's view.
"If every antique store hustled like Hans does, this town would already be Salida," he says.
But social media isn't everybody's thing here. And Florence doesn't necessarily want to be like anywhere else. More prosperous, sure, more certain in antiques spelling the future as coal and oil briefly did, but content being a great little town somewhere in the middle. Content like Rena Pryor in her antique shop this afternoon.
She's spent her life in the area and her career at the prison, a former lieutenant and shift commander. "It's a stressful environment," she says. "Then you learn about things you never knew the human body could do or would do."
She pauses. "That's why I enjoy this so much."
She enjoys roaming the store, stopping to marvel over the detail of some wooden shelf or some rusted yard tool, stopping to wonder about these bayonets from the world wars and these Indian artifacts that just got here. She waves to friends coming and going. Upstairs, she keeps her colorful fabrics for sewing. And time is gracious and slow, and the prison seems far away.