We stepped off Cheyenne Mountain State Park's North Talon Trail, leaving the Dakota Hogback's colorful and craggy ridge. We came to the path blocked by the chain-link fence that is finally about to fall.
"This is the beginning," Jack Busher said at the Dixon trailhead. "2011, man."
That was the year he and other volunteers began the backbreaking task of building the trail that has been many more years in the making. The idea hatched at the turn of this century, when the state park was acquired for its prairies and peaks and that iconic, granite centerpiece.
"Cheyenne Mountain was purchased as (Colorado Parks and Wildlife) was looking for a crown jewel. That was an original term that was used," said Mitch Martin, the park's manager since its opening.
And now comes the crown jewel trail that land managers had in mind all along.
Hikers who have only from afar admired the Pikes Peak region's second-most famous mountain could finally embark on the big adventure this week. The Dixon Trail's "soft opening" is set for the coming days — Martin said to look for an announcement on the park's webpage: cpw.state.co.us/placestogo/parks/CheyenneMountain.
After years of anticipation, the superlatives should be expected.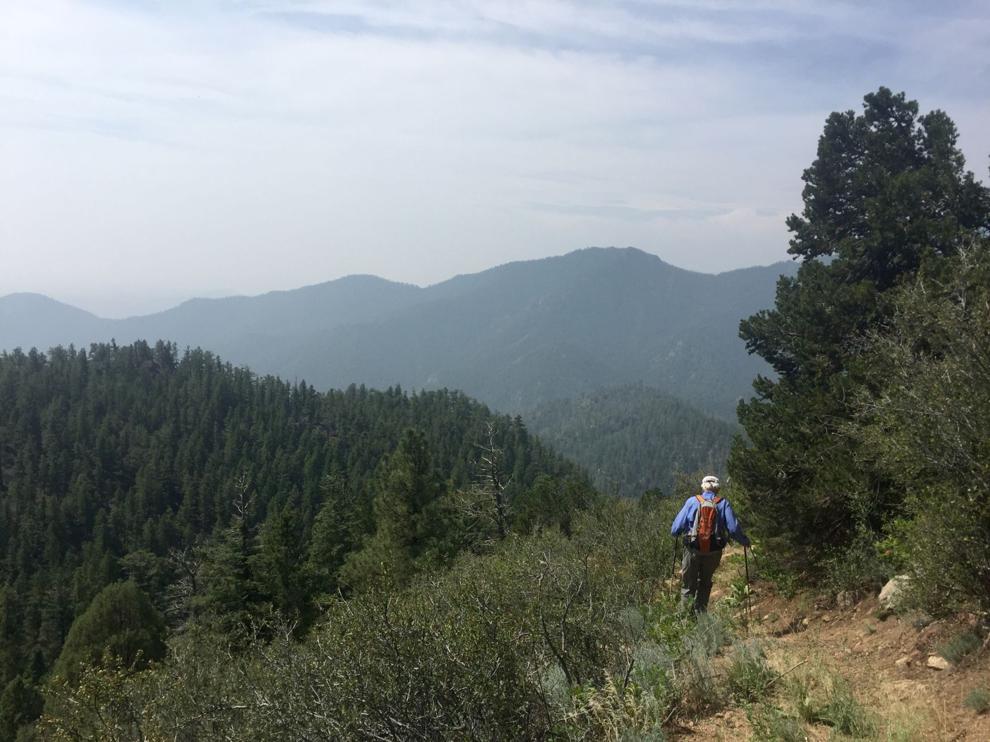 The organizer of the Cheyenne Mountain Run — which in its fourth year is to include Dixon's entire half-marathon length Oct. 20 — Dick Standaert draws comparisons to Pikes Peak's Barr Trail.
"In 100 years, there hasn't been a trail built this significant in the Front Range," he said.
Other state parks boast backcountry escapes — Staunton and Golden Gate and Eldorado canyons to name a few in central Colorado. But of all 54, does any boast a trail with such a high-profile destination?
"I'm gonna say it's the premier trail across the state park system," Busher said.
Perhaps no one is as excited as him, the park's trusted trail guru who's credited for this one's name. Whenever he went to survey, he always said he was heading up Dixon's trail, the faint path made by the mules of the mountain's homesteader, Thomas Dixon.
Finally, visitors will get to experience the handiwork of Busher and his crews over the past several summers.
"You know, years from now, somebody's gonna walk up these switchbacks and think, 'Gee, how did Mother Nature do this?'" he said, on this day wielding hiking poles rather than picks and shovels. "People have no idea how these things are actually hand-built."
Busher hopes that people are prepared at least.
Dixon might be reserved for those as gritty and bold as the man whose former home is seen in lumber shambles by the trail's upper reaches, near 9,300 feet.
From the Limekiln parking lot, hikers will start on Talon Trail, turning on North Talon and arriving at Dixon after 3½ miles. The trek to the top is an additional 4 miles, totaling about 3,000 feet before the loops waiting along the wondrous, eastern flank.
Here, one comes eye-level with the mountaintop antennae that long have been gazed upon from town. Many will get their first glimpse of NORAD. From some vantage points, they can look down and see the road disappearing into the mountain's mysterious military base born during the Cold War.
Before feet trample the trail, visitors should not only expect a physically demanding trip, but also one that could require some route-finding.
"It's gonna get dicey up here," Busher said, as he showed us last week to the saddle where workers only recently started cutting tread and trees — filling the gap that remained for nearly five years as Martin negotiated an easement with a private landowner.
We had made our way through woods of mountain mahogany and saw the landscape shift to a lush forest, raspberry bushes beside the drainage, tall ponderosa pines lending the shade. Now flags spotted the way, difficult otherwise to find in the jumbled rocks and scattered timber.
From the saddle, about the halfway point of Dixon, cyclists and equestrians must turn around. "I think they'll understand why," Busher said.
The terrain warps again, rocks taking over as the views open: the foothills and their rock promontories, the plains stretching east, the Sangre de Cristo mountains to the south. Then the trail ascends through a wide meadow dominated by towering aspen stands, their trunks marked by bear claws.
A gnarled T-33 jet has sat in these grasses for 61 years, since the crash that killed two men aboard. It's eerie to observe in such stunning silence, broken only by occasional artillery fire from Fort Carson. A memorial is planned for the site, along with an exhibit down at the visitor center, featuring the ejection seat.
These upper loops, a figure-eight amounting to another 3½ miles, were envisioned by Mark Hesse, the late founder of the trail-building nonprofit Rocky Mountain Field Institute. And surely, the avid climber would be proud of the short but treacherous stretch called Dragon's Backbone.
"We're still on the right track, but you wouldn't know it," park manager Jason Hagan said, leading the scramble down a steep cliff.
It's easy for him to imagine Dragon's Backbone claiming rolled ankles or worse, requiring rescuers whose quickest route would be via Old Stage Road, about an hourlong drive. It's easy to imagine something happening lower, requiring a more logistical rescue.
Like his two fellow full-time rangers at the park, Hagan has mixed feelings about Dixon. "I definitely think this is gonna change my day to day, maybe more long days," he said. "But I'm excited. People will love it up here, for the few that can make it."
It's impossible for Martin to predict how popular the trail will be, whether the park's annual visitation of 200,000 will change. He expects, though, that the family-friendly hub will be seeing "a different kind of hiker."
Then again, for anyone traveling Interstate 25 or Colorado 115, the granite marvel in view could be hard to resist.
Once we returned, Hagan observed that far-off backbone of mythical legend. "Isn't it crazy to think?" he said. "We were just up there."