LAKE GEORGE • Behind the bike line, a man finds everything else he loves.
Behind the barbed-wire fence, behind the bikes spanning hundreds of yards along U.S. 24, Robert Gilley runs the Travel Port Campground. He wears a John Deere cap over his white crop of hair, because he loves tractors. He loves old farm equipment, explaining his collection here — a nod to his childhood close by, the son of a rancher who suddenly died before his boys became men.
Also, Gilley loves license plates.
"You'll probably not see another one of these," he says, showing a 1912 Colorado plate. He's got one for every year since and more from other states and countries. They plaster the walls of a woodstove-heated room just up the road, behind the bike line, a room with everything else he loves.
"This here I just accumulated," Gilley says of the apple peeler, rusted like everything else around. The razor sharpener, the cheese cutter, the cream separator, the scale that weighed mail and the scale that weighed produce. Just a few of the things treasured here behind the bike line.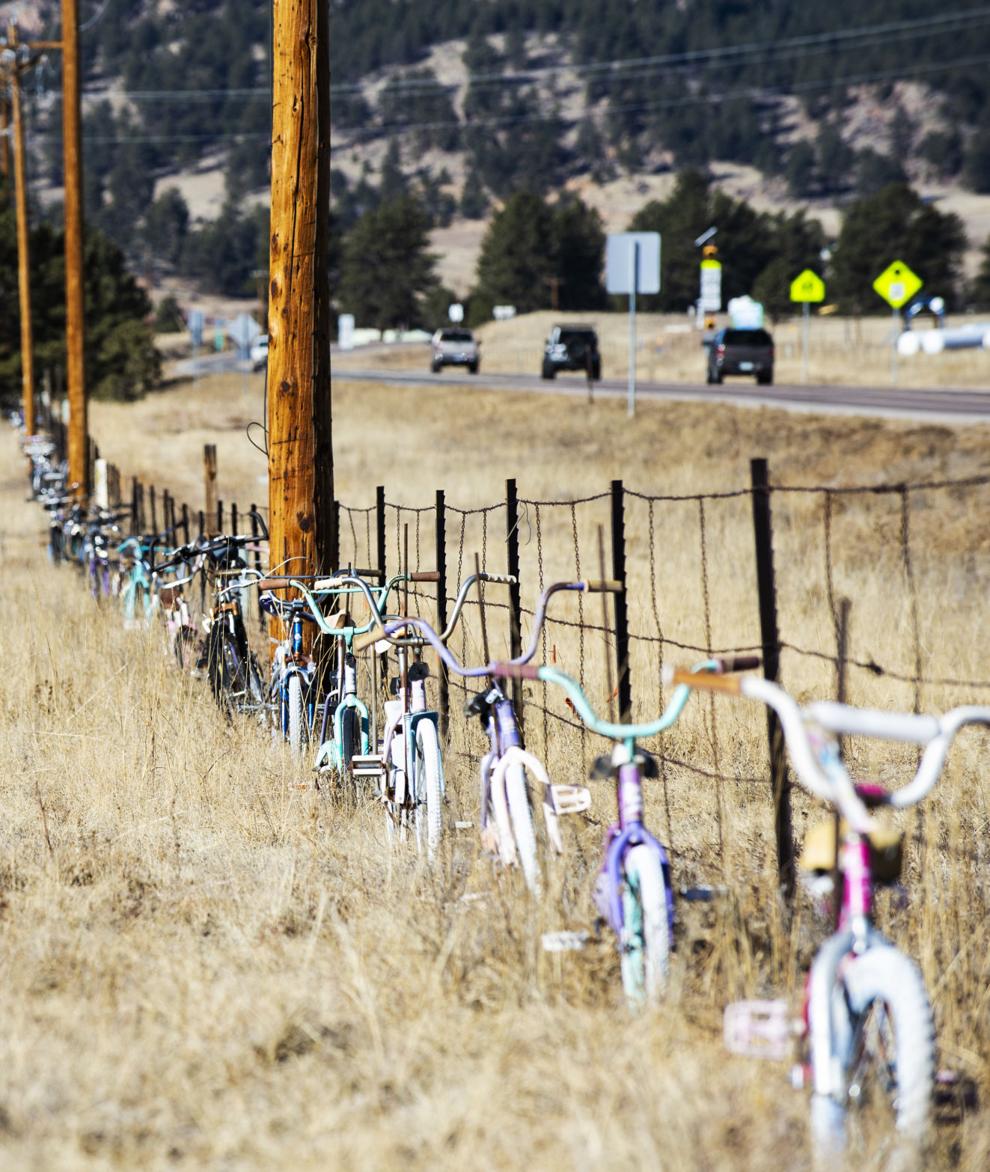 Collecting is "a bad disease," Gilley says, and "there is no cure, other than more things." As for that old baseball catcher's mask over there? He swears it just wound up in the passenger seat of his truck one day. Kind of like how the bikes got here, he says.
It started with 13 from his kids' youth. He put them out by the road for the taking. Then some guy came by saying he had more to add to the line. Then a pastor came with a bike. Then a sheriff's deputy.
Gilley will donate a bike only to later find the gap filled. And behind the line, he keeps accumulating, though unable to fill a new hole.
A purple drape occupies one corner of the room, a shrine.
"Your wings were ready, but my heart was not," read the words, hovering around pictures of Gilley's wife of 41 years.
The last burning logs crack in the stove, the only sound before he speaks. "I lost her last year."
And here, surrounded by everything else he loves, he begins to weep.