MORRISON • Throughout last summer, the 71-year-old woman in charge of Tiny Town would come by the place she always knew as "happy and magical." It was "a wonderful, miniature world," Elvira Nedoma wrote in her book chronicling the roadside attraction's 100 years.
Nedoma started "If These Tracks Could Talk" like this: "Somewhere over the rainbow, preserved fondly in one's memory, is a place where time stands still and you can be a child forever."
Amid the stark reality of a global lockdown, it was hard to maintain the illusion.
But she'd still visit these knee-high buildings ranging from historical to whimsical, from replicas of Colorado's old mining cities to villages of gnomes, dinosaurs and birds. In recent summers, about 75,000 people young and old have come to ride kid-sized trains around Tiny Town's 100-plus kid-sized structures.
But as COVID-19 spread, Nedoma kept the gates closed.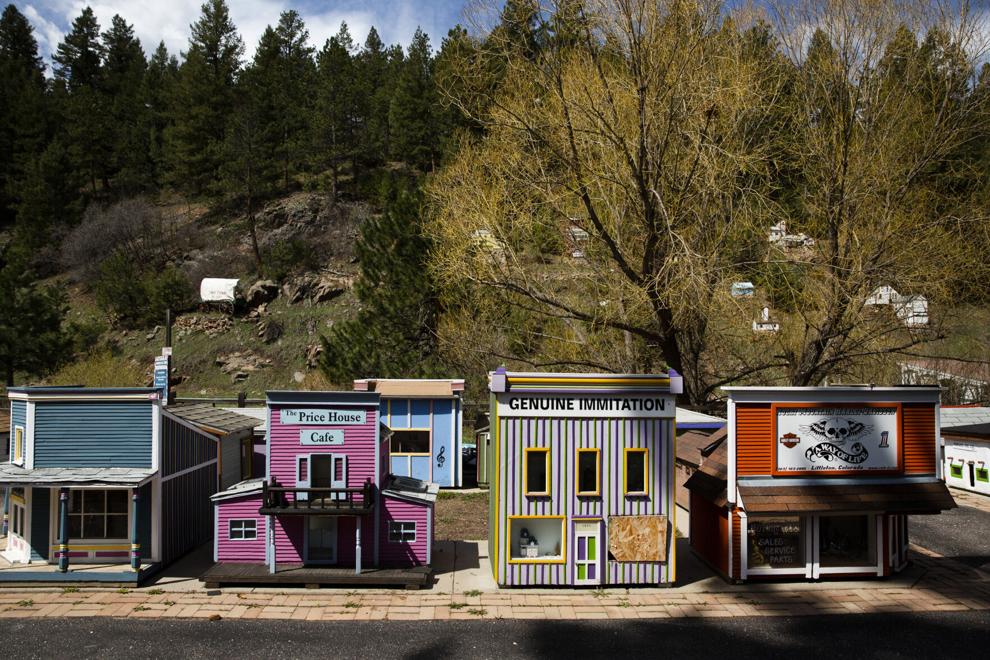 And so all was quiet. No choo-choo from the train. No laughter. No kids — though sometimes they stood behind the gate, looking on and longing.
Nedoma could only take so much of this sadness.
"There was a grandma that came by with her little grandkids," Nedoma recalls. "Well, the 4-year-old was dying of cancer. So you know what? I said, 'You guys come in here and stay all day. Go in the park. Have fun.'"
Starting next weekend, she'll welcome in everyone again.
After a year closed, after fears of the nonprofit folding, after generations of visitors reminisced on a GoFundMe page and raised nearly $34,000 to keep Tiny Town in working order, the magic will return.
Nedoma's volunteers are back. That includes Doug Coplen, who is like the other conductors here: gray, time-creased lines on his face, tattered jeans and workman gloves, yelling "weee" driving through Tiny Town's tunnel. These are grown men reliving childhoods of model trains.
"Last year, it wasn't fun," Coplen says. "We didn't get to play with the trains."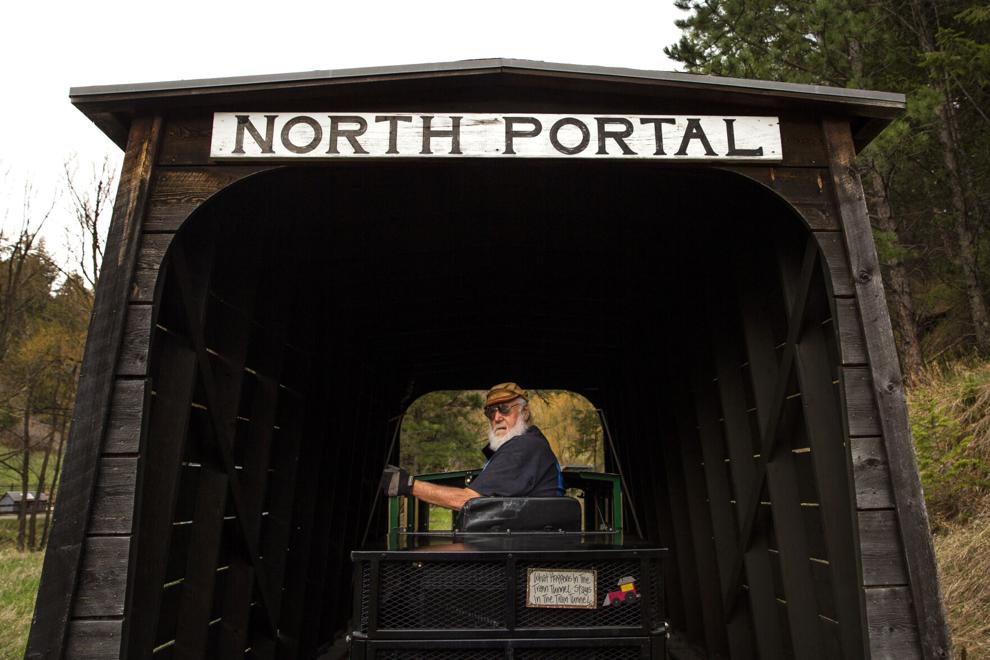 Now he's back taking a few laps, getting the locomotives fired up. That's his partner Dave Christopherson squeezed into the next caboose. He looks like Santa. He plays Santa in the winter.
In the summer, "maybe this is the extension of my persona," he says.
Or maybe there's more to it.
Tiny Town "takes you away from reality," Christopherson says.
'The world moves'
From the bustle of U.S 285 running west of Denver, Tiny Town seekers curl off a side road and drop into a page of Huckleberry Finn. A creek winds through an idyllic valley tucked between evergreen hills.
This is where George Turner made his summer home in 1915. He owned a moving and storage company in the city. "The world moves, so does Turner," went the slogan.
The world moved cruelly. Turner's little girl, Blanche, was sick and dying.
"Unfortunately there wasn't a way for him to extend her life," Nedoma writes in her history book, "but he knew how to make her happy. He built her a town of playhouses."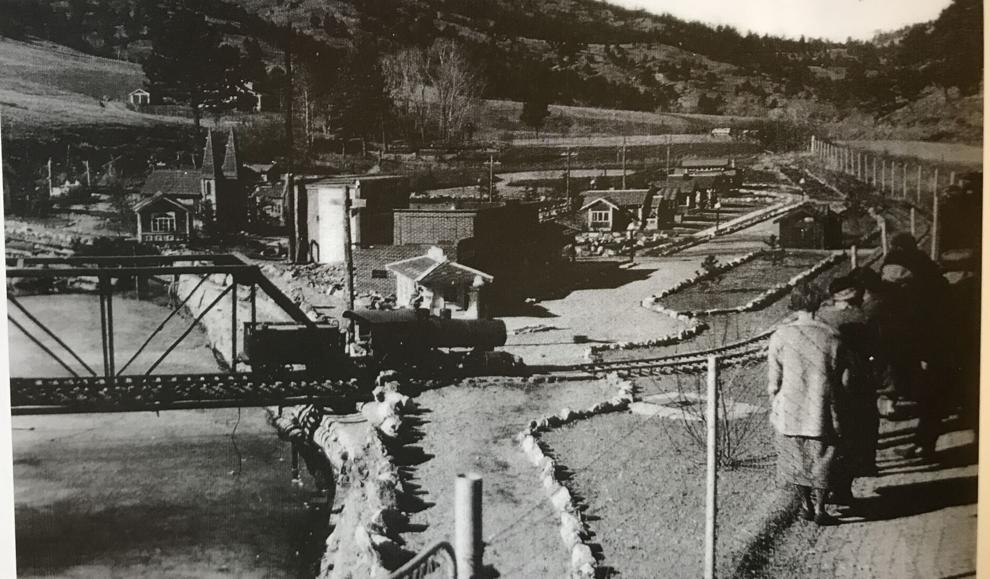 After her death, he continued to expand the elfish empire. Turnerville, he called it. He piped music into mini churches, planted flowers and trees, added swan ponds. Turnerville became a major attraction.
Maybe it was the entrepreneur in him that kept him going. Or maybe it was the sadness in him, Nedoma thinks. Maybe Turnerville was a reminder of happier days.
But "people don't need to be constantly reminded of things," Nedoma says.
Turner sold the amusement park in 1927. It became Tiny Town under the next boss, who would be one of several over the decades.
The land swapped hands as it saw world wars, fires, floods, economic downturns and a highway realignment that also hampered business. Tiny Town would close and fall into disrepair, only to be revived again by people with dreams of profit or something else.
"It's part of a fantasy we remember as children," Nedoma quotes one, Jerry Young, as saying in her book. "That is exactly why I tried to make a go of it, not for the money."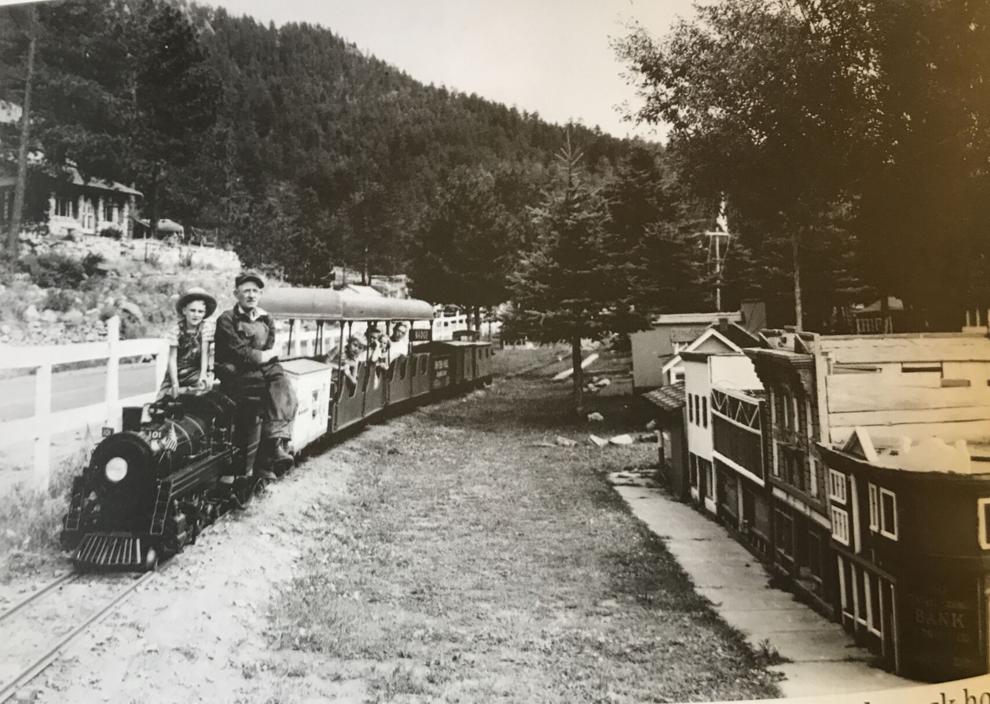 But the small place came with big costs and burdens. The little buildings always needed a fine painter's touch while the bigger buildings with bathrooms and snacks always needed maintenance. As did the trains, of course. Among other bills, insurance became a larger drain in later years.
And yet someone always came along. In 1972, it was the Fulkersons, a man teamed with his wife and young son.
Not since the girl at the beginning had Tiny Town seen a darker chapter.
On March 28, 1977, the Wheat Ridge Sentinel reported on a runaway boxcar that took the lives of Lyle Fulkerson, 39, and his 15-year-old son. Tiny Town was to open in three weeks.
Without her husband and boy, Pat Fulkerson opened "with a heavy heart and not much time to grieve," Nedoma writes. "The burden to carry on Lyle's dream grew increasingly heavy. Pat did not renew the lease for 1978."
A new chapter
The Fulkersons are credited with today's gift shop and roundhouse. After them, in the '80s, a group came along with the idea for the current nonprofit and tradition of volunteers.
In 2000, along came Nedoma. She lived up the road.
"I used to drive by and nobody was painting the houses," she says. "I got a little ticked."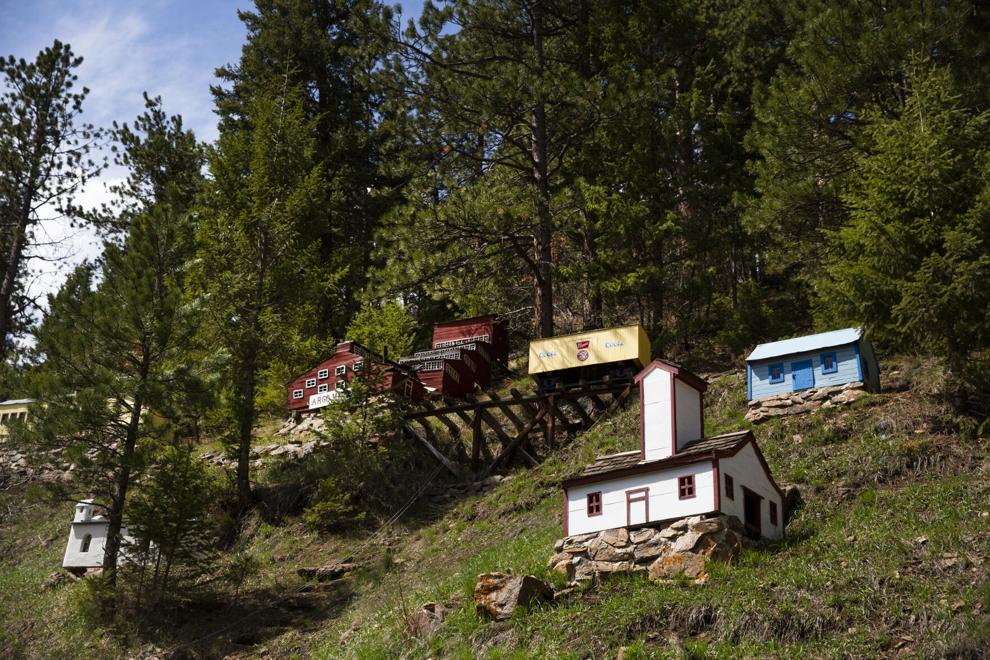 She got to work. Painting and painting, "never satisfied unless it looked just right." It was hard work but happy work, a good distraction. At the time, she was losing her boyfriend to Alzheimer's.
She had always imagined she'd have kids by that point in her life. Grandkids, too. The world had other plans.
"I know the lord brought me here for a reason," she says. "I love children. It's all about the children here."
They know her as the sheriff, with the badge to show; they dare not misbehave in her presence. They also know her as the queen scooping ice cream, with the crown to show.
But the personas were lost in 2020. Without Tiny Town, without the kids, Nedoma felt lost altogether.
"I did a lot of crying," she says.
And this was yet another chapter in the sad, happy story of Tiny Town. It is a story of beginnings and ends. As bleak as 2020 was, Tiny Town would be reborn again, thanks to those memories and donations.
And also thanks to Nedoma, who managed to find happiness after all.
Last year "was very lonely," she says. "But what happened was, I came down here all summer long and painted all the houses."