A boy in Disneyland, just wanting to run like the others. But Daniel Giffin could not.
The limp was as confusing as everything else the 11-year-old had been feeling: the headaches, the nausea. His parents were in the middle of a divorce, so maybe it was the stress. Maybe that explained everything.
Daniel would offer another explanation, ever the jokester. "Maybe my underwear's too tight."
But in Disneyland, as much as he tried to ignore it, the limp wasn't going away. A doctor told Torie Giffin to take her son to the emergency room, to get an MRI.
Three days before Christmas, they found themselves sitting before the results — the picture of Daniel's brain, a fist-sized blob lurking between the hemispheres.
Torie's shock gave way to tears. Levi wanted to leave the hospital — a protective big brother suddenly helpless, defeated — but he willed himself to stay. Torie called the eldest sibling back in Colorado Springs. Delanie was getting on the first plane out.
And back at her baby's side, just before he went into surgery, Torie kissed him on the head, caressed his hair, tried not to cry.
Then, so calmly, Daniel said what he has said so many times these past six months.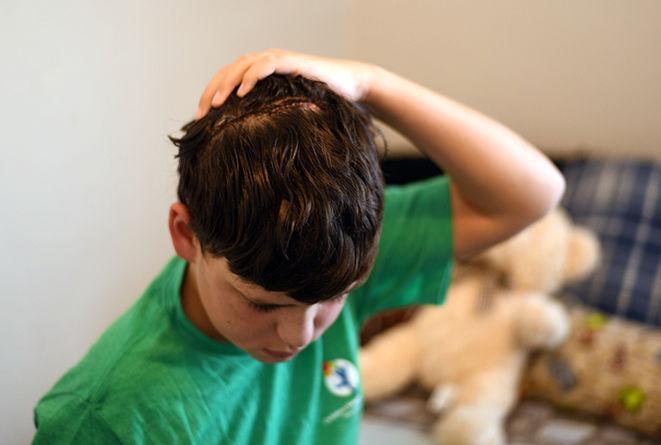 He would not miss Christmas. Daniel would not let that be.
Sure enough, he played video games with Levi the next night, all night Christmas Eve. Video games with Levi, spontaneous dance parties with Delanie, ping pong and badminton and bike rides. Everything would be as it was.
But on Feb. 4, they were at Children's Hospital Colorado in Aurora, staring at more MRI results.
Two, maybe three more tumors. Another surgery. Then 33 days of radiation.
Thirty-three days of driving to Aurora first thing in the morning, lying still for six minutes as a machine whirred around him, draining his energy, though often he'd still want to get back to the University School, join his fellow sixth-graders for history and science in the late afternoon.
Six-plus weeks through April that could have been dreadful. But they were not, because Daniel would not let that be.
That's how he's always been, upbeat, giggly. The kind of kid who makes friends everywhere he goes. He made friends at the hospital, including another cancer patient who went by Colo, her clown name. She and Daniel bonded, of course. He was the kid who rode his unicycle onstage at a school play last year, the lead in "The Prodigal Clown."
He'd go into radiation and pick the music he wanted, and it was always party music. Something that would make him want to dance afterward, despite the exhaustion.
And if on the drive home there was any silent fear of the future, Daniel would say it again: "God's in control."
He said it again on a sunny day in Manitou Springs, where he was eating ice cream and playing arcade games with his siblings.
"If it's his plan for me," he said, looking up, "... sure."
But the Giffins don't let their minds go there. They know the cancer is life-threatening and aggressive. Daniel knows he'll always have to get tested.
"If anyone can get through it, it's Daniel," his sister said.
Levi's compassion is quiet — a big brother wanting to be strong, running alone to Garden of the Gods and praying. Delanie, meanwhile, often gets called "mini mom," a consummate caretaker of the boys, telling them to cut out video games, watch the sugar, brush the teeth, take a coat. She's a senior, bound for Colorado Christian University in Denver.
She tells herself she'll come home on weekends. She tells herself she needs to do this, to be independent, to live her life. But it's hard.
"My babies," she said in Manitou, wrapping her arms around the boys.
"Aah," Daniel uttered, bringing them close. "I love you guys."
And as they debated going home, he looked at the arcade, the sun still high. "I think we should play a little more ..."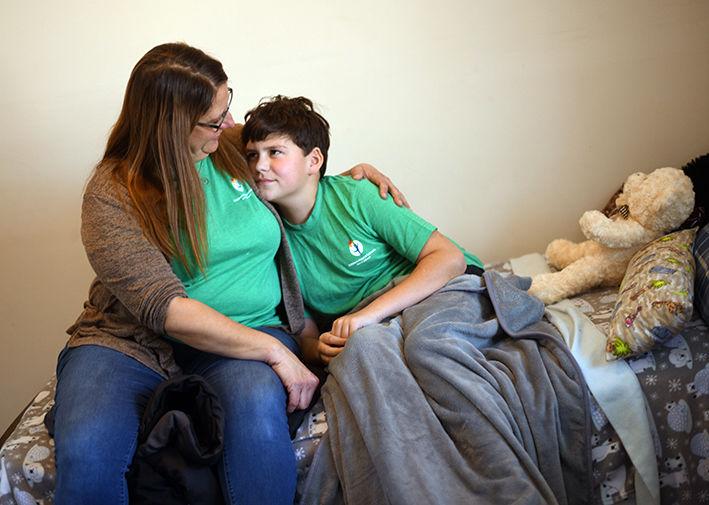 In a year that could be awful, Daniel won't let it be.
Things were "stacking up" after the divorce and the diagnosis, and he could have looked at the world as a place where pain festers and love fades. Instead, he knows now that love grows.
He needs only to look around his bedroom. Long rows of stuffed animals and toys given to him. Mementos from his time as a special guest at the Air Force Academy, the Cheyenne Mountain Zoo and a Colorado Avalanche game. A book signed by a unicycling idol. "Keep on riding."
Also there's what looks to be a Kleenex box from a family friend, stuffed with $20 bills. "Give it a tug when you need a little extra," the friend wrote.
Another friend set up a GoFundMe account to help with medical costs and other needs. The goal was $15,000, but contributions were approaching $20,000 this month.
Struggling to get her West Side motel, the Buffalo Lodge, prepared for the summer, a group one day came to Torie with mulch and rocks and told her to relax while they worked.
"We had a lot hit us in a year," she later said, fighting tears again. "But the good we've seen come out of the community, it's just been so overwhelming."
Daniel's classmates made him a poster with well-wishes and Scriptures. He reads them aloud in his room.
"The Lord your God is with you, He is mighty to save ..."
"We are hard pressed on all sides but not crushed, we are perplexed but not in despair ..."
And the one he's memorized: "Do not be anxious about anything ..."
The poster hangs above his bed. "So that when I'm going to bed and not feeling the best, I read some of these and feel better."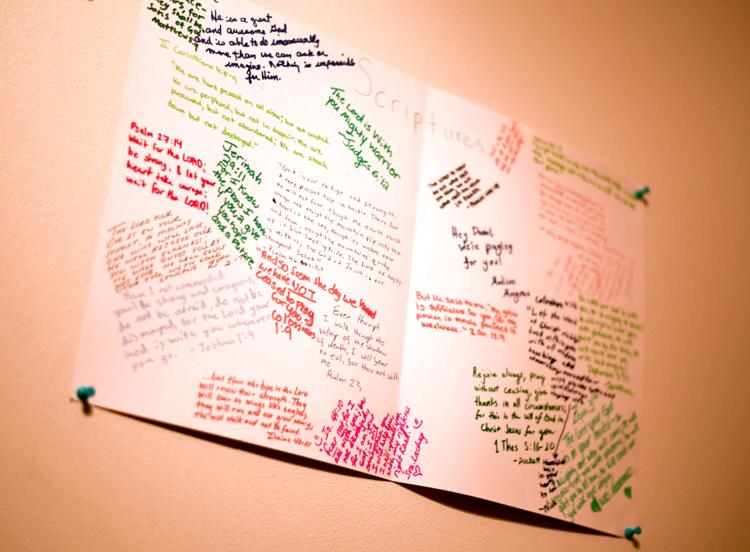 Last week at the hospital again, his dad's arm was around him. His mom held his hand tight.
The results showed another tumor. Another surgery would be scheduled.
Daniel couldn't help but cry, just for a little while.
And when he got home that night, he felt compelled to clean and do the dishes. The next day, he tugged a $20 bill and took his mom out to lunch. He opened doors for her, pulled out the chair at the table for her. They split a BLT, and he fed her ice cream.
"I felt like the luckiest mom in the world," she said.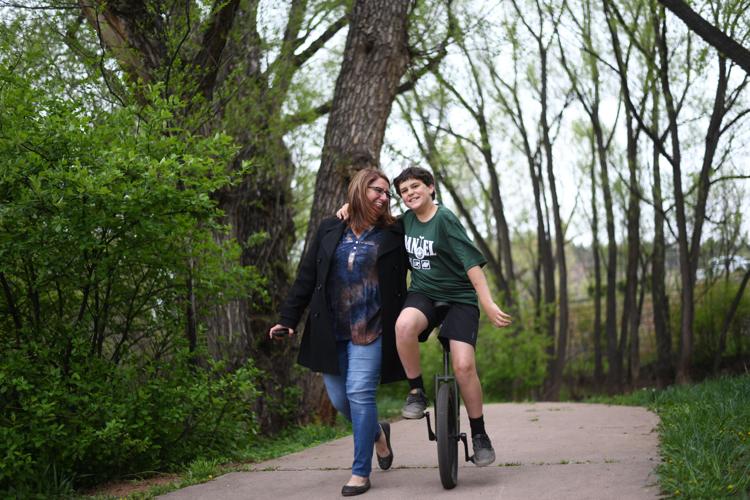 The days are filled with hugs and kisses, and the nights are for snuggling. Daniel has always been a lovey kid, but he seems even more so now. The family could be broken, but Daniel won't let that be.
"This has brought us closer," Delanie said. "It's like a reminder to appreciate time with your family."
That includes the dog. Here Daniel was recently, hugging 8-month-old Aspen tight, cuddling the fluffy Goldendoodle. He let her outside, only to discover later what she'd done.
His plants were destroyed. It's a new hobby, gardening. And the blueberry, raspberry and strawberry bushes he worked so hard on were ruined, uprooted and scattered.
"I'm sorry, sweetheart," his mom told him as he stood looking at the mess, feeling angry and sad, on the verge of tears.
Then, Daniel took a deep breath and walked away. "Oh well," he said.
He would plant them again, grow them again. It would all be beautiful again.