Finding Grinder Sandwich Co. is difficult, as is deciding what to order once you finally get there. Yet this unpretentious breakfast and lunch establishment, north of Peterson Air Force Base just off U.S. 24, is worth the effort on both counts.
Several things stand out about the menu. Nearly everything is house made. The few things that aren't are the breads, which are baked at nearby Sourdough Boulangerie, and the cheesecake, which comes from Sam's Club. The bread helps Grinder Sandwich Co. outshine other sandwich places. So does the combination of fresh ingredients.
Grinder does more than slap meats, greens and cheese between two slices of bread. Instead, these are deliberately crafted, well, grinders. Before getting to the good stuff, it's important to note that Mike Greenberg and Johnny Perkins, two of the owners, not only assemble sandwiches, but also are responsible for what makes them above average. Both have decades of experience in the restaurant business. They opened Grinder 1 ½ years ago serving lunch and dinner.
"That didn't go so well," Perkins said. They ditched dinner, added breakfast, and now it seems everyone is happy. Except anyone who wants one of their creations after 2 p.m. or on the weekends, when the place is closed.
With more than two dozen sandwich possibilities, plus a few salad options and a soup of the day, there is something to please most palates.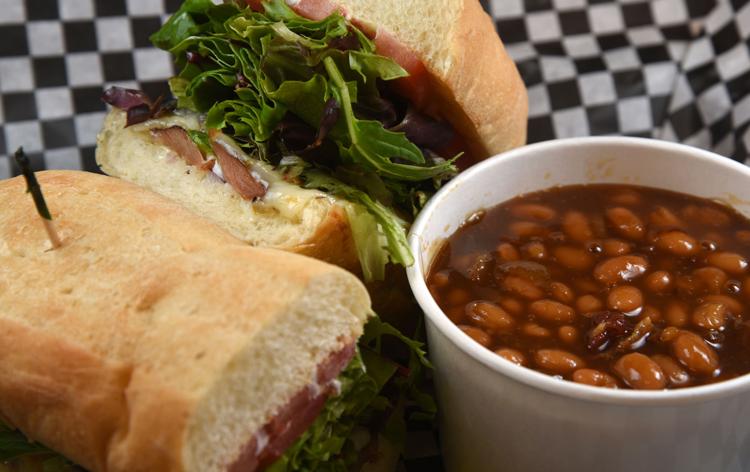 Several sandwich names offer little help in identifying the contents: The Katie, The Mikey and The Petey (each $9), The Big Albert ($10), along with The Johnny and equally baffling The Johnny 2 (each $8). The one that comes closest to easy recognition is Sophie's Club ($10). It's a triple-decker with a combination of meats on bread cut in decorative triangles. Here it's upgraded beyond the standard club: toasted sourdough with roasted turkey, smoked ham, avocado, smoked bacon, romaine, Roma tomatoes and mayo.
The distinction between the two Johnnys is chicken thighs versus chicken breasts. Both are skinless, boneless and marinated in soy sauce and garlic. Another variation is the bread. A hoagie roll embraces the thighs (Johnny 2), while it's a Kaiser roll for the regular ol' Johnny. The marinade is tangy and savory, good enough to eat without any of the other accoutrements: greens, Roma tomatoes, red onions and mayo. For an extra 99 cents, a slice of cheddar, Swiss, provolone or pepper jack can be added to any order.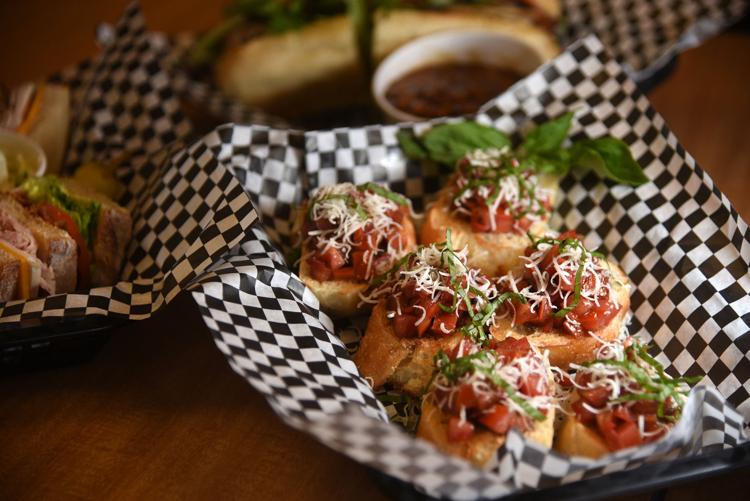 The veggie grinder features avocado, tomatoes, greens and red onions, but the standout, along with the hoagie roll, was the house-made vinaigrette, which added the perfect amount of herb and acidity to this garden of a sandwich. Along the same lines is Danielle's Italian bruschetta ($7) topped with marinated tomatoes, fresh basil and balsamic vinegar with olive oil.
Don't be distracted by the impressive array of chips displayed at the counter. Instead, opt for one of the house-made sides: potato salad, coleslaw (called Nicole slaw here) or baked beans, my favorite of the three. Grinder fesses up to starting with canned Bush's beans, but it dresses them up with five additional ingredients for a (literally) sweet result.
The company's website names Pete Esser as the third owner. Although he wasn't present, we can only guess he's as friendly and proud as Johnny and Mike, who prepared our food.
Restaurant: Grinder Sandwich Co.
Address: 656 Peterson Road
Contact: 358-7730; grindersandwiches.com
Restaurant character: Friendly, order-at-the-counter sandwich shop
Rating total: 4 of 5 forks
Food: 4.5 of 5 forks
Ambiance: 3 of 5 forks
Service: 4.5 of 5 forks
Hours: 7 a.m. to 2 p.m. Monday-Friday
Entrees: $8 to $12 (lunch); $3 to $8.50 (breakfast)
Alcohol: No
Credit cards: Yes
Vegan options: Yes
Outdoor dining: Yes
Gluten-free options: Yes
Wi-Fi: Yes
What's online as of May 1:
• No votes on Foursquare
• No reviews on TripAdvisor
• No votes on Zomato
• 4.5 of 58 stars based on 3 reviews on Yelp
• Active on Facebook
Excellent rating on Dec. 4 by El Paso County Public Health.