The ghosts — of beers-yet-to-come, and maybe something a bit more spectral in nature — haunt the basement of Phantom Canyon Brewing Co. in Colorado Springs.
In the barrel aging room, where barley wines mature in whisky casks and a complex quad could squat for months, the sense of spirits is strong enough you might feel inclined to tipple the air.
Time is rarely kind to an angry apparition or a beer-in-hand. It can, however, play a vital role in infusing complexities or teasing out the best qualities in many styles before they hit our mugs. The brewery's sour, Staves On a Plane, for instance, sat for a year-and-a-half in the "sour room" before being deemed done.
"I've made beers that have sat in barrels for four, five years. They're not ready yet. They're not totally peaked. It's a patience thing," said head brewer Charles McManus. "A lot of our beers, it's like a two-week turnaround from brewing to putting it on tap, and then you have these side projects you just sit on and let grow and wait. Just kind of depends on what you're making and what you're going for."
Phantom Canyon is showcasing some of those side projects at a series of Saturday morning tappings, hosted before regular opening hours. There's no set schedule for the 10 a.m. releases — for which tickets are free but quantities highly limited — but McManus said he's aiming to get them on the calendar at least once a month.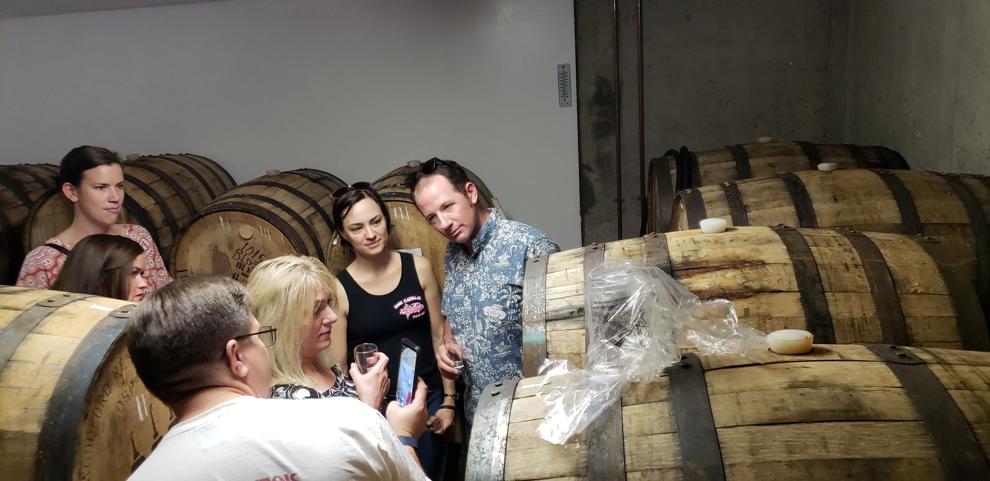 The events let brewers discuss the nuances of how their special creation was made, and also lift the curtain on precisely where the magic happens at the city's oldest brewing establishment: in the gleaming new brewhouse and labyrinthine bowels of a building that's stood at the heart of the Springs since the dawn of the 20th century.
"This place has been around for so long, but we've done few tours," said McManus, who's worked for Phantom Canyon owner Denver-based Wynkoop Brewing Co. for about five years and took over as head brewer at the Springs location late last year. "We're just trying to do as much as we can to show it off, to tell the story of the beer. Plus, I like getting to know the people in the community so it's an opportunity for me, too."
This month, I joined a Saturday morning group for the inaugural pour of Authentiek, a golden-hued Belgian-style ale made with Colorado-sourced ingredients, including malts grown in Monte Vista by Proximity Malting Co., hops from Billy Goat Hop Farms in Montrose, and McManus' own proprietary yeast culture.
As breakfast clubs go, it was one that (enthusiastically) got me out of the house on a lazy Saturday morning. Plus, I learned some interesting historical and brewing context about the establishment that's been a go-to since I moved to the Springs in 2012.
The downtown anchor brewpub finished a major remodel in 2013 that included a 2,750-square-foot addition built on the north side of the historic building to house an expanded beer-making operation and support a roof-top patio. In March of this year, a sleek new brewing system was installed in that newish space.
"For us, we just needed to update. We've got a lot of beer to make," said McManus, showing off the system and providing a thumbnail history to my group of about a dozen people.
Named for the road between Victor and Cripple Creek that, by some accounts, was the site of a ghostly encounter by a railroad crew in the late 19th century, Phantom Canyon Brewing has a history of eerie lore in its own right. Constructed in 1901 as an office complex, with communal-style sleeping quarters on its upper floors, The Cheyenne Building was slated for demolition, to make room for a parking lot, in 1990 before it was purchased and reopened by former Colorado governor (and Wynkoop co-founder) John Hickenlooper in 1993.
I'd heard rumors about spooky encounters by PCBC staff, and was hoping the Saturday tour might bring both beer and a backstory on some of that buzz. It wasn't a Halloween-themed excursion, though, so I had to ask — and was not disappointed.
"This building is over 100 years old. Our basement is like a catacombs. It just sprawls. You don't know where you are half the time," said McManus, whose office is in a basement-level space that once was used as a vault.
And yes: "It's super haunted, on all three floors."
The brewery's seasonal fall release, Haunted Staircase, didn't come by its name lightly.
"People that have been working here for 25 years, since day one, they're like 'Yeah, it's way haunted. I don't even use those stairs,'" said McManus. "We've had paranormal people come into this building and do stuff. They've confirmed it."
McManus can't say for sure if the maze of a basement includes access to any sub rosa Prohibition-era tunnels legend holds connect the Springs' historic hubs, but if such routes exist....?
"This building is more than a century old, so if there's any underground tunnels going anywhere, it's a part of that network," he said. "This building's got a lot of cool history."