If you see a line of folks queuing along Academy Boulevard on Wednesday morning, it's likely because Snooze an A.M. Eatery officially opens at 6:30 a.m.
The Denver-based chain with 36 locations in Colorado, California, Arizona and Texas has a big following. And judging by the crowds at the pre-opening community days last weekend, that train has left the station for brunch fans in southern Colorado. Follow the line to the packed parking lot at 7587 N. Academy Blvd. It's open from 6:30 a.m. to 2:30 p.m. daily.
The breakfast, brunch and lunch eatery's popularity might have something to do with the abundance of creative items on a menu that changes four times a year with the seasons. Its spring menu includes staples such as the Breakfast Pot Pie — a savory breakfast lover's dream with homemade sausage gravy smothering a flaky puff pastry, topped with a cage-free egg done sunny side up and served with hash browns ($10.25 and about half of your suggested daily calorie intake).
"We do creative twists on breakfast favorites," said general manager Christopher Xavier, who took a break from training 65 team members last week to speak with The Gazette.
Pineapple Upside Down Pancakes — buttermilk pancakes with caramelized pineapple chunks, house-made vanilla crème and cinnamon butter ($8.50) — are another fan favorite.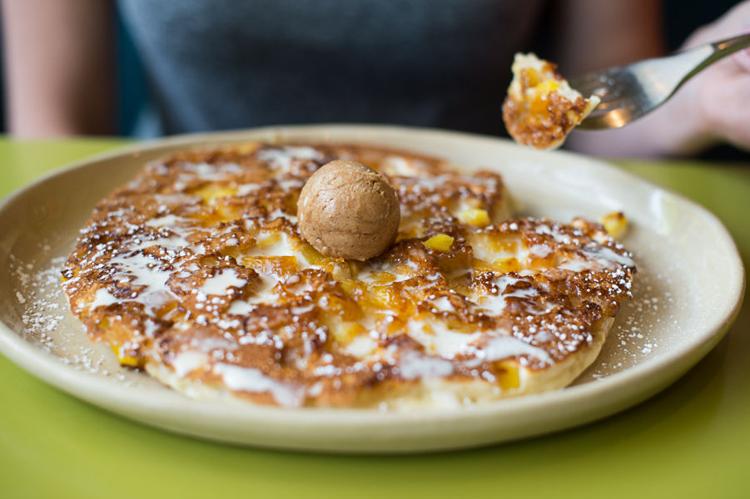 There are seven variations of eggs Benedict, such as the Lox-n-Latke Benny, featuring smoked salmon, poached eggs, cream cheese hollandaise, fried capers, pickled red onions and pistou (a garlic, basil and olive oil sauce) served on crispy potato pancakes and a side of dressed greens ($14.50).
Those looking for lighter options have six items to choose from in the "Like a Feather" section of the menu. Sweet Potato Hash — roasted sweet potatoes with soffritto, Tuscan kale and two eggs drizzled with gochujang chile sauce ($10.75) — packs only 480 calories.
Thirsty patrons will enjoy a full spate of espresso, coffee and alcoholic beverages. The latter includes four bloody mary options, six variations of mimosas and cafe cocktails such as the AM Manhattan — bourbon, espresso, Irish cream and milk garnished with a cherry ($8).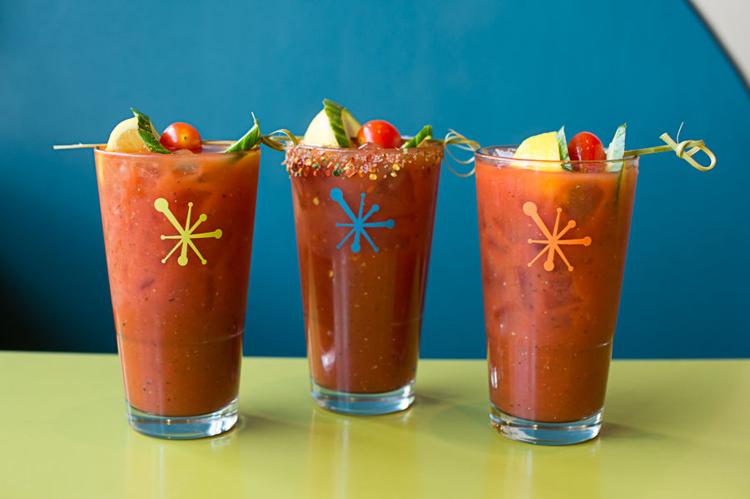 Inside the 4,000-square-foot dining room, the atmosphere is bright, modern and energetic. There's also an ample patio with a Pikes Peak view.
"The music is loud, and we have a full bar offering every thing from a latte to the Palomimosa (Snooze's own sparkling wine with tequila, St-Germain elderflower liqueur and grapefruit juice for $8.25)," said Xavier, who was hand-picked to open and oversee the Colorado Springs restaurant.
The Texas native moved to the Pikes Peak region from Houston the week of the bomb cyclone. Not exactly a warm welcome, but he's enjoying his latest challenge. Xavier has opened three Snooze an A.M. Eatery restaurants in Houston. He and five other managers combed through more than 600 applications last month, conducted interviews for three weeks and made all five dozen-plus hires.
"It was exhausting but also was fulfilling as well in terms of payoff," Xavier said. "You're finding an amazing group of people to work with."
Servers are prized for being able to handle stress, high volume and "dealing with 'hangry' people" who may have waited an hour for a table.
The new hires did mock service training last week. Half of them served the other half first, then they all sat down to exchange feedback before switching roles.
"Shout out to whoever made my Smashed Avocado Benny," said one happy "customer." Another said his server "had a great attitude and was smiling the whole time," despite his table's "high maintenance" requests.
The biggest challenge in getting the staff trained and the restaurant open is "keeping the party going," said Xavier, who turned 30 on staff orientation day.
"Really, our people are the key to our business. They are the ones who make our guest experience and culture so great at Snooze," he said.
Holding on to good staff is also part of the plan.
"All positions lead into management. We are big on promoting from within. It really gives people a chance to grow and develop beyond just coming in and flipping 'cakes," he said.
The breakfast/brunch/lunch eatery is committed to sustainability and diverts 85% to 95% of its waste by recycling and composting, where available, and donates 1% of sales to the community through the donation of in-kind goods and services.
Snooze donates all profits made during a three-day pre-opening to local charities selected as long-term community partners. An estimated $15,000 was raised for Catamount Institute, Colorado Springs Food Rescue and The Home Front Cares.
The company supports sustainably minded companies, including Red Leg Brewing Co. and Royal Crest Dairy locally. Sausage comes from Polidori while bacon and ham come from Tender Belly — two companies based in Denver. Coffee (made from beans grown in Guatemala) is from Thornton-based Allegro, and eggs come from Rocky Mountain Eggs in Platteville.
"We want to get to know our neighbors," Xavier said. "We look at it this way: We're not opening a business; we're joining a community."
Learn more at snoozeeatery.com.
Contact the writer: 476-1602