One could argue every year an unofficial battle between Wolf Creek and Steamboat exists for the highest seasonal snow total in Colorado.
Skiers and riders wanting to shred the powder either can drive down south or head up north — but truly Wolf Creek and Steamboat get the most snow year-over-year. Sorry Silverton, but you're still on the podium.
I experienced a taste of San Juan powder early my freshman year at Fort Lewis College in 1998. A strong early-season snow storm the day before Halloween laid down 12-18 inches of powder at Wolf Creek — which had a 40" base that morning — and would have a 48" base as of November 1.
My K2 Merlin IIIs skis barely kept me afloat. Fat skis weren't all that common in 1998, and that day it was noticeable.
But the Wolf Creek experience had me hooked, leading me to believe the ski area was "the place" to ski in southern Colorado. The snow in the eastern San Juans is just deep. 
According to data from the Western Regional Climate Center, Wolf Creek has had at least 12, 400+ inch seasons in the last 45 years — 2018/19, 2016/17, 2015/16, 2000/01, 1998/99, 1996/97, 1994/95, 1992/93, 1983/84, 1982/83, 1979/80, 1978/79, (data from 2000/01-2010/11 was not available) with the fourth week of February usually the snowiest week all season long there.
Not to be outdone, Steamboat has had eight 400+ inch seasons in the last 45 years — 2010/11, 2008/09, 2007/08, 2005/06, 1996/97, 1995/96, 1992/93, 1983/84, with the third week of December is usually the snowiest week all season long at Steamboat.
On an early February, 2011 day — the deepest day I ever ridden at Steamboat — I started to have second thoughts about Wolf Creek perhaps not having the most snow in Colorado.
I had never experienced snorkel-deep powder until that day at Steamboat, as any rider should know, is considered DEEP.
After living in Fort Collins post Fort Lewis days, I came to believe the northern mountains were "the place" to ski — especially after multi-foot days at Steamboat and backcountry skiing on Cameron Pass and in the Park Range.
Could the northern mountains be regularly deeper than the southern mountains?
The data suggests the southern mountains claim the No. 1 spot, but making ski trips to both mountain zones are highly recommended to find out for yourself. 
 SNOW REPORT:
Wolf Creek (21") and Purgatory (13") both received over a foot of snow from Wednesday's snow storm. Looks like a trip down south is in order. Aspen (6") and Crested Butte (6") are the central mountains winners Thursday morning. Closer to Denver, Copper Mountain (6") and Winter Park (5") will be the best bets for powder skiing and riding Thursday.
Here's the recap:
As the holiday weekend ended, snow totals recorded on Monday morning were in the 1-to-4 inch range, with Steamboat receiving yet another first place finish with 4 inches That beats out Eldora and Bluebird Backcountry (3" each). The resort officially surpassed 335 inches and plans to stay open until mid-April — extending its season for the first time since 2007.
Of note, Steamboat's single day snowfall record of 27 inches at mid-mountain on Feb. 20, 2013, and 29 inches at the summit on Jan. 25, 1996, are the resort's two deepest recorded totals in its history.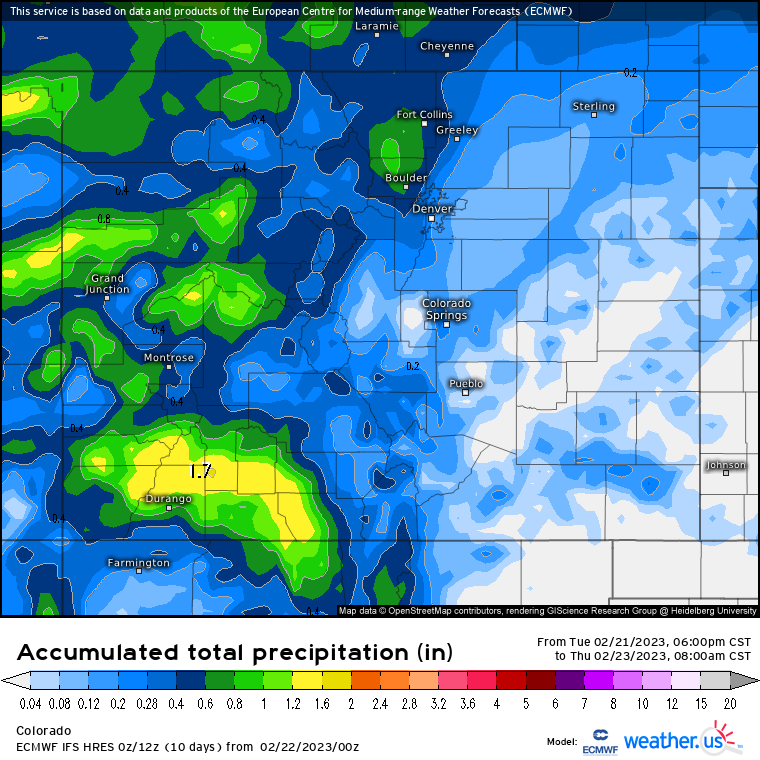 But the storm that rolled in Tuesday night and Wednesday morning saw snow accumulations in the southern mountains begin to pile up quickly. Wolf Creek (10"), Purgatory (8"), Silverton (6"), and Telluride (4"), reported respectable totals for skiers and riders to enjoy before the real accumulations began Wednesday.
Wolf Creek closed down on Wednesday due to high winds and poor visibility, meaning that once the ski area reopens, the powder should be amazing for the lucky ones who were able to journey there.
Resort officials said anyone who purchased a lift ticket for Wednesday or any multi-day ticket that included Wednesday can be refunded without any fees or can exchange tickets from the 22nd for another day (a $10 difference will apply for any peak day purchases).
SNOEWS: 
Vail Valley ski racer Mikaela Shiffrin retweeted on Friday, Laureus Sport announced that Shiffrin was a nominee for the 2023 Laureus World Sportswoman of the Year.
Two Colorado sportswomen, fellow Vail resident and ski racer Lindsey Vonn (2011) and Regis Jesuit High School grad Missy Franklin (2014), have won the prestigious award in the past. Will Mikaela Shiffrin win the award in 2023? She's been nominated six times, four times for Sportswoman of the Year, and is up against other female athletes: Alexia Putelas (soccer), Iga Swiatek (tennis), Katie Ledecky (swimming), Shelly-Ann Fraser-Pryce (track and field), and Sydney McLaughlin-Levrone (track and field).
Presuming Shiffrin skips the speed races at Crans Montana, Switzerland and Kvitfjell, Norway, she'll resume racing in World Cup races beginning March 10, in Are, Sweden — the resort where she won her first race at in 2012. She seeks her 86th first place finish in a World Cup race, tying Ingemar Stenmark's total. Shiffrin could break Stenmark's record in Are if she were to win both the giant slalom and slalom races.
Jump start next year's season pass to Monarch Mountain with the resort's Wings Pass. 
"You can't beat this deal! It's the perfect pass for those ready to start skiing independent," Marketing Manager Allie Stevens said.
 Upcoming festivals: 
February is winding down but there is still time to celebrate winter with festivals around the state. From fat bike races to Skijoring, here are a few to check out:
Ski joring competition set to be a can't-miss Colorado event
---
SNOW LINKS:
---
RESORT REPORT:
Below are conditions for all Colorado resorts as of Wednesday afternoon.