Toss your hiking boots aside, hop in the car, and get ready for a colorful adventure across some of the most magnificent landscapes in Colorado. Here's your go-to guide for seeing fall foliage across the beautiful Centennial State all from the comfort of your vehicle.
Road-trippers get ready to be dazzled by mother nature's remarkable display of fall color.
Please check weather conditions, current road conditions, and closures before planning your travels to any one of these destinations. High-elevation roads are often inaccessible due to snow, even in the summer months.
1. Soak Up The Beauty of Fall Along Boreas Pass
Seeking fall bliss? Step into fall with a mountain town adventure to Boreas Pass in Breckenridge, Colorado. Feast your eyes on 22-miles of fall foliage, from sparkling gold to fiery orange to cinnamon changing leaves, this is one beauty show you don't want to miss.
Insider Tip: There are two starting points – Breckenridge or Como. Low-clearance 2WD cars are able to navigate from either side of the pass. Check road conditions before planning your scenic adventure, winter activity can result in large potholes and large debris scatter along this route. Like most mountain passes, anticipate for a bumpy ride jammed packed with breathtaking scenery.
2. Drive Through Kebler Pass for Unforgettable Fall Colors
Twist and turn through the mountains as you take in all the fall glory to be explored along Kebler Pass. This 33-mile long route traversing from Paonia to Crested Butte is popular among fall seekers from as early as September to mid-October, depending on weather conditions.
Insider Tip: If you're planning on pitching a tent, be sure to arrive early to find a spot. While some campgrounds require reservations, you'll find a number of sites available on a first-come-first-served basis.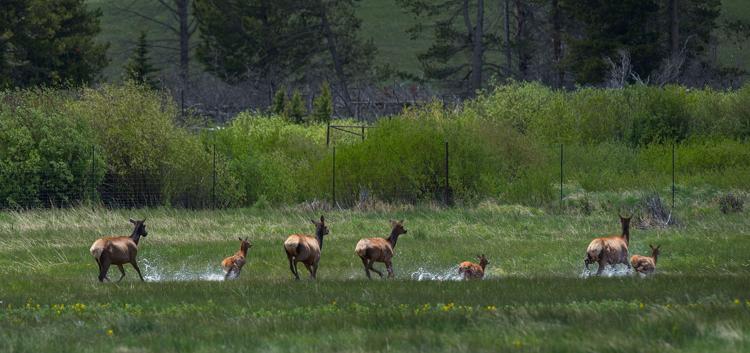 3. Hunt Down Sprawling Aspens on Trail Ridge Road
Trail Ridge Road in Rocky Mountain National Parks offers some of the most breathtaking fall colors that you will ever lay your eyes on. Brace yourself for a leaf-peeping adventure as you chase down mountain views framed in nature's truest colors.
Insider Tip: Fall is a popular time for wildlife viewing in Rocky Mountain National Park. Plan your adventure in advance to avoid crowds and delays.
4. Capture the Beauty of Autumn from Last Dollar Road
Enjoy colorful mountain views and fall beauty as you drive up Last Dollar Road in Telluride. Peep at fiery red and yellow autumn foliage as you make the glorious stretch through the stunning San Juan Mountains. Mountain vistas seen from this road include Sneffels Mountain Range and Wilson Peak.
Insider Tip: Due to road conditions, high clearance 4WD vehicle are recommended. Drivers may have to navigate around potholes, muddy patches, and heaving bumps along the unpaved road.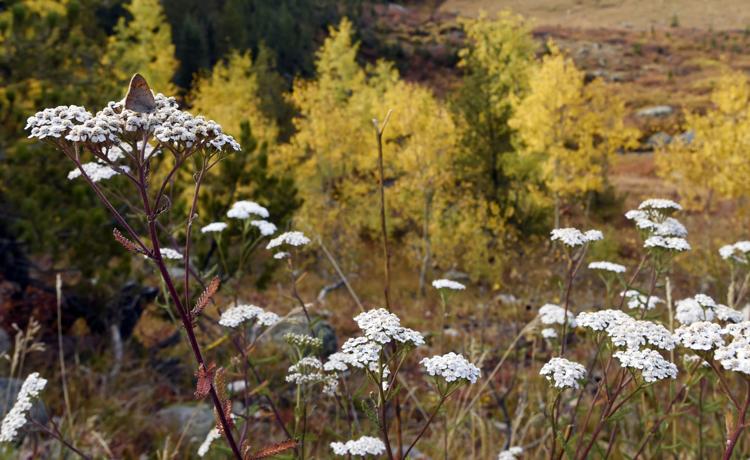 5. Discover the Beauty of Changing Foliage at Independence Pass
Independence Pass in the fall is a true delight. Soak in blazing fall colors as you journey through the fourth highest road in America. This 12,095-foot mountain pass is filled with rich and radiant fall colors.
Insider Tip: Tucked away off this scenic mountain pass lies ice caves and waterfalls.
6. Enjoy The Beauty of Fall Along Grand Mesa Byway
If you're looking for a blissful weekend surrounded by fall colors, a scenic drive on Grand Mesa Byway is the way to go. The route is exploding with color and no other mountain drive captures the fall season quite like it.This route is a favorite among fall photographers.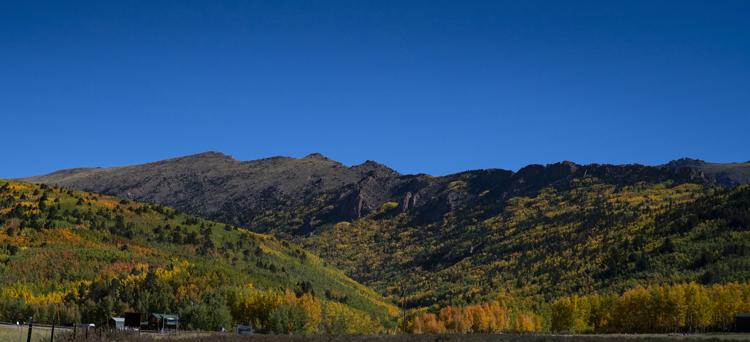 7. Discover Fall Color on Highway 67
You don't know fall bliss until you drive along Highway 67 from Woodland Park to Cripple Creek. The aspens here are on full display throughout much of the fall season. Catch eye-popping views with magnificent shades of champagne gold coupled with the beauty of the blue mountain sky.
Insider Tip: The colors along Highway 67 to Cripple Creek are accessible, but hurry — they peak and fade quickly.
8. Color Your Adventure by Taking Guanella Pass
A 23 mile-drive on Guanella Pass provides the perfect fall escape for leaf seekers. Track down fall colors by taking the Georgetown exit right off I-70. Drive through the charming mountain town and make your way to Guanella Pass Road for unforgettable fall beauty.
Insider Tip: Add bagging a Colorado 14er to your fall bucket list. Mount Bierstadt is conveniently located right off Guanella Pass.
9. Journey along the San Juan Skyway
Travel the Million Dollar Highway along the San Juan Skyway in Telluride for intense fall colors. Tap into the beauty of the season while enjoying grand views of the San Juans including Mount Sneffels. This fall drive is one that you'll never forget.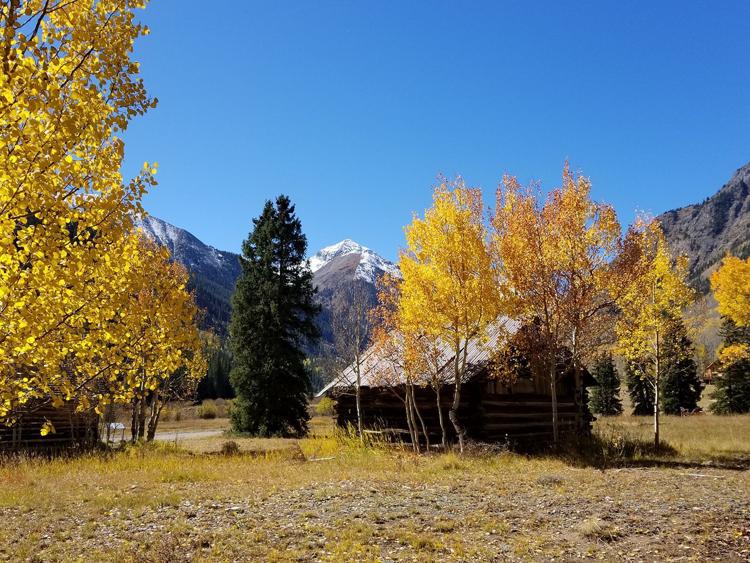 10. Experience the Magic of Autumn Along the Alpine Loop
Head up to the "Switzerland of America" and take the Alpine Loop for dreamy fall display. Let yourself be charmed by spectacular fall colors of rusty red, champagne gold, and blazing yellow.
Insider Tip: This scenic drive is only recommended for high clearance 4×4 vehicles. Jeep rentals are available at any one of the starting points including Lake City, Silverton or Ouray. Plan on reserving anywhere between four to six hours for driving the pass.
11. Experience The Colors of Fall Along Pikes Peak
The exhilarating drive up America's favorite mountain via the Pikes Peak Highway will take you to some of the most spectacular fall colors in Colorado. Get your camera ready, because this fall drive is a real beauty. Crystal Creek Reservoir and Devil's Playground offer great pit stops along your scenic journey.
Insider Tip: Check road conditions before planning your travels to Pikes Peak. It's also important to make sure your brakes are in good condition. They'll be strained while descending down the Pikes Peak Highway.
12. Fall Wonder Awaits Along Bachelor Loop
Bachelor Loop is full of changing aspen leaves just waiting to be explored. Take a scenic 17-mile drive through historic mining districts and abandoned ghost towns near the mountain town of Creede. Plan to spend about 1-2 hours driving this beautiful road.
Insider Tip: Before you go, check the weather and current road conditions. It's also worth mentioning that four-wheel drive vehicles are recommended for traveling along the east route.