LITTLETON • Susan Dunn gets strange looks on the trail.
"People will ask, 'Why are you carrying around paper and writing stuff down?'" she says.
The answer is the plants and birds and butterflies. Dunn regularly jots down what she sees while she strolls this colorful paradise a few miles from her home here in the southwest suburbs of Denver.
This is Roxborough State Park, a sanctuary of soaring, red rock that blends with the green of oak and pine and blue of the sky. Life all around adds to the array: the wildflowers, the monarchs, the hummingbirds and jays and swallows and larger raptors.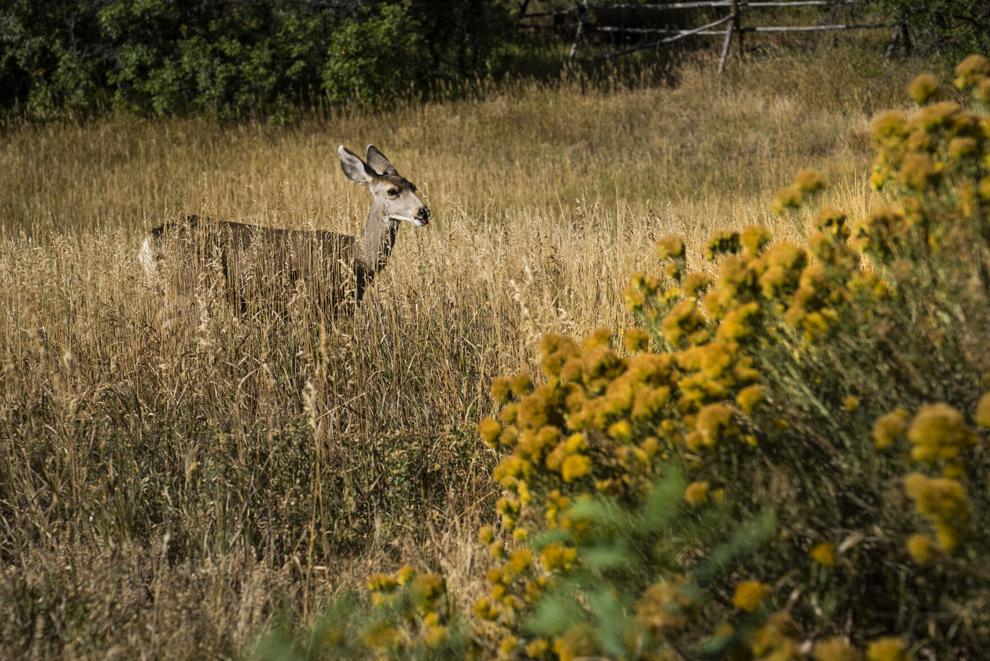 A deer roams a meadow this day. "You're in their house," Dunn tells a visitor, ever the educator with Friends of Roxborough State Park, the group that counts dozens of people like her who've been around 20-plus years.
The deer can't steal the show from the neck-craning geology, like frozen waves over a sea of trees. It recalls the dramatic scenery of a crown jewel to the south. "Denver's Garden of the Gods," Roxborough has been called.
There are striking differences.
"There's less people here," says one visitor, Son Cao, almost alone at an overlook that feels far removed from the city skyline in view.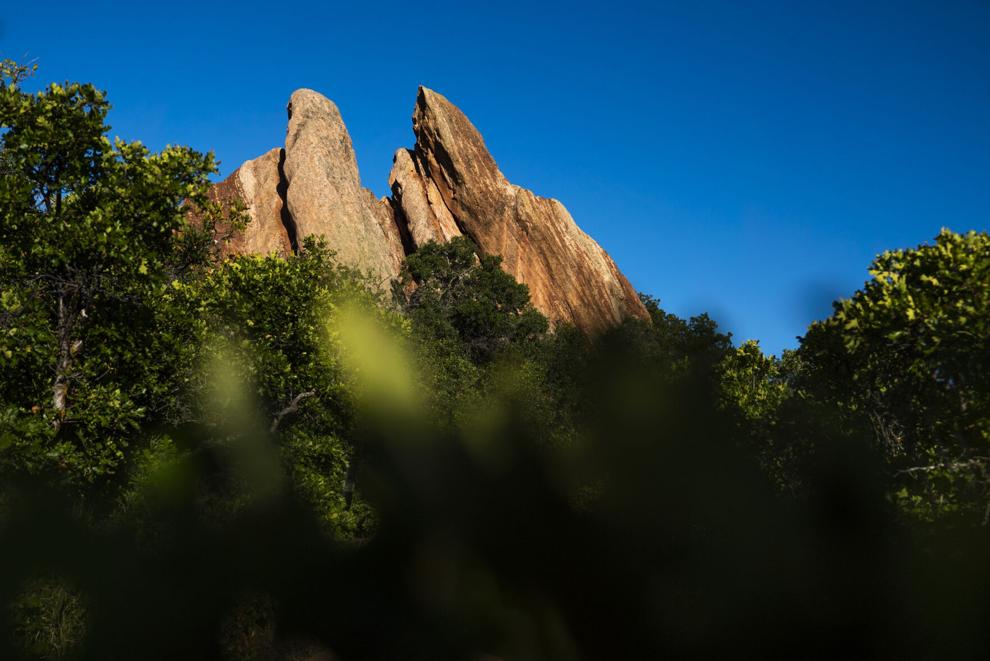 No road weaves through Roxborough. Drivers end at a parking lot, where they follow a sidewalk by foot to the trailhead. A sign welcomes them to "a tranquil and treasured place," a place offering "a symphony of senses" — birdsong over motors, chokecherry and wild plum over the stench of exhaust.
Only dirt trails travel the park. Only hiking is allowed. No biking, no rock climbing, no fishing, no hunting and no camping. Gates close promptly at 6:30 p.m.
This is all part of the park honoring its National Natural Landmark and State Natural Area designations. Newer is the park's Gold Standard Site tag by the Leave No Trace Center for Outdoor Ethics, which lists just 12 other sites in the nation sharing the distinction.
Compared with Colorado's other 41 state parks, Roxborough is "extremely unique" in how it prioritizes conservation, says Manager Colin Chisholm. He started at the park last summer, coming from one of Colorado's more traditional state parks: Golden Gate Canyon, which hosts all kinds of recreation across its 12,000-plus acres. At 3,317 acres, Roxborough falls somewhere in the middle of the state park system in size.
"This state park, we're here to preserve and protect," Chisholm says. "It's not as much about trying to cater to different types of recreation or trying to allow more people in."
But more people are coming.
Nearly 20,000 more visitors were counted in 2020 compared with 2019 — in line with surges across the outdoors during the pandemic. It meant widened trails and eroded hillsides, Chisholm says. It meant long lines at the entrance station. People waited to snag one of only some 100 parking spots.
Dunn volunteered at the gate, overseeing regular waits of more than 45 minutes.
"It looks like we should have more parking, but we really should not get more parking," she says. "You would dilute the specialness of the park."
It was controversial enough paving the access road last year, the stretch already pocked and degraded by traffic. Dunn doesn't expect traffic to lessen.
"It's going to increase," she says. "It's going to increase because we still have people who've never been here. There are still people coming to this park who've lived in Denver 30, 40 years, and they've never been here."
They start on the road first admiring the Dakota formation, the sandstone with ripples from the shallow sea that existed 100 million years ago. Hundreds of millions of years earlier the Fountain and Lyons formations slowly rose, slanting as they did and sculpted by wind and water and ancient time.
This is the explanation for what Major Stephen Long's expedition saw upon arrival in 1820. The site was "truly picturesque and romantic," one Edwin James journaled.
The area gained more attention after 1873 photos taken by William Henry Jackson. He shot from where there is now a golf course, just beyond park boundaries.
"It's jarring to think that this pastoral scene could just as easily have become a sea of tract homes," Susan Kraner Trumble wrote this summer.
The park's longtime manager and senior ranger wrote to celebrate the 25-year anniversary of the park's 625-acre expansion — previously proposed grounds for a neighborhood. The Friends of Roxborough formed to raise money for the land, continuing a mission that started in 1975 with the state park's establishment.
Ideas of development came almost as soon as Native tribes had been banished to reservations.
Those first residents were known to keep warm at night beside the rocks that stored warmth from the sun. Along came Henry S. Persse in the early 1900s with a vision to transform the natural wonderland that he called Roxborough, after his family's estate in Ireland. His still-standing farmstead is a reminder of what could have been.
In 1907, a Denver newspaper reported of his plans for a resort "that promises to rival in attractiveness anything else the state can boast." Also that year, a poem was scrawled in Persse's guestbook:
"Who would not live mid bird and song, far from the city's madding throng, to listen to the meadow lark, that serenades Roxborough Park?"
Preservation prevailed. It prevailed 25 years ago with the park's expansion. That came after Dunn regretted to see development win across other boundaries.
"Too bad," she says.
She sides with something then-Gov. Roy Romer said back then at the expansion celebration: "Outside of how we care for our children, how we care for our environment is the most important issue we have."
Which is something Dunn might tell people who look at her strangely on the trail with her pen and notepad.
It is stranger to see her bend down, bringing her face close to something hard to see.
"When I'm walking up a trail and I see something new to have bloomed, I just talk to it," she says. "I talk to the plant and tell it what a nice thing it is that it's here in our world, and all these people get to share you."