Call it a midlife crisis — or a calling.
In the spring of 2017, Tom Ori was looking for a challenge that would take him far from his everyday life in Colorado Springs.
Ori, founder of Next Level Performance, a leadership training and development consulting firm, was recently divorced and at a point where "all these kind of big personal questions began to get raised."
In younger days, the 1987 Colorado College political science and government graduate challenged himself by climbing mountains. Now he wanted to leverage an interest in conservation with a desire to test himself mentally and physically.
"I was reading about how there are paramilitary groups that are helping with the anti-poaching effort," Ori, 53, said. "They are trying to outmaneuver poachers and set up protective perimeters around herds of rhinos and elephants."
He searched for a way to get involved and discovered Tac Trac Anti-Poaching Academy, an organization that trains anti-poaching rangers in Touwsrivier, South Africa.
Ori's age made him an anomaly at the academy, typically a proving ground for those in their 20s looking for a career in the African bush. Despite his doubts, Ori was accepted into a five-week program of intensive training that started on his 53rd birthday — May 21, 2018. Ori trained hard before traveling to South Africa. He was given special consideration when it came to past injuries to his rotator cuff and knee and was permitted to modify some physical demands of the course, such as substituting pull-ups and sit-ups while others did push-ups.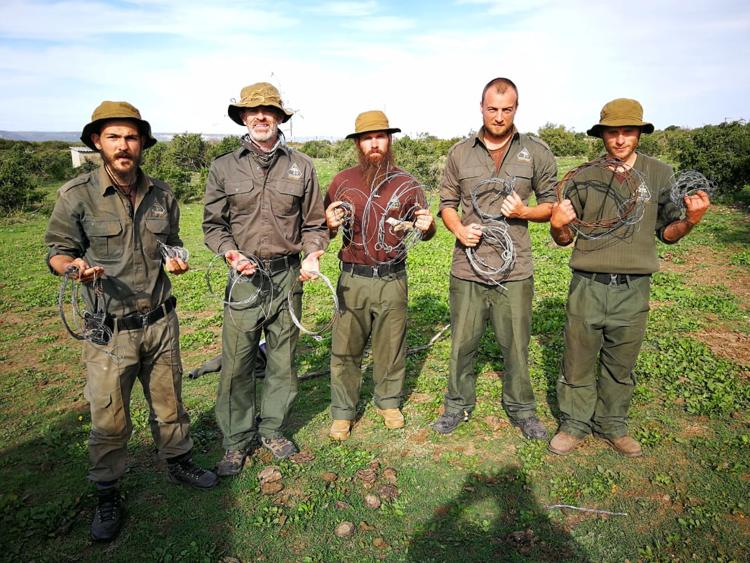 Navy SEALS of anti-poaching
Academy tuition was $3,500, not including travel to South Africa.
"You basically pay to get tortured for five weeks," Ori said. "It's kind of like the Navy SEALS of anti-poaching. They train people to become front rangers in the battle against poaching."
The first week of training is designed to thin the herd, so to speak.
"My class started with seven people, and three dropped out in those first days," Ori said.
He made it through "Hell Week," only to learn that a close friend back home had been diagnosed with aggressive brain cancer. He made the tough decision to return to America immediately to spend time with his friend, asking to return for a later training. The answer was yes, but Ori would have to go through "Hell Week" again.
"I'm not someone who likes to start things and not finish them," he said.
Three months later, Ori returned to South Africa. Seven cadets began this training, but only five saw it through. Ori was one of two Americans in the group. The balance were South African, two to three decades his junior.
"It had the physical demands of a paramilitary training. When you're babysitting a rhino, you're needing to sit underneath a tree, still, for five hours and at a moment's notice get up and sprint," he said.
Two weeks were spent on a rangers' reserve that Tac Trac owns in the Klein Karoo region of the Western Cape province in South Africa. The remainder was spent in the Eastern Cape, outside Port Elizabeth, living in the bush on a Big 5 game reserve — home to lions, elephants, rhinos, buffalo and leopards as well as other predators such as cheetah, hyena, jackal and lynx.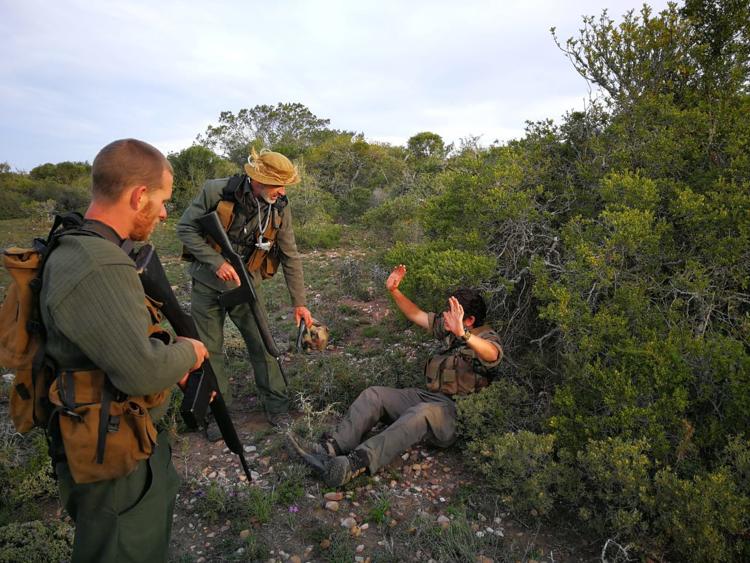 Roughing it
Training brought plenty of challenges for Ori. Accommodations were the floor of a concrete barracks or under a tarp in the field. Food was whatever could be cooked over an open fire. He lost 15 pounds over the five-week course.
Ori said he thought about quitting more than once, such as when he woke up to shotgun fire outside the barracks on his second night. He recalled instructors yelling at the sleeping trainees to get up, get dressed on the double.
"I'm shaking and it's cold and I can't find my headlamp," he said, "and somehow I managed to put my boots on without my pants. The instructors were yelling, 'Ori, what do they teach you in the U.S.?'"
Words of encouragement written by friends and family helped him see it through. His father cited the Japanese proverb, "Fall down seven times, stand up eight." Ori took it to heart.
"The benefit is, you get to immerse yourself in this amazing wilderness of beauty," he said. "Poaching often happens under the full moon, with no light pollution, in the middle of the savannah. It's gorgeous. But at the same time, there's this edginess. We'd see people dash out of the bushes."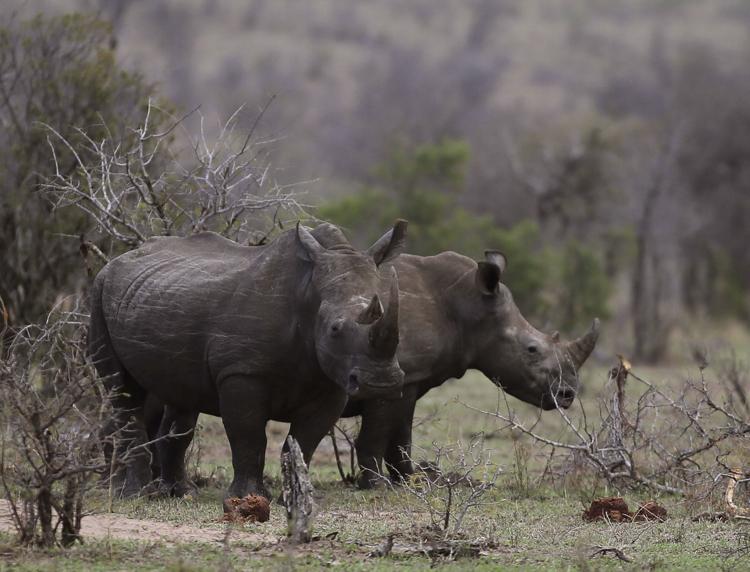 Education matters
In Africa, rhinos and elephants routinely are killed by poachers for the ivory in their horns and tusks.
Tac Trac executive director Geoffrey Phipps said by email that the media "projects that rhinos are being killed every day in horrific situations. This is of course to a degree very correct, but what gets left behind are all the other wildlife that is also under immense pressure for the bush-meat trade, and also for export. Pangolin for example are poached and exported by thousands, along with lions, elephant, hyena and an array of wildlife that doesn't get mentioned."
The snaring of animals for meat is a major problem, Phipps said.
He said academy graduates make a difference, and many reserves in South Africa "could benefit from people like Tom."
"Generally, foreigners have a different concept to the problems here in South Africa ... whereas once they have been through the course they understand the problems firsthand, and the reality of being on the ground — which can be very mundane, tedious, underpaid and very often thankless," Phipps wrote.
While many Americans apply to Tac Trac, "few actually end up coming through to do the course," he said. Applicants are mostly 20-something men, though women have gone through the course and "can do very well."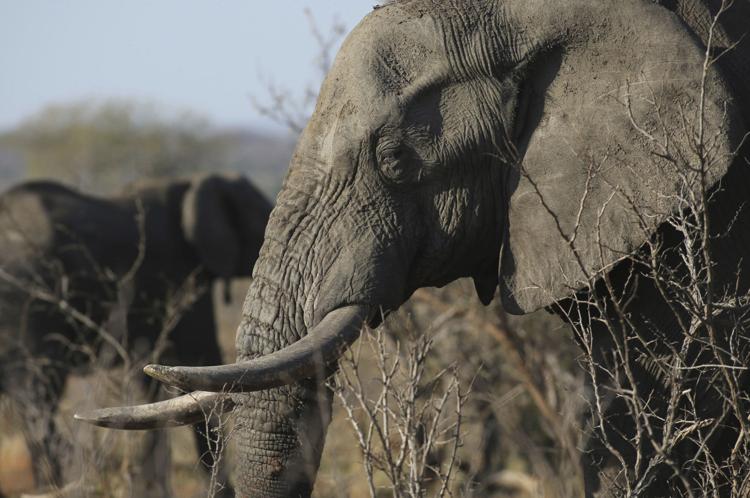 'Woefully understaffed'
Tac Trac provides three levels of certification. Ori achieved Level 1, which allows him to carry a firearm and detain a suspected poacher under force until police arrive. The certification is recognized by several South African countries.
"I love my day job as a leadership development consultant," Ori said. "But I would surely love the option this certification gives me to go back to Africa and volunteer for weeks at a time, to work with an anti-poaching unit helping out and getting some relief to current rangers."
The anti-poaching community is "woefully understaffed," he said.
The rangers go into communities and befriend locals to get information on poaching nearby. They track people and animals and detain poachers.
The aim in tracking is to remain undetectable to the rhinos and elephants, whose eyesight is poor but sense of smell is advanced. Ori's group approached a mama rhino and baby and were successful in that the animals, only 50 feet away, didn't alert to their presence.
Their final exam entailed spending a night in the bush without weapons or instructors.
They gathered tree branches to create a boma, a natural barrier that keeps predators out, and build a fire from scratch.
For Ori, the oldest Tac Trac graduate, the experience was invaluable.
Phipps said, "It is definitely a young man's game. It is quite something to see young people in their 20s dropping or burnt out, and then to see Tom keep ticking along at least beside them, if not at times in front of them!"
Ori said friends encouraged him to share his story.
"It raises the issue that people who are in their 50s can still go out and do inspirational and extraordinary things that others might think are not practical," he said.
"If it gets other people motivated about conservation, I've done my job."
Contact the writer, 476-1602