NEDERLAND • Let's start with the frozen dead guy.
It's a fine place to start, because if you've heard about Nederland, chances are it's because you've heard about the frozen dead guy, he of the annual Frozen Dead Guy Days, which is probably Colorado's weirdest festival.
Since starting in 2002, it's gotten worldwide attention. For costumed polar plunging, coffin racing, frozen turkey bowling and under-the-influence dancing, tens of thousands of people flock to this mountain town where about 1,500 reside.
Allow the person who started the thing to explain:
"We wanted a winter festival," Teresa Crush-Warren says here at her post in the town's visitor center. "After Grandpa was found, as a resident, whenever you were on vacation somewhere and said you're from Nederland, Colorado, you'd be met with: 'Isn't that where they found the frozen dead guy?'"
Grandpa, as locals came to call him, was found in a hilltop shed. He was found to be a native Norwegian who died in 1989 and was preserved by his grandson using dry ice.
Supposedly, the grandson, Trygve Bauge, had ideas for something called the Rocky Mountain Life Extension Center here in Nederland. That never came to be, supposedly due to an expired visa "and some other questionable antics," by Crush-Warren's account.
But Grandpa remains in a guarded, well-maintained shed on the hill. And he's a fine place to start any story about Nederland, because he does help explain the town's stranger-than-fiction qualities, its curious and quirky essence.
That might also be explained by a tribute in the last guide for the festival. Tom Hendricks, 1949-2020, was a devout ambassador of Frozen Dead Guy Days and remembered also as "an iconic mountain man" who "moved an old cabin up to the Caribou Mine site in his early 20s" and "loved it so much he never moved back down and preferred to carry water from the creek to boil for his tin bathtub."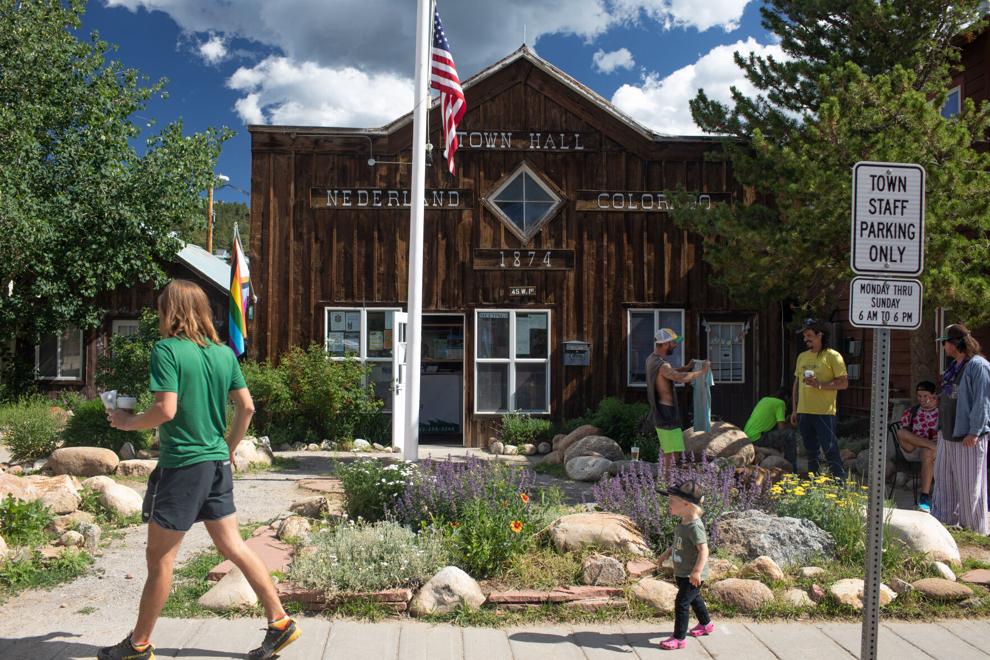 Nederland might also be explained by the cat buried under the flowers outside town hall. Fred, 1972-1989, was a beloved mayor.
Nederland, too, might be explained by any of the flyers around (the latest Grateful Dead cover band coming through, the latest kids theater performance, "The Odd Odyssey of Odysseus"). Or by any of the shops around (Mountain People's is the grocery co-op; Nature's Own is the gem dealer; Kaleidoscope is one of the galleries; Blue Owl is one of the boutiques).
At New Moon Bakery this afternoon, there's a woman handing out pastries for free. "Just because," Helena Link says.
This is her explanation of Nederland, from her roughly 10 years of observation: "Nature-driven, innovative, creative, prosperous. Spiritual, I'd say. Truth-seeking. It's a sacred place."
It's a place where the hills seems to dip more than rise, so that the sky feels big and endless against the jagged Indian Peaks. It's a place on the other side of the canyon from Boulder, less than 20 miles away but much further in the minds of locals.
"It's not Boulder," one says. "It still has its original flavor to it."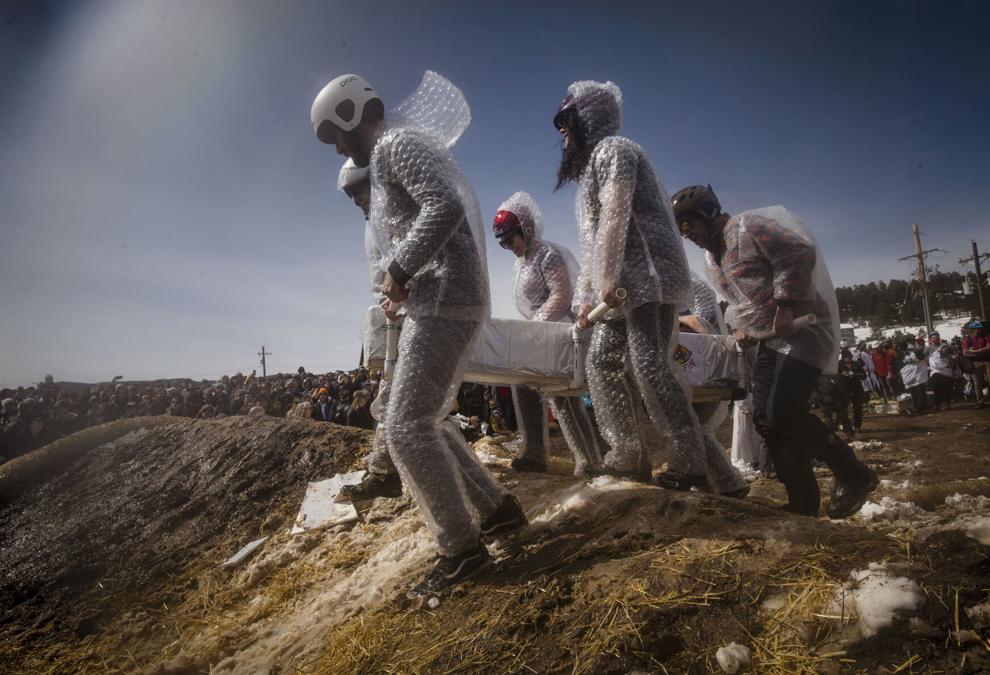 True to an extent, says another longtime resident, Mike "Shaggy" Foster, whose nickname could be applied to many a man around here. But this isn't quite the Nederland he hitchhiked to in the '90s.
He came for the music scene, which was fueled by an illustrious, short-lived studio at Caribou Ranch. Billy Joel, the Beach Boys, Elton John, Michael Jackson and Stevie Nicks were among stars to record there before a fire in 1985.
The ranch has since been owned by the Walton family of the Walmart fortune — a snapshot of the kind of money now weaved into Nederland's fabric.
At the bar of the town's historic, hardly changed watering hole, Foster shakes his head. "We have people calling it Boulder Heights now, because property has gotten so expensive."
It's a regrettable trend among all who've been around a while, including Crush-Warren.
As a business owner, Frozen Dead Guy Days was just one example of the marketing and promotion that she felt was vital to growing the town she came to in the '80s. What has the outside discovery meant? Crush-Warren's son, working at the pizza joint across from her at the visitor center, is one young worker who can't afford to stay in Nederland.
"Hardly anybody who works in the service industry can afford to live here," Crush-Warren says. "You know, people who came here in the '60s and '70s, they had a place to live. People here now, they have nothing. They're camping in the woods."
Hippies still come to escape the world as the hippies before them. Today there's a long-haired man who calls himself Vance, resting under the shade of a pine tree in loose, colorful garb and sandals. He calls himself homeless, calls the real estate situation here and all around Colorado an "epidemic."
And yet, he looks content.
"Last month, I was on Pearl Street" in Boulder, he says. "And I was looking out at the mountains up here, and it didn't even look real."
That's the allure of Nederland. That seems to never change, while everything else does.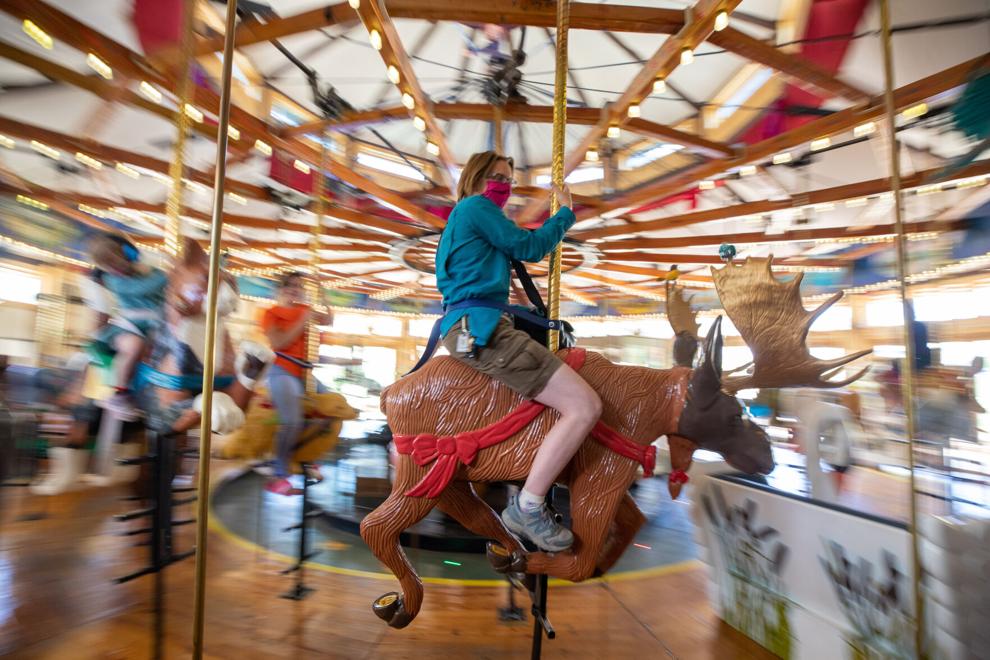 That's clear to one of the young newcomers, Peter Cacek, who's been studying local history.
"This town has gone through so many life cycles. Each generation is way different than the one that preceded it," he says. "As a town now, we're in another transition phase and trying to figure out what the next Nederland is going to be."
Earlier generations were miners. In the 1870s, working for a Dutch company that owned Caribou Mine, they took to calling the low-lying mill the Netherlands. The company went on to christen the sprouting town Nederland, the Dutch word for Netherlands.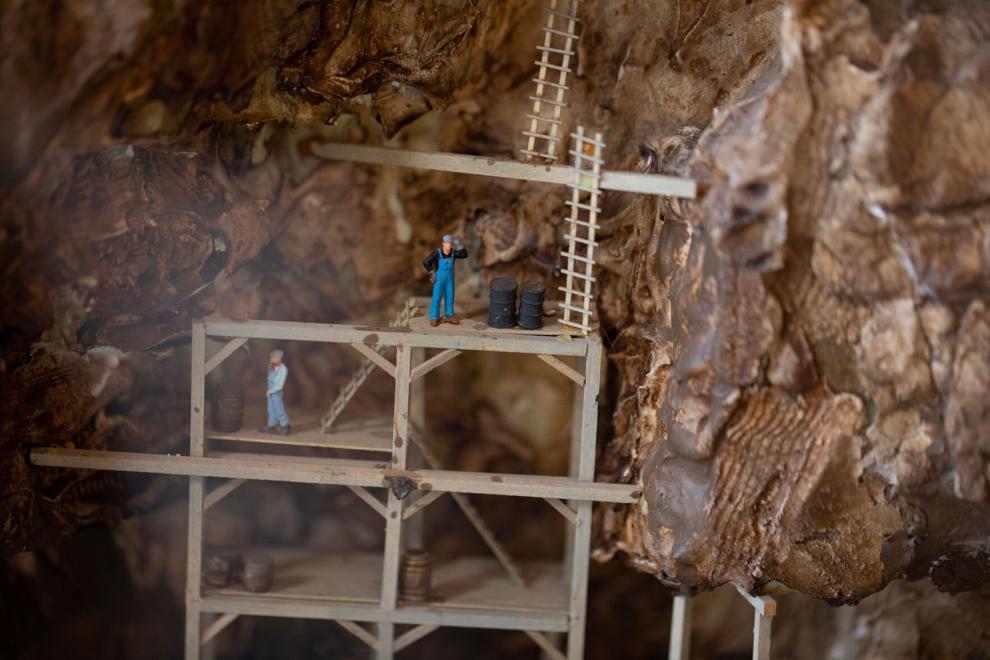 The company didn't last. Gold and silver were of limited supply, while tungsten proved to be plentiful as demand soared at the turn of the century.
The era saw major developments around town. That included the construction of Barker Reservoir, named for the woman who owned the hay meadow that was flooded for power generation. Roads also expanded — the Peak to Peak Highway that would serve the tourist economy as mining faded in the 1950s.
Along came the Volkswagens and the counterculture, back-to-the-land wave. Along came a man named Scott Harrison. In the years after he was wounded in Vietnam, he settled in Nederland, grew out his beard and continued healing.
He treated his sorrow by carving the wooden animals that form today's Carousel of Happiness. It's the nostalgic attraction in the heart of town, ridden by visitors young and old.
Older ones have left in happy tears. They've gazed at Somewhere Else, a cloudy-looking wall in which animals seem to be entering and exiting. According to the book "Don't Delay Joy," Harrison's concept "was that there was a 'portal' to a place called Somewhere Else, be it heaven, the 'Rainbow Bridge,' another dimension, or simply a place of imagination."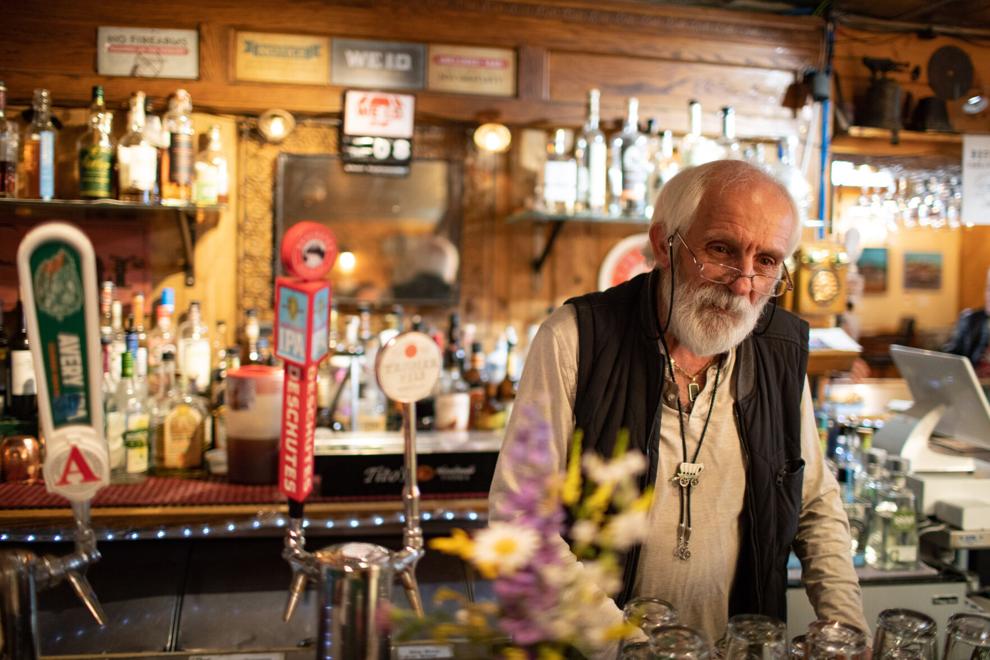 That has always been Nederland — Somewhere Else. It was that for Liz Caile, who wrote for the local paper for decades before her death in 1998.
Her columns, collected in the book "A Life at Treeline," are something of an embodiment of the lasting, local values. She wrote of birds, bugs, plants, lichen, sunshine, snow and yes, marijuana, "a caring medicine." She wrote of walking and sitting. A single line might've captured her best: "I am partial to the shack."
She wrote of her disdain for cars and other machines. She lamented paving and building. In one column, she reflected on the meadow that was sacrificed for today's shopping center:
Some of us were reminiscing about the meadow the other day and what a grace and pleasure it was to cast one's eye over it, to let our minds run freely over the space of it. The conversation turned the corner to what we have today — businesses, services, the structures of community where many of us work and interact. "It's a trade-off," one old-timer said.
That was in 1997. And so the conversations go today.
Nederland, like any town, "is almost like this living organism," says longtime resident Deb D'Andrea. "It will survive one way or another, but it's not gonna look like what it looked like 100 years ago, or 60 years ago, or 20 years ago or even 10."
It's why she gets involved with solution- seeking efforts, why she volunteers and listens. "Change will happen," she says. "You can help guide it or get bowled over by it."
At the visitor center, Crush-Warren sees change out the front door. She sees that pizza joint, the building in which she used to sell antiques.
"It was green, more authentic, Victorian trim," she says. "They're going for something else."
It's darker, sleeker.
"It's taken me a while to get used to it," Crush-Warren says, "but I'm starting to like it."