Julie and David Troudt, owners of Monument's Ice Cave Cider House, 174 Washington St., added the 174W wine bar and pizzeria at the same spot about a year ago. Twelve taps feature Colorado wines, and a wood-burning pizza oven is on a side patio.
"We make pizza dough every day, and when it's gone, it's gone," David said. "We also have a gluten-free crust."
You can build your own pizza or select from chef-inspired pies, such as Mountain Meat ($15.50) with pepperoni, Italian sausage, calabrese salami and mozzarella. A seasonal pie ($16) currently consists of red sauce, garlic, bacon, mozzarella, jalapeños, pineapple, goat cheese and Parmesan. Not in the mood for pizza? Try the charcuterie trays, chips and salsa or chips and hummus. Hours are 3 to 9 p.m. Thursdays, 3 to 10 p.m. Fridays and Saturdays and 4 to 8 p.m. Sundays. Details: 510-1636, tinyurl.com/ y4jyxw7q (cidery) and tinyurl.com/y2vtmlpn (wine bar).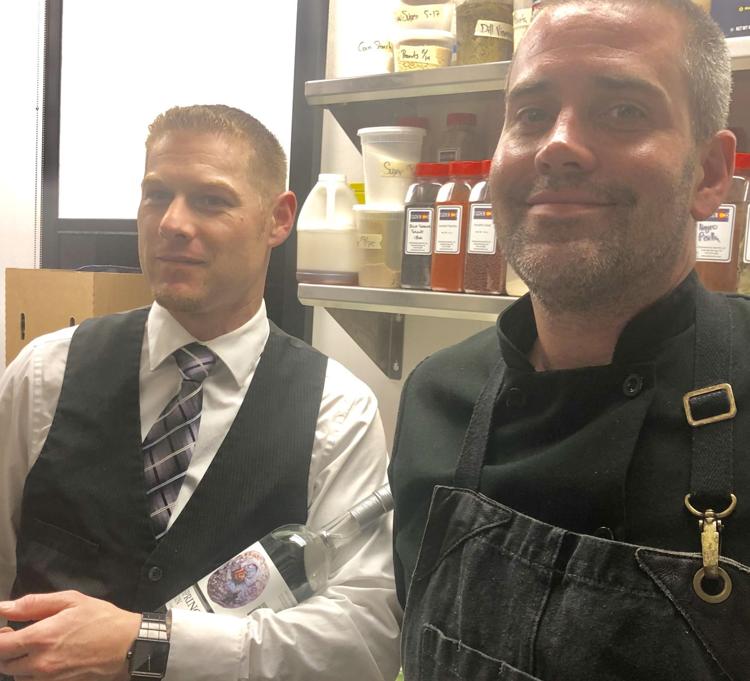 Eat to the tunes
At Motif Jazz Café, 182 E. Cheyenne Mountain Blvd., chef Evan Neece delights diners with a new menu monthly featuring the season's best selections. Bartenders Aaron Martinez and Rob Piratecaptain create craft cocktails to pair with Neece's dishes. Through August, try grilled swordfish ($26) with blueberry and Colorado sweet corn salsa, lime tequila vinaigrette, avocado and black beans on jasmine rice. Pair the fish with the Equinox ($16) cocktail made with smoky Casamigos Mezcal mixed with lavender, pomegranate, fresh lime and Cointreau.
Of course, the live jazz is always top-notch. Hours are 5 to 11 p.m. Thursdays and 5 p.m. to midnight Fridays and Saturdays. Details: 645-8000, motifjazzcafe.com.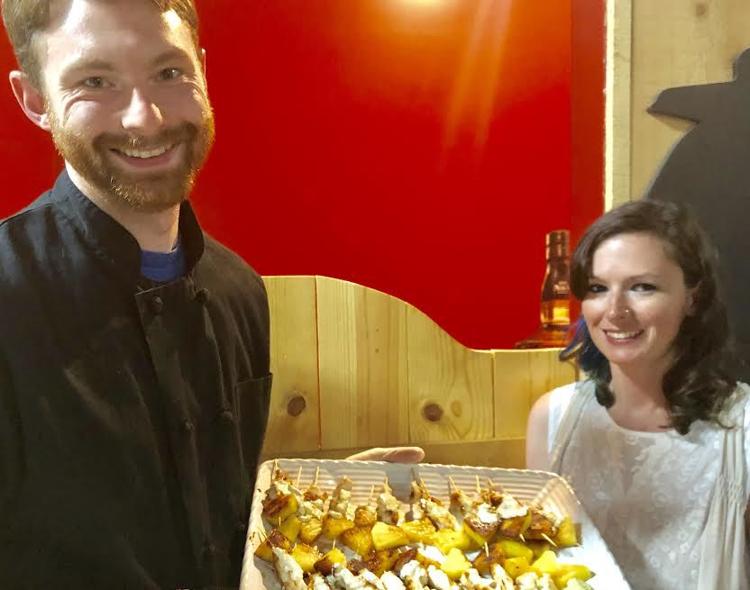 White on white
The Colorado Springs chapter of the American Wine Society threw a Blanc Party on Aug. 6 at The Whiskey Baron Dance Hall & Saloon, 5781 N. Academy Blvd. Guests were asked to wear white to enjoy a menu of white foods prepared by guest chef Arron Christensen, kitchen manager at The Kitchen, an American Bistro in Denver. White wines, furnished by The Wine Seller in Monument, were paired with raw oysters, steamed prawns, cod with lemon beurre blanc and chicken skewers.
Coming up next is a French dinner Sept. 10 prepared by Phil Duhon at his Midtown Grill. Cost is $40 for members and $45 for guests. Visit aws-cos.com for details and information about becoming a member.
Anniversary celebrations
• Momma Pearl's Cajun Kitchen, 6620 Delmonico Drive, will have a chef's table dinner 6:30 to 8:30 p.m. Monday to celebrate six years of business. For $50, you get bacon and tasso-wrapped shrimp, coconut rice, Cajun-seasoned tuna and beef tenderloin kabobs over saffron risotto, and table-side bananas foster. Wine pairing additional. Reservation deadline is Friday. Details: 964-0234, mommapearls.com.
• Coquette's Bistro & Bakery, 616 S. Tejon St., was opened 10 years ago as a small eatery in Manitou Springs by mother-daughter Michelle and Turu Marx. Their gluten-free business has flourished during the decade, winning awards for food now sold at national grocery stores. A celebration is planned for September. Details: 685-2420, coquettesbistro.com.
Wine dinner
• Atmosphere Gastropub, 1327 Interquest Parkway, offers the Sonoma County's Bennett Valley Cellars dinner at 6:30 p.m. Wednesday. For $70 (plus tax and gratuity), five courses are paired with five wines. Details: 354-4764, atmospheregastropub.com.
• The Margarita at Pine Creek, 7350 Pine Creek Road, will have the Colterris Winemaker Dinner at 6:30 p.m. Aug. 22. For $80 (plus gratuity and tax), you get six courses paired with six wines. Details: 598-8667, margaritaatpinecreek.com.
Contact the writer: 636-0271.