More than a century of juicy history resides in a fancy castle perched high on a Manitou Springs hill.
Miramont Castle is a cornerstone of the tiny mountain town. Begun in 1895, the historical residence, once home to a French priest and his mother, can boast of 125 years of existence. Plans for a celebration this year were cut short due to the pandemic.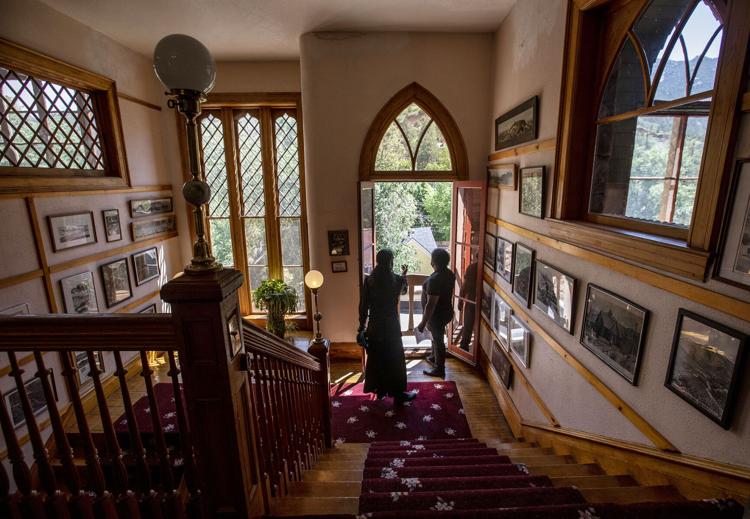 Peggie Yager has worked as treasurer at the castle for 25 of those years, and channeled her love for the monument in the book "Memoirs of Miramont Castle" with Rachel Higgins in 2012.
"Every day is a new adventure here," Yager says. "I come in in the morning and say I'm doing this and this, and the castle runs me. I don't do any of it."
Yager is the go-to for house history in these parts, which goes back to the 1800s when Father Jean Baptiste Francolon, the owner and architect of Miramont, traveled his perilous path toward becoming its landlord. It didn't come without growing pains, including at least one near death in 1885 due to poisoning at the hands of Spanish priests in Santa Cruz, N.M., where Francolon worked at a parish.
When French priests arrived in New Mexico, they found the church in a horrible state, Yager says. Spanish priests were having the sordid times of their lives, and participating in all sorts of nonchurch-like behavior, including affairs with their parishioners' wives.
"They (French priests) went in and threw those priests out of the churches," she says. "These had been people's priests for their whole lives. They didn't take to that too well. There was a lot of resentment."
Thus, the poisoning, which occurred as Francolon sipped from a chalice during Mass. He survived, though his health was considerably worse. So Manitou, with its healing mineral waters and clear, crisp mountain air, sparkled like an oasis, as it did for many folks around the country who arrived hoping to be cured of the lung disease tuberculosis.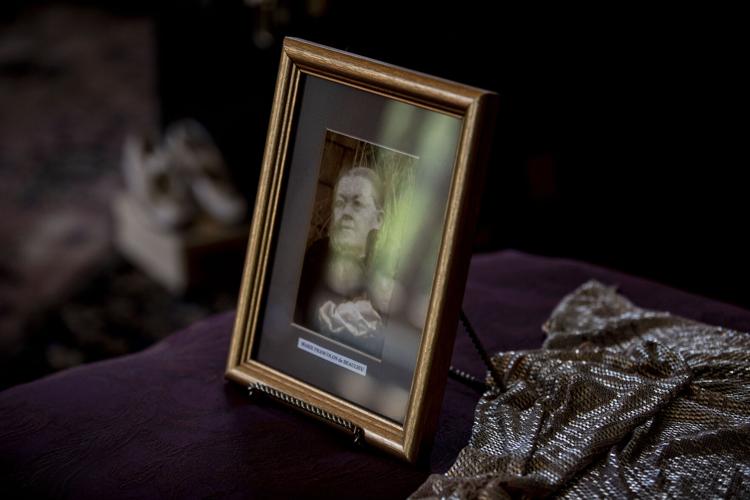 Francolon arrived in Manitou and took over duties at the Catholic parish, Our Lady of Perpetual Help. The year was 1892. His mother, the daughter of a French count, accompanied him.
Construction on Miramont didn't begin right away, however. Francolon first built a $3,500 home in what is now the upper parking lot of the castle on Capitol Hill. Visitors can see the stone wall on the north side of the lot, with its still visible window frames.
Francolon had always intended the home to become a sanitarium for tuberculosis patients. When it was finished, construction began on the castle. As soon as they could, he and his mother moved into the castle and donated what was dubbed Montcalme Sanitarium to the Sisters of Mercy.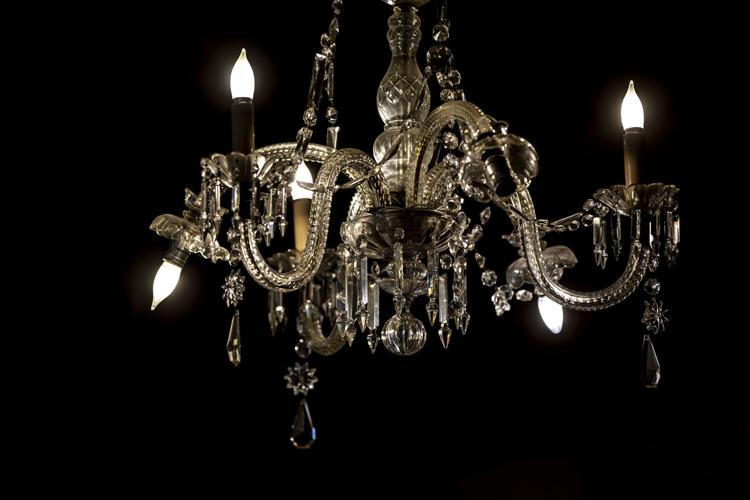 Visitors can also spy one of only about 15 tuberculosis huts still in existence across the country. It stands in the castle's upper parking lot. One peek through a window reveals the ascetic life of a sick patient, with its single bed and limited space. But it was thought to be the best healing protocol at the time.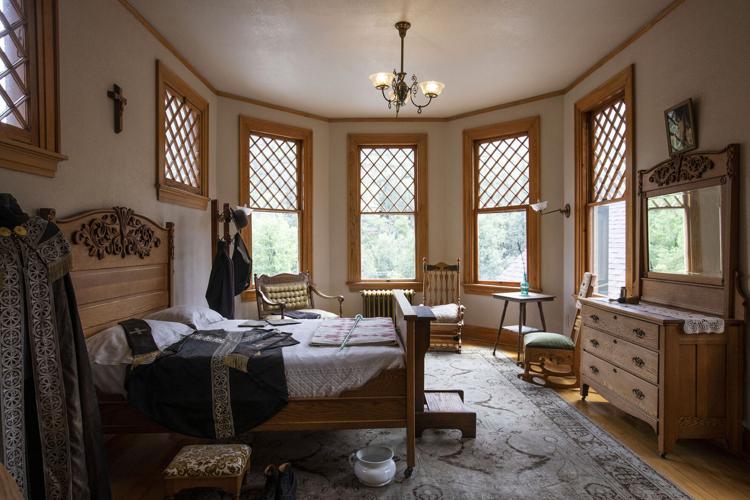 "They believed being out in the cold crisp air was good, because it was a disease of the lungs and throat," says Eli King, executive assistant at Miramont. "They were even out here in the winter. It was always freezing. We know better now. The Sisters were skilled healers at the time. They had a lot of success, regardless of their methods."
Francolon's mother paid the Gillis brothers $14,000 to build the castle. Construction took three years and must have employed most of Manitou, says Yager, what with quarrying all of the building's stone. It features nine architecture styles fancied by the priest, including shingle-style Queen Anne, English Tudor, Flemish stepped gables, domestic Elizabethan, Venetian ogee, Byzantine and Moorish. The estate has more than 40 rooms, including eight-sided rooms, a 16-sided room and a solarium, and is worth more than $43 million today.
"I imagine it was a pretty big feather in their (Manitou Springs) cap to have such a building," Yager says. "I always wonder what his parishioners thought."
Some townsfolk, however, were clear on how they felt. The extravagant digs led to some troubles for Francolon, whose critics noted the cost.
"People saw this and said, 'Why do you have so much? What about your vow of poverty?'" says Kelly Engman, the castle's gift shop attendant. "But it was mother's money that built castle. You compare this castle to French castles, and this is poverty. He was judged harshly because he did come from wealth. So a lot of people targeted him."
Despite the contributions Francolon made to the community, there's not a happy ending to his story, which involves an accusation of pedophilia, made by the first mother superior of the Sisters of Mercy. Though no documentation has been found to prove the accusation, Yager has come to believe it was true.
"The sisters believed it enough that it was included in their book," Yager says. "If the sisters believed it enough it's a little hard to dispute. I'd love to think of Father as a wonderful upstanding priest beyond reproach, but I cannot with a clear heart say that."
She believes the rumor festered for awhile before coming to a head when a lynch mob formed and headed to the castle. A doctor at Montcalme got word of the mob and, along with another man, hid Francolon under the seat of a buggy. They drove him down Ruxton Avenue, through the mob, and deposited the priest at St. Mary's Catholic Church in Colorado Springs. He departed Manitou in 1900, never to return. His mother returned to France a few months later and soon died.
The post-priest years
In 1904, the Sisters of Mercy began to use the castle as a sanitarium during the summer months, tending to tuberculosis patients and using the solarium as a surgery ward. After Montcalme perished in 1907 due to an electrical fire, they moved into Miramont full time.
All was quiet on the castle front until 1946, when the Sisters sold the castle into private hands and effectively began the building's so-called apartment era. Converted into apartments, tenants included returning World War II generals. These were hard years for the property, as the building repeatedly changed hands. Upkeep was difficult to maintain for such a large property and it fell into disrepair. Historical items, such as the furniture, also vanished, as tenants were allowed to take whatever they wanted when they left.
Engman remembers this era, as her family lived behind the castle and she and her friends would play hide and seek in the building after school. One of her girlfriends lived on the third floor of the castle, in the old servants' quarters. After a fire in 1972, caused by a tenant who had his mattress too close to a space heater, the building remained vacant for three years and teetered on the brink of condemnation.
"It was go home and do chores or go into the creepy castle," remembers Engman about the vacant castle.
"The castle won out every time. You could go anywhere. There was nobody here. It was not really safe. Not really smart. Now that I work here and know the history side of it, there's some places I really should not have been. It was spooky."
In 1975, the Manitou Springs Historical Society came to the rescue. The organization bought the building and opened it to the public the following year. In 1977, it was added to the National Register of Historic Places.
Yager calls the historical structure a "tribute to the men that built it." The castle means "everything" to her.
"It creeps into your soul. It's such an amazing building. When you consider everything it went through and it's still here. The Historical Society has preserved it enough so hopefully it will last another 125 years."
Contact the writer: 636-0270