WELD COUNTY • On the other side of two tall wire fences, King Mosiah the tiger eyes his human visitors.
One, resident expert Kent Drotar, flares his nostrils and grunts. Drotar knows the tiger language of chuffing. And sure enough, King Mosiah comes close, returning the guttural gesture.
"Thanks for coming over," Drotar says. "Yeah, you're a good boy, aren't you? Yeah, you're a good boy."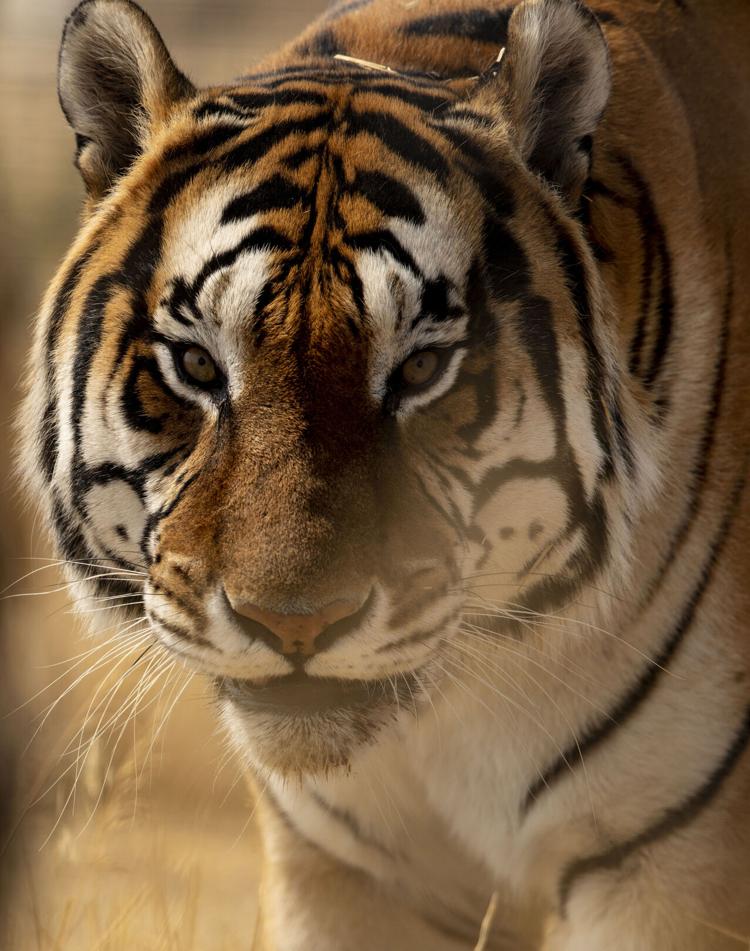 Another good boy, King Edwards, comes by to nuzzle his cat brother's head. And Drotar stands back and appreciates another one of those moments here at the Wild Animal Sanctuary.
Here on these northeastern Colorado plains, ranches raising horses and pigs meet these grassy 789 acres, home to 400-plus lions, tigers, bears and other creatures who've known nothing of their true, native homes.
They've known captivity. Concrete and cages. Basements and backyards. Carnivals and roadside attractions. They've known nefarious overlords.
Drotar — the Sanctuary's public relations director who has given quite a few media tours like this since a certain Netflix documentary series this year — hates to think of the life King Mosiah and King Edwards knew before their arrival here.
"These are two of Joe Exotic's tigers," he says.
Two of the 29 the Sanctuary took in from the infamous compound, responding to a call from local police there in Oklahoma. It's often the Sanctuary's founder, Pat Craig, who takes those calls. They're from sheriff's offices or wildlife officials or those leading the lawsuits, such as the People for the Ethical Treatment of Animals. Since he started 40 years ago, Craig and his operation have become a trusted harbor.
And so he and his team will come with their air-conditioned trailers, aiming to wrap up the raid as soon as possible. Faced by the likes of the Tiger King and his gun-wielding cronies, jobs tend to be tense.
Joe Exotic is just "one of those people," Craig says. "These are just crazy people, and that's what we run into every rescue. Because those are the kind of people drawn to this."
By "this," he means the dark underbelly revealed by the hit Netflix series. "Tiger King" followed the abusive, cat-breeding zookeeper on his path to prison and spotlighted other greedy, narcissistic characters along the way. These were but a few characters behind the national crisis described through the front doors of the Wild Animal Sanctuary.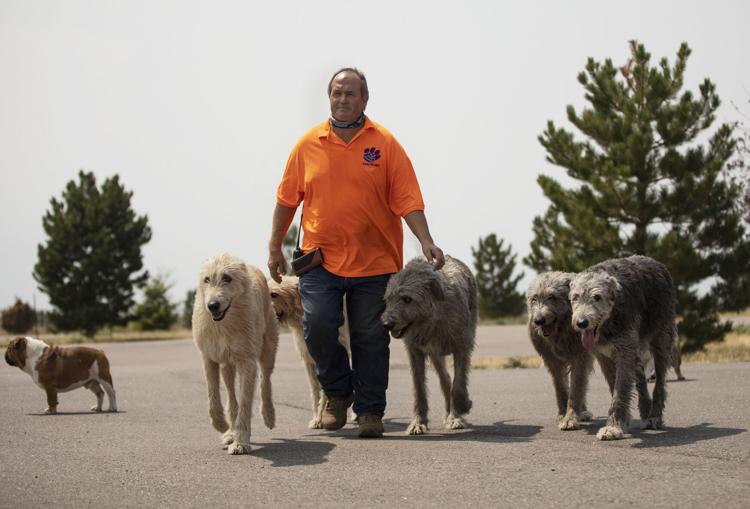 "The Sanctuary is a nonprofit organization that is dedicated to educating people about the captive wildlife crisis in America," starts the narrator on the big screen.
She provides disturbing, well-documented pieces of information, including the one about most of the world's tigers living in captivity, not in the wild.
"Our main focus," she continues, "is to provide a safe, happy home for animals who've honestly gone through an awful lot to be here."
Animals, she says, who wouldn't have a chance in the wild, having spent most or all of their years behind bars. Animals, she says, who now have land to roam within confines.
"Most of our habitats are from 5 to 20 acres," Drotar says. "Down at the Refuge, it's 10 to 250 acres in size."
Acquired in 2018, the Refuge's 9,684 acres of pinon and juniper forests and stream-cut canyons in Las Animas and Baca counties spelled an audacious expansion of Craig's wildlife kingdom. His organization calls itself the largest of its kind committed to carnivores.
But of this, Craig does not boast. In stark contrast to, say, a Joe Exotic production, he is hardly spotted in that video introducing the Sanctuary. His name is not mentioned. In stark contrast, Craig is soft-spoken. Though he is hard to miss on his daily rounds, accompanied by his posse of huge Irish wolfhounds and small bulldogs.
He never saw himself in this theme park-like setting, this soaring structure that surprises on the otherwise barren plains, complete with a cafe and gift shop.
He never foresaw a massive following — nearly 750,000 Facebook followers — which includes Colorado's first gentleman. The Sanctuary is "wonderful" to Marlon Reis, an animal rights activist.
"In Colorado, we pride ourselves on our state's natural beauty and protecting the animals that call it home," he told The Gazette. "The Wildlife Sanctuary goes above and beyond to rescue animals that would otherwise have nowhere else to go."
The mission, Craig says, is backed by an annual budget of $23 million, built from donations. The budget saves on the cost of 80,000 pounds of food every week, thanks to big box stores around the Front Range. Truck drivers — among the Sanctuary's 75 employees — go around stockpiling throwaway goods in the middle of the night.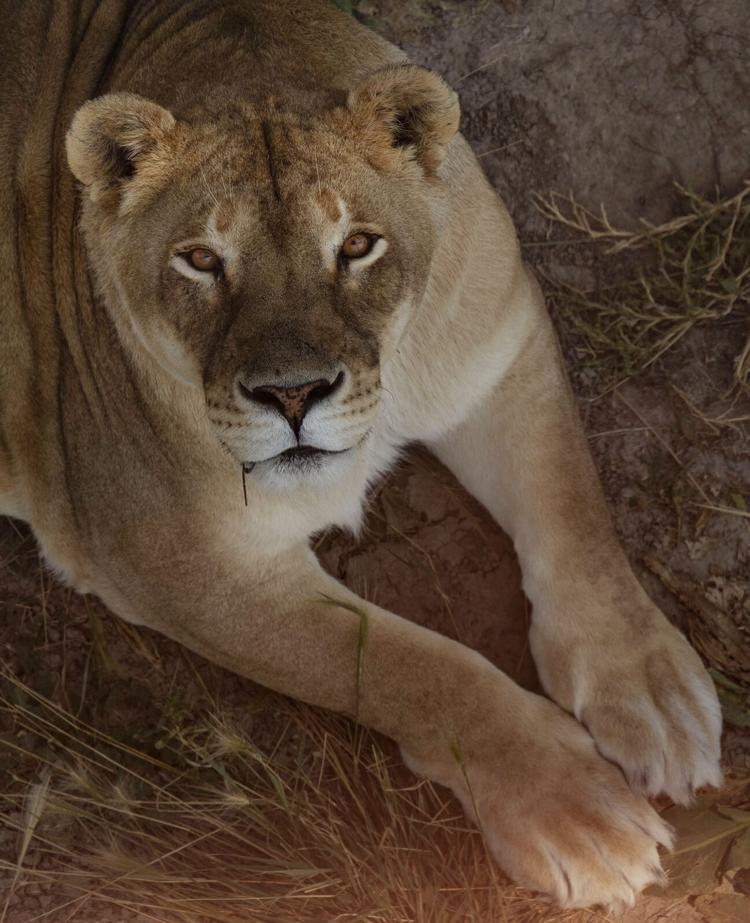 At the Sanctuary, staff can be seen tossing hunks of meat over fences. They dump piles of produce in the bear "habitats," which like all of the others have watering holes filled by wells or by more delivery trucks.
One observes from an elevated walkway made of steel, the "Mile into the Wild" stretching high above the ground. This, the Sanctuary maintains, ensures the sensitive residents do not feel threatened by some 150,000 visitors every year.
This was an idea Craig had when he opened the place to the public in 2002. Along with establishing the 501©(3), this was all part of him coming to the realization that he needed money to continue his cause.
"As one person, you can only save so many animals," he says.
He got his first in 1980 at the age of 19. Freckles the jaguar lived 24 years, long enough to see the transition from Craig's family farm outside Boulder to today's preserve far east.
Freckles was the first result of correspondence Craig put out to zoos around the country back then, saying he was licensed and ready to help any animal in need of a home. He learned that zoos had struggled with a "surplus," that occupants were sometimes euthanized due to a lack of funds to care for them.
This was knowledge that shook Craig to his core. Surely, it had something to do with the love he had for the farm animals growing up.
"As much love as you give them, they give back," he says.
They did when his dad couldn't. He was hard-nosed, running a tire shop and two gas stations and expecting his kids at an early age to help out sun-up to sundown. He worked and drank up until Craig was 16. That's when the old man died by his own hand.
Craig kept the businesses going and his expanding animal ranks secret — so as not to frighten the neighbors.
"The African lions roaring," he recalls. "That was probably the biggest giveaway."
The move out to Weld County would provide more space. More space to meet more and more calls he was getting, more and more animals in need.
The land growth continues with the calls.
"The hardest part of my job," Craig says, "is having to say no."
He says he has to more than half of the time. That, he says, should help illustrate the wildlife captivity crisis. As do the legal files he keeps, documenting rules and regulations he pushed for across dozens of states after sad rescue missions.
The stories are everywhere around the Sanctuary.
Negrita the jaguar came from Mexico, where restaurant owners displayed her to attract customers, Drotar says on this tour. "To make her safer with people around, they actually declawed her on all four feet and filed her fangs down."
Nearby is Sage the fox. "When we went to get her," Drotar says, "she was basically inside a large bird cage."
Ricki the bear came from a cage at an ice cream parlor.
The lions Cain and Dion were found young and malnourished during a drug bust.
And there are the tigers, King Mosiah and King Edwards. The Netflix-watching world saw their tragedy.
"There's probably a good chance they end up at the Refuge," Drotar says.
They could live out their days in that landscape, where from many vantage points, the fences seem far away. There are staff stationed there, but those might be the only human beings the animals see. Craig says there's no plan for public access.
"It's so vast and rugged, hard to get into," he says. He'll go himself and not see one wild soul.
And that's more than fine by him.