Last year, high in a canyon near Colorado Springs, Brett Price finally showed his mom what he'd been up to.
A 1-inch-thick line was strung between cliff sides. Price walked across it, nothing but air above and 100 feet below.
One trip, and that was enough for Mom. Her son was attached to a harness and stepped along nylon capable of handling thousands of pounds, but that did nothing to slow her pounding heart.
"She was like, 'OK, you can be done now,'" Price recalled.
The 25-year-old isn't done with the sport of highlining. He is part of a rising subculture in Colorado — a fit, free-spirited member of a small but growing faction taking slacklining to another level, from those trees at a grassy neighborhood park to the dizzying heights of the mountains.
Highliners can be found where rock climbers are found. In America, the bold hobbies share a 1970s birthplace, Yosemite National Park, and continue to share California's Sierras, Utah's desert spires and, indeed, Colorado's Rockies.
"It's massive here," said one of highlining's modern legends, Jerry Miszewski, who moved his gear company, Balance Community, to Lyons last year. "Colorado is definitely the heartbeat of the slackline community in the U.S."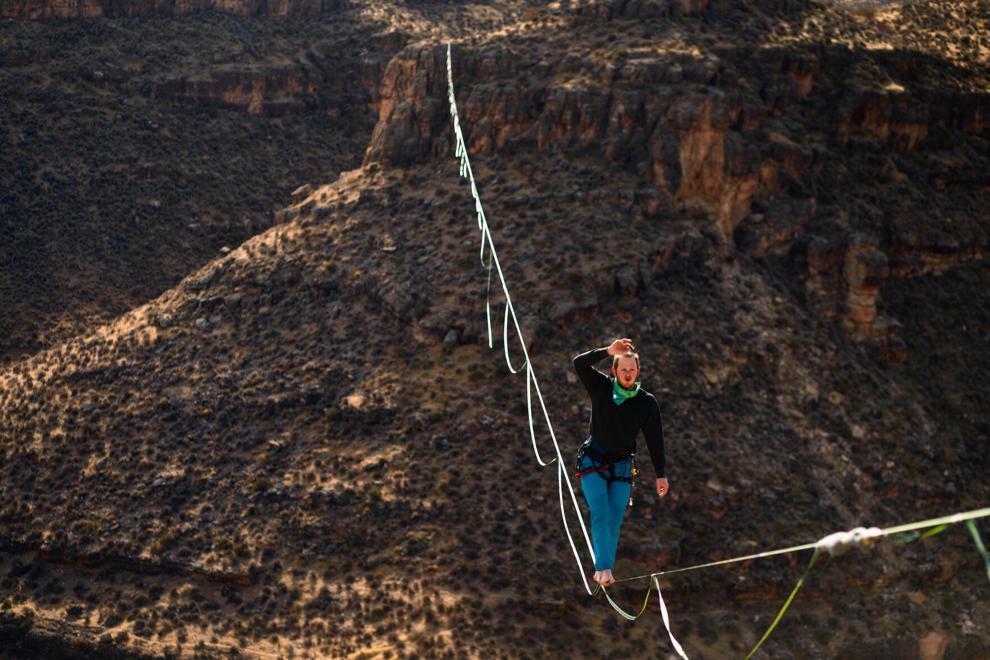 Maybe you've driven through Clear Creek Canyon or Boulder Canyon and seen his kind traversing way above your windshield. The balancing act is also popular in remote reaches of Poudre Canyon outside Fort Collins, along with craggy domains around Estes Park and Cañon City.
If you've never seen highlining, well, your reaction might be similar to that of Price's mom.
Young Price was with one of his regular comrades that day, Duke Brunmeier, who can count on two hands the number of fellow highliners he knows in Colorado Springs. The low or hidden ranks — not to mention restrictions within city limits — means the sight locally is rare.
"To someone who's never seen it, it looks completely nuts," Brunmeier, 48, said.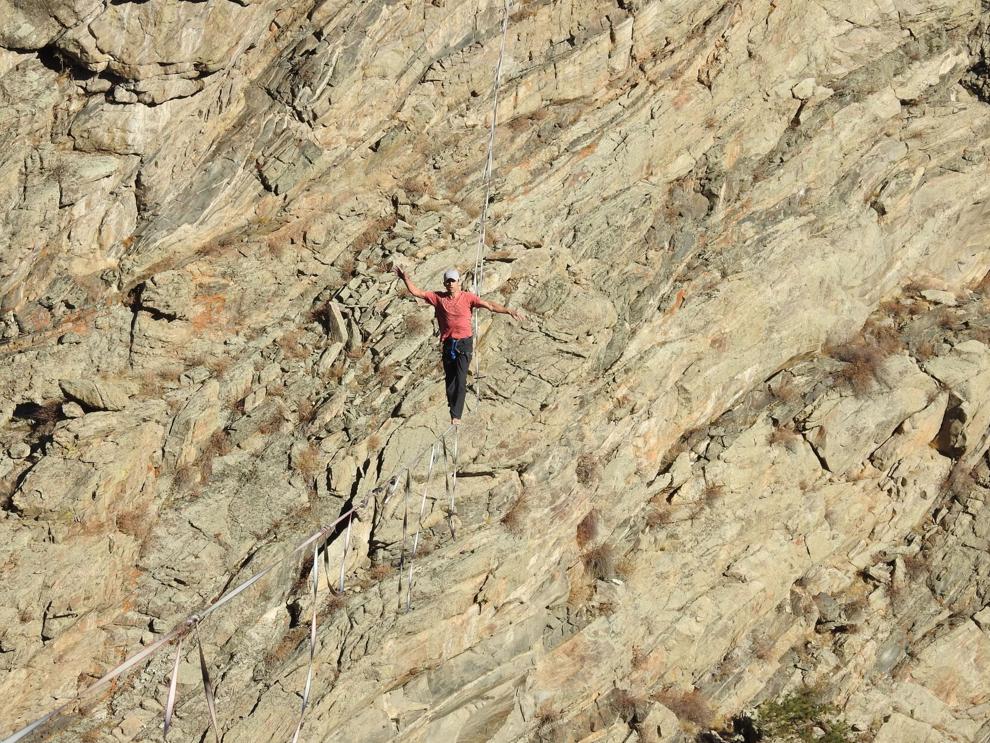 But he insists he's not nuts. He insists highlining helped save his life, not take it.
He was recovering from drug and alcohol use when he found highlining six years ago. It was "a way of being in the moment," he said. "Being able to find those zen-like moments where past and future devolves, and it's like the fear goes away, and you're in the flow."
Dakota Collins knows the feeling. Over the past decade, the northern Coloradan has become one of the sport's top activists.
"There's definitely some misconception that we're some tightrope walkers risking our lives," he said. "The reality is, I've never considered myself risking my life tying into a high line."
The International Slackline Association detailed highlining deaths in 2018 and 2019, both in Brazil. But the association has described those incidents as extremely uncommon, with a 2015 report suggesting only one fatality in 30-plus years.
Longtime highliners convey total confidence in proper gear and "redundant" practices behind every proper route. If the nylon under their feet were to snap, walkers protect themselves by leashing to a backup line. Backup clips and backup bolts are secured on either end of the lines. Some argue highlining is safer than the rope walked between trees at parks, where tripping could mean a harsh ground collision and injuries to ankles, wrists or head.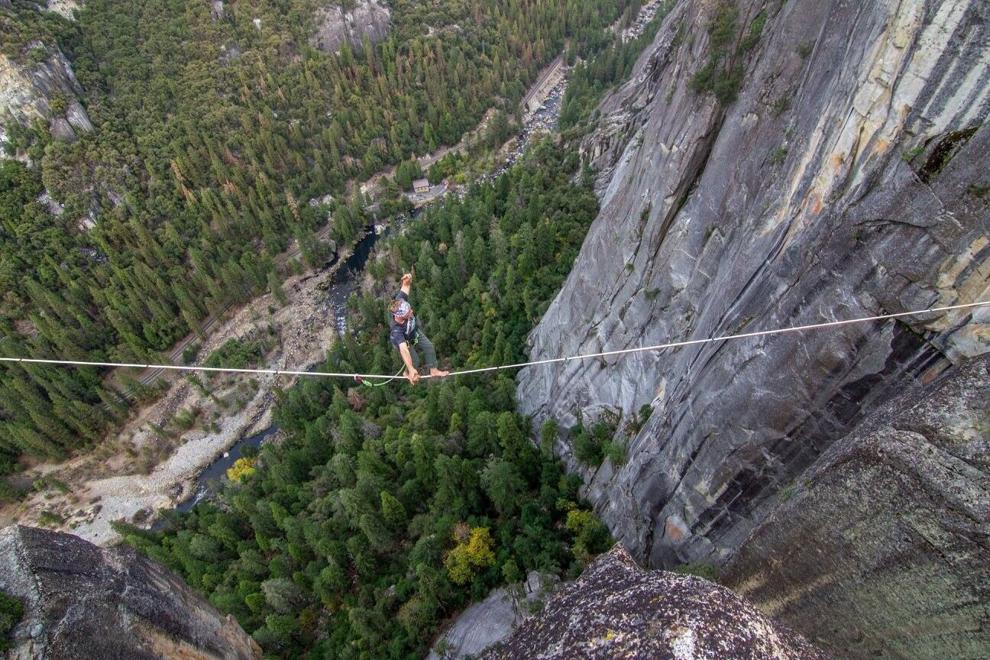 But the slackline in the park is where hopeful highliners should start, proponents said. The lower effort builds balance, confidence and knot-tying skills — and, if not on dedicated Facebook pages, it's a way to meet a mentor with highlining's highly technical knowledge.
Rigging a safe line requires the kind of investigation rock climbers take to bolting routes. The rock has to be right for drilling. One party anchors one side and the other party anchors the other in what is only the beginning of logistics. Commonly, one end of the line gets tied, and a drone flies the other end to the opposite anchor. The space between poses a mathematical equation in determining the tension of the line, or lack thereof. Wind is another factor.
With the know-how, the result is considered the pinnacle of slacklining. Practitioners speak of a certain nirvana celebrated by Indiana-based Breathe Festival, the sport's biggest gathering, co-founded by Collins. "Every individual has a higher purpose," according to the mission statement.
"It's an unreal way to experience the natural landscape," says Caleb Beavers, an influential highliner in Boulder. "It's one thing standing on a cliff looking out, but if you can walk into that space, it's a whole other world."
Beavers was among a group last year that claimed a national record on a line spanning 3,313 feet between rock cathedrals near Moab. The feat shows how far the sport has come since 1983, when a trio of scrappy Californians strung a 22-foot line under a bridge and walked what is considered to be America's first highline. It was 800 feet high, compared with the record 6,561-foot traverse maintained by International Slackline Association.
The boundaries keep expanding, but Collins hopes the sport's purity isn't lost. "The distraction of doing longer sometimes doesn't lend itself to the most aesthetic gaps that deserve a line," he says.
They await in Colorado Springs, Brunmeier says, mentioning North Cheyenne Cañon Park and Red Rock Canyon Open Space. But highlining isn't allowed in city parks — nor is tying a simple line to trees.
Liability is the concern, said Karen Palus, city parks director. The concern is waived when rock climbers apply for permits and ascend designated routes.
Such a model could be considered for highlining, Palus said. The challenge is in "coming up with a plan of where it may be appropriate," she said.
It alludes to an access problem that could be on the horizon for highliners. On federal lands, they claim the same rights as climbers. But could the shock and awe of the scene result in changes?
"As (the sport) grows more and more, and lines are up more often, that could become an issue," Miszewski said.
Price hopes not. He understands there are those like his mom, who wasn't too thrilled to watch him highline.
But at least they got out of their trailer home for a while. With four cats, the quarters can feel even tighter, Price said.
"It can be a little claustrophobic," he said. "But anytime I get out on the highline, I have all the space I can imagine. It makes it easy to be grateful, even if you are living in a situation like I am right now.
"That's the biggest thing I get out of highlining. It just makes me grateful to be alive."