FRUITA • A fifth-generation farmer is busy tending his fields when he's asked about the chicken. Again.
"Yeah," Troy Waters says. "Everybody asks me about the chicken."
Only because he's most familiar with the chicken. And this isn't just any chicken.
This is Mike the Headless Chicken, whose 1945 likeness is enshrined on a downtown corner and whose local legend will be celebrated this month at the 21st annual Mike the Headless Chicken Festival.
Last year's estimated attendance was 17,000 — a few thousand more than Fruita's population. It's a weekend of live entertainment and peep-eating and chicken wing-eating and chicken shows and chicken poop bingo and more.
The interest never ceases to amaze organizer Tom Casal.
"Last year, I talked to someone from Great Britain. Did a radio show in Michigan. Did a radio show in Toronto. The previous couple of years, our marketing group talked to people in Ireland and Germany."
Probably Waters will stay away again. Because inevitably some reporter there will want to ask him about the chicken. Again.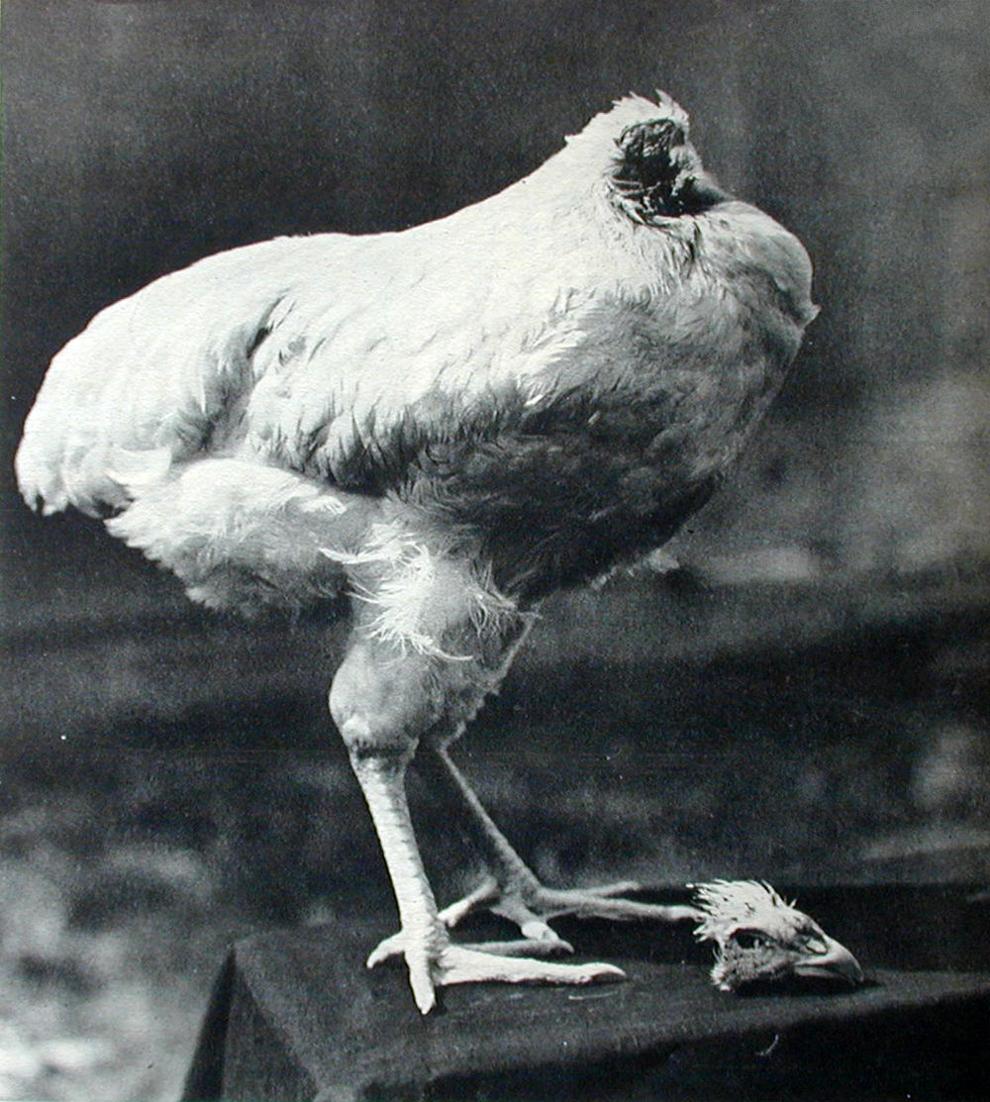 The reporter could ask, say, local historians Steve and Denise Hight. They could speak on everything they've read in old clips. Even Life magazine came along, running a big picture of the beheaded bird with the caption: "Minus the head, Mike stands erect with ease. He is 5 ½ months old and weighs about 3 ½ pounds. His late head (right foreground) is quite dead."
Mike's headless life reportedly went on for 18 months. Supposedly lab tests determined Mike's brain stem remained intact after what was meant to be a fatal blow by local farmer Lloyd Olsen.
Do the studious Hights believe everything they've heard and read? "Everything."
But the best person to ask about the chicken is Waters. He is, after all, the great grandson of Olsen, who lived his final years in the next room over from young Troy. Waters heard the story first-hand. In his gun safe, he keeps scrapbooks and mementos collected by Grandma Clara. Still has Grandpa Lloyd's baby blue 1946 Chevy pickup, too.
The truck came after Mike the Headless Chicken, came because of Mike the Headless Chicken, afforded by the nationwide sideshow during which people paid to see Mike the Headless Chicken. "Miracle Mike," the promoter out of Utah hailed him.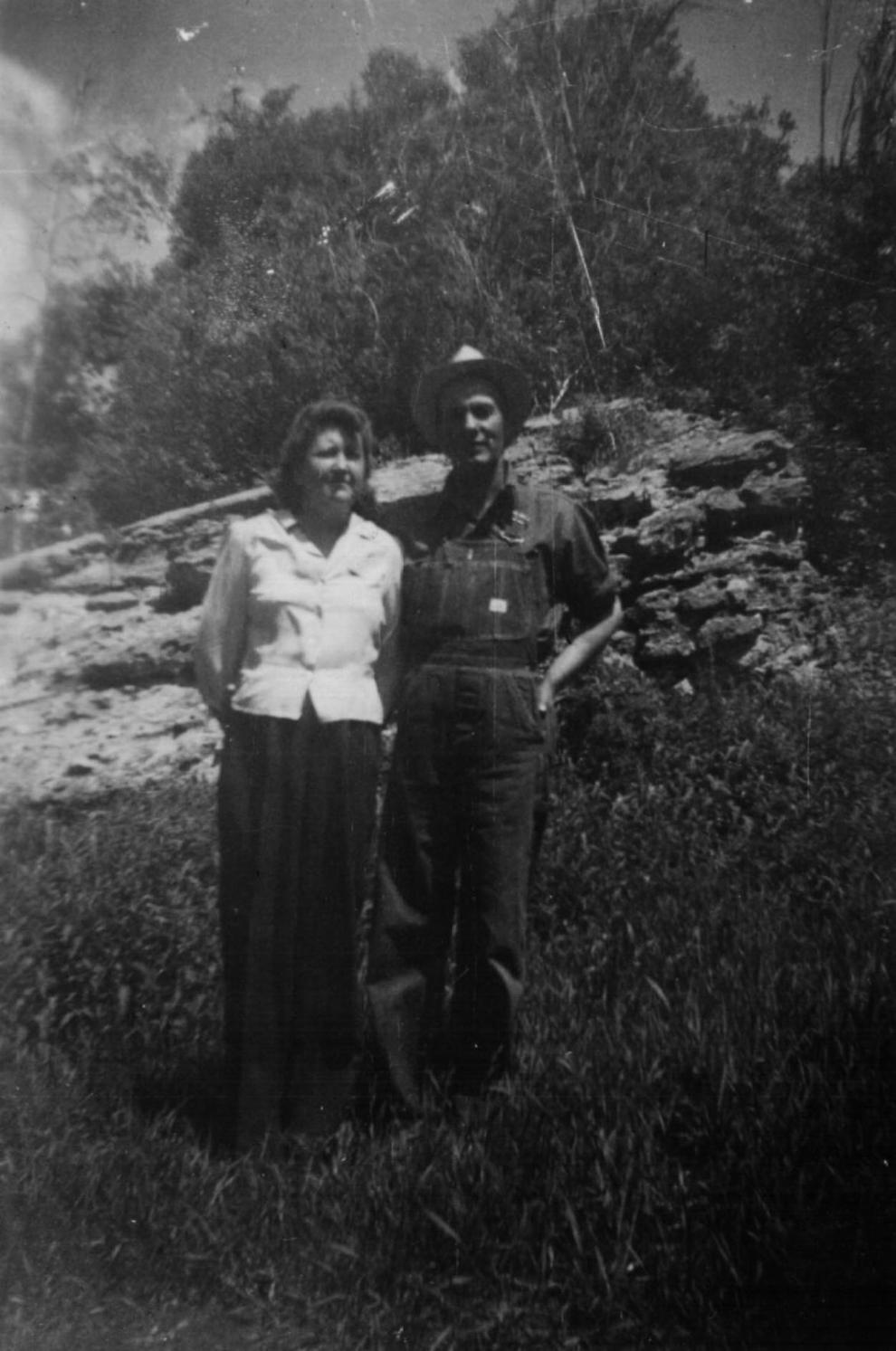 Before then, Grandpa Lloyd got around in a horse-pulled wagon.
"Matter of fact," Waters says, "when he first took Mike the Headless Chicken to Fruita, it rode into town in the back of a wagon."
It all started Sept. 10, 1945. A typical day for Grandpa Lloyd and Grandma Clara.
He was cutting off chicken heads and tossing the bodies for her to clean, then he'd help clean, prepping them for the meat market in town. Might've been 50 or 60, Waters says.
"He got down to the pile cleaning and still had one alive. I really don't know what possessed him not to go ahead and kill it. Every time I asked him, you'd get a different story. 'Well, I was tired.' Or, 'I just wanted to see.'
"Anyway, he threw it in an apple box and put it there on the back porch where the cats or nothing could get it to it. Next morning, the damn thing was still alive."
So Lloyd rode the thing into town, won some bets. Word spread fast around the valley and farther, reaching Hope Wade, the promoter in Salt Lake City.
A song was sung about Miracle Mike:
"A fowl that hates so much to die,
There must be some good reason why,
And since he wants so much to live
Every living chance to him we'll give."
That romanticized the gruesome reality of Mike's prolonging. Pictures show a dropper dripping nutrients into his esophagus, and a syringe cleared mucus, preventing him from choking.
"You ought to see some of the hate mail my grandmother kept," Waters says.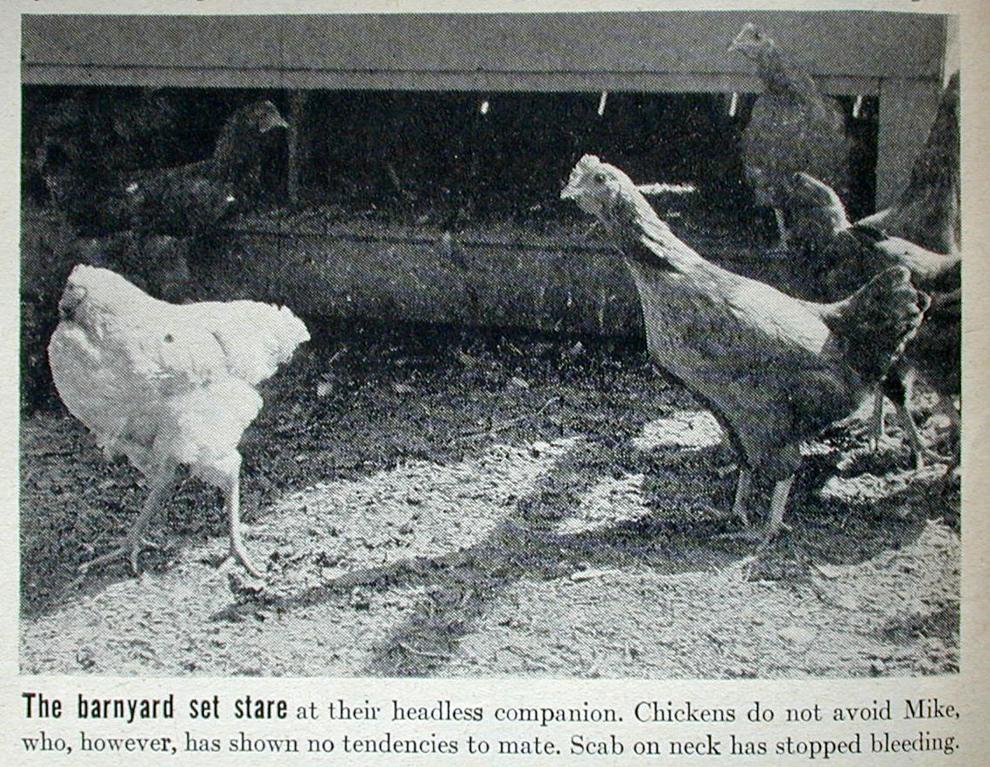 He has that collection in the gun safe, too. Many are addressed to "the owner of the headless chicken, 200 miles west of Denver," just as Life magazine described little Fruita.
Mike ended up choking. The death was long a mystery, but Grandpa Lloyd eventually confessed in an interview late in his life: The bird perished on his watch, in the middle of the night at a Phoenix motel. He had left the syringe at the show.
"I don't think Grandpa ever wanted to admit that he let the proverbial goose that was laying the golden egg die on him from a stupid mistake," Waters says.
Along with the '46 Chevy, Lloyd paid off the farm's debt and finally got himself a tractor. Not just one, but two. Folks around town figured he got rich.
"He didn't," Waters says. "He always told me the government took half of what he made in taxes, then he said it was expensive living in hotels and traveling."
Grandpa Lloyd got back to the hard life of farming, a life Waters knows well. Life on the farm, "scratching in the dirt" — those stories from Grandpa remain Waters' favorite, not the one about the chicken. But that's the one with a festival built around it.
Probably Waters won't go.
"But my wife goes down every year. We started buying the T-shirts, so I've got a collection of all the T-shirts. I don't know why ... It's family history, you know."