A big, blue bear leans on a glass wall, and what does he see? Lots of beards, puffy jackets and flannels — commoners of the outdoor recreation industry's royal celebration.
Also, gear. During last week's Outdoor Retailer Snow Show, the Colorado Convention Center's iconic, peeping sculpture again saw lots of skis, boots, goggles and other gizmos and gadgets seeking shelf space. Shop owners worldwide spent the week in Denver scouting.
As for me, I wandered the maze of nearly 900 booths in search of the coolest, weirdest stuff around.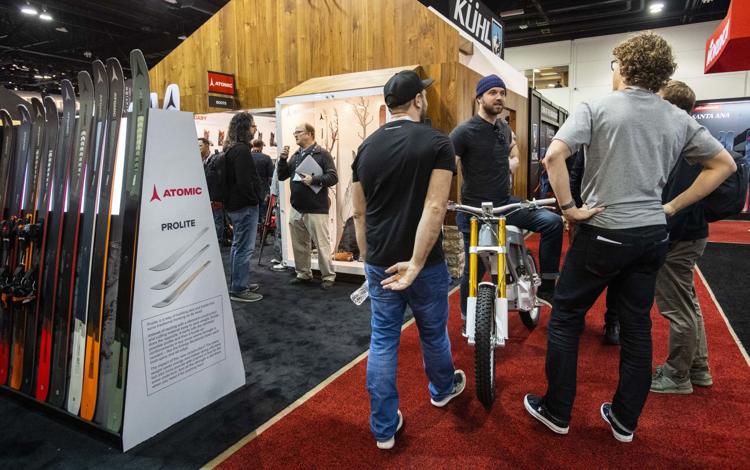 CAKE's Kalk&: The Kalk OR has been a silent hit on international dirt, an electric off-roader zipping around like any motor bike but without the roar. Now comes an eco-friendly motorcycle the Swedish company says is good for trails and roads — and legal in the U.S.
The Kalk& is set for presale in March, though CAKE didn't include a price with its announcement last week. It's easy to imagine the slick ride causing a stir in parks and open spaces that allow motorized access but no e-bikes. One thing's for sure: It's a head turner.
A beanie-capped presenter walked it through hallways and told onlookers it was "like powder skiing," a serene, lightweight glider with adjustable torque.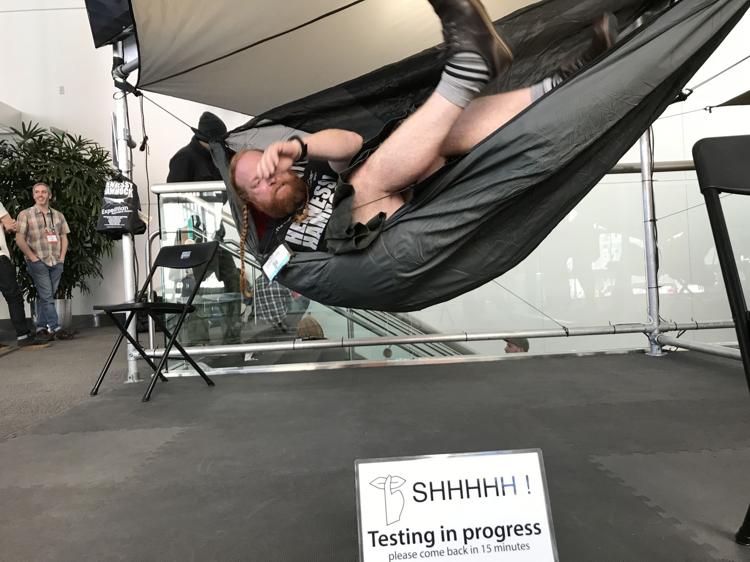 Hennessy Hammock: Sporting a kilt and a red beard to go with pigtails, the British Columbian man named Zeus hopped into the tent. "The coolest tent in the world," praises one trade magazine.
Is it a tent, or is it a hammock? It's both! The long-distance adventurer need not pack a bulky dwelling unit, Zeus told me. Bunched in its pouch, the Hennessy Hammock about fits the palm of one's hand.
A zipper provides the overhead shelter, and a compact cushion lends warmth. "One of our biggest customer complaints is people losing trail time to sleep," Zeus said.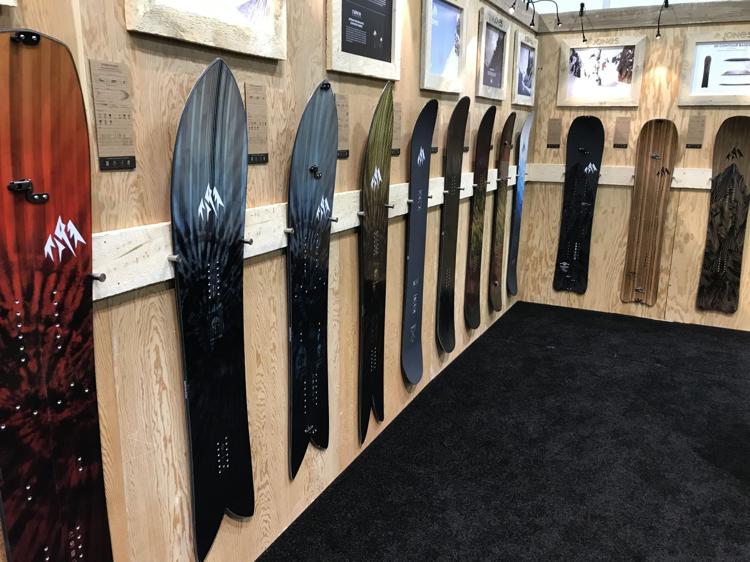 Jones Snowboards: Were those … shark tails? No, they were snowboards! The small, California company created the "surf series" alongside Chris Christenson, who's more used to shaping boards to conquer waves, not slopes.
But Jones hails these true "powder slashers." They're a throwback to an earlier time in the sport, when boards weren't always so rounded. The edgier-tipped "mind expander" is a big seller for Jones, and others have rocket-shaped noses.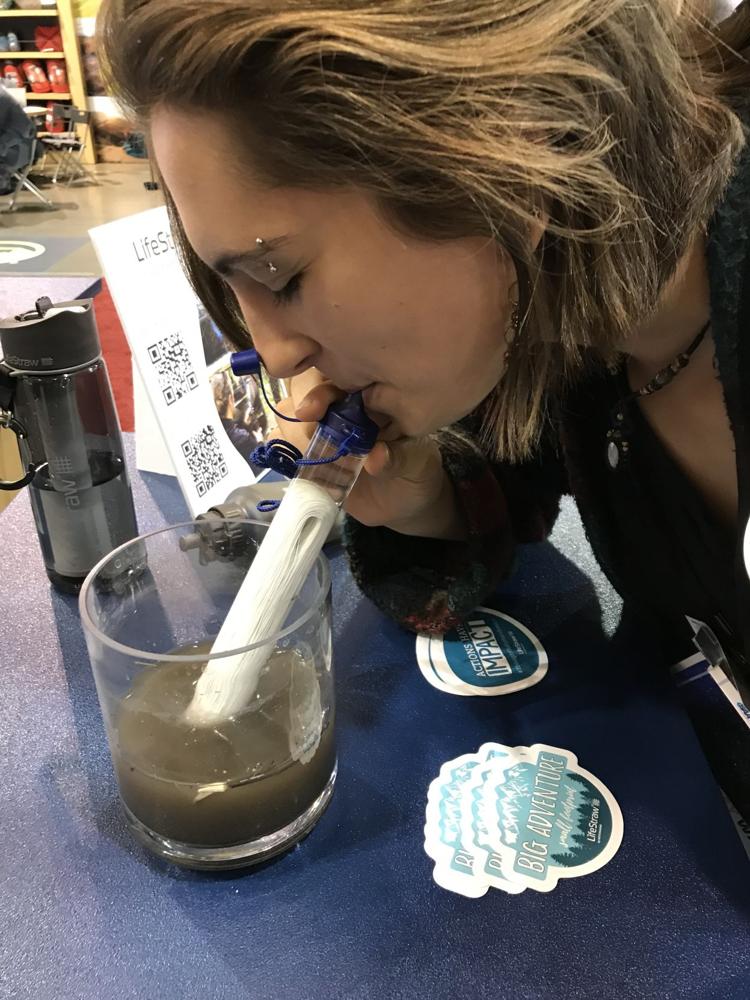 LifeStraw: A container was filled with muddy water from the river downtown. And people were drinking it through a tube that magically turned it clear as they sipped.
LifeStraw has a bigger mission to provide safe drinking water to the world, but for hikers and backpackers, the products can be used over any passing stream. The secret? The fiber membrane wrapped in the tube, with microscopic pores catching bacteria and parasites.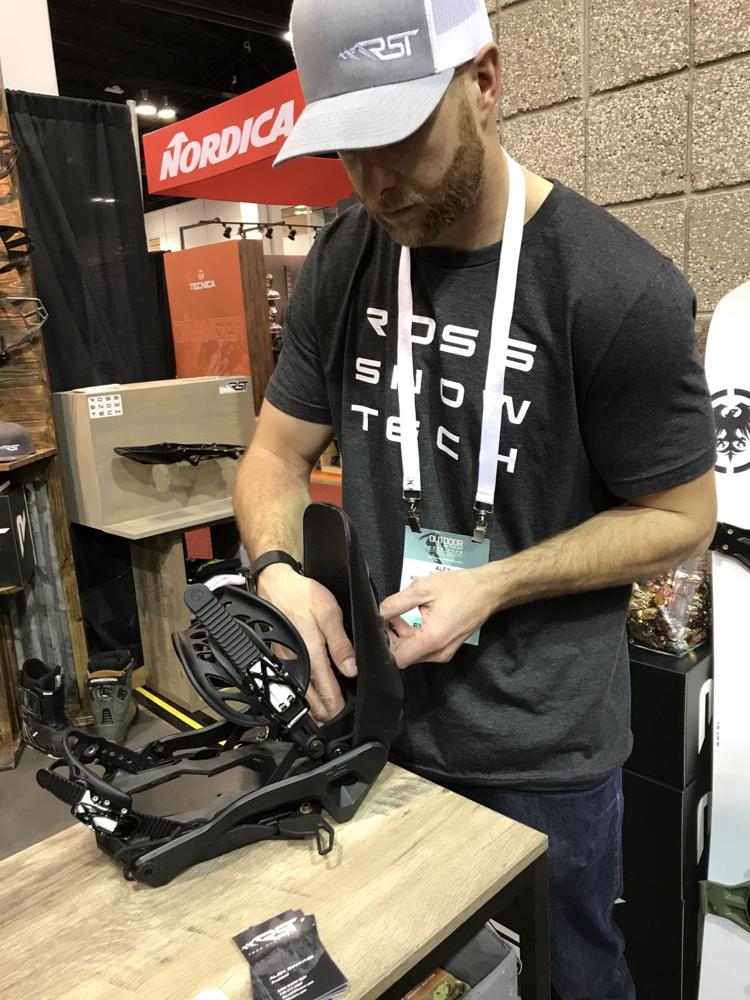 Ross Snow Tech: Outdoor Retailer isn't only for established brands. The dreamers are here, too. Take Alex Swaynie, who was riding high in Powderhorn's backcountry when a friend crashed and found himself trapped in deep powder.
"I had to unstrap and do a boogie board thing back to my buddies," said poor Jon Wallace. "It took me like 30 minutes."
But the duo maintain their boot binding can be converted into a snowshoe in 30 seconds. After multiple prototypes, the contraption is in pre-production and aims to hit the market come fall.