With a heavy heart, Karen Rivera came to this studio on the dingy second floor of an Old Colorado City building and found ugly, little holes covering the wall's acoustic tiles.
"I had to fill in every one of these dots five times," she says. "I would come up here, shut the door, cry a lot and fill in the dots."
Now and then, a fellow artist on the floor would knock. Was she OK? How about a coffee? Something to eat?
These were and are her people, about the only people she has; no close family, no kids, and that summer, she had recently lost her husband of 42 years.
Previously, she had occupied a smaller space here that smelled of onions from the restaurant below. That was before she needed to be home with Dave 24/7. When this 220-square-foot room opened down the hall, the artists implored her to come back.
Don't worry about money, they told her. (Medical bills had piled up from Dave's 18-year battle with cancer.) They'd pony up the first month's rent and whatever else she needed.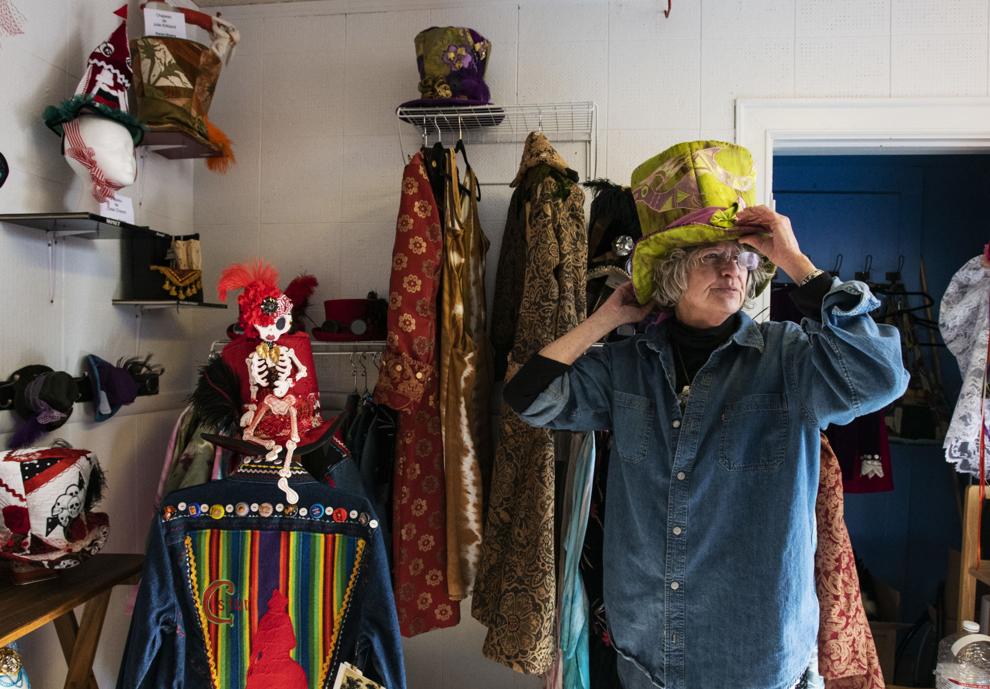 "It saved my butt," says Rivera, 65.
For her, art has a way of doing that, saving. With Dave, it was the safeguard against the darkness that threatened their final years, warding it off if only for precious hours.
"How do you entertain someone who's in pain?" Rivera asks. "How do you distract someone who's in pain?"
The answer was art. The answer was everything here in her studio, in this Technicolor portal to alternate reality.
Plushy frogs wear bright top hats and jackets, creatures from some psychedelic Victorian era. And human hats are everywhere, adorned with velvet and tiny gears from vintage clocks, like the bits and pieces that dangle from Rivera's ears. She is known to also decorate with ostrich feathers and what she calls dragon claws.
The long coats are pirate coats, she says, and on their backs are elaborate, painted designs. Here, for instance, is a pink snake, a legendary symbol among native tribes she knew in New Mexico. It is "the guardian of the dead," she says. "That's who takes you to heaven."
The coats "have not sold well," she says. "Because people aren't having enough fun!"
Oh, but the classes with other ladies. "You've never lived," Rivera says, "until you've handed someone a power drill and said, 'Just do some drilling.'"
As is necessary to apply the nuts and bolts to the sides of brass goggles. One might also replace a lens with a golden pocket-watch cap and add some metallic filigree.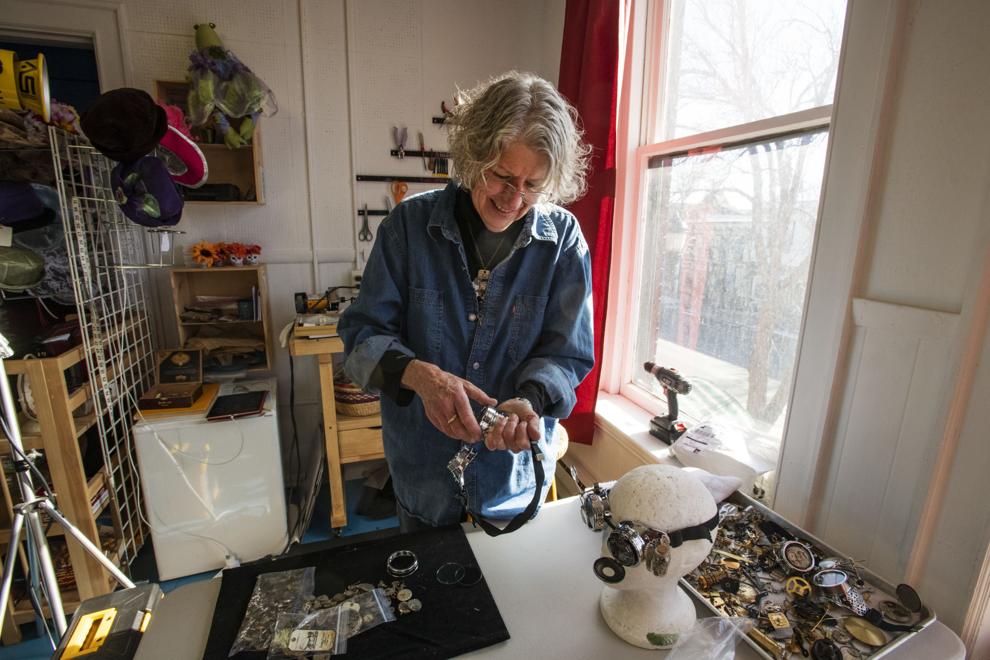 Welcome to Rivera's whimsical world of steampunk, an aesthetic she describes as "jewels of time machine dirigibles" and "computers driven by steam and made out of wood. ... the rest ekes into a world of fantasy."
Eccentric realms exist beyond, up and down the hallway in rooms occupied mostly by painters. Also residing are a cartoonist and self-titled tattoo vanisher. A great title, Rivera thinks. What's hers?
"I'm the mending goddess in real life," she says. (That's how she tries to pay the bills, mending and sewing).
An artist passes by, and Rivera asks, "So what am I in the building?"
"A textile artist?" the woman proposes.
"You were one of those. You know it's not very successful."
"It's not ... Artist of fabulous!"
Perfect! Rivera says. .
Later, the cartoonist comes to say hello. "It's really, really quite unique," he says of Rivera's work. "And there's a story behind her."
•••
It's a love story about a woman who wanted adventure and figured a man would only slow her down. Then she met Dave Sebastian.
This was in Albuquerque in 1976. She was a chef, drinking in the bar across the street from a house she used to rent. He was living there now, an anchorman on the news. "I went over and beat on his door and said, 'I want to see what you did to my house,'" she says. "We got married 10 days later."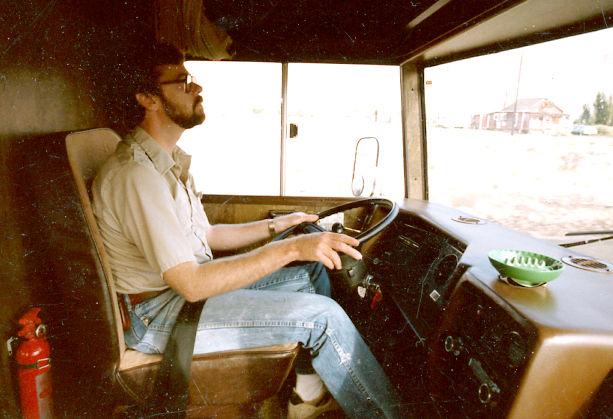 Turned out, he wanted adventures, too, and was willing to quit his job and hit the road. He didn't want kids either. And he listened to her. Was intrigued by what she had to say. Saw her as intelligent and sophisticated, and this was all new to her.
She grew up in Chicagoland, daughter to a man she called "sir." Out of high school, she says, she was expected to help finance her brother's college education and marry soon. She bailed.
She saw women as "trapped" in the '70s. "That was not gonna happen to me."
And that was not about to happen with Dave. On the contrary, he fueled her wanderlust, hopping behind the wheel, her in the passenger seat, off to some of their destinations over three decades: Washington, California, Alaska, Minnesota, lots of bouncing back and forth from New Mexico ...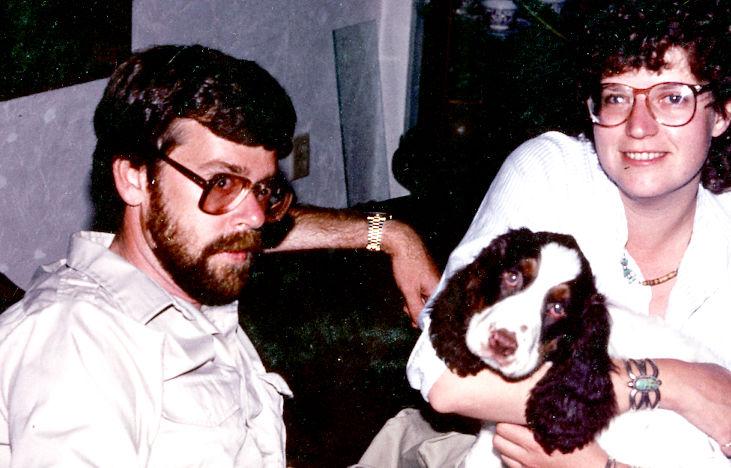 They stayed put in southern Oregon for 10 years, her working in software and running an organic farm on the side, him at the local TV station. Then came the diagnosis in 2001.
It was prostate cancer. About six months after the first surgery, doctors found it had spread to his pancreas.
They were told he would die soon, but he kept living, and they were told again and again he would die soon, and each time a fresh wave of sadness crashed over them. But he kept living.
"So we just stopped saying goodbye," Rivera says, "and just pretended it was never gonna happen."
•••
They survived the recession and in 2010 came to Colorado Springs to be near the Rocky Mountain Cancer Centers. They were "really, really dirt poor," Rivera says. And the pretending could only go so far: The prospect of death was too much.
They tried not to get nostalgic. "It only makes you sad," she says. "And there's no future; you can't plan. So you have to come up with little, tiny things that make you happy. Little, tiny things of happy."
They came in the mail, online orders. Odd and colorful things from odd places: Bulgaria, Kazakhstan, Ukraine, England, cheap jewelry and parts and pieces and pocket watches that Dave loved to take apart and put back together.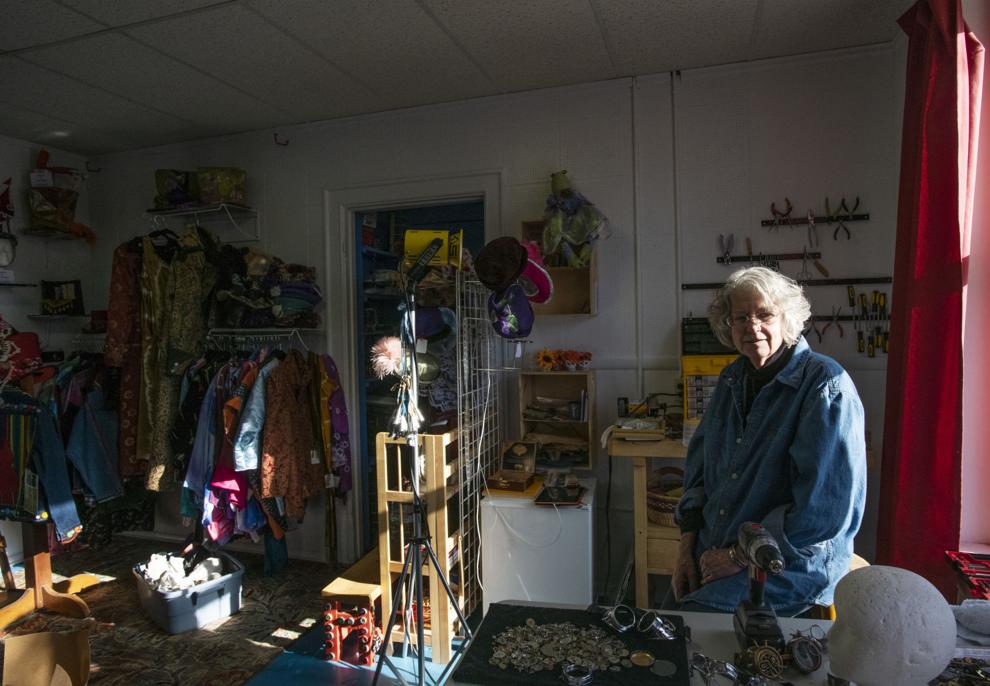 He'd retrieve the mysterious packages at the door, eager to open them like a kid on Christmas. He'd be even more eager to see what his wife would do with the stuff, watching in the living room from his cushy chair.
They used magnifying glasses, discovering smaller details. "You go from a big world you don't fit in anymore," Rivera says, "to a small world that's just totally complex and interesting."
They expanded their world by reading about history. They fed the squirrels in the backyard. At the end of every day, they thought of three things that made them happy. These were tactics, "tricks," Rivera says. And again, they could only go so far.
•••
She watched him suffer and suffer more, going from "really bad" to "awful, awful, awful," and the doctors kept saying it was almost time, and finally, she told him it was OK. She would be OK.
"This is not for you," he said. "I'm doing this so I can be with you."
And so the art continued. And she kept baking for him; he couldn't eat, but he loved smelling the sweetness.
One day, he wanted a bite of his favorite burger in town and a sip of scotch. That would be his last meal.
He died in July. He was 67.
The art hasn't stopped. Far from it. "I have a schedule," Rivera says. "I do a minimum 40 hours in the studio" every week.
She's still getting strange packages, still creating, still spreading little, tiny things of happy. She's got pinky-sized vials capped and filled with gears of a pocket watch.
"For the kids," she says, giving one a shake now. "It's so you can control time."