It's no time to make jokes with a crisis at hand. Or it's the perfect time.
"Covid 19 Positives," Sarah Wright scrawls atop the page of a tattered notebook in her Colorado Springs apartment. This is how all comedic acts start for Wright. Pen to paper.
She smiles at the insensitivity of the phrase. She continues: "maybe not positives ... not so bads."
There are plenty of "not so bads," she reckons. She will present them on camera, a change from her usual place on stage in a budding standup career.
For three years now, Missus Wright — "Myeesus Wrought," she says, honing the accent she developed growing up in a Texas trailer — has been seen owning local night clubs, delivering loud, vulgar shows that can't be properly covered in this newspaper.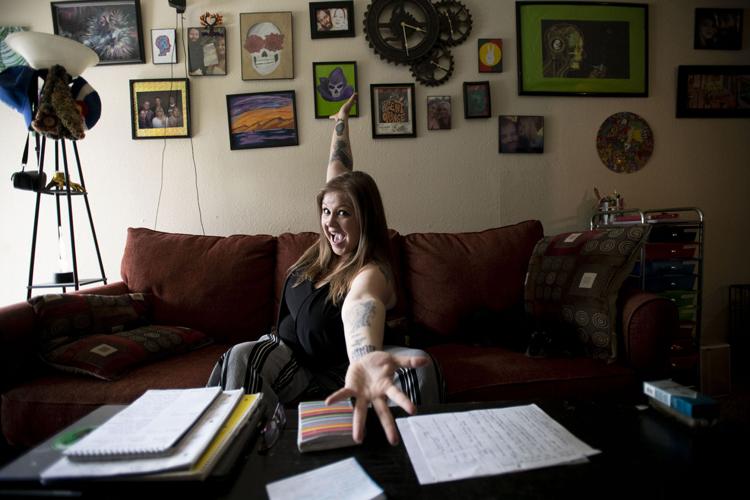 But if you ever watched her, you might be surprised while chatting with her afterward. You might wonder where that stutter was on stage — that unfortunate side effect of a 2019 brain surgery that, as far as Wright is concerned, was just the next unfortunate event to befall her in a life that has been no laughing matter.
"It's kinda dark. It's kinda sad. It's not funny," she says. "But the greatest thing is I can make it funny now."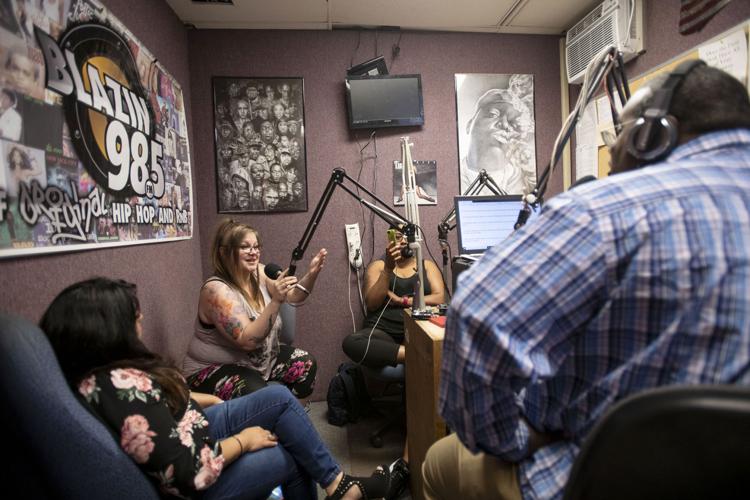 And by taking these notes, by systematically crafting them with buzzwords that will jog Wright's memory later while performing, by "rehearsing, rehearsing, rehearsing," as she says, the stutter will be concealed. There will be no stuttering as she shares her COVID "not so bads."
They include makeshift masks. "I like to see the bandanas," she writes in preparation for her virtual audience. "Makes me think we're playing cowboys and idiots."
And think of what that stimulus check will mean for people, Wright will say. "$1,200 buys a lot of weed."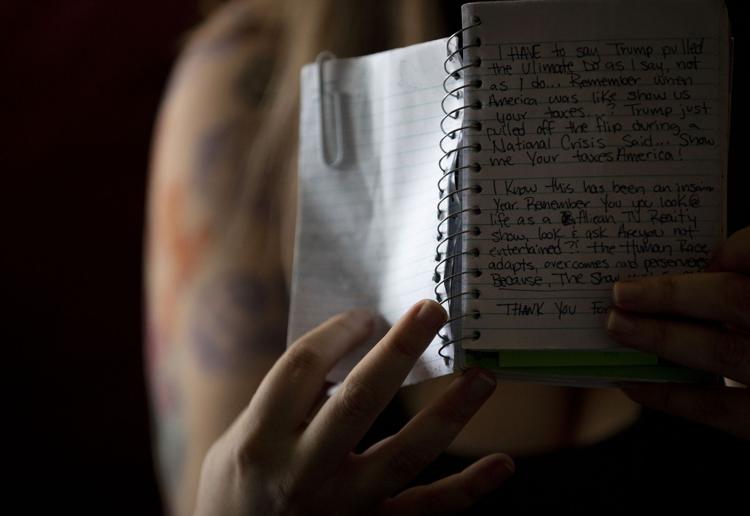 And think of the nonsense that once seemed to matter yet matters no more. "Notice no one talking about summer bods?" she writes. "No pressure to look good. Not so bad."
So while everyone else might be doom and gloom, here Wright is again, thinking on the bright side. Easily offended viewers might wave her off, and that's fine; she's used to that. Or they might laugh. We could all use a laugh, Wright knows.
"She's always wanted to be seen," says her husband, Jeff. "But more than that I think it's an important outlet. It's as much a need for an outlet as it is a need for her to just make people happy."
Long search for identity
There was a time when Wright, 30, very much worried about her summer bod. Not anymore.
Now she uses her figure to her advantage. As she did in Florida this year; she had traveled to see her father, with whom she's recently made amends since he abandoned her and her siblings when they were little.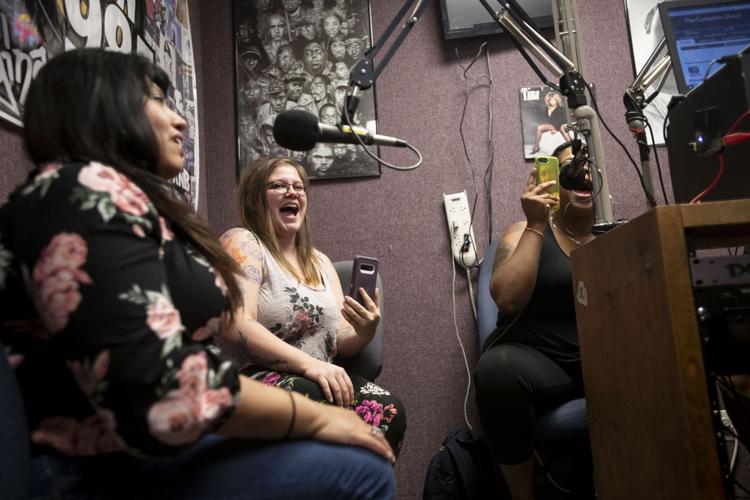 During the trip, a local bar was hosting a "Breaking Bad"-themed open mic.
"So who brought the meth?" Wright asked the crowd. "And how much of that do you have to smoke to lose 80 pounds? Asking for a friend. ..."
A regular joke regards her backside. "It's flat and wide, and I like to call it Kansass. And if it gets any bigger, I'll have to call it Texass."
Missus Wright can joke like this. Sarah Wright hasn't always been able to.
There's a serious meaning to the tattoo covering her calf, usually hidden by baggy pants: a beautiful woman staring at a skeleton in the mirror.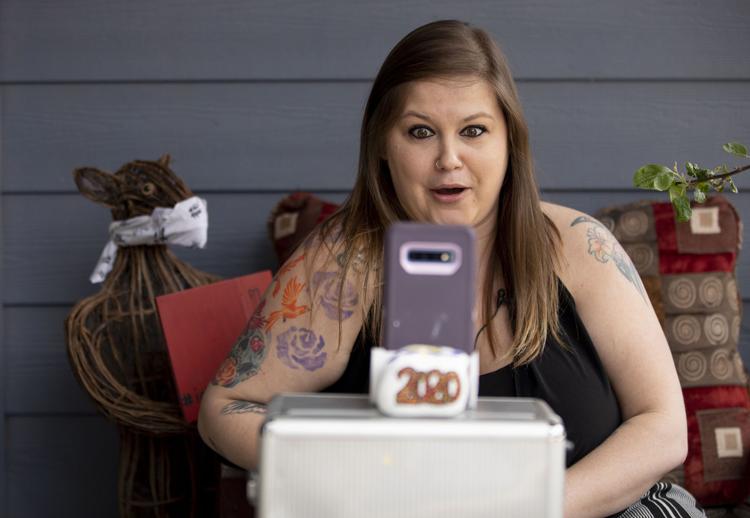 "As women, it's kinda like we all pick ourselves apart," Wright says.
As a child, it was hard for Wright not to. After her dad left, the family picked up and moved to the Springs, where her second-grade classmates made fun of her accent. That wasn't all.
"If anybody came at me calling me fat, it was on," Wright says.
The playground was no place to be. She was often angry. So angry. And she didn't know why. Surely because of the other kids, she thinks now. Surely because of her parents' split. Mom was there but gone a lot, off at Walmart working 12- to 14-hour shifts.
When Laura Rader was home, her girl tucked that anger away, hid it deep down. She wanted to keep Mom happy, even when it seemed impossible.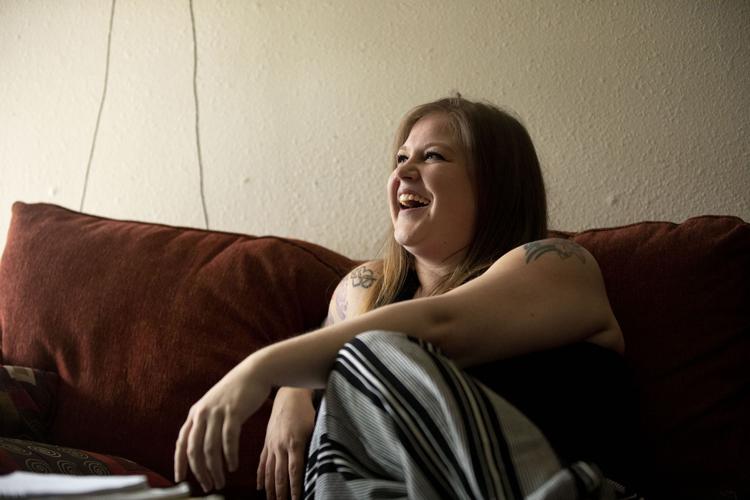 "You gotta understand, I was a single mom raising five kids, and my whole life pretty much sucked," Rader says. "But Sarah was just this sunshine in my life. No matter how desperately (mad) I was, Sarah could pull me out of it."
In high school, Sarah's peers started calling her Mom. This was after one late night of walking around — that's what she did, walked and wondered under the stars — when she came across a boy passed out drunk. She delivered him home safe.
As for other misfits and stragglers, she'd bring them into her own home.
"You know how some kids bring in stray dogs?" Rader asks. "Sarah would bring in stray people."
And these people would discover a chaotic household.
'An unavoidable defeat'
While Rader would be off at work, the five kids would be back with Grandma. On Sundays, she'd make egg salad sandwiches.
"They would smell like butt," Wright says, "but they were the one thing we could eat."
Food could be hard to come by. But the kids dared not complain to Grandma.
"She was abusive, and it was a bad situation," Wright says. Her lips tremble looking for the right words, in combat with the stutter. She sighs. "Yeah, it was a dark time. But, yeah, tried to move past that. And then came the Keith era."
Keith was Rader's second husband. "He was a mess," Rader says.
Wright recalls him being a country western singer and martial artist. About as "crazy" as his drugged-out relatives who moved in.
She recalls him flinging a boot across the backyard, connecting with her brother's head. "We were probably 12 or 13," she says.
She recalls him building a ring out there to practice his karate.
"Which was just an old mattress," Wright wrote for her first standup act in 2017. "We were just kids, but he did NOT hold back. Looking back, it was probably his own revenge for us calling him Quiff all the time."
Eventually, Keith was out of the picture. But the family endured another trauma: the meth addiction of Wright's older sister, who at 15 got pregnant. That's where Rader's attention was between long hours at work.
"It really overshadowed everything," she says. "I sometimes feel guilty about the fact I didn't pay attention to Sarah as much as I could have."
Wright now looks on the bright side: At a young age, she learned to fear hard drugs and keep them away. But there were lonely nights back then, nights in which she'd find solace with pen and paper.
She'd start a poem:
For those of us still pretending to care,
Life will never be what we think is fair.
We must come to realize,
The world is bittersweet, an unavoidable defeat ...
'Always giving'
Wright has a joke about her family: "We don't die, we just multiply."
That's what happened. After her sister, her brother welcomed two babies in two years. The house was overwhelming. Wright was told to find somewhere else to live.
So there she was at 17, out on her own.
"I kept trying to go for older men and get in a better living situation," Wright says. "Oh boy, did that bite me."
There she was at 17 with a 37-year-old, she says. "Took me three years to get out of that. He had me good. It got physical. It got psychological."
She'd float between jobs, living in her car one winter, smoking pot to feel better, sleeping in a Walmart parking lot and praying to God and wondering if ever she'd be heard.
Next there was a man with a little girl. Wright loved that girl. She still does, keeps her old schoolwork and hangs her latest art in the apartment.
Wright relates with her. And she's told that girl if she keeps her grades up and graduates high school, she'll buy her a car. She'll scrape up the money, she has promised.
"Just because I never had that growing up," Wright says. "I never had financial anything."
And never did she think she'd feel wanted. She returned to the page:
I am tired of always giving,
Never being the one retrieving any love.
Tired of playing this game,
Finding out the ending is always the same ...
'Something's broken'
Finally, her fortunes seemed to shift. She found Jeff. They married last June.
The next month, she found herself in a hospital, staring at an MRI scan. There was a white blob on her brain.
She'd been feeling constant headaches, constant pain. Her memory had been lapsing. Her mood had been swinging. And now she had an explanation: a tumor nearly the size of a golf ball.
"We need to get it out," the doctor said.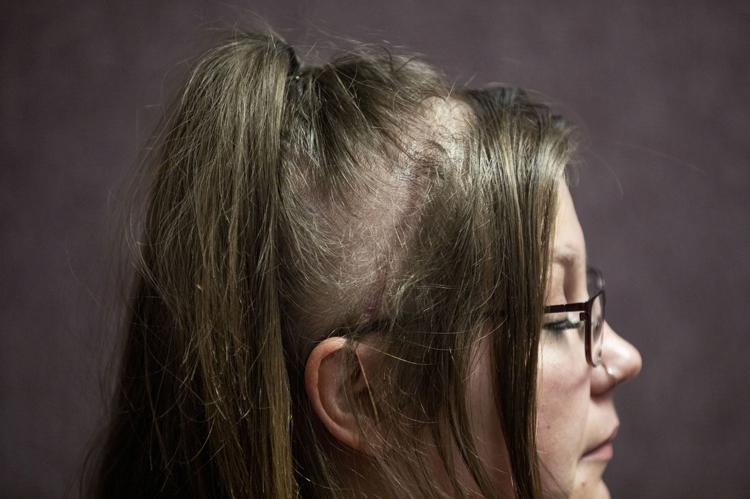 The good news was it was noncancerous. The bad news was, weeks and months after surgery, she had these moments where she couldn't form words. They'd come, and then they'd disappear — the result of that speech-processing part of her brain being compromised.
Wright's day job has her taking service calls. "I've heard her pause the software," Jeff says, "and just scream."
She'd find the words while writing:
Something's broken,
Something's twisted,
Words just need to be spoken,
Instead of screaming in my head ...
Becoming Missus Wright
Sarah Wright doesn't let the stutter beat Missus Wright. The note-taking and rehearsals ensure that.
"I had to figure out how to keep going without letting this stop me," she says. "I don't ever want to look like I don't know what I'm doing. I always want to feel like I'm confident."
Along with personal reflection, her first act had the other ingredients of good standup. There were one-liners ("First time. Been so long since I said that."). There were thoughtful insights sprinkled in ("The world is not worse off. We just live in a time where reactions rule everything.").
It was a success. She got compliments.
And perhaps more than ever, she felt like she belonged. She felt accepted.
And beyond that, she could accept herself and where she'd been. Yes, the past was dark and sad, but while performing, it was also funny.
And while performing, the tumor is not on her mind. She's been told it could come back. She's been depressed at times, so low she can't help but cry, and she fears the tumor is playing with her brain again. "Does it make sense for me to feel this way?" she asks herself. "Is this real? Or is this the tumor?"
But then she'll escape by making a joke. She'll escape to a room of laughter, where she's in the center of it all.
"Just like with everything else, it's your mindset. It's the power of positive thinking," Wright says. "I feel like it can get you through so much."
It's what inspired another poem:
Life is but a playground, do not be the one who hides.
Unlock the door that keeps your inner child locked inside.
Because when you do, you come to find,
That God gave us the ability to leave the past behind.