MOAB, Utah • The traffic starts about 2 miles out. A 15-minute crawl into town. Construction.
Eyes should be on the red rock monoliths all around, the stunning creation of millennia — "a weathered testament to the union of the elemental and the divine," a writer once described this landscape. Inevitably, eyes linger on the billboards. ATV rentals. Jeep tours. Raft tours. Helicopter tours. T-shirts.
"I bet locals love that construction," I say to the motel clerk when I finally arrive.
She smirks. "I'm a native here. I don't love much of anything around here anymore."
A disheartening start to my recent trip to the fabled desert. But this is just how locals talk now.
"I came here 30 years ago," one tells me later. "I don't recognize it anymore."
Says another: "Gone to the dogs!"
The aforementioned writer is Jen Jackson Quintano. She wrote the book on one of the region's most revered men, the late Bates Wilson, custodian of what was then Arches and Natural Bridges national monuments and the first superintendent of Canyonlands National Park.
When Wilson started at Arches in 1949, Moab "was a quiet hamlet," Quintano writes, "its uranium riches still locked in the ground, its future as a tourist mecca unimaginable."
She recounts a dusty outpost, a town off the electric grid, one phone line connecting to the outside. The miners would come, set on fueling the government in its Cold War arms race.
Then the discovery of outdoor recreation. The rock climbers, the mountain bikers, the turbo-charged off-roaders.
... and today's long line of cars at Arches.
Timed-entry is again local front page news this day. A reservation model of the sorts Rocky Mountain National Park has adopted. It's time, city and county leaders have agreed in a letter to the National Park Service.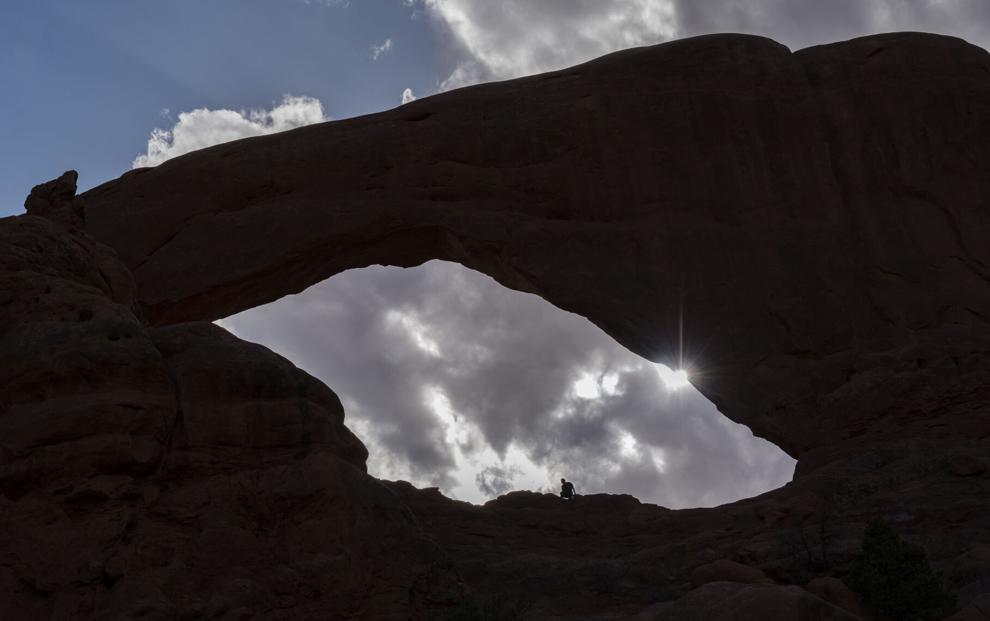 ***
Under Wilson, driving into Arches was no simple task.
Just as he was known as a charismatic, rebellious, cigarette-smoking, Dutch oven-cooking cowboy, Wilson was known as a rescuer. Off he'd go with rope tow and chained-up wheels. One story suggests he didn't get home until after midnight, busy as he was hauling 22 vehicles back to safety in the days when roads were unpaved.
Now smooth asphalt runs this way and that.
To Devils Garden, where a ranger keeps watch on a packed parking lot, her walkie-talkie unrelenting ("heavy traffic ... copy ... heavy traffic ... copy ...").
To the most popular trailhead of Delicate Arch, where by 8 a.m. a ranger advises drivers to come back later, only to watch them try their luck by looping and fuming around the full lot.
The best explanation of Delicate Arch comes from Edward Abbey:
A weird, lovely, fantastic object out of nature like Delicate Arch has the curious ability to remind us — like rock and sunlight and wind and wilderness — that out there is a different world, older and greater and deeper by far than ours, a world which surrounds and sustains the little world of men as sea and sky surround and sustain a ship. The shock of the real. For a little while we are again able to see, as the child sees, a world of marvels.
This is one lovely soliloquy breaking the mournful, prophetic basis of "Desert Solitaire," an account of Abbey's time stationed at Arches. The situation he lamented in his 1968 dispatch has worsened. Visitation has soared 90% in the past 11 years, the National Park Service reports, with more than 1.5 million people coming through every year. (Moab's population is around 5,200.)
It's interesting to think about how Abbey would react to the no-elbow-room droves at Delicate Arch now, with their poses for Instagram and their portable boomboxes and their quips after the hike. "I wish there was a zipline up here!"
Young ranger Abbey railed against roads similarly to old boss Wilson. The topic was tense after the 1964 establishment of Canyonlands National Park, which closely coincided with the establishment of the Wilderness Act.
The initial plan for Canyonlands did not mirror the Wilderness Act moral. Wilson wasn't keen on proposed development.
"It is not the obligation of the Park Service to get everybody to every corner of the park," he asserted. "It is more important in our estimation to let preservation of scenic values be the keynote of our policy, even if it means turning away the man with the pink Cadillac."
But Wilson struck a warmer tone than Abbey. He encouraged tourism. He saw it as the best economic lifeblood, not mining. He saw the existential benefits for people who laid eyes on this wonderland. He also saw the importance of keeping it wild.
"Bates wanted people in the park," his biographer wrote, "but he wanted them there on the landscape's terms."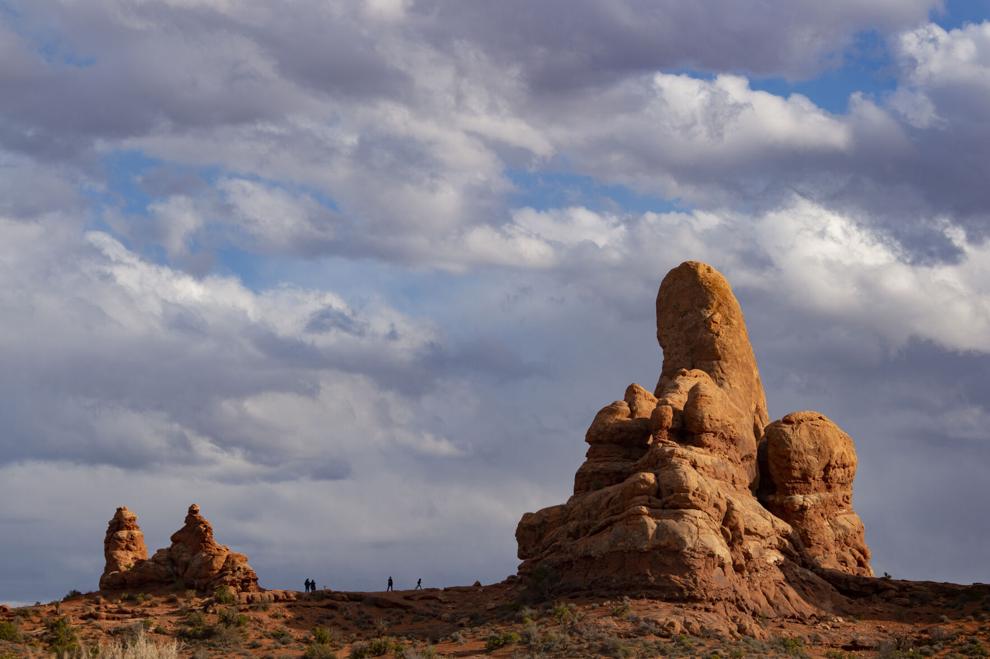 ***
It seems the landscape is losing.
Across from Canyonlands' visitor center is a sign posted at an overlook of the La Sal Mountains, appearing to float over the red labyrinth of mesas and cathedrals. If the view looks hazy, it's not your eyes, the sign assures:
"Agriculture, grazing, land development, and off-road vehicles disturb soils, and then bursts of wind stir murky dust storms. Power plants, cities, and cars also release pollutants that limit visibility."

There are signs everywhere about soil disturbance. About an ongoing crisis. About the biological crust that blankets much of the desert, composed of microscopic organisms like cyanobacteria. It is believed to be among the first organisms to colonize the planet's surface, which makes sense: It forms that essential crust, providing nutrients for plants and retaining water for other living things big and small.
"A single footprint left by a careless hiker can destroy decades of growth," reads a park brochure. The crust might take another decade to fully form again.
So fliers plead for visitors to stay on trail. In town, other fliers plead for information related to the theft and damage of trail signs.
Another rampant, more shocking act of vandalism is afoot.
Says Elizabeth Hora, public archaeologist for the Division of State History: "Every Monday morning when I open my email, there are more reports."
More reports of damage to rock art left by Indigenous people thousands of years ago.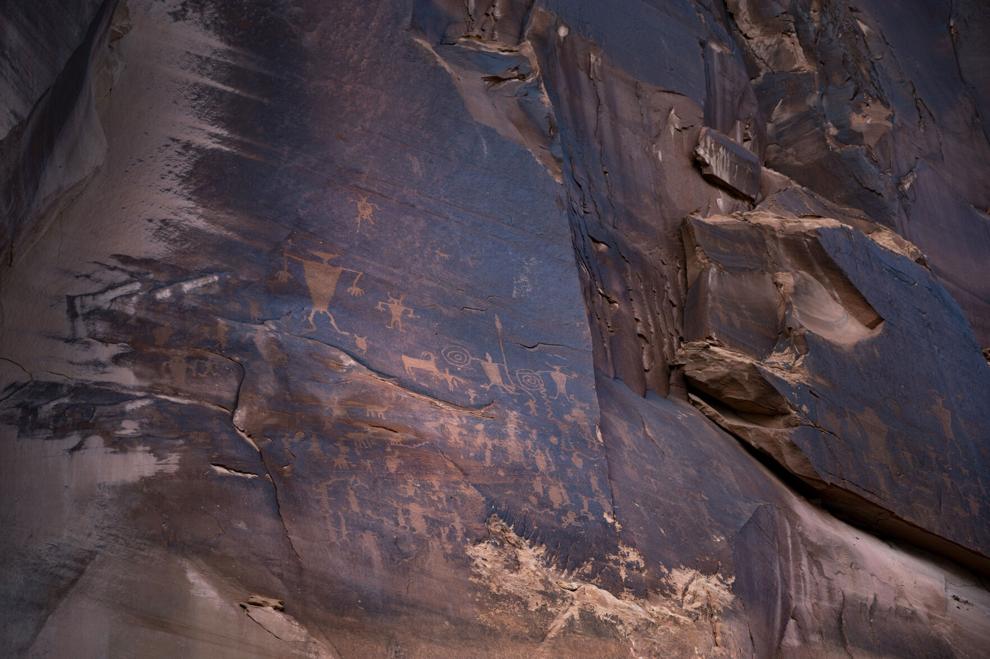 A climber's drilled-in bolts over petroglyphs was one example uncovered last month. Soon after, at Moab's well-known Birthing Rock panel, a tour guide found the words "white power" carved. Other recent instances include rock art gunned down by target shooters and spray-painted over by swastikas.
The crimes, Hora says, represent a disconnect with the past — with the deep time that this whole weather-sculpted environment represents. Worse, they signify onward suppression.
By the 1920s, the area Utes still lingering after bloodshed and reservation orders "were caught in a time warp," writes local historian Tom McCourt. "They were lost and starving in the modern world."
Where they watched herds thinned by white man's greater weapons, where they watched their open land be industrialized and privatized, where they watched fields of sage converted to farms, now Native people watch their holy marks be bolted, carved, gunned and spray-painted away.
The cowboys claimed victory. They can be hard to find around Moab today. As if they were the ones now caught in a time warp.
No sign of them in the hip eateries. The wait is long here in one, which like many of the others is deluged by customers but short on workers. "The housing crisis spiked," a staffer tells me. "No place for employees to live."
In the meantime, tourists reminisce on the day's adventure and watch hype videos on the restaurant TVs — bikes cruising, Jeeps rumbling.
I walk out and find cowboys after all. At least they are dressed like cowboys. They play fiddles and sing a parting song to their audience:
"Thanks, thanks a lot, I've got a broken heart, that's all I've got ..."