Gather Mountain Blooms has the makings of a modern-day fairy tale.
Once upon a time, three sisters decided to build a sustainable urban flower farm from scratch. They dreamed of using old-fashioned heirlooms, Colorado mountain blooms, herbs and grasses to create community, promote healing and bring more beauty into the world.
And so they went forth into the darkness of January, this trio of Nebraska natives, and huddled up and envisioned their cut-flower farm, filled with earthy and romantic varieties grown in the fields at historic Venetucci Farm.
In February, they filled a greenhouse with tiny seeds. When temperature fluctuations proved deadly, they moved their operation to the basement of the house on the property, where they hung grow lights and established the seeds, before returning them to the greenhouse. In March, along with a few volunteers, they began the back-breaking work of planting 10,000 seeds by hand into the amended soil.
And now, with the summer sun high in the sky and the long, warm days, the sisters' seedlings have grown tall and hardy on their half-acre plot. Five varieties of sunflowers stretch their pretty faces toward the sky, while 60 to 70 varieties of flowers, such as zinnias, cosmos, amaranth and marigolds, beg to be plucked from the earth and placed in bouquets.
"It blows my mind these were all seeds," said youngest sister Abby Remacle, "and now they're growing and happy."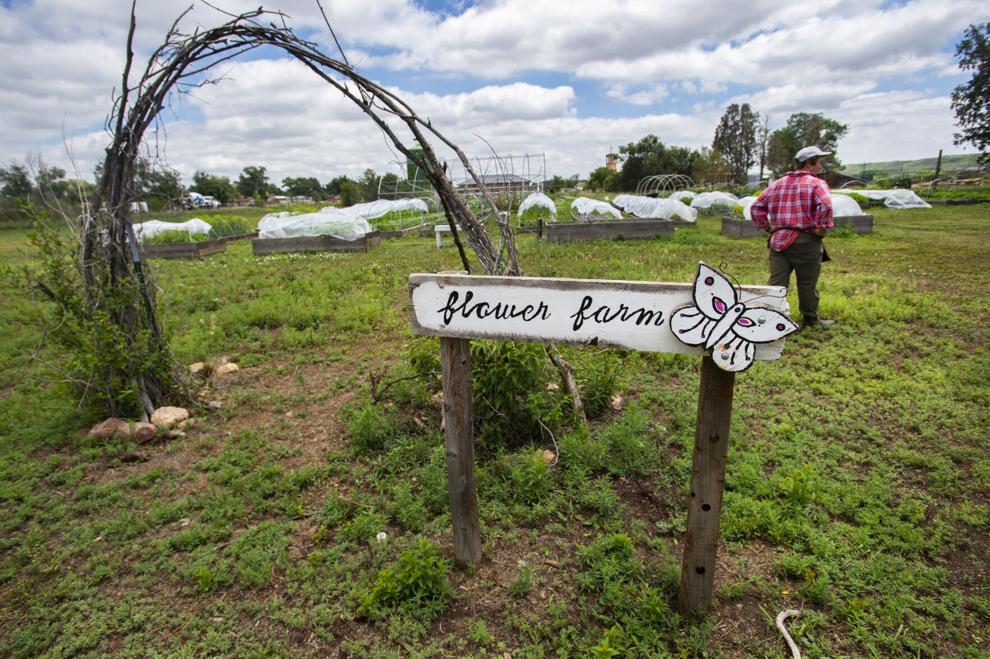 On a sunny Friday afternoon in July, the siblings are entrenched in their new lives as flower farmers. Middle sister Nikki McComsey does the back end and operations work, older sister Leah Remacle does design and events, and Abby is responsible for the farming, with some help from McComsey.
In the airy and bright farmstand market off South U.S. 85, Leah puts the finishing touches on an awe-worthy bouquet of orange, purple, red and yellow flowers for a couple of volunteers. "Will work for flowers," they say with a laugh. Kramer, the young farm dog, scampers through the shop, before following the siblings out into the fields. Curious folks wander in off the highway to peruse the freshly picked goods.
"We came to this with the same intention — creating community and connection," McComsey said. "Even beyond flowers, that's what drives us."
On Friday, the sisters will throw a free grand opening party for their new farm, with flowers, music, art, food, drinks and games.
The flourishing gardens, lush with raised beds of buttercup, white onesta, sweet nathalie and gerrie hoek, has a less than fairy tale beginning, though. On a hot day in 2017, McComsey worked in her garden. Maybe she hadn't hydrated enough or she stood up too quickly, because when she did, she passed out. When she woke up, she felt discombobulated, but wasn't sure if she'd hit her head or not, so she went back to gardening and hoped for the best. The best didn't come. Her health gradually worsened throughout the year, and she struggled with headaches and vision problems before being diagnosed with a concussion with nerve injury. It forced her to stop working at her job with the nonprofit Pikes Peak Community Foundation, which owns and operates Venetucci Farm.
"It was really scary," McComsey said. "It was a traumatic time."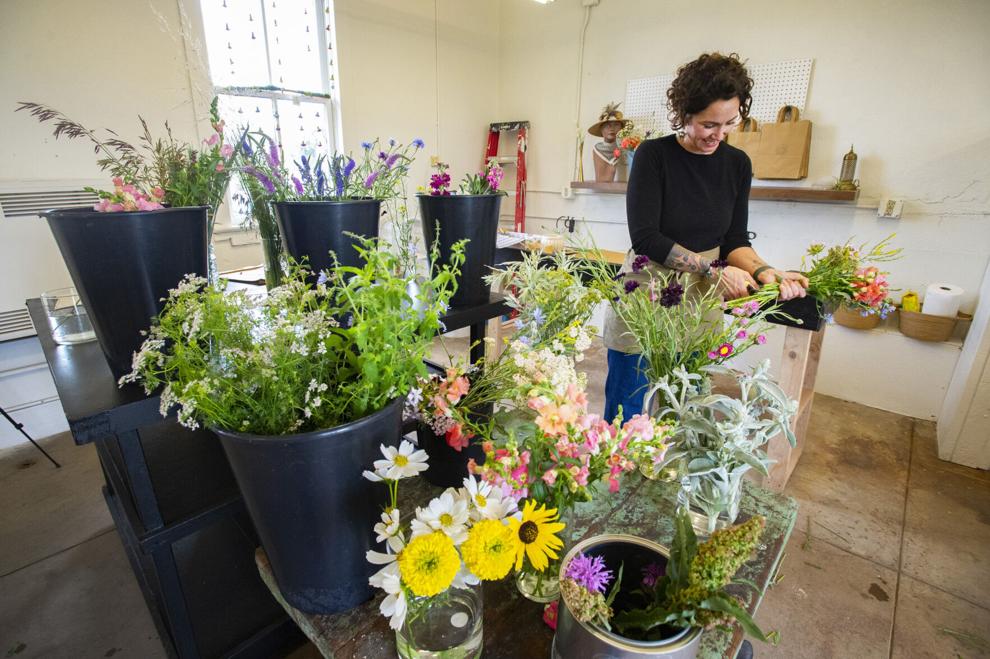 Recovery was slow, and working in her garden was one of the few things she was able to do. But it was the fresh flowers her husband brought home for her every week that brought tiny moments of joy.
"It just represented the love he had for me," she said. "That's what sparked me. Flowers are there for grief, love, death, all the things, and that's what I want people to connect with."
She completed an online flower growing course and began putting that knowledge to use in her own backyard. As she worked in the dirt, she reflected on her life and what she wanted. It always came back to flowers, and the beauty and love they represented.
Because of her work with the Pikes Peak Community Foundation, she knew about Venetucci and its issues with water contamination, which was discovered in 2016 and forced the cessation of all edible farming operations. She approached them about leasing the land for a flower farm. They also were looking for an operator for the barn to do weddings and events.
And now, here she stands, surrounded by her siblings, who came when she called for help. Abby from Southern California. Leah from Denver, where she has a hair salon. They both live at the farm now, while McComsey still resides at home.
"We've always been close," Abby said. "As sisters we always did trips. This brought us together on a whole other level. Coming together when it did, and to be able to jump in headfirst — we're in it together. We don't ever fight."
In addition to their farm stand market, which runs from 10 a.m. to 2 p.m. Thursdays through Sundays, and pick your own flowers sessions from 9 a.m. to 1 p.m. Saturdays, the sisters do a pop-up market during First Friday Downtown and Old Colorado City's First Friday Artwalk. Other events on the farm include yoga and flowers and a bouquet workshop, and they also partner with the Colorado Flower Collective to provide fresh flowers throughout the region.
McComsey is feeling better these days, though she still gets bad headaches. She's had surgery to repair damage to the occipital nerve and vision therapy, both of which were helpful, but knows she might never fully recover.
"I'm grateful to be here," she said, "because I had a lot taken away from my life."
Contact the writer: 636-0270