Long ago, and not so far away, I unknowingly bought a house two doors up from a gruesome 1911 ax murder scene that claimed the lives of one man, two women and three children in two separate homes.
I first learned of said bloodbath during a conversation with my neighbor, who lives one house closer to the scene — the now- demolished homes at 743 Harrison Place and 321 W. Dale St., just west of downtown Colorado Springs.
He didn't know specific details of the incident, so I turned to Detective Google and the Colorado Springs Pioneers Museum.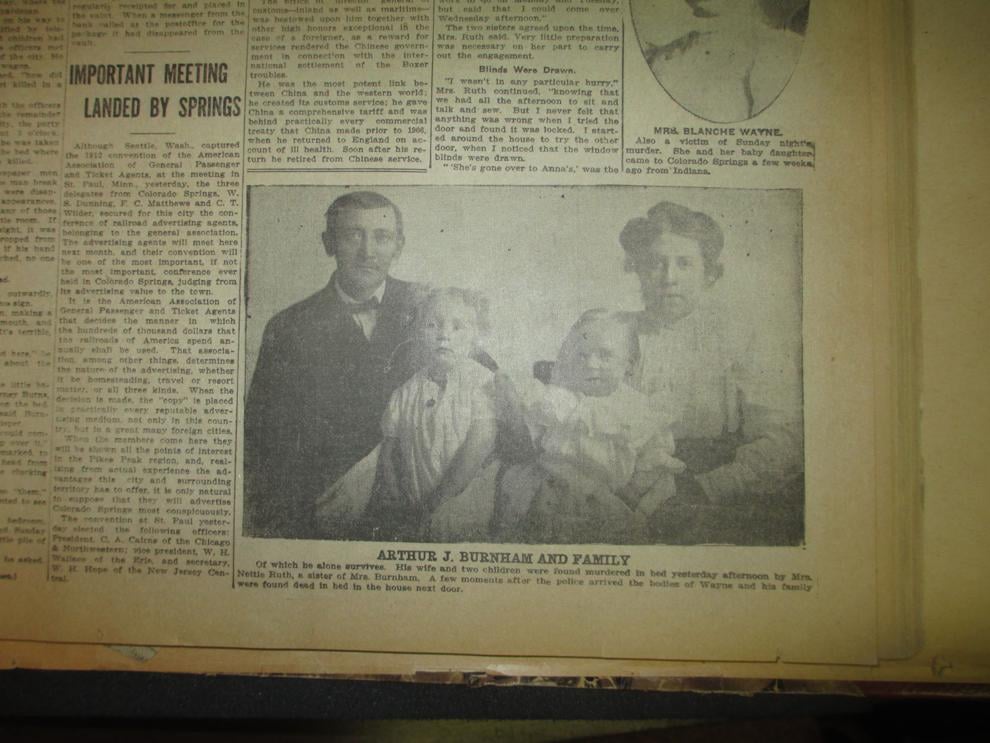 An account of the ax murders wasn't hard to find online, thanks to a long and scandalously gossipy article about the incident in, you guessed it, ye olde Colorado Springs Gazette.
"In the crowd could be found some kindly, sympathetic friends of the murdered families, but the majority was composed of what one officer termed 'the morbid curious,'" this paper reported. "Two hours from the time when the crime became known the street in the 300 block on West Dale street was filled with automobiles, vehicles of every description and pedestrians."
The crime details are gory. Skip ahead if you have a delicate constitution. I usually do, but I was too invested to turn back.
In the wee hours of a September Sunday, somebody grabbed an ax that was laying in one of the yards and broke into the house on Harrison Place, where he or she used the blunt end to crush the heads of 30-year-old Henry Wayne, his 26-year-old wife, Blanche, and their 2-year-old daughter. Then the killer went next door and enacted the same tragedy upon 25-year-old Alice May Burnham and her two children, ages 3 and 6, before disappearing into the night.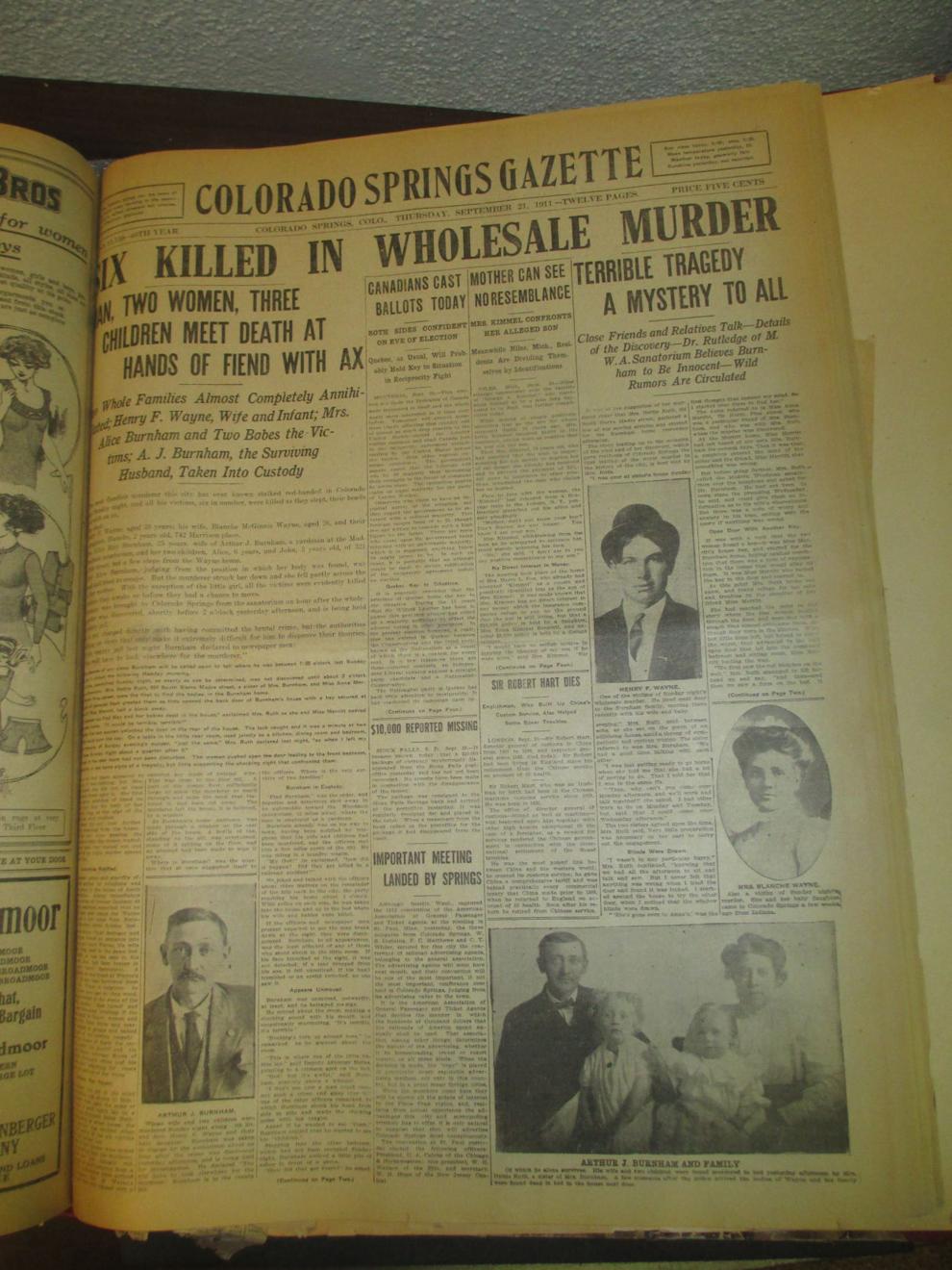 A.J. Burnham, the lone survivor of the families and husband to Alice May, was consumptive and lived at the Woodmen sanatorium a dozen miles away, where he was a yardman. When police brought him to the house to show him the bodies, apparently he didn't show the proper emotion and was savaged in the press and assumed to be the murderer. (I'm guessing the poor man was simply in shock.)
"If the officers and newspaper men present expected to see the man break down at the sight, they were disappointed. Burnham, to all appearances, was the least affected of any of those who stood in the little room. If his face blanched at the sight, it was not detected. If a tear dropped from his eye, it fell unnoticed. If his hand trembled or an eyelid twitched, no one saw it," the reporter wrote.
It's often the husband who did it, right? Not so fast.
Workers at the sanatorium accounted for Burnham's whereabouts and told police there was no chance the sick man could have walked that far, committed the crimes and then walked back.
Nobody was arrested.
Thirteen years ago, retired Colorado Springs police investigator Dwight Haverkorn decided to look into ax murders from the West Coast to the Midwest.
After considering the data, he believes a serial killer was behind the Springs murders, which were eerily similar to others around the country within the same time frame. The perpetrator always used an ax procured from a nearby yard to effect a similar manner of death. And all of the victims lived near the railway.
Haverkorn suspects the killer rode the rails from city to city, where he or she filled his or her bloody cup regularly.
"In those days, police departments didn't investigate much; private detectives did," Haverkorn says. "They took fingerprints. I've chased that for years. If I could find a fingerprint from any two scenes, it would prove my theory of being a serial killer. That's where I'm stuck."
I asked Haverkorn if he'd live in a house stained by a murderous act.
"It probably wouldn't bother me," he says.
One person it would bother is my aforementioned neighbor's husband, Lance Burke, who moved into their home two decades ago. About once a month, he finds himself startled awake, as if somebody's in the house, he says. He also claims to have seen shadowy figures out of the corner of his eye standing in the hallway and toward the back of the house.
"The first house he hit was the one behind us," Burke says. "Maybe he came to this house first and nobody was home, so he went to the second house. It's definitely freaky. I'm intuitive that way. Weird paranormal stuff happens to me."
I've long believed events can leave a residue in a home. But I also think an energetic imprint can fade with time. Would I have bought my house 17 years ago if I had known about the murders? Yes. Would I have bought one of the crime-scene houses? It depends. If the murders had happened only 10 or 20 years ago, you couldn't pay me to live in one. But if the murders had happened more than a century ago, perhaps I would — but only after a deep cleansing with a bale of sage and a blessing by energy healers.
Let the record show I've never experienced anything even faintly paranormal in my sweet, innocent casa. Hopefully its former inhabitants are resting in peace, and not bits and pieces.
But I can't help but wonder if any malignant energy from the vicious crimes still lingers in the air.
Keith Winter, an energy healer with Christa Resources, has some thoughts. He's one to call when utensils start floating off the counter or you hear garbled whispers echo through your bedroom in the dead of night. One of his first questions is if there's been violence in the house.
"If somebody was killed in a house on your street and the house is gone, that presence can still be there," Winter says.
"Not everybody crosses over and goes to God. Sometimes they get caught in the astral plains and are confused. Sometimes when they're killed violently and abruptly, they don't know they're dead."
Chances are good we'll never know who killed those six people more than a century ago, but if their spirits are still hanging around, may they find some peace knowing their story has been told once again.