Luxurious soaking, lavish hotels, tubs with mountain views and family-friendly pools are featured on this far-reaching tour of Colorado's hot springs.
4UR RANCH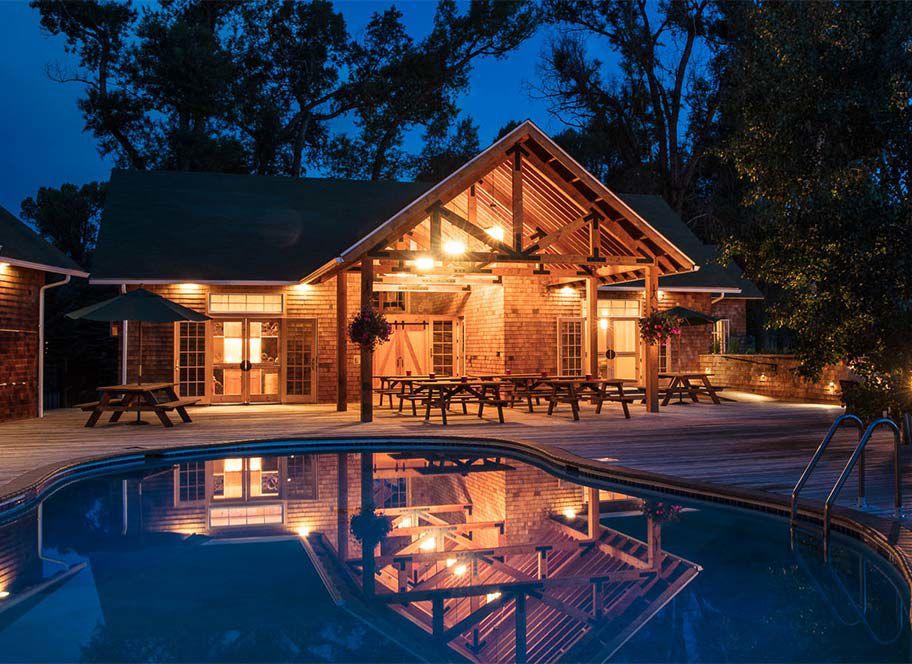 On a road through a canyon of southwest Colorado, in an off-the-map place called Wagon Wheel Gap, hides an oasis reserved for high-class luxury. No day passes are sold here. 4UR Ranch's packages range from three to six nights.
Guests are spoiled by more than hot springs. In their Adirondack-style cottages, they awake to days full of adventure and relaxation. Fly-fishing, horseback riding, massages and more are offered at a resort envisioned by Gen. William Jackson Palmer. The dreams that carried him to make Colorado Springs a "Newport in the Rockies" were the same ones that carried him here.
Address: One Goose Creek Road, Creede
Contact: 719-658-2202, reservations@4urranch.com, 4urranch.com
Check out: Keep tabs on Creede's hockey tournament, the Golden Pick, a tradition hosted by a local club.
---
AVALANCHE RANCH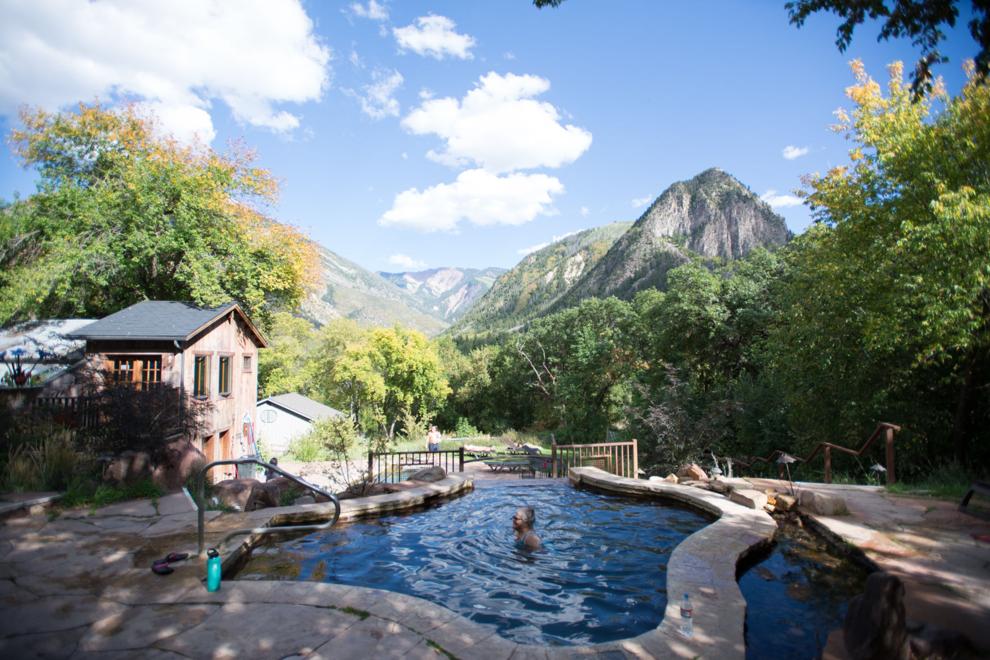 Glenwood Springs to the north and Aspen to the east get far more attention than Redstone, the quaint town along Colorado 133. But treasures lie within, such as Avalanche Ranch's hot springs, overlooked by dramatic Mt. Sopris.
The upper two pools are kept at 103 to 105 degrees, while the biggest one is 88 to 94 degrees. Several rustic cabins, three wagons, a ranch house and a cottage are some of the overnight accommodations. The ranch is along Crystal River's Gold Medal fishing waters. Winter activities include snowshoeing, cross-country skiing and ice skating.
Address: 12863 Colorado 133, Redstone
Hours: Reservations required for soaking slots (9 a.m. to 1 p.m. and 1 to 5 p.m.)
Contact: 970-963-2846, avalancheranch.com
Check out: Historic Redstone Castle puts the drive-by town on the map.
---
BOX CANYON LODGE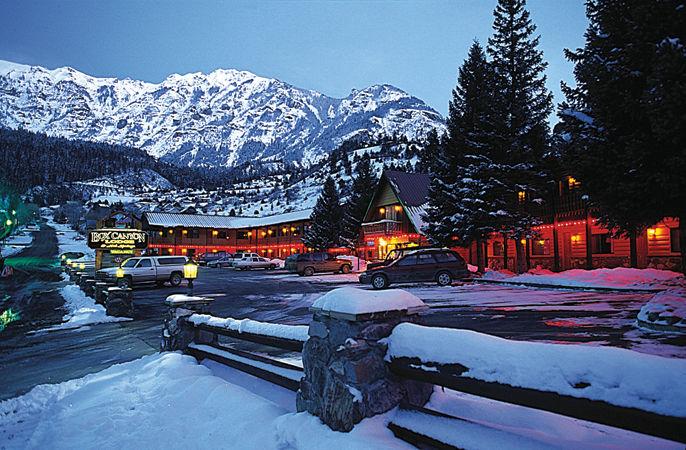 Of all hot springs in Ouray, Box Canyon Lodge claims to have the best view with your soak. Tubs are on a redwood terrace built along the mountainside — built to admire the panorama of the San Juan Mountains. Catch the sun rising in the morning, and at night watch the steam rise to the twinkling sky.
To enjoy, you'll need to be an overnight guest. Standard rooms are available, as are apartment suites to make you feel right at home, along with more upscale suites to make you feel like royalty.
Address: 45 Third Ave., Ouray
Contact: 970-325-4981, boxcanyonouray.com
Check out: Ouray Ice Park, in walking distance of town, is an international playground for ice climbing novices and experts alike.
---
COTTONWOOD HOT SPRINGS inn & Spa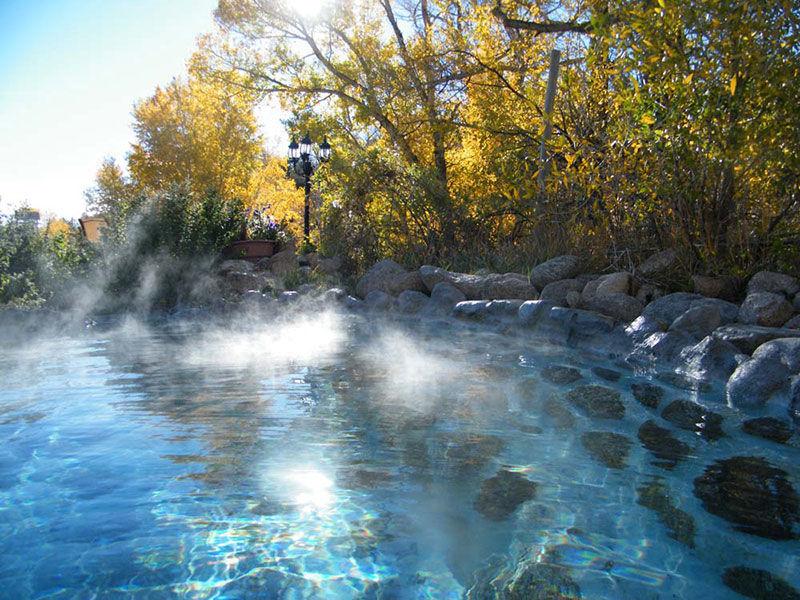 South of Buena Vista is Mount Princeton Hot Springs Resort, popular among traveling families who stay the night in a lavish hotel and soak in concrete pools or vie for spots along the riverbank below. In the opposite direction of town is Cottonwood Hot Springs. Some locals claim these gravity-fed, geothermal pools as their own, preferring Princeton to keep funneling the tourists.
No frills are found here. The rooms of the inn built near a craggy hillside have no TVs or internet connection. Other lodging options include creekside cabins with private springs.
Address: 18999 County Road 306, Buena Vista
Hours: 8 a.m.-10 p.m.
Contact: 719-395-6434 or 719-395-2102, cottonwood-hot-springs.com
Check out: Warm up with whiskey at Deerhammer Distillery in Buena Vista.
---
DUNTON HOT SPRINGS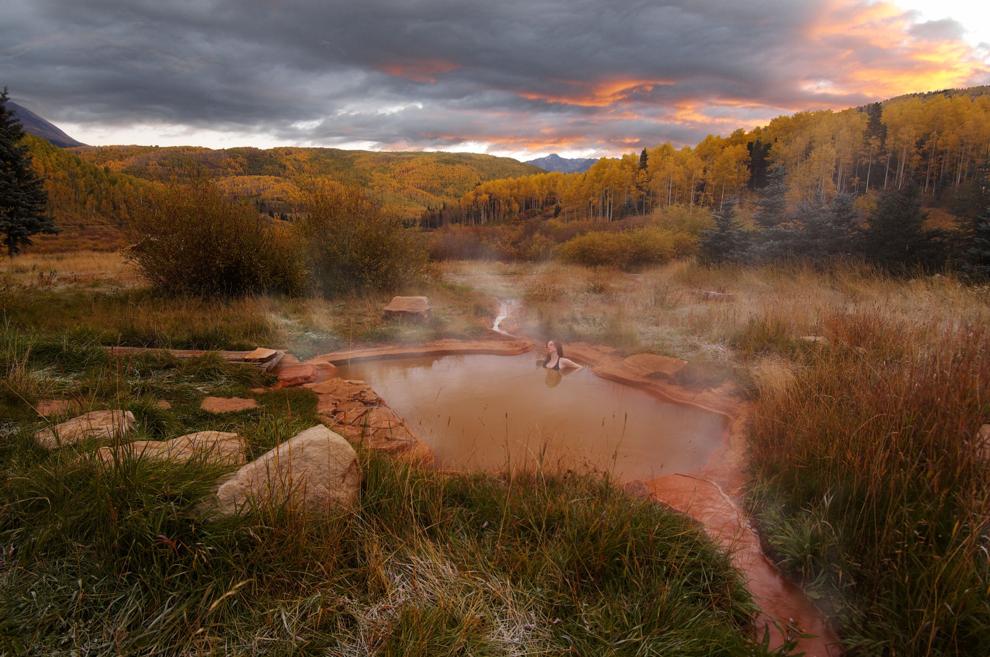 In 1994, a London-based investor bought an abandoned mining town that would never be the same. Nestled between Telluride and Durango, Dunton still has its 19th-century appearance but boasts the modern amenities of a resort. The cabins look as if they were built by the earliest residents, but they've been restored and finely furnished. The saloon now serves the kind of food and wine you'd expect at a five-star hotel.
Ranging from 85 to 106 degrees, the springs can be enjoyed inside or under the stars in pools that spot the "town." Soaking is far from the only outdoor excursion the resort offers. No day use.
Address: 52068 Road 38, Dolores
Contact: 970-882-4800, duntondestinations.com
Check out: Shopping and apres dining in Telluride, about an hour drive.
---
DURANGO HOT SPRINGS RESORT + SPA
A source of relaxation is needed between all of the hard-core adventure in southwest Colorado. That's what Durango Hot Springs Resort + Spa is for, conveniently situated between downtown and Purgatory Resort.
This was formerly Trimble Hot Springs until 2019, when the scenic, historic property was purchased and reimagined. The goal, according to the website, is "a hot springs experience like no other." The property features more than two dozen pools and a series of smaller, Japanese-inspired cedar tubs nestled beneath the Hermosa Cliffs. Other amenities include a mineral water "rain tower," saunas and a cold plunge pool.
Address: 6475 La Plata County Road 203, Durango
Hours: 9 a.m.-10 p.m. (reservations required)
Contact: 970-517-3326, durangohotspringsresortandspa.com
Check out: The Durango & Silverton Narrow Gauge Railroad offers a Polar Express-themed trip.
---
GLENWOOD HOT SPRINGS RESORT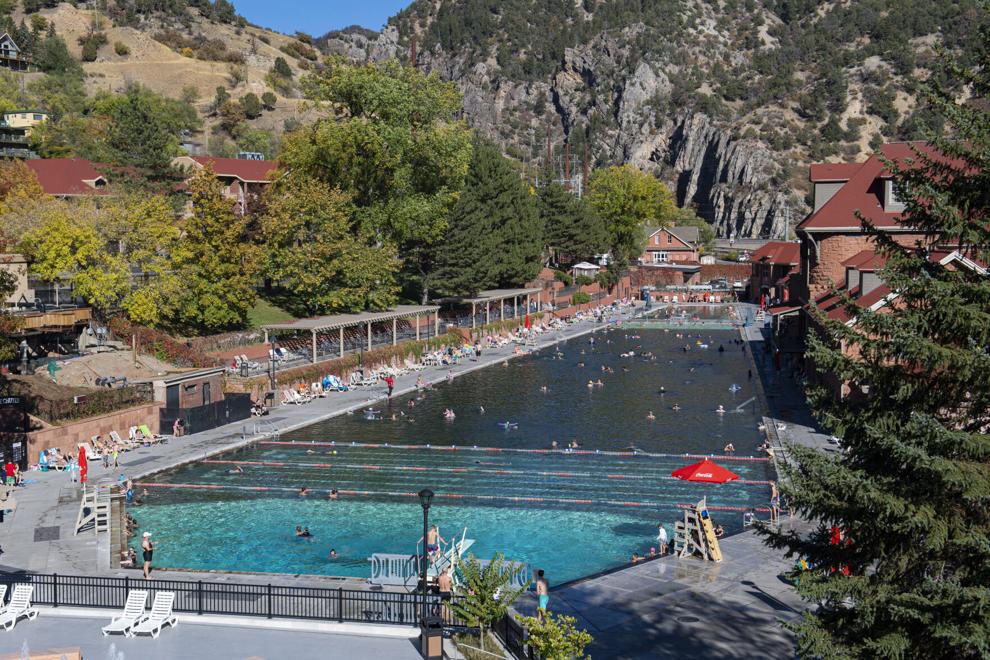 The Utes had a name for the geothermal waters gracing Glenwood Springs: Yampah, meaning "big medicine." Along came 19th-century financiers with the idea for a big pool. At 405 feet long and 100 feet wide, Glenwood claims the world's biggest pool of mineral-packed water.
The kiddie pool, diving board and massive, twisting water slides are this century's additions to Glenwood Hot Springs Resort, which began as an exclusive Victorian retreat in 1888. A 107-room lodge borders the pool. Along with full soaking access, overnighters can snag breakfast at the poolside grill.
Address: 401 N. River St., Glenwood Springs
Hours: 9 a.m.-9 p.m.
Contact: 970-947-2955 for pool, 800-537-7946 for lodge, hotspringspool.com
Check out: Chinese at Ming's Cafe.
---
HEALING WATERS RESORT AND SPA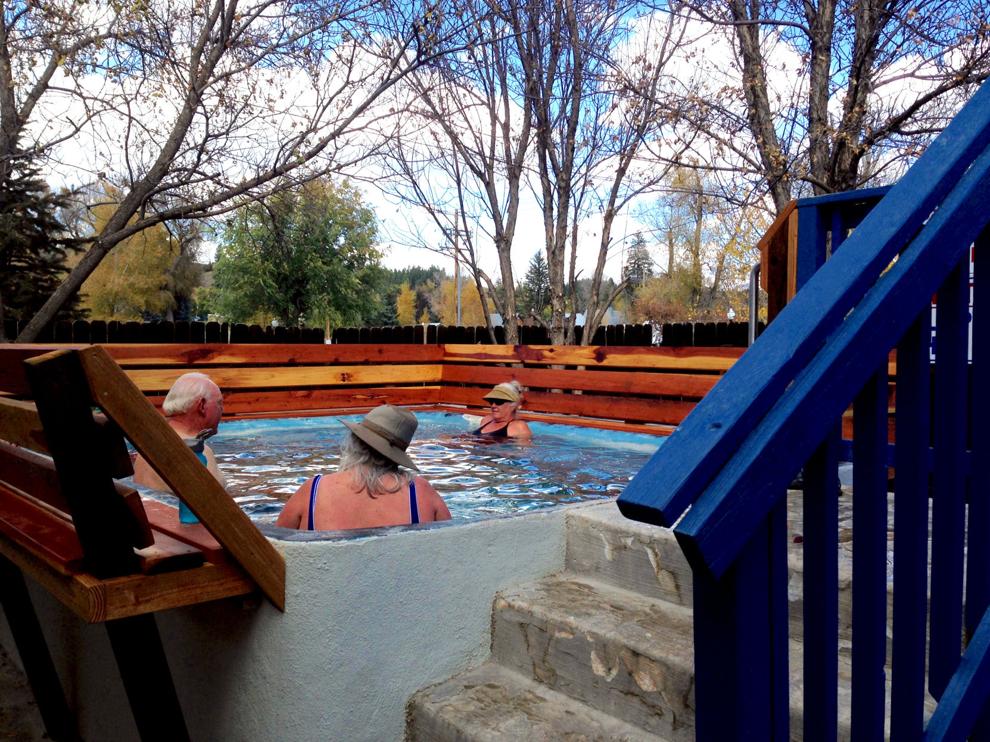 Healing Waters Resort and Spa is much simpler than its neighbor, Springs Resort and Spa. Visitors of Healing Waters might feel they're in their own community, protected by a wall not tall enough to block the mountain views surrounding Pagosa Springs.
Families picnic on the lawn. Men and women soak in gender-specific, clothing-optional baths inside. "Warm waters, warm welcomes and comfy rooms" is the motto where suites and cabins can be reserved. Overnighters are a short walking distance from the shops, restaurants and breweries of downtown. Walk-ins also welcome. If the waters aren't enough to soothe aches and pains, massage therapists are on site.
Address: 317 Hot Springs Blvd., Pagosa Springs
Hours: 8 a.m.-10 p.m.
Contact: 970-264-5910, pshotsprings.com
Check out: Nearby Wolf Creek Ski Area boasts the most natural snow among all Colorado ski areas.
---
HOT SULPHUR SPRINGS RESORT & SPA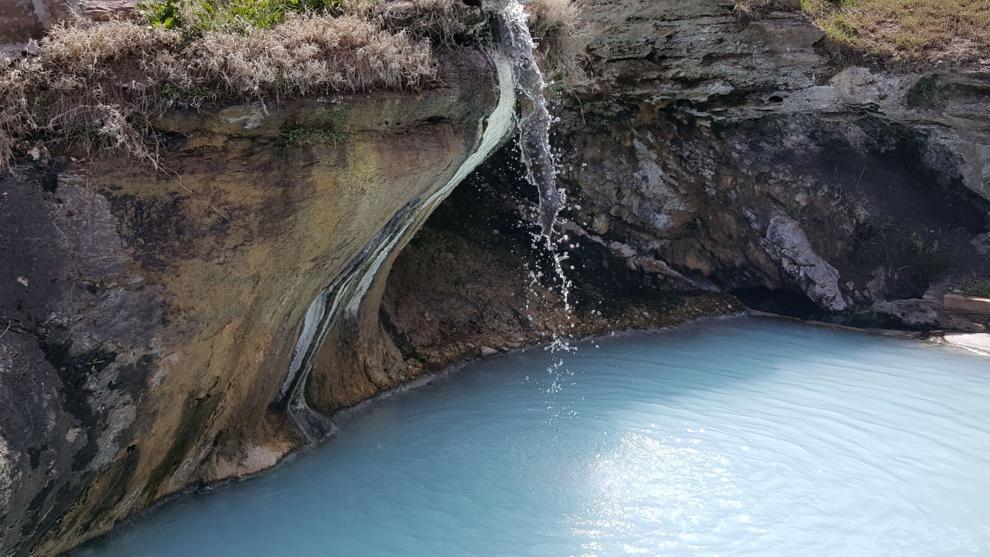 Hot Sulphur Springs was an ideal landing spot after a 44-mile ski expedition. That was completed in 1911 by Carl Howelsen, the namesake of Steamboat Springs' famous hill here in northern Colorado, and his Norwegian comrade Angell Schmidt. They wowed crowds with a ski jump competition and had the option of a relaxing soak nearby in the unassuming seat of Grand County built upon today's resort.
The mineral springs feed the resort's 21 pools and baths, which sit at temperatures between 95 and 112 degrees. Basic motel rooms, cabins and apartments are the lodging options, quaint stays tucked amid the woods and canyon walls.
Address: 5609 Spring Road, Hot Sulphur Springs
Hours: 8 a.m.-10 p.m. (no admissions after 9:15 p.m.)
Contact: 970-725-3306, hotsulphursprings.com
Check out: Grand County is a snowmobiling paradise. Check with local outfitters.
---
INDIAN HOT SPRINGS
Once attracting the likes of Jesse James, Walt Whitman and the Roosevelts, Indian Hot Springs is now a go-to spot for Interstate 70 populations and an itinerary stop for vacationers. A curving sunroof hangs over a large pool that the resort likens to a "tropical paradise," lined with exotic plants and palm trees. The family-friendly pool is heated 90 to 100 degrees. A combo deal or separate admission price gets visitors into more intimate vapor caves.
Overnighters can reserve original rooms built in 1905 or up the luxury by staying at The Inn. The Lodge offers more modern frills while the cabins by Soda Creek are rustic choices.
Address: 302 Soda Creek Road, Idaho Springs
Hours: Pool 9 a.m. to 10 p.m., caves 7:30 a.m. to 10:30 p.m.
Contact: 303-989-6666 for reservations, indianhotsprings.com
Check out: Relive the gold rush with a tour of the historic Argo Mill & Tunnel.
---
IRON MOUNTAIN HOT SPRINGS
On its grand opening in 2015, Iron Mountain Hot Springs honored the past by charging 25 cents. That was the cost of admission to Glenwood Health Spa in 1896. Yes, Glenwood Springs has a long history of commercial rejuvenation, with the Glenwood Hot Springs Resort currently the toast of the town.
Iron Mountain stands out for its mineral-rich pools built by the Colorado River, connected by a concrete walkway. Take your pick of dips ranging from 99 to 108 degrees and enjoy the views of the mountains and cliffs framing Glenwood.
Address: 281 Centennial St., Glenwood Springs
Hours: 9 a.m.-10 p.m. (reservations required)
Contact: 970-945-4766, ironmountainhotsprings.com
Check out: Dinner and a show on weekends at the Glenwood Vaudeville Revue.
---
JOYFUL JOURNEY HOT SPRINGS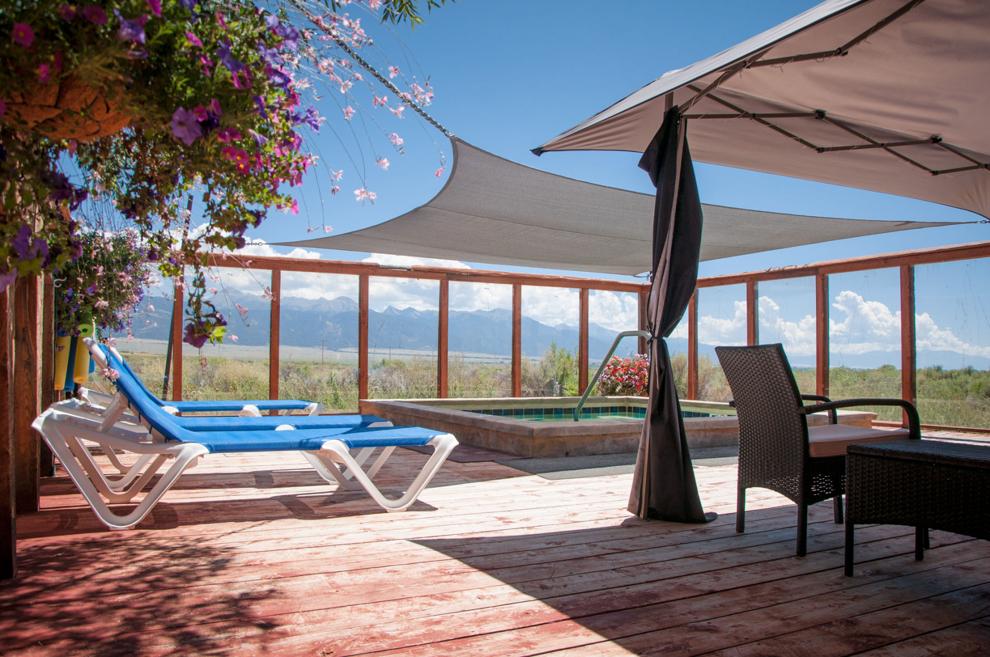 Sitting at 7,700 feet on the San Luis Valley floor, Joyful Journey calls itself "a sanctuary, a community and a retreat." In an online introduction, the owner refers to herself as "a guardian," a protector of the waters intended to "awaken the hearts and uplift the spirits of all who come."
Pools are perched on wooden boardwalks with shade and open views of snowy peaks. One pool is kept at 98 degrees, another at 104 degrees and another at 108 degrees. Lodging includes hotel rooms, tepees and romantic yurts. Day soaking is as affordable as it gets around Colorado, listed in 2021 at $15 for adults.
Address: 28640 County Road 58EE, Moffat
Hours: 10 a.m.-7 p.m. Monday-Thursday, 10 a.m.-5 p.m. Friday-Sunday
Contact: 719-256-4328, joyfuljourneyhotsprings.com
Check out: Usually in January, Alamosa's 5K Rio Frio is a sight to behold with runners dashing through the snow of the frozen Rio Grande River.
---
MOUNT PRINCETON HOT SPRINGS RESORT
Between Buena Vista and Salida, County Road 162 carves through the fields toward the Chalk Cliffs. The sheer, white rock faces are yet one more splendid feature of the Arkansas River Valley, where sparkling streams meet the 14,000-foot Collegiate Peaks. Continue on 162 to another valley jewel: Mount Princeton Hot Springs Resort.
The destination is shared by vacationers who stay in the resort hotel and day-trippers. If you're just soaking for the afternoon, you'll have your choice of rectangular pools and natural spots formed along Chalk Creek. The shallow dips vary in size and temperature, from 70 degrees to 120 degrees.
Address: 15870 County Road 162, Nathrop
Hours: 9 a.m.-9 p.m.
Contact: 719-395-2447, mtprinceton.com
Check out: Hot springs sit only 8 miles from a cross-country skiing network.
---
OLD TOWN HOT SPRINGS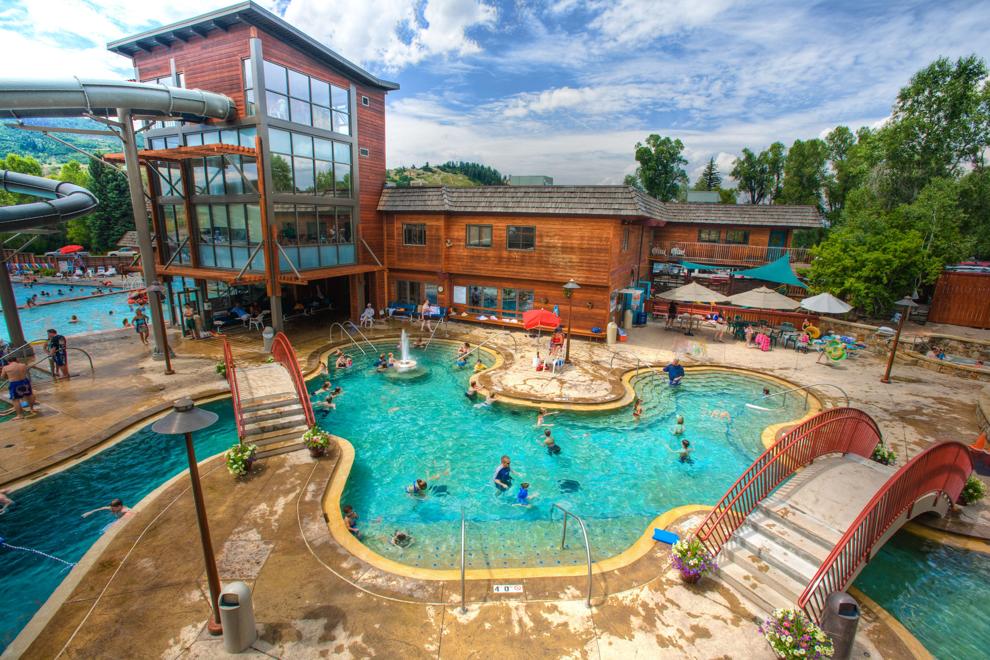 Old Town Hot Springs doesn't have the rustic feel of Steamboat Springs' other soaking destination, Strawberry Park. Old Town sets itself apart in other ways.
The complex is a community staple, a nonprofit enterprise that seeks to expand wellness beyond its rejuvenating pools with a fitness center and lap lanes. Swimmers exercise back and forth for 25 yards in waters around 80 degrees. Elsewhere, soakers relax beneath a waterfall in the hottest pool kept between 102 and 104 degrees. The main pool hovers around 98 degrees.
Address: 136 S. Lincoln Ave., Steamboat Springs
Hours: 6 a.m.-9 p.m. Monday-Friday, 7 a.m.-9 p.m. weekends
Contact: 970-879-1828, oldtownhotsprings.org
Check out: Hot air balloon ride with Wild West Balloon Adventures.
---
ORVIS HOT SPRINGS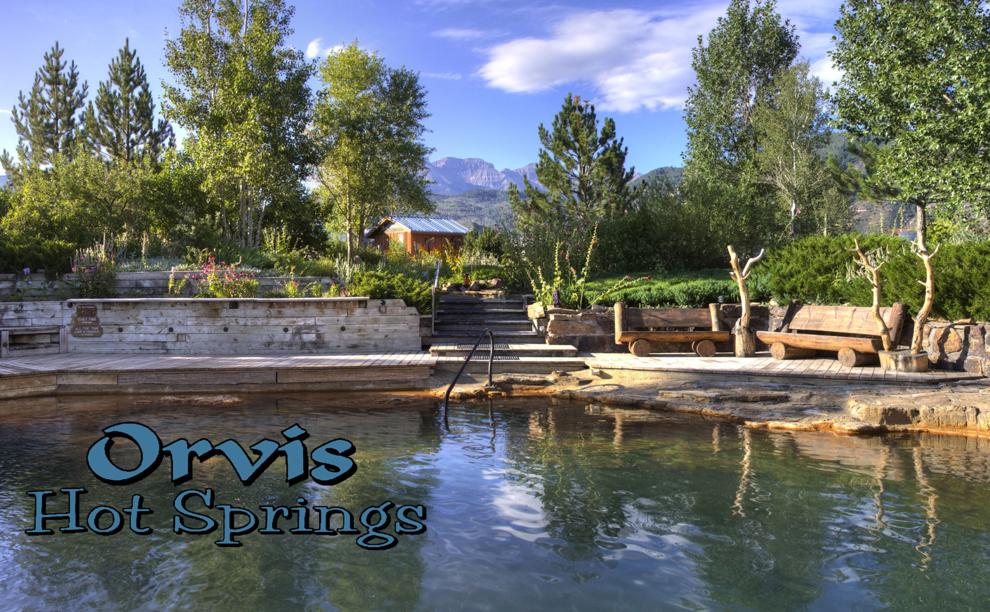 Ridgway residents would prefer to keep their clothing-optional soaking refuge secret. Despite its location off U.S. 550, Orvis Hot Springs has kept a surprising level of anonymity over the years.
Temperatures are as low as 62 in the "cold plunge" and as high as 114 in the "lobster pot." Bubbles float from the pebbly floor of the Pond, the widest pool and the deepest at 5 feet. Complete with a small waterfall, Island Pond is a more intimate dip. Stay a night in one of Orvis' furnished rooms or at the campground.
Address: 1585 County Road 3, Ridgway
Hours: 9 a.m.-10 p.m.
Contact: 970-626-5324, orvishotsprings.com
Check out: True Grit Cafe pays homage to the movie that filmed here.
---
OURAY HOT SPRINGS POOL
Ouray Hot Springs Pool is listed on the National Historic Register, though it looks as if it opened yesterday, not in 1927. Back then, residents bought memberships and businesses contributed dollars to build a state-of-the-art pool.
That community effort continues today. Recent additions have been the nearly three-story slides that proclaim the place a family fun zone. At the center is a pool with lap lanes. To the side is a "hot pool" kept between 100 and 106 degrees.
Address: 1220 Main St., Ouray
Hours: 10 a.m.-10 p.m.
Contact: 970-325-7073, ourayhotsprings.com
Check out: If dry, Perimeter Trail is a great 6-mile loop of the town.
---
OVERLOOK HOT SPRINGS SPA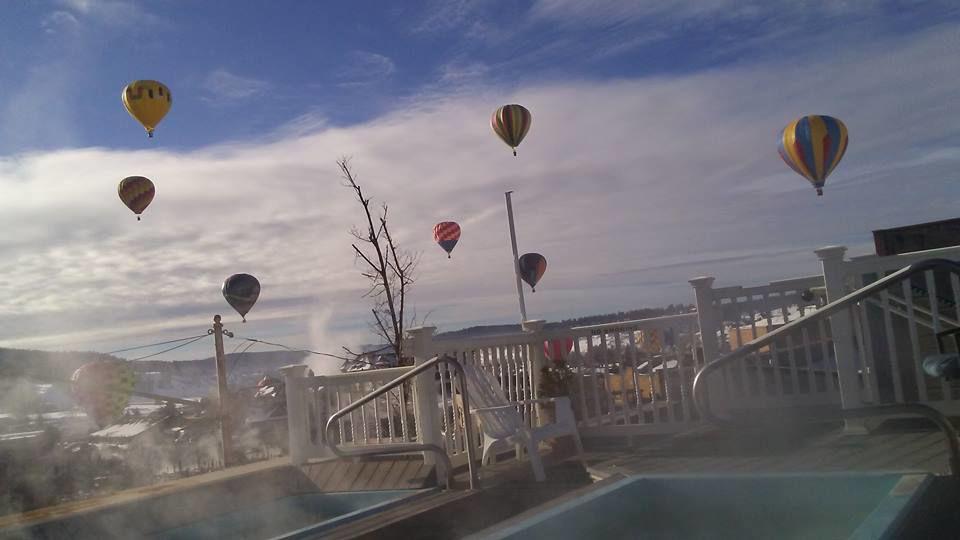 At Pagosa Springs' newest soaking spot, patrons step into a Victorian storefront. They can buy beer and wine and take it upstairs to the rooftop, site of perhaps the town's most scenic soaks. The deck includes a sauna, jacuzzi and three intimate, rectangular pools that overlook the river. Five more pools are inside.
After a long day on the powdery slopes of nearby Wolf Creek Ski Area, take the rejuvenation a step further. Pick from the menu of one-hour massages: Swedish, deep tissue, sports and hot stone.
Address: 432 Pagosa St., Pagosa Springs
Hours: 9 a.m.-10 p.m.
Contact: 970-264-4040, overlookhotsprings.com
Check out: Mushing with Mountain Paws Tours and San Juan Sled Dogs.
---
SALIDA HOT SPRINGS AQUATIC CENTER
This is the only publicly owned and operated pool facility in 100-plus miles. That means the aquatic center is mostly a hot spot for locals.
The main pool is kept at a cozy temperature, about 84 degrees. A smaller pool, about 4 feet deep, is closer to 100 degrees. European-style pools can be rented for private, intimate soaking. These pools are drained after each use and refilled.
Address: 410 W. Rainbow Blvd., Salida
Hours: 6 a.m.-6 p.m. Monday-Friday; 10:30 a.m.-6 p.m. Saturday-Sunday
Contact: 719-539-6738, cityofsalida.com
Check out: Sandwiches and dessert at Sweetie's.
---
SPRINGS RESORT AND SPA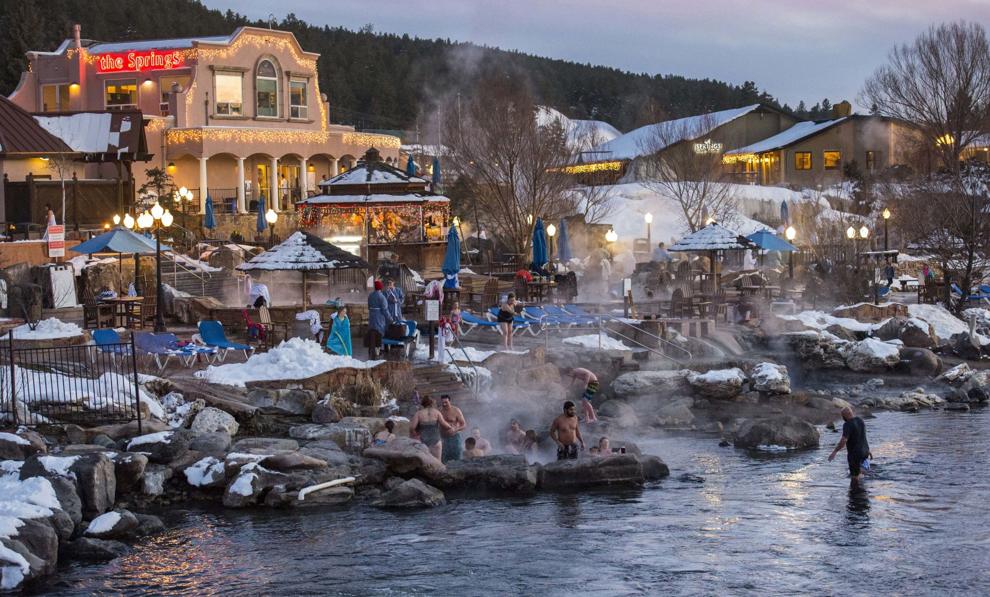 Sick with a mysterious plague, the Native people gathered on the banks of the San Juan River. They prayed and were cured, supposedly from the bubbling phenomenon at their feet. They called this "Pah Gosa," meaning water with a bad smell. That's the story told around the sulfurous well at Springs Resort and Spa, the most elegant sight from downtown Pagosa Springs.
"The Mother Spring" was listed as Guinness World Records' deepest geothermal pool after a measuring line couldn't stretch longer than 1,002 feet. The well feeds the hotel's 25 outdoor pools with varying sizes and temperatures.
Address: 323 Hot Springs Blvd., Pagosa Springs
Hours: 9 a.m.-9:30 p.m.
Contact: pagosahotsprings.com, 800-225-0934
Check out: Riff Raff Brewing Co. calls its craft beer the state's first powered by spring-fed geothermal heating.
---
STRAWBERRY PARK HOT SPRINGS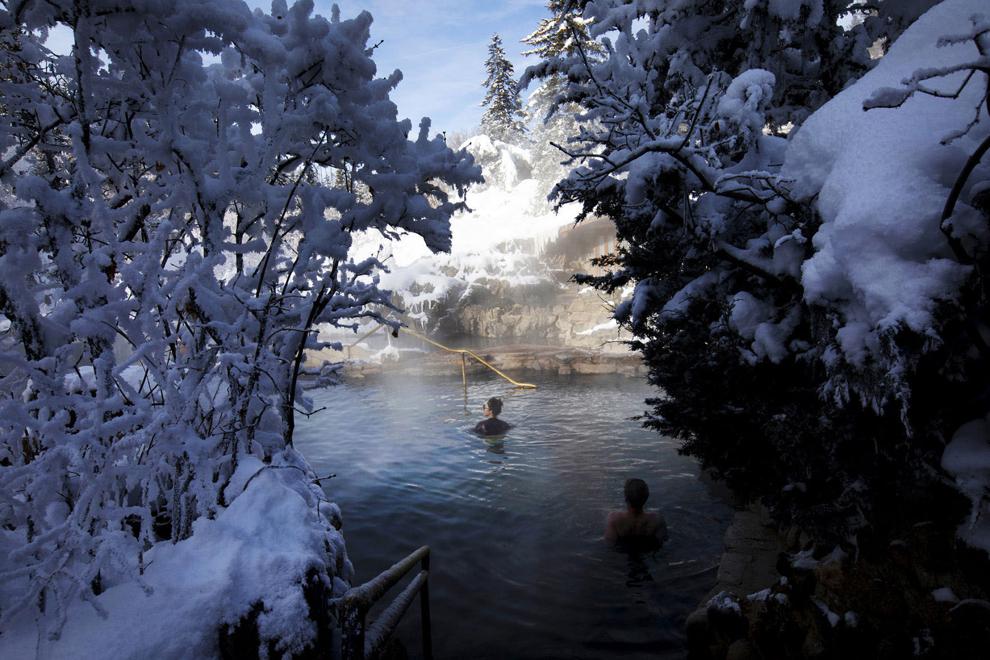 Strawberry Park is one of the Centennial State's most celebrated sites of soaking. It's a serene scene of steaming waters tucked in the woods.
The park is a combination of elegant and rugged. It's reached on a dirt road that requires four-wheel drive in winter. The mineral-rich ponds are formed by stone masonry, and sandy paths among the trees lead to rustic accommodations: a train caboose, a large and small cabin, a covered wagon and tent sites.
Address: 44200 Routt County Road 36, Steamboat Springs
Hours: 10 a.m.-10 p.m. (reservations required)
Contact: 970-879-0342, strawberryhotsprings.com
Check out: Ever tried fat biking in the snow? Steamboat is the place to do it.
---
VALLEY VIEW HOT SPRINGS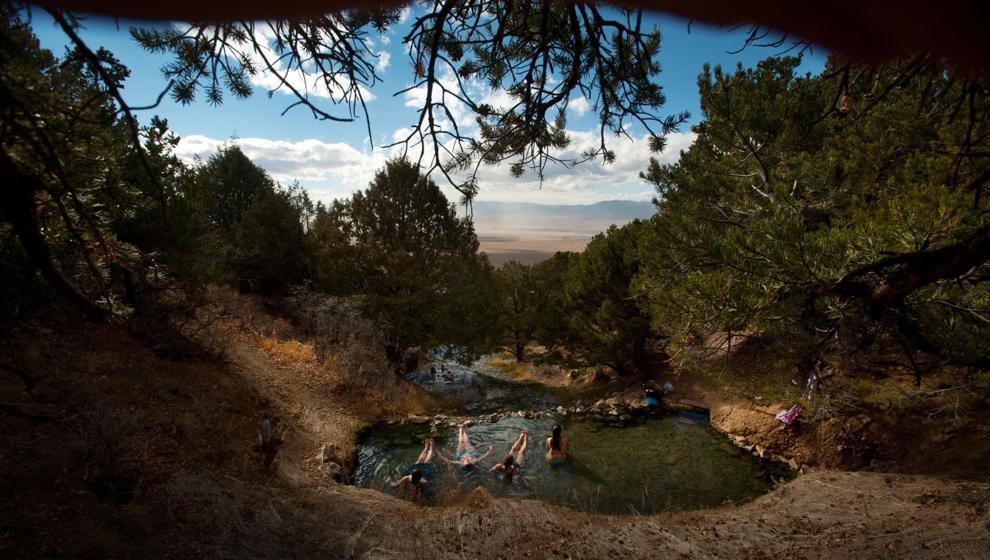 As more outsiders have fallen under the spell of locally beloved Valley View Hot Springs, the nonprofit-controlled property has limited visitation. Restrictions have tightened during the COVID-19 pandemic, with Orient Land Trust only booking guests with overnights in cabins. Reservations have become required.
The demand is understood. This kind of place is hard to find across Colorado's ever-popularizing hot springs. Valley View visitors value silence and the chance to soak au naturel in enchanting pools and ponds perched high above the San Luis Valley.
Address: 64393 County Road GG, Moffat
Contact: 719-256-4315, olt.org
Check out: Great Sand Dunes National Park & Preserve is a year-round destination made more marvelous in a coat of snow.
---
WAUNITA HOT SPRINGS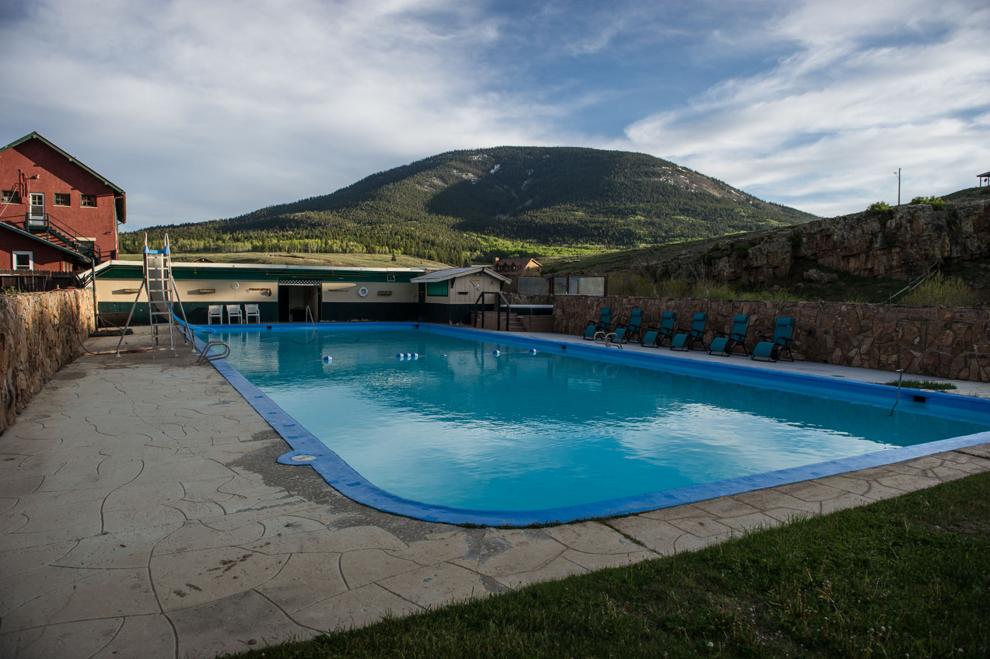 The pool is 35 feet wide and 90 feet long — big compared with Colorado's other squares capturing geothermal waters. But it is often reserved for private parties staying at Waunita Hot Springs Ranch, the vacation getaway at the edge of Gunnison National Forest in western Colorado. Since 1962, a family has made a home away from home for groups.
Some take trail rides on horseback. Others take ATVs for a spin. Days of adventure sometimes end in the barn for evening entertainment. But no day is complete without a dip in the pool, typically heated to about 95 degrees, with an adjacent tub kept at 100 degrees.
Address: 8007 County Road 887, Gunnison
Hours: 10:30 a.m.-6 p.m. (call ahead for availability)
Contact: 970-641-1266, waunita.com
Check out: In Gunnison, Castle Creek Guitars claims a one-of-a-kind instrument, the Dobrato.
---
WIESBADEN HOT SPRINGS SPA
While families flock to Ouray Hot Springs, the big pool at the center of town, this healing retreat has remained intimate and humble, putting nature first. Before entering the mineral waters, visitors must shower. No lotions, makeup, hair gel or other oils. "We absolutely cannot accommodate those who have used tobacco in the last month," boldly reads Wiesbaden's website.
A unique "soaking" option is the vapor cave, its chambers filled with steam by flows under the rock floors. Overnighters choose from charming abodes, from small rooms, a hilltop cottage and a historic house. Day guests welcome.
Address: 625 5th St., Ouray
Hours: 9 a.m.-9 p.m.
Contact: 970-325-4347, wiesbadenhotsprings.com
Check out: Feel like a local at Lee's Ski Hill.
---
YAMPAH SPA AND VAPOR CAVES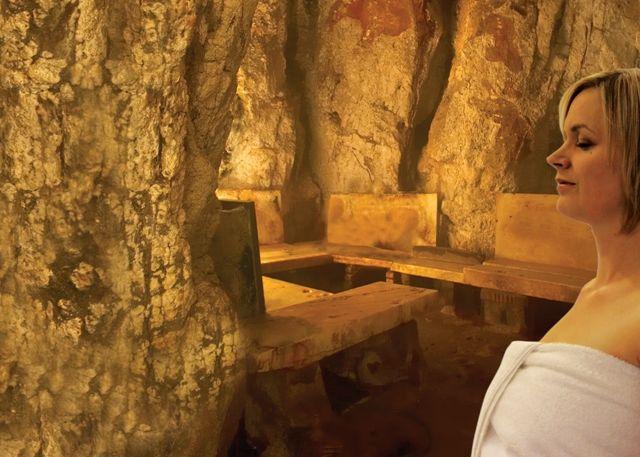 When you think of Colorado's legendary hot springs, you don't think of them as rock chambers. Yampah Spa and Vapor Caves doesn't fit the traditional picture, yet the Glenwood Springs operation sells itself on the geothermal waters flowing at 125 degrees beneath the hard floors, creating the steamy enclosures. While other such therapeutic caves are man-made, these claim to be the only all-natural ones in North America.
The three chambers are an escape from the hustle and bustle of life, with the dominant sound of trickling water. The caves average temperatures between 110 and 112 degrees.
Address: 709 E. Sixth St., Glenwood Springs
Hours: 9 a.m.-9 p.m. (reservations required)
Contact: 970-945-0667, yampahspa.com
Check out: Cave tours are offered throughout the year at Glenwood Caverns Adventure Park.