Just as it is a place of majestic landscapes, so Colorado is a place of majestic residents.
When our human peers bore us, we escape for the wild and the abundant life found there.
Elk? Their ranks in White River National Forest are among the highest in the world. Bighorn sheep? Recent estimates put them around 7,000 in Colorado, said to be more than any other state. Moose? Herds have steadily expanded since reintroduction here in 1978.
Those are but a few iconic species beheld across the mountains. Here's an appreciation of more and some of the prime places to find them:
Elk
As long as 9 feet, weighing upwards of 900 pounds and unmistakable for their six-point antlers, this is Colorado's most imposing native deer. They are otherwise called wapiti, ranging fertile meadows and alpine tundra.
Their most famous home in this state is Rocky Mountain National Park. Regulars have grown familiar with "elk jams" while ascending Trail Ridge Road. A chorus of bulls bugling is heard in early fall, signaling the mating season when people travel in droves to Estes Park. While that's the most popular time for viewing, elk are out and about year-round.
Moose
Rocky Mountain National Park has increasingly been a popular viewing place for these beasts, too. They have been more so spotted from the park's west side from Grand Lake.
But State Forest State Park remains Colorado's "moose capital." The largest state-protected preserve is situated in the northwest territory where moose were delivered four decades ago.
Check out State Forest's visitor center for an updated board listing specific areas where moose have been spotted. At the Mad Moose Cafe in the nearby town of Walden, locals might tell tales of being chased around their yards and being on the wrong side of car crashes.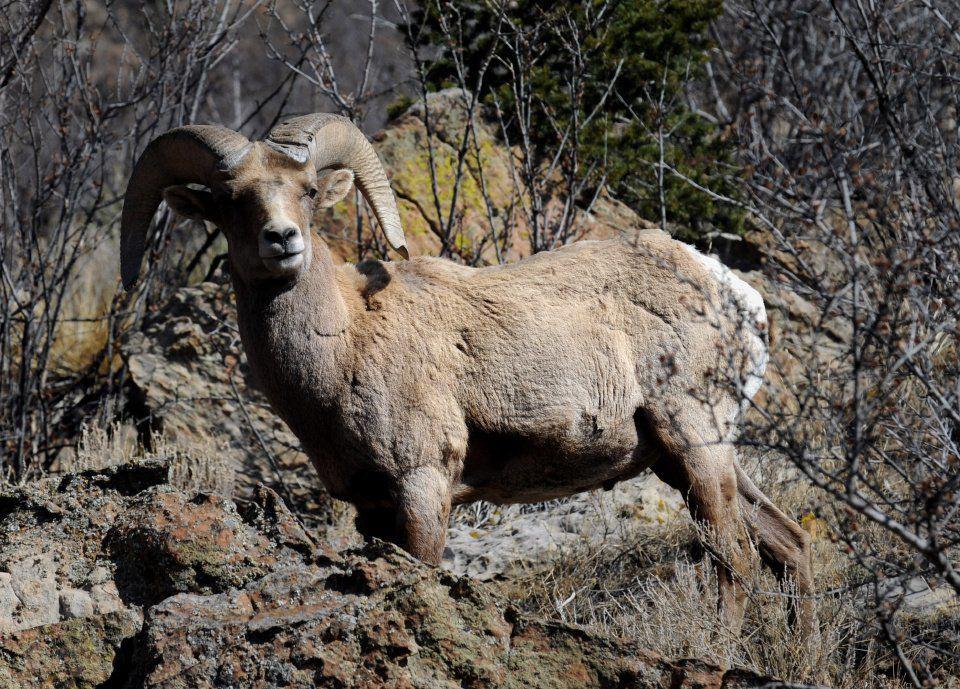 Bighorn sheep
There are two types in Colorado. The desert bighorn was reintroduced to Colorado National Monument in 1979, where they are still seen, distinct for their long legs and sand-colored coat that blends with the desert. Front Range people are more familiar with the native Rocky Mountain bighorn, the curly-horned mascot of Colorado Parks and Wildlife.
One can only be so lucky to witness a clash of horns — typically between November and January, when rams are vying for mates. That's a good time to go searching. They're harder to track down in spring and early summer, when ewes are lambing, and in fall hunting season.
Close to Denver, Waterton Canyon is a good, accessible bet for viewing. Bighorn sheep also frequent the cliffs of Big Thompson Canyon en route to Estes. They are common on the drives up 14,000-foot Mount Evans and Pikes Peak.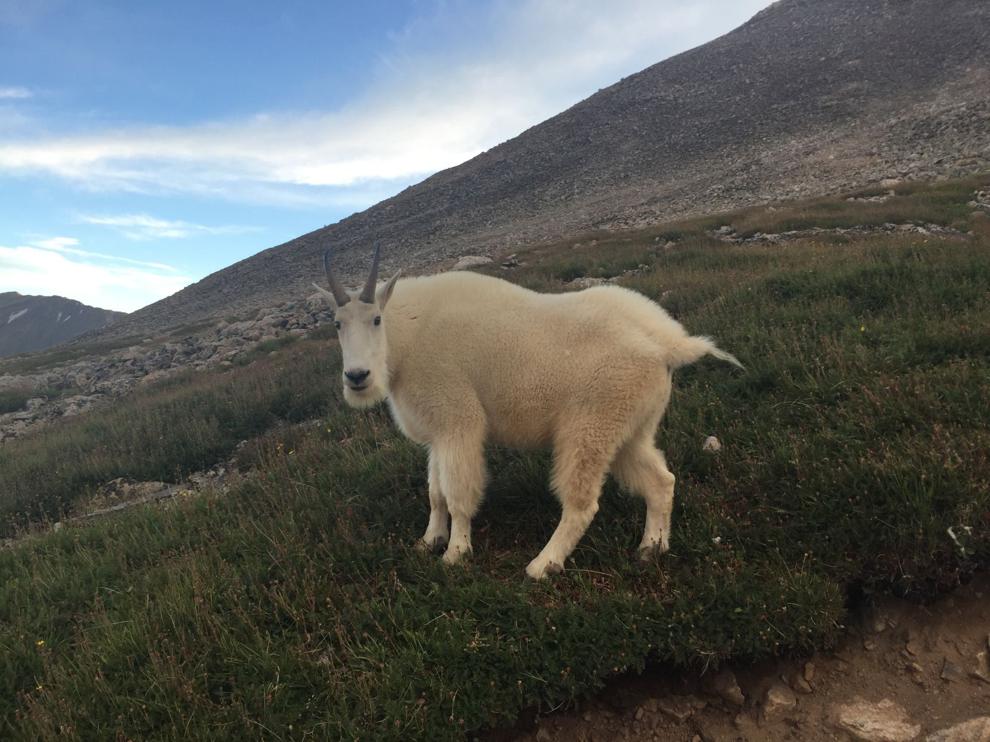 Mountain goats
They sure seem native, appearing to be in constant smile above treeline, content. But mountain goats were ferried to Colorado to expand hunting, first in 1947 in the Collegiate Peaks. They have greatly expanded their range since.
Anyone bagging 14,000-foot-peaks is likely to be acquainted by these shaggy guys. They like high, rugged terrain, which means one typically earns the sighting. If not the road to Mount Evans, Quandary Peak and Mount Bierstadt are among "beginner" fourteeners.
Bison
In Colorado, they are no longer wild, but instead captive and livestock. It is believed hunters took out the last members of the free herd in 1897 around South Park.
And so today the burly, wooly beasts are symbols of glory days on the plains. They command respect at Rocky Mountain Arsenal National Wildlife Refuge near Denver. Drivers typically stop to photograph the bison behind the fenced pasture near the corner of U.S. 24 and Colorado 9.
Bison of a Colorado State University breeding experiment graze across Soapstone Prairie Natural Area, close to the Wyoming border. Viewing from March-November, more information at: https://bit.ly/3jfHXEj
Wild horses
Off Interstate 70 northeast of Grand Junction, the Little Book Cliffs Wild Horse Area is one of the nation's three ranges preserved for free-roaming mustangs — though they are subject to regular round-ups by federal land managers. In recent years, more than 100 horses have been counted across the 36,000 acres of canyons, sage fields and pinyon- and juniper-covered hillsides.
The best time to go is spring, fall and winter, when temperatures are more agreeable for long hikes and the hoofed dwellers are more likely to be down from higher elevations. Friends of the Mustangs offers tips on its website and Facebook page.
Bald eagles
No creature in Colorado or anywhere in America captures the imagination quite like the bald eagle, its wings sometimes spanning 7 feet in flight over water, talons splayed for fish.
Bald eagles indeed stick around large reservoirs and major rivers, nesting in tall cottonwoods in winter. Colorado birders flock to Barr Lake State Park in Adams County. John Martin Reservoir is an often-overlooked southern destination. West in Ridgway, Dennis Weaver Memorial Park is another go-to for fans.
Sandhill cranes
In February and March, one of the planet's oldest bird species descends upon the San Luis Valley. Binocular-wielding watchers follow suit, annually celebrating them at a Monte Vista festival.
The red-headed, long-legged, long-necked, wide-winged sandhill cranes date back 9 million years. At the Monte Vista Wildlife Refuge, they commence their ancient dances, jumping and flapping about — shows of affection for lifetime mates. Their calls fill the sky, echoing out to the Sangre de Cristo peaks.
Snow geese
Southeast Colorado's waters are filled with these visitors every February. The arctic fowl from Greenland, Canada and Alaska fly by the tens of thousands on their way southwest, invading these plains at the delight of admirers. Lamar is the base for High Plains Snow Goose Festival goers. They view along the shores of Two Buttes and John Martin reservoirs and also tour Picture and Carrizo canyons south of town.