Sometimes the smallest steps in life yield the biggest impacts.
Saturday morning, on a rugged trail high in the heart of the Rockies, I took a tumble. Pain as I'd never felt enveloped my left leg. And a kneecap I'd grown to expect in one place was now gruesomely pushing against the skin from somewhere else.
As I lay dazed and injured a few switchbacks below 14,000 feet, I stared at the perfect blue sky and tried to come to terms with my new and utterly helpless state. My hike up a pair of fourteeners was over. My summer of dedicated training was over. My plan to run this weekend's Pikes Peak Ascent … over.
One step, and it was all over.
But on this mountain of disappointment, where eventually a helicopter would airlift me to safety, I found something far more valuable than the finisher's medal that comes to those who persevere on race day.
I found kindness at a level all too scarce in today's world.
Six strangers made my problem their priority, turning a morning to forget into a day I always will remember.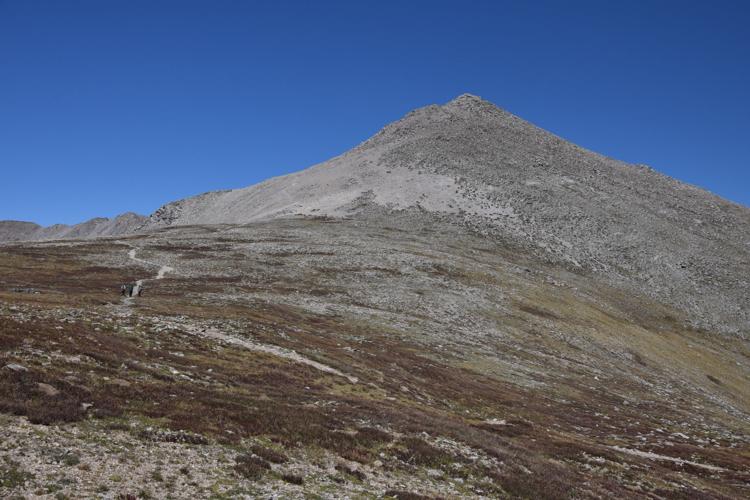 On a mission
A few minutes shy of 6 a.m., I left the overflowing parking lot of Subarus and SUVs and headed for the trail, bypassing the line at the restroom to get a jump-start on the task ahead — a trek to the summits of Mount Shavano and Tabeguache Peak, the southernmost fourteeners in the Sawatch Range.
The sun had yet to peek over the mountains on a cool, crisp Saturday, but there was sufficient light to follow the path. So off I went, moving at what most would call a brisk pace. This was training, after all. The plan was to bag these peaks, another on Sunday and one more Tuesday, before resting in the final days leading to the Ascent.
After a few minutes, I caught up to a couple hiking with their dog. We exchanged hellos, and I patted the dog's head.
"Nice shirt," the woman said as I passed.
I was sporting a faded, long-sleeved purple shirt, earned by conquering America's Mountain in 2004. I wear these shirts often on the trail, and I wear them proudly. I don't profess to be a runner, but I've finished either the Ascent or Marathon every summer since 2001.
"You going to be there next week?" I asked, continuing at the same pace.
She and her husband would be at both the Ascent and Marathon, sweeping the course to ensure every runner made it safely to the finish or back to the start in Manitou Springs.
Talk of Pikes Peak brought pep to my steps, and my focus returned to the rising trail. I passed two more hikers, then a group of eight. By the time I reached the top of Shavano, I had left more than two dozen in my wake. My motto: Keep moving, never stop. One exception: the summit.
It was a bluebird morning, and I was eager to soak in the panoramic views and take deeper breaths of the thin, unspoiled air. So as I reached the 14,229-foot apex, I paused to marvel.
Aah, now this is Colorado, I thought. This is spectac … wait, what's that smell?
It was a startling whiff that was anything but pristine. There, tucked into a pile of rocks a few feet away, sat a hiker puffing away on a celebratory joint.
This is Colorado, I thought, quickly descending toward Tabeguache Peak.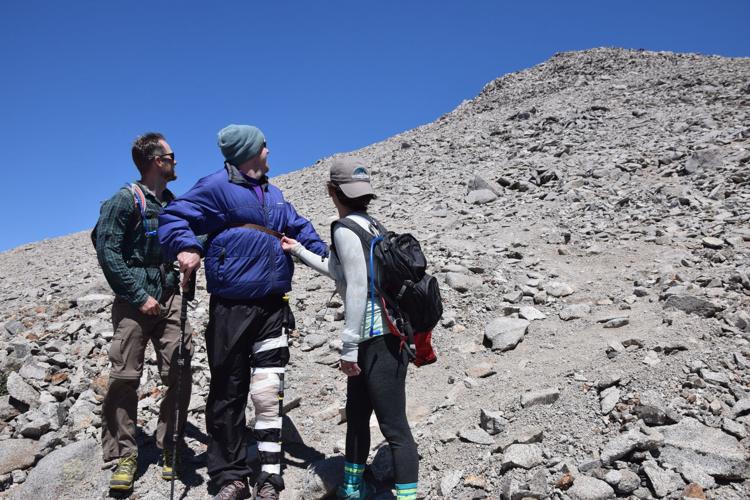 One more mountain
The traverse between Shavano and Tabeguache isn't difficult, but it isn't fun. I had forgotten that over the three years since I hiked it last, and it was too late to turn back by the time I began to remember.
I marched on, scouring the landscape for piles of rocks called cairns meant to guide hikers when trails aren't obvious or, in this case, don't exist. When I couldn't find cairns, I simply picked what seemed the most direct route to the top and scrambled up boulders.
At 8:45 a.m., less than three hours after leaving the trailhead, I reached the second summit. I enjoyed several gulps of water from my CamelBak and devoured a big, juicy peach that a colleague had brought fresh from Palisade. This was my celebratory peach, and it didn't come with an unpleasant odor.
I knew my time alone on the summit was about to end, having passed a hiker on the traverse. I didn't plan to stay long anyway. This was training, after all.
As I was about to set off on my return to Shavano, the hiker reached the top. Despite sharing hellos minutes earlier, we went through the process again.
"Man, you were hoofing it," he said.
I shrugged off the compliment though inwardly it felt pretty good, with the Ascent now only one week away.
Then the conversation turned where it often does atop fourteeners — to more fourteeners. I told him I had hiked more than 40 of Colorado's 14,000-foot peaks, many of them multiple times. But I confessed to having avoided most of the dangerous mountains.
That's when he detailed trips up Capitol Peak, Crestone Peak, Crestone Needle and others whose names alone send shivers down my spine. He confidently suggested I would have no problem climbing any of them, and I dwelt on that happy thought on my way off the summit.
Back on top of Shavano, the scene had changed dramatically. The man with the joint was gone, replaced by 20 or more chatty hikers. I didn't feel like adding to the number. This was training, after all.
I'm all about speed on fourteeners unless the trail suggests otherwise. Because the path from Shavano's summit to its broad saddle is steep and somewhat slick, I was content to inch my way down.
I greeted each hiker I crossed, happy to be going down instead of up. While most I didn't recognize, eventually I came across a man I had seen hours earlier in the line for the restroom. Again, I said hello with a smile, and he returned my greeting.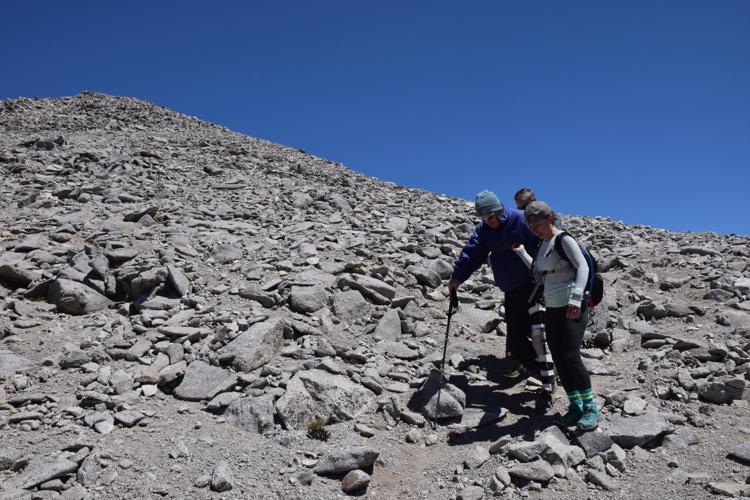 Down and out
With the subtlety of a sledgehammer, pain struck my left leg and I collapsed with a thud.
I yelled. The pain didn't let go. So I yelled some more.
Peering down at the damage only made things worse. What was that sticking out below my knee? And how did it get there?
Upon hearing the screams, the hiker I had just passed hurried back to where I'd fallen.
I wasn't sure how to answer. I'd never felt anything like this. And I had no idea what had knocked me off my feet.
As I tried to organize my jumbled thoughts, he helped me find a comfortable resting spot amid the rocks. Sweat drops dotted my brow, and my knee swelled to the size of a lopsided softball.
But the pain slowly crept away. And my leg, beyond the swelling, suddenly looked normal again.
I thanked the man for stopping and gingerly scrambled to my feet. It was time to finish the hike. This was training, after all.
I took a step down with my right leg. And then with my left …
Sprawled out along the trail again, pain reluctantly gave way to fear. Something, and I still had no idea what, had gone terribly wrong. And I knew I was in no condition to walk down Shavano's sharp slope.
By now, the hiker who initially stopped, Rich Schiebel of Golden, had been joined by Dan Koelliker of Avon. They asked me about food, water, clothes. Koelliker gave me his blue Patagonia jacket and a handful of ibuprofen. Other passersby offered all-weather pants, thermal blankets and a stocking cap.
Despite the extra layers, my body quaked as I grabbed my cellphone to make the call.
"9-1-1, what's your emergency?" the dispatcher asked.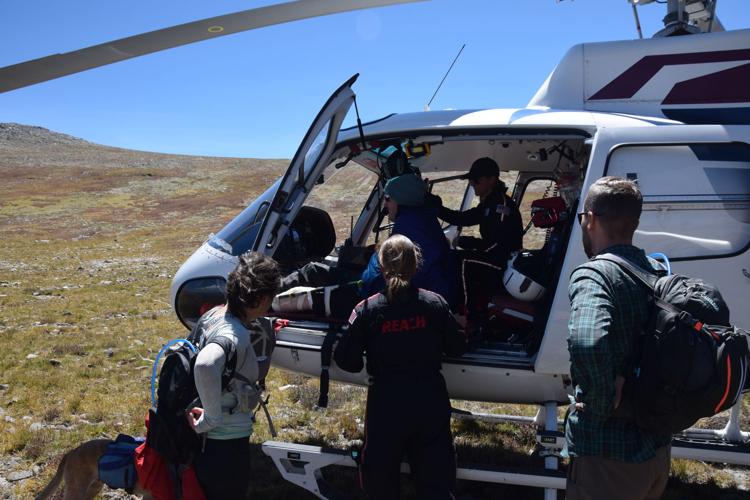 All for one
The picture I painted was no doubt abstract, but I managed to get my point across: I needed help.
And help, on this day, was following me up the trail.
Jessica Hall, a volunteer for Vail Mountain Rescue, was hiking up Shavano with Koelliker's group and soon made her way to my side. She greeted me with a reassuring smile and calmly assessed my plight, adding more layers, taking my pulse and coordinating plans with authorities.
Dana and Phil Heuer, support members with El Paso County Search and Rescue, were descending off Shavano. They, too, made their way to my side.
"You're the one with the Ascent shirt, right?" Dana asked.
I nodded, recalling my earlier meeting with the couple and their dog, Ruxin.
The Ascent had been at the forefront of my mind all day. Because of the upcoming race, I had risen at 3:30 a.m., driven to Salida and embraced the challenge of two fourteeners. But now, after lying on my back for more than an hour, a new reality had set in. Pikes Peak simply didn't matter anymore.
The only thing that mattered was finding a way to the saddle, where a helicopter could airlift me off the mountain. I realized I couldn't do this by myself. But I also realized I didn't have to do it alone.
The three search-and-rescue members had fashioned a splint out of a hiking pole and athletic tape and secured it to my injured leg. They had devised a smart plan that relied heavily on the strength, dexterity and footing of a crew of five, which now included Kevin Sullivan, the Louisville man I had met on top of Tabeguache.
"Are you ready to give it a try?" Hall asked.
I swallowed my honest answer, knowing it wasn't the response anyone wanted to hear. Then I downed some pretzels and red grapes and decided to give it a go.
Finally on my feet again, I studied the remaining route. Then I leaned on Sullivan and took the first step. A few feet in front of me, Schiebel braced for my potential fall.
But falling wasn't an option. Neither was failing.
Small step by small step, the hikers guided me to the saddle. They offered encouragement along the way. They documented our progress with phones and cameras. They made my problem, later diagnosed as a full tear of the patella tendon, their priority. And they didn't let up until I was safely in the helicopter.
This was much more than training, after all.
Nathan Van Dyne is the features editor of The Gazette.