There are still a lot of unknowns surrounding school openings. But, whether kids will be back in the classroom or working at a desk at home, when lunchtime rolls around you'll want to have some options for a healthy meal.
If you're a family that likes to pack lunches, we've got some pointers for getting the job done.
"Lunches should contain a protein, a carbohydrate and a vegetable or fruit, preferably both," said Karen Beers, clinical dietitian at UCHealth Memorial Hospital. "Consider sending a water bottle or having the child buy milk, rather than sending juice or a nonjuice sweetened beverage."
If you do pack juice, make sure it's 100% juice.
"Some juices, such as Honest Juice, are lower in sugar without adding noncaloric sweeteners, and these are better choices than sugary drinks," she said. "Children do not need soda during the day. I would recommend against sending it, and some school districts do not allow them anyway."
If you don't have a way to keep the lunch cold, pack shelf-stable foods like peanut butter and jelly – if schools allow it.
"In nut-free schools," Beers said, "you can use either sunflower butter, such as Sun Butter, or soy butter, like Wow Butter. Fresh fruit and vegetables are always great in a lunch."
But if you can slip an ice pack into the lunch box, then the sky's the limit. Lunch can go way beyond sandwiches.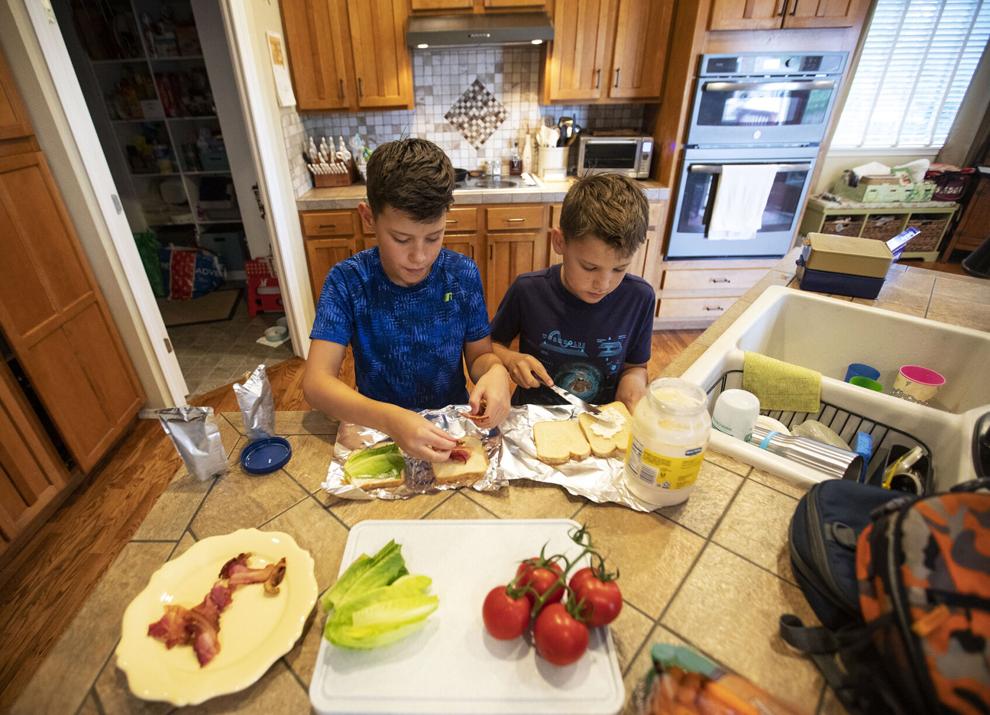 "Sandwiches are popular and easy, but many children enjoy bringing crackers with cheese and meats," Beers said. "You can make your own Lunchable rather than purchasing more expensive pre-packaged meals."
And for bread, you don't have to rely on traditional sandwich slices. Pita bread is a great option.
"Most children would only need a half piece filled with meat, vegetables and cheese," Beers said. "Another option is hummus or guacamole, both of which can be purchased in single-serve packages. You can also buy small, reusable containers and fill them with a dip. Serve this with pita chips, crackers, or veggies."
A thermos-style container that can keep foods hot opens up lunch options to leftovers, soups and stews, which are especially nice when the weather turns colder. Beers said to be sure and cut up any large pieces of food, as knives aren't available at schools.
All of these can be prepared the night before, stored in the fridge and grabbed on the run the next morning.
Beers encourages parents to let their children assist in the process of making lunch.
"By the time they are in fourth grade, most children should be able to do the majority of the work themselves with just some supervision," she said. "This allows them to have some control, but also makes them more willing to eat it."
Elissa Long, a Jazzercise instructor, has plenty of experience getting herself out the door to teach exercise classes at 8:15 a.m. while making sure her high school junior, sixth grader and fourth grader are ready for school.
"My kids generally pack their lunches every day," she said. "My fourth and sixth grader would get hot lunch once, maybe twice a week at school. My high schooler doesn't like school lunches, so she will pack a lunch every day. They don't love sandwiches, so we try to find other things to pack."
Some of their favorite things are buttered noodles or mac and cheese in a thermos.
"Occasionally they get sushi California rolls," she said. "Sometime it's hard-boiled eggs, cheese sticks or beef jerky/turkey sticks, or a bean burrito wrapped in foil with salsa and chips. … They like cut-up cucumbers and most fruit and some kind of sweet treat."
Alyssa Grow, a systems engineer at Peraton Inc., is a single mom with a 13-year-old daughter, Elliott. The eighth grader likes to bring her lunch because "school lunches are gross," she said.
Elliott attended The School in the Woods in Black Forest when she was in fifth grade. The school didn't have facilities for food preparation, so students had to bring lunch.
"Ever since then, she has only brought lunch," Grow said. "About half the time she takes leftovers. She doesn't normally heat it up – she says the lines are too long, so she doesn't wait in line."
Elliott also likes bringing tortilla wraps or a Chobani Flip yogurt with some fruit, usually grapes, an apple or berries, a single-serving bag of chips and a cookie.
"Or, if I have baked, she will take banana bread or a muffin," Grow said. "She doesn't eat all those items at lunch. They are allowed to have snacks in class, so she spaces those items out throughout the day."
Monika Celly, a mother of two boys and owner of Polka Dot and Curry cooking classes, has taught her sons how to make her recipes. They know how to assemble deli sandwiches and make pizza and even homemade sandwich spreads. But Celly packs their lunches most days.
"Once a week, I make Indian breakfast bread, which rolls easily and is very easy to eat," she said. "My boys also love Indian dumplings, called dlis, with coconut chutney. Or they like South Indian dosa, a fermented pancake. I make a huge batch of fermented batter once a week, and it gives us three different lunches: savory pancakes, steamed dumplings and stuffed dumplings with coconut chutney. Once a week, they take turkey sandwich or a cheese quesadilla. Whenever it's cheese pizza day at cafeteria, they are allowed to buy that day."
Finally, how do you know how much food to send your child to school with?
"Parents should encourage their child to bring home anything they don't eat rather than throwing it away," Beers said. "This can give the parents a better idea of what the child is eating, so that they can tailor the lunch size appropriately. Children get so little time to eat at school that some of them just cannot finish a full meal."
Contact the writer: 636-0271