Wander through a cemetery and the stories rise up to meet you.
Tales of long lives, lives cut short, long marriages, lost children, extended families. Weathered grave markers that reveal nuggets of information and leave you longing for more. And the peace. An ideal space for reflection, contemplation and quiet visits with the dearly departed.
"Cemeteries are mirrors of the living community," says Barb Headle, a history instructor at the University of Colorado at Colorado Springs. She's taught the class "Cemeteries and Memory in American History" since 2012.
"When you walk into a cemetery — it doesn't matter how big or small — you're walking in that community's history. I tend to call those who are buried in cemeteries residents. Just as we would call ourselves residents of Colorado Springs. The only difference is we're breathing."
A stroll through the two Colorado Springs-owned cemeteries — Evergreen Cemetery, which holds true to its name, and the west side's Fairview Cemetery — can provide an unintentional history lesson about those who once walked our streets and played in our mountains.
Historical inhabitants
Evergreen is a who's who of Springs history and a reflection of the wealthiest of our forebears, evidenced by its large mausoleums, obelisks and elaborate tombstones. Founded in 1875, its location was selected by city founder Gen. William Jackson Palmer for its high bluff overlooking the city and its access to the El Paso Canal, which channeled water from Prospect Lake to the cemetery. The cemetery was added to the National Register of Historic Places in 1993.
This is where Palmer rests, along with his wife, Queen, whose remains were brought back from England, where she lived at the time of her death, and one of their three daughters, Marjorie Palmer Watt, and her husband, Dr. Henry Watt.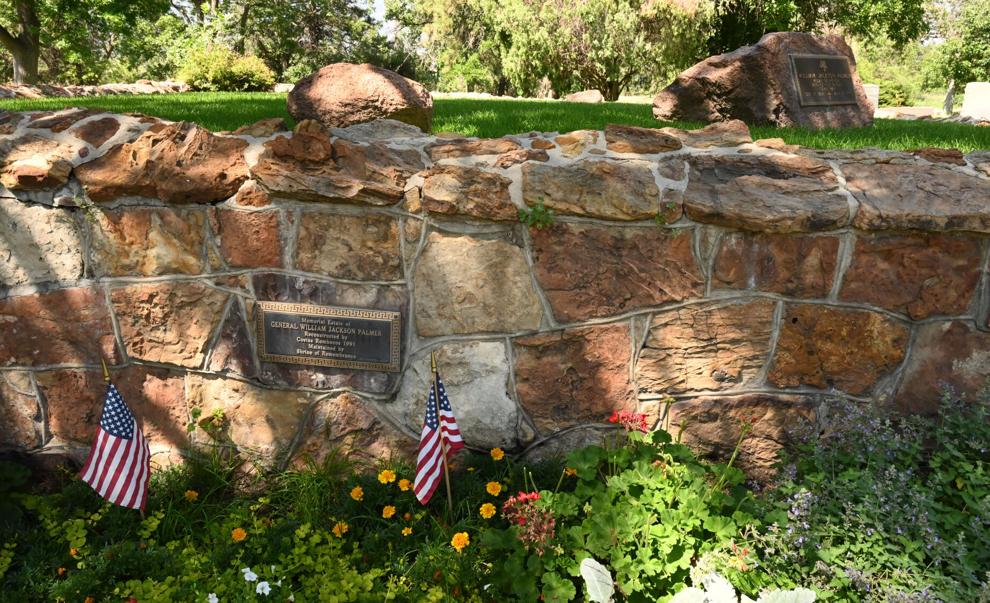 Prospector and capitalist Winfield Scott Stratton, who became Cripple Creek Mining District's first millionaire, also is buried in the scenic cemetery with its green rolling hills, shaded by enormous trees, including Colorado blue spruce, maple, ponderosa, pinions and Gambel oaks.
"You wouldn't even know it (his tombstone) was for him if you just glanced at it," says Matt Mayberry, director of the Colorado Springs Pioneers Museum. "The artist (Nellie Walker) who created that piece is a well-known sculptor. She later lived at the Myron Stratton Home and died there. She benefited from his largesse to create the home. It was part of his mission to support the indigent and elderly."
Medal of Honor winner Floyd Lindstrom is interred here, as well as Bob Womack, who struck gold in Cripple Creek and sparked the Cripple Creek Gold Rush. Nineteenth-century writer and poet Helen Hunt Jackson resides here, though her original grave was not far from Helen Hunt Falls. When that site became too popular with literary tourists who littered the grounds, she was disinterred and reburied at Evergreen.
Headle likes to walk through Evergreen, with its 185 acres and 11 miles of paths, as though she's visiting a museum, taking in the artistic flourishes of the monuments and markers. This is, after all, a person's last chance to tell the world who they are and how they want to be remembered.
"Some of these pieces are works of art," she says. "That's another way to look at a garden cemetery. They're outdoor museums. You see sculpture that is phenomenal."
One large mausoleum houses the Giddings and Lennox families, names that will be familiar to downtown regulars. Edwin Giddings founded the long-gone Giddings Department Store, and William Lennox was a prominent businessman who owned a commercial building. Another distinguished-looking mausoleum belongs to Cripple Creek gold magnate Jimmy Burns, who created the Burns Opera House on East Pikes Peak Avenue.
The 28 acres of Fairview Cemetery paint a different perspective of our region's history, one of Colorado City's working class folks who had considerably less wealth than their neighbors in the Springs. Founded in 1895, this is where many of the small town's residents are buried. They worked at the quarries in Red Rock Canyon and the gold mills in Colorado City. You'll find no mausoleums here.
One notable name, however, is Anthony Bott, who helped found Colorado City. Bott Park, across 26th Street from the cemetery, is named for him.
"(Fairview) helps highlight the difference between Colorado City and Colorado Springs," Mayberry says. Colorado City was founded in 1859 as a supply town and resting spot for miners who were trying their hand at finding gold up Ute Pass. In 1917, the town became part of Colorado Springs and was renamed Old Colorado City.
"When you go there you'll see more modest graves for the most part," he says. "Perhaps more Eastern-European names. There are interesting socioeconomic things you can identify."
While finding the grave of a well-known historical figure can be exciting, there are also the graves for those who didn't garner top billing in a history book, but made their own contributions to society. Dianne Hartshorn, founder and director of Evergreen Heritage (formerly Evergreen Cemetery Benevolent Society) has accidentally made the acquaintance of many a long-departed community member as she raises money and helps restore and repair old headstones. The city can't care for them, as headstones are considered the family's private property.
"They didn't leave behind big monuments, but they were here. They contributed," Hartshorn says. "They had a family and those families had children. We are all connected to those who came before us."
Some of those people include Spottswood Rice, who's buried in Evergreen's Civil War section. He was a slave who gained his freedom fighting in the war and wrote a letter to the woman who still had his family in bondage and slavery, telling her he'd come for them. After he made good on his promise, he started the first African Methodist Episcopal Church in Albuquerque and also founded the first AME in the Springs.
"There's so much out there on him, so it's surprising we didn't know about him," says Hartshorn. "It's a book-worthy life story."
Poet Frank Maynard, who wrote the famous song "The Cowboy's Lament," which most recognize today as "The Streets of Laredo," also is buried at Evergreen, says Hartshorn. And over at Fairview rest the bodies of Palmer's horse trainer and valet.
"There are so many people in Fairview and Evergreen that are unmarked," she says.
"Back in the day, when we were a mecca for tuberculosis patients, so many came out here, usually at the last stages of TB, and often got off the train and died within days. If they weren't able to be shipped home, a lot were buried in the pioneer section, the old potter's section."
City cemeteries today
Chances are you won't be able to nab a final resting spot at Fairview, where about 12,500 are interred (including full caskets and cremations), though there might be some individual spaces remaining, says Kim King, recreation and administration manager for the city of Colorado Springs. Your best bet is Evergreen, where there's at least another 30 years of inventory available, King says. You'll be in the company of about 85,000 residents.
Both cemeteries combined see about 600 to 625 services every year. And while caskets are still the more popular choice, King sees the number of cremations increasing. Green, or natural, burials also are available.
Taxpayers don't pay for our two city-owned cemeteries. As an enterprise operation, revenue is generated through the sales of plots, foundations and niches, an above-ground space for an urn. It also includes fees that come with services, such as interments and inurnments. King says the enterprise typically breaks even through those sales and services, as well as annual support from its endowment fund.
Last year, the two cemeteries had an operating budget of slightly more than $1.4 million.
The future of cemeteries across the country seems fuzzy, what with their large expense and the increasing unavailability of land, says Headle, though Evergreen still has space to be developed.
"Nobody wants a cemetery in their backyard," Headle says. "There are some city cemeteries across the U.S. that see themselves going out of business in 10 to 30 years. As more become closed, what do we do? Twentieth and 21st century Americans don't want to deal with death. We avoid it at all costs."
That avoidance and fear of death started in the last three or four decades, she says, and is a result of becoming a much more mobile and instantaneous society. We're always on the move and wrapped up in our own lives.
We don't talk about death, she says, or plan for it, which does a terrible disservice to family members who then don't know what to do, but are in a hurry to do it.
"It takes a pandemic for us to look ourselves in the mirror and say I may not be around," Headle says.
"And you get so many deaths and the hardest hit are those who are poor. We can't bury the bodies fast enough because we're running out of space. It's the nature of the society we live in, which is a simplistic argument, but it requires all of us to change individually and collectively."Contact the writer: 636-0270