DENVER • This is the quiet part.
Alone and surrounded by stainless steel, Martin Howard barely makes a sound. His methodical moves around the kitchen form a sort of dance as he sprinkles flour over dough and pinches edges of crust and places pretty pies in boxes. He knows all the steps of this dance well. He's in a rush, but doesn't say so. Just glances up at the clock.
Here, he can let his mind wander. He thinks about new dresses to make or new songs to sing. Here, he doesn't have to put on a show. Here, Martin Howard is just Martin Howard.
Then, he races home to transform. He trades his black chef uniform for shorts, a hoodie and white Nike socks.
"Before I do anything, I have to shave," Howard says. "And I have to put on The Carpenters."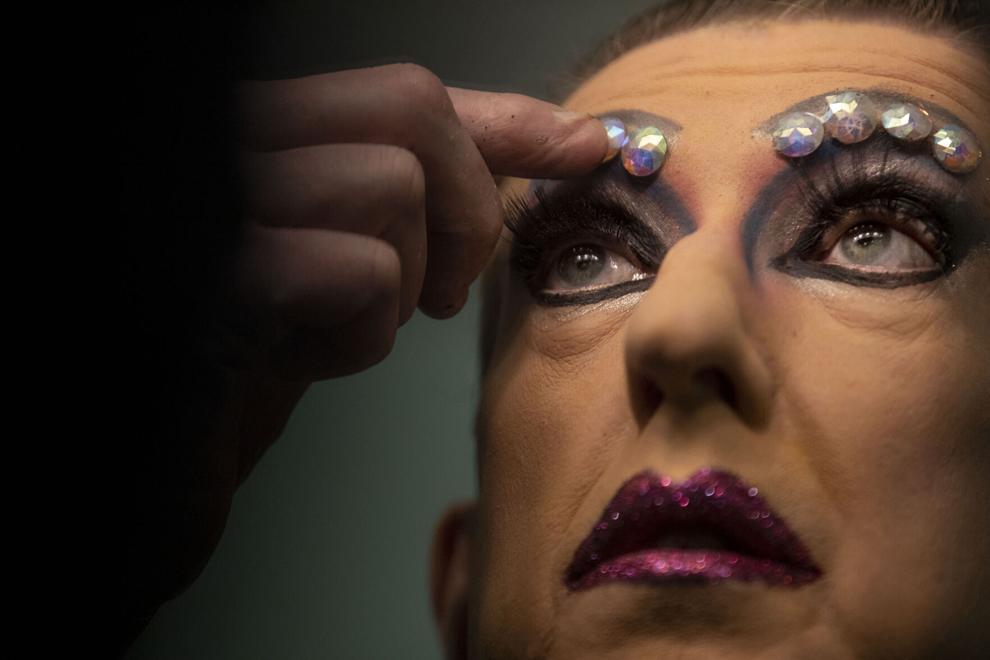 In front of his bathroom mirror, Howard adds layer after layer of makeup as he sings along to songs like "Rainbow Connection." Rhinestones go above fake eyebrows. Eyelashes are chosen from a drawer full of eyelashes. Lipstick isn't just red, but glittery.
Next comes blue fishnet stockings and a frilly blue dress and fluffy coat. And lots of pearl necklaces. Suddenly, he's no longer Martin Howard, the pastry chef. Meet Chocolatina, the queen of dessert. She's also known as the Denver Pie Queen.
Later, when Chocolatina arrives at a stranger's house pulling a red wagon behind her little high-heeled steps, someone will recognize the sight from TikTok, where videos of these pie deliveries via a singing drag queen have hundreds of thousands of views. They know they're about to hear a song, maybe one by Barry Manilow. But they don't know everything.
"Did you make the pie?"
"Yes, honey," Chocolatina responds over a microphone. "I do it all."
How are they to know this moment was made possible by hours spent in the kitchen. That this drag queen in their front yard is also an award-winning pastry chef who moved here from New York City. His face has appeared on covers of magazines and on "The Food Network with Bobby Flay" and "Good Morning America," among other TV shows.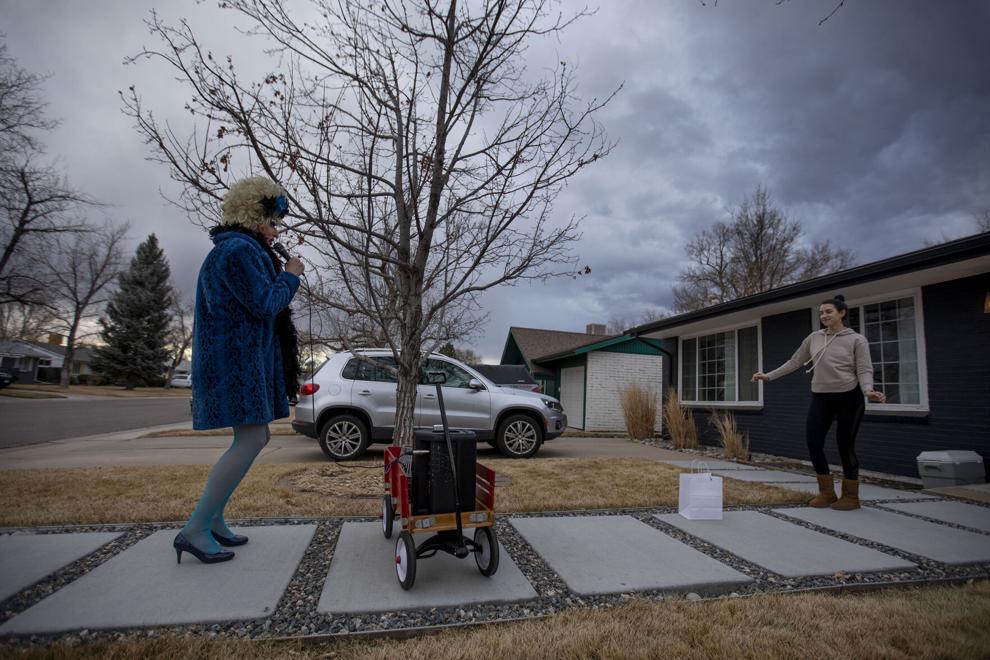 Howard doesn't dwell on all the details.
"Yeah, I've been around," he might say. "I've got some stories."
His story starts at home in Columbia, Md. He'd help his mom bake cookies and cakes, a love that took him to the Culinary Institute of America in New York. And he stayed in New York for the next 30 years, as his career took off. He landed pastry chef jobs at the esteemed Rainbow Room and helped open restaurants and became known for his extravagant and whimsical use of chocolate.
So when it came time in the '90s to choose a drag name, Chocolatina made sense.
"A lot of gay men dabble in drag," Howard says. "It was just something for fun."
It turned into more than that in 2009, when he won the title of Miss Stonewall Inn in honor of the 40th anniversary of the Stonewall riots, when pride began. After winning the pageant, drag was no longer just a hobby.
Howard used to say he'd never leave New York. But the city was changing and he got tired of his 400-square-foot apartment and not having a proper kitchen. And his mother passed away, so he didn't see much reason to stay. He moved to Denver four years ago.
Here, he has a two-bedroom apartment on the top floor. He painted the walls blue and hung up retro posters and has plenty of closet space for dresses and jewelry and all the fixings for a drag queen. He even has a tiki bar-themed patio.
The space has come more in handy within the past year, as Howard has hosted virtual drag brunches. And as, most recently, he started a business that has kept him very busy.
The idea for the Denver Pie Queen came about "on a random July day."
He made a pie for a friend's dinner party. He took a picture for Facebook.
"It was just a pie," Howard says, with a hint of confusion. "And it got so many likes."
Weirdly, the pie photo got more likes than a lot of drag queen photos. It got Howard thinking. At that time, he was on unemployment from his pastry chef job due to the pandemic. And he wasn't getting to perform much.
When he got back home from the party, he started a Facebook page for The Pie Queen. The concept? Have a drag queen bring you a pie and a song. There are other options, depending on the day of the week.
Thanks to boosts from media and viral TikTok videos, news of the Pie Queen spread like butter. It was a pleasant surprise for Howard.
"People are starved for entertainment and I guess they're starved for pie," he said. "And me, I was starved for business."
It felt like a longtime dream was falling into place.
"My dream has always been to have a pastry cabaret," he said. "It's actually what I wanted to do all along. It's just taken me forever."
And he gets to make people's days. Orders come in for 50th birthdays and Saturday hangouts and anniversaries. He says wives have started to order a song and pie for their husbands.
"Who doesn't like a hot daddy?" he says. "That's fine with me."
On a recent afternoon, the Pie Queen showed up on Melissa Doniak's front porch ahead of her 33rd birthday.
"Oh my gosh," she said, as she opened her front door and pulled out her iPhone. She wasn't the first to say she felt underdressed in the presence of Chocolatina.
"It's OK though," Doniak said. "You're shining for both of us."
When the Pie Queen does her thing, she shines. Orders sell out most weeks. There's talk of a food truck or brick and mortar location someday. And Howard gets to combine his two loves.
"I have always felt there is a pastry chef in every drag queen," he says. "I think it's just natural for pastry chefs to be drag queens."
Both trades are "artistic and flavorful," he says. "And you can make it as fun as you want." And, personally, he can relate to how something in the kitchen transforms.
"What is a cake, really?" he says. "It's just a plain little baked thing in drag."