A 500-pound star is born.
As the chant "We want Ralphie" thundered through Folsom Field in Boulder, a pre-adolescent buffalo calmly waited in her pen, taking in the hoopla. Then Ralphie VI introduced herself to the world, with dark brown fur and doe eyes and tiny horns that have inches to go before becoming the handlebar mustache-style horns buffaloes are famous for.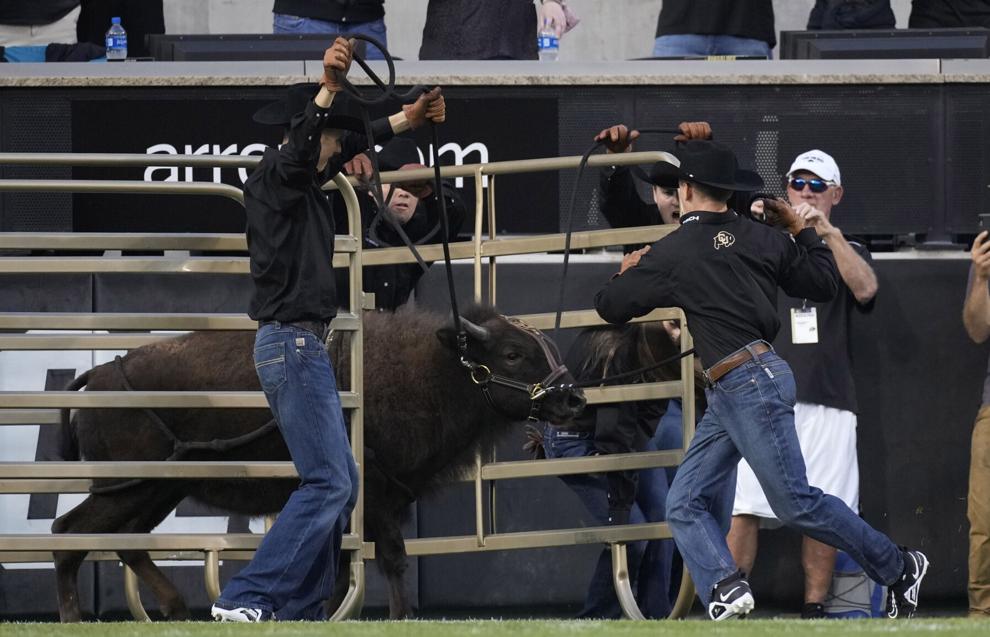 After a year of no fans in the stands because of the pandemic, the hyped-up crowd was ready for some football. But on this Friday before Labor Day, a pregame performance had equal footing: the debut run of Ralphie VI, the newest live mascot at the University of Colorado.
As a 15-person team of Ralphie handlers — all CU students and all cloaked in Western wear that included black cowboy hats — congregated around her pen in the northeastern corner of the stadium, preparing to run alongside the galloping beast on her horseshoe route, Taylor Stratton whispered a few last words into the youngster's ear.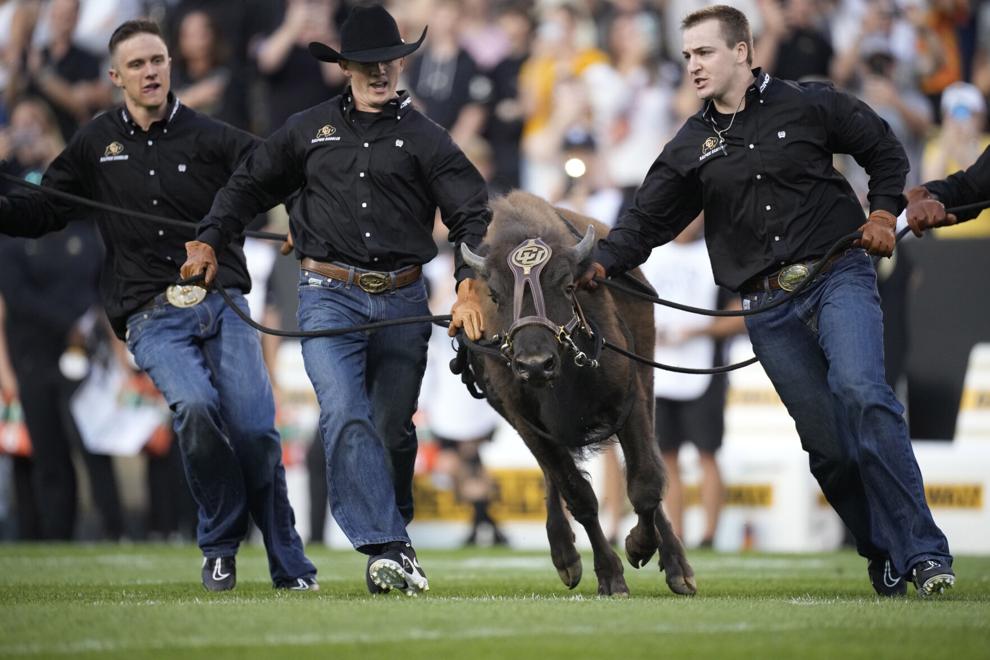 "I told her she was the best and bravest buffalo in the whole wide world, and she proved me right," said Stratton, a 2009 Cheyenne Mountain High School graduate and manager of CU's Ralphie Live Mascot Program. Stratton spent four years as assistant manager before taking over in April 2020, making her the second woman to head the program founded in 1966.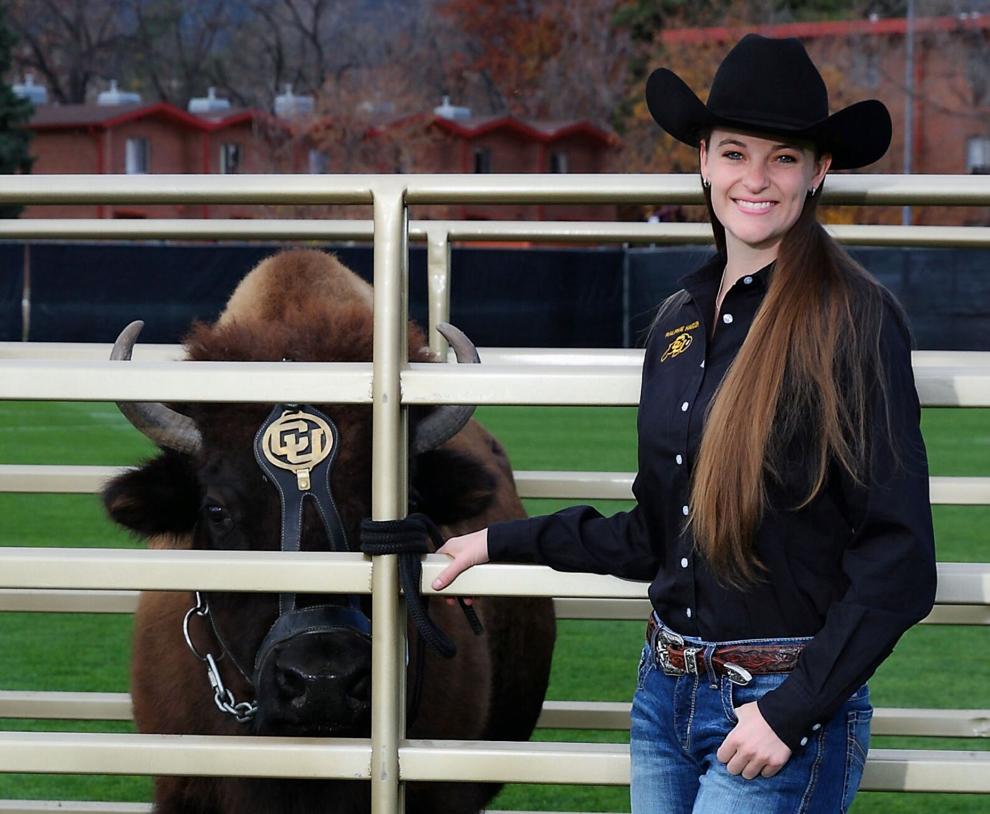 It was a job well done for both young Buffs, who fulfilled their mission to pump up the crowd as the team emerged from the stadium tunnel before the game and again toward the end of halftime.
"We're trying to progress to that next stage where we can run out with her, but she's a baby," football coach Karl Dorrell said. "She looks good and I think she enjoyed it, having the crowd cheer for her. She's going to be a good one, and she's got an interesting personality, too."
Origin of Ralphie VI
Prepare to adore this 15-month-old buffalo even more: She was an orphan when Nebraska ranchers found her and brought her back to their ranch, where she was adopted and raised by a beef cow.
She came into the hands of CU alum Will Isham, owner of Isham Ranch, south of Rapid City, Neb., when he got word from his daughter, also a CU alum, that Stratton and the Ralphie program were on the hunt for a new buffalo. Ralphie V retired after the 2019 football season, having served as mascot for a dozen years. She now lives on the same undisclosed Colorado ranch as Ralphie VI.
"Taylor told us what she wanted, and we looked for that type of animal," said Isham, who graduated from Cheyenne Mountain in the late 1970s.
"Their program wanted something that hadn't grown up around buffaloes and had been without its mother. That's how they want to get them started. They have to start out as a baby, and they wanted it to be weaned from its mom early."
Isham found Ralphie VI, bought her and donated her to the university. He delivered the little girl himself.
"Buffaloes are great creatures," Isham said "They won't charge you. They'll try to get away from you. The only time they're dangerous is when they're calving; then they're scary to be around. Buffaloes just want out. Another big thing is they all come at once. They have a herd mentality."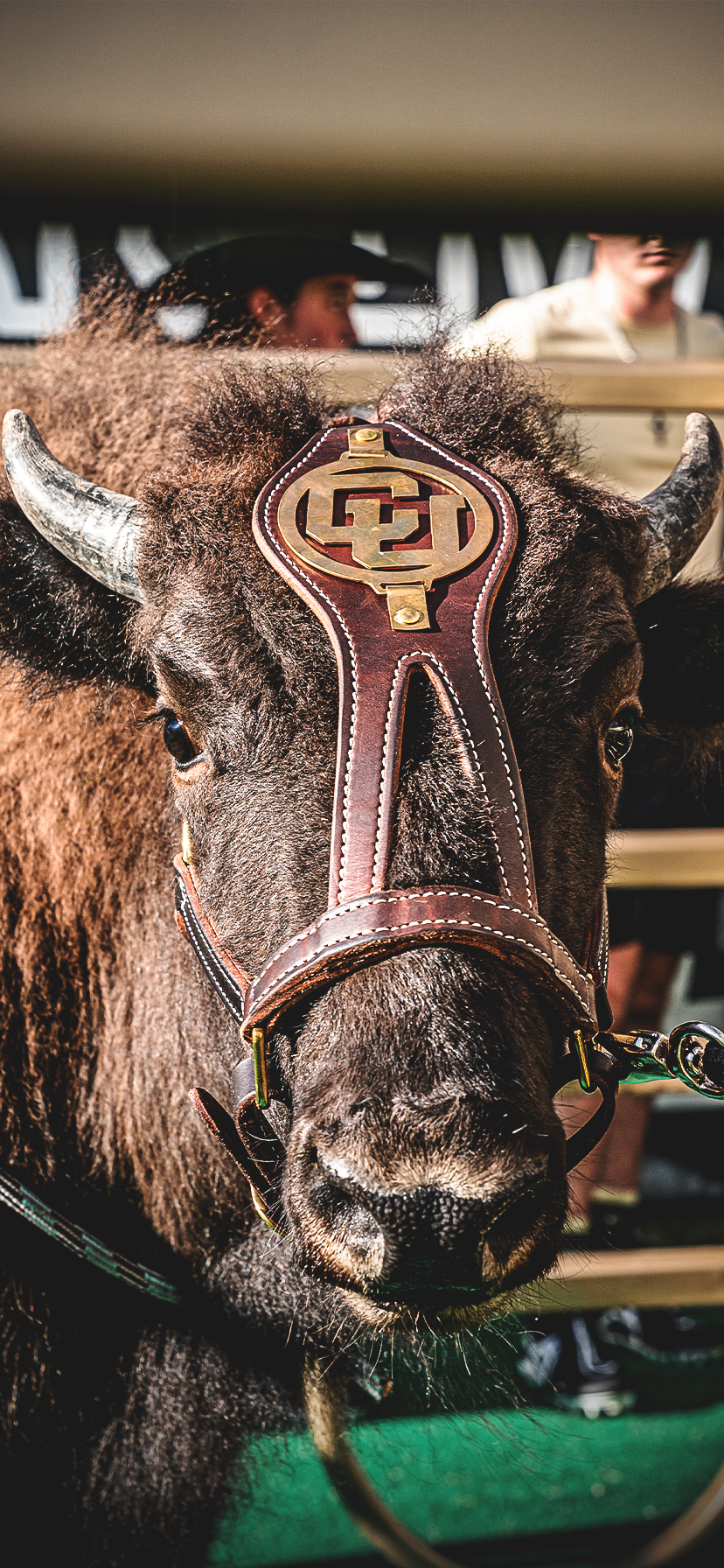 Baby Ralphie was 4 months old and 100 pounds when she arrived at her new Colorado home. Stratton, who also spent three years as a Ralphie handler before graduating in 2013, immediately got to work making friends.
"I brought a sleeping bag out and spent several nights in the barn with her," Stratton said. "She's used to me. She knows us. But no matter how comfortable you get around large animals, they are large prey animals. They're unpredictable. No one should ever forget that safety is top priority."
Colton Behr, the program's assistant manager, calls Ralphie a sweetheart: "She's very comfortable around humans and is pretty calm and very curious. She likes licking gloves and jeans. At the ranch, she likes looking at our phones and shovels and wheelbarrows, any tools. She likes her people, too. Wherever we go, she wants to come with us."
But she does have a penchant for one particular human: "Colton is her favorite person in the world," Stratton said. "She follows him around."
Behr, a graduate of CU and Discovery Canyon High School, was a handler during all four years of college. He ran with Ralphie V about 40 times on game days and 200 to 300 times in practice sessions. "You're holding the rope and all of a sudden you're at the trailer," he said.
"Every single time is just as fun as the first. You're getting the feel of the crowd, hearing the crowd chant 'We want Ralphie,' and feeling the stadium shake."
Training camp
Running around Folsom Field would be unnerving for any creature, let alone a young buffalo. The bright lights, the screaming fans. But that's where training comes into play. It's a rigorous process, but one Stratton feels comfortable with, after growing up on a ranch with beef cows and quarter horses south of Colorado Springs.
Getting Ralphie used to running into her trailer was step one, followed by having her run with handlers without ropes, then handlers with ropes and eventually the horseshoe pattern she'd do on game day. To get her accustomed to the noise inside Folsom Field, Stratton played crowd sounds on her phone and took Ralphie to the stadium for practices alongside the football team and dance and cheer teams.
"I was just so proud of her and the team," Stratton said about Ralphie's debut. "It's a hard thing to ask of a wild animal that had less than a year. We did a lot of training to make sure she's prepared."
There will be less work going forward for the animal, who's estimated to end up smaller than her predecessor, an intimidating 1,300 pounds. She'll be full-grown by age 5 and reach the majority of her final size by age 3. Stratton still sees her six days a week for animal behavior training and wellness checks, and she and Behr also provide her with enrichment. They give her toys to kick and headbutt, including a jolly ball, which is tied up like a tetherball for her to play with.
"I love it. It's the best job in the entire world," Stratton said. "I could not feel luckier. I love getting to wake up every day and work with my athletes, both the two-legged and four-legged kind. Folsom Field on game day is an experience like no other."