Contemplative Trail is aptly named. It's all birdsong, pine scent and ancient slabs and pillars defining Red Rock Canyon Open Space — a journey of the senses that comes, too, with splendid views of Pikes Peak and the foothills.
At the end of the short path, that journey can continue. Here we propose a loop that we consider a classic — a route that explores the varied beauty across the western and eastern edges of the open space.
Contemplative accounts for the west side. From the parking lot, start through the meadow and see the post pointing gently uphill for Sand Creek Trail (this meets Contemplative). At last visit, we found buck and rail fencing and other signs of recent work meant to better mark the path that sometimes appears to split; if in doubt, stay along that fencing, take timber steps where you see them, and stay trending south.
In less than a mile, Contemplative Trail ascends stairs to a four-way. Keep left for Quarry Pass Trail. Stay by the fencing for the path that rises for wide-open views of Garden of the Gods and the city. At a "Y," veer right to continue for more views featuring the popular pond below and Cheyenne Mountain in the distance.
The trail skirts a ridge where the next destination reveals itself: the massive rock wall that some call "the whale," its red body swimming with blue sky. The trail descends to another "Y." Continue right, uphill, to pass the old quarry's square gap.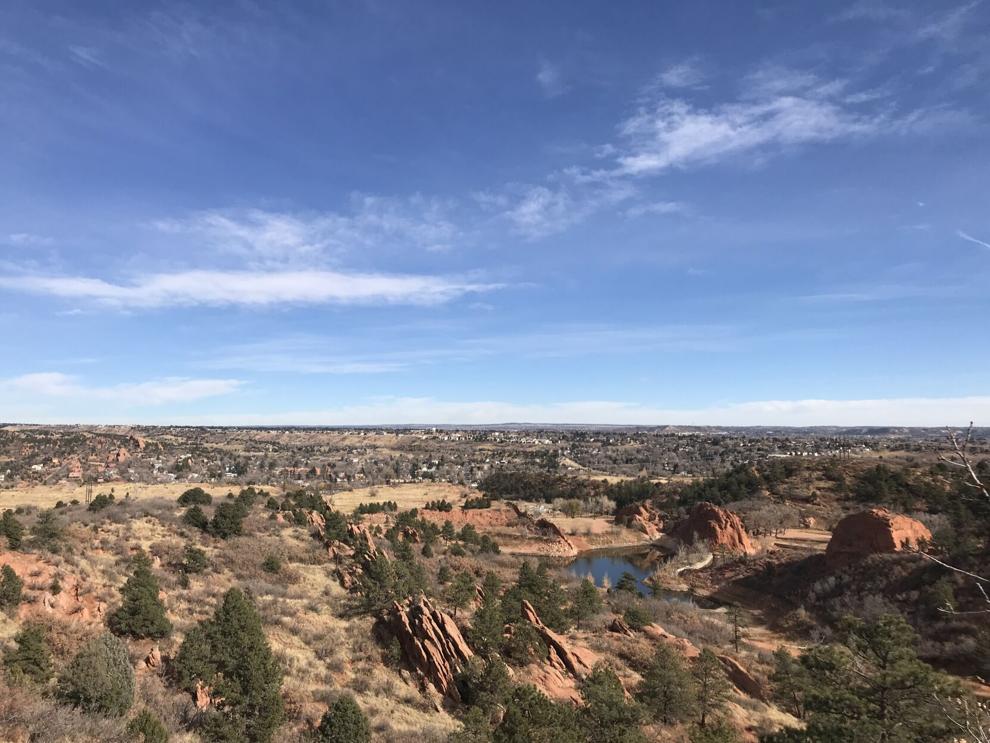 In the passage, see the steps descending to the meadow framed by more red rocks. Continue straight to those walls and meet the wide path under them. Go left back to the parking lot, stopping to enjoy the pond on your way.
Trip report: 2 1/2 miles round trip (loop), 315 feet elevation gain
Difficulty: Easy
Getting there: Open space located off U.S. 24, across from Ridge Road. 3550 W. High Street. Driving in, Contemplative trailhead to the right of traffic circle.
FYI: Hiking only on Contemplative Trail. Dogs on leash. Icy in winter; bring traction. Don't leave valuables in car.