Not a skier? Then you might feel out of place in Colorado during the wintertime.
But the state has plenty more seasonal fun for you and the whole family. Add these to your must-do list:
Venture to Black Canyon of the Gunnison
What better time to check out the national park than in its 20th anniversary? And it might be an unpopular opinion, but we think winter is a great time for a visit.
The geologic wonder is all the more impressive these months, when the river-cut pinnacles and spires are draped with snow. And the silence is amazing, with South Rim Drive unplowed, preventing motors. Instead, the scenic, 6-mile road is groomed into a cross-country ski trail.
Trekking into the inner canyon is ill-advised. Strap on the snowshoes and tour the Oak Flat or Rim Rock trails.
Snowmobiling
With so much Rocky Mountain majesty to see and so little time, it's no wonder snowmobiles are so popular around here. Zoom through powder and feast your eyes on signature beauty.
Wherever your travels take you, there's a good chance an outfitter is nearby. Steamboat Springs, Grand County and South Fork are well-known hubs. Don't overlook Meeker and the many miles of groomed and ungroomed trails weaving the marvelous Flat Tops Wilderness.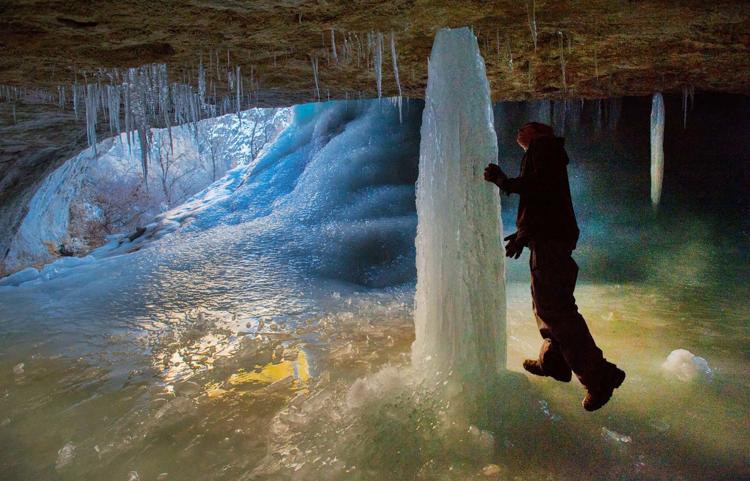 Seek mystery of Ice Caves
Wait until winter takes a firm hold on the Western Slope town of Rifle. That'll be when cascades freeze over limestone cliffs — like bluish curtains over fantastical caves of icicles. Those are found along the Kopers Trail in Rifle Mountain Park. Nearby Rifle Falls State Park is a surprising, tropical-seeming escape in the summer. But the triple waterfall is no less spectacular in the winter.
Dogsledding
Another memorable mode of winter travel in Colorado is from a sled pulled by a mushing bunch of huskies. You'll have a new appreciation for the kinship between man and dog, as a team takes you across snow-swept meadows and through glistening woods.
Highly rated tours can be found in Pagosa Springs and Breckenridge. For an up-close look into the sport, be on the lookout for the annual Mount Massive Mush, where teams converge in Leadville for races free to the public. The event last year was hosted on February weekends.
Celebrate the season
One option is Breckenridge's Ullr Fest, in honor of the Norse god of snow. The colorful parade is the centerpiece of a weekend filled with live entertainment, bonfires and activities.
Also in January is the Ouray Ice Festival, where you don't need axes and crampons to enjoy yourself. The Switzerland of America is the place to be when climbers take on the solid sheets and daggers of a natural gorge.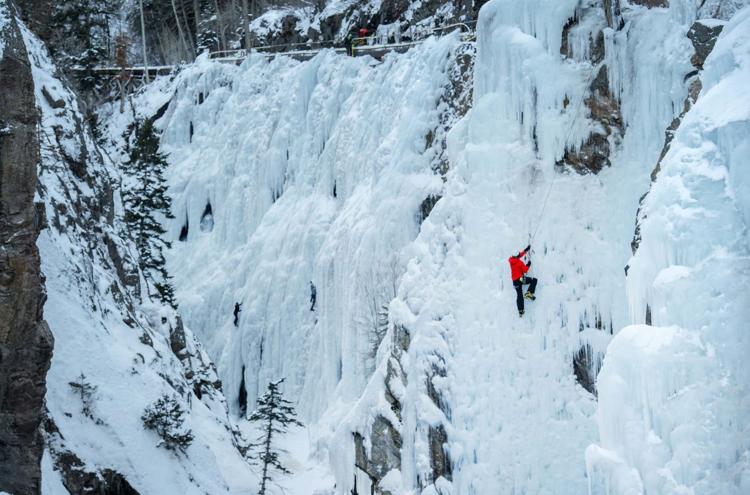 The Steamboat Winter Carnival claims to be the oldest of its kind west of the Mississippi, with 2020 marking 107 years of cold weather shenanigans. The five-day affair has featured fireworks, ice sculptures, and horse-pulled skiers.
Soak it all in
There's no better time to feel the restorative effects of geothermal waters than with white-capped peaks looming and a gentle snow falling.
The hot springs are famous in Steamboat, Pagosa and Glenwood, as they are in Ouray and Buena Vista. A bit off the beaten path is Valley View Hot Springs, with enchanting, mossy ponds overlooking the San Luis Valley.
Find magic at Ice Castles
The company transforming select places around the country into swirling, glowing wonderlands has seemingly found a staple in Dillon.
Once again from a baseball field will sprout cathedrals, tunnels and fountains infused with LED lights, flashing the colors of the rainbow. Under the stars adults have felt like kids again.
You'll want to buy tickets in advance at icecastles.com.