Nothing says "comfort food" like biscuits fresh from the oven.
Those glorious rounds of fat and flour have been staples at restaurants for decades. They're coated with sausage gravy for breakfast and often tucked into bread baskets at dinnertime. And if you make your own, you might draw inspiration from their offerings, family recipes or cookbooks.
The Denver Biscuit Co., which opened last year, has taken the humble biscuit to a whole new level by turning it into an entrée. Its fluffy biscuits are about 6 inches in diameter and can reach 6 inches in height, depending on the fillings. They range from The Cordon Bleu, with buttermilk fried chicken, ham, cheddar cheese and honey butter, to The Elmer, with smoked pulled pork, barbecue sauce, fried onions, coleslaw and house-made pickles.
Biscuit entrees are the brainchild of eatery owner Drew Shader, who brought the "true Southern biscuit" to Denver in 2009. He also owned the Atomic Cowboy bar but thought a food truck featuring buttery biscuits sounded like a good idea. After recipes were tested, the biscuits caught on, and the food truck idea was scrapped in favor of bringing the Denver Biscuit Co. under the same roof as the bar.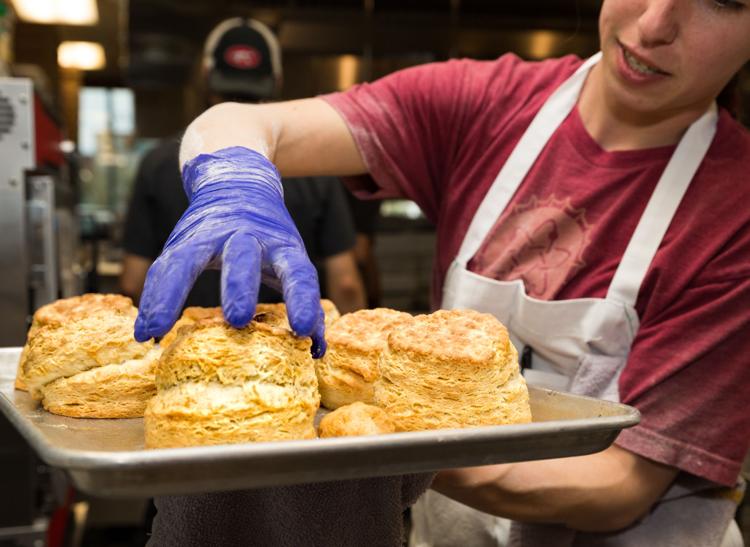 Today that kitchen turns out hundreds of biscuits daily and up to 1,000 every Saturday and Sunday morning, says Nick Flowers, executive chef for the Atomic Cowboy.
"We make about 11 doughs a day," he said. "Each dough has 3½ pounds of butter, yogurt, buttermilk, eggs and flour. We get 24 large biscuits from each batch."
Flowers' favorite? "The Winona. It's a split biscuit with buttermilk fried chicken topped with a scoop of homemade Tillamook cheddar pimento cheese."
Pans of piping-hot traditional biscuits can be found at Juniper Valley Ranch, where they've been served with family-style fried chicken or ham dinners for 68 seasons. Preston Dickey is the fourth generation to work at the weekend dinner-only eatery; his father, Greg, has owned it 35 years.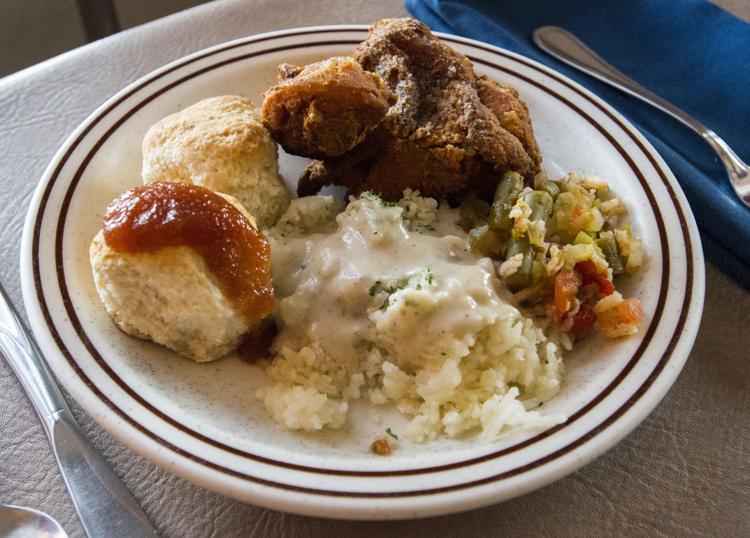 "My great-grandma Ethel, one of the two sisters who started the restaurant, created our recipe, and we haven't changed it one bit," Preston said. "There is really nothing special about it. We use all-purpose flour and shortening, but we make the dough from scratch every day we are open and then bake to order."
The dry ingredients are mixed before the restaurant opens, he said.
"Then dough is made multiple times a night. Ethel had this uncanny ability to always have fresh-baked biscuits coming out of the oven right as our guests' dinner orders were being called in. So the biscuits arrive fresh and hot out of the oven in a metal biscuit tin. We think this makes a huge difference and is still how we do it.
"Every single biscuit is rolled out and cut by hand," Preston added, "and we are always very careful not to overwork the dough at any stage because they lose their consistency and don't rise correctly in the oven."
A special treat is topping the warm split biscuits with homemade apple butter.
For tips for the home cook, we turned to the veritable queen of biscuits: Nathalie Dupree, an award-winning cookbook author and expert on Southern cuisine.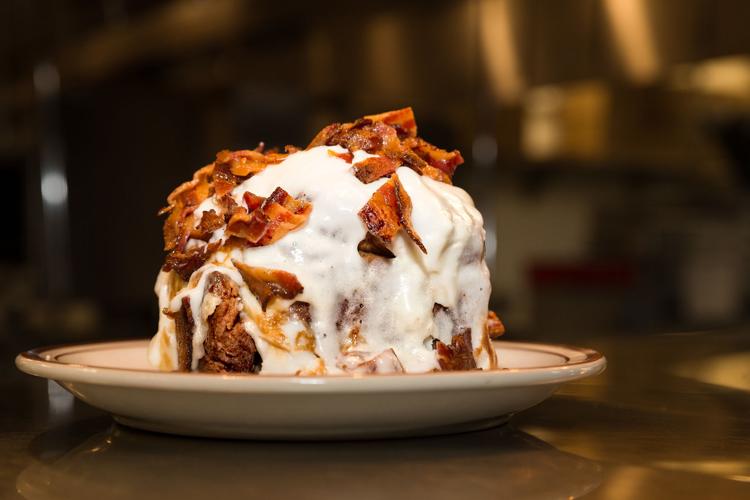 Her favorite recipe is the simple Rachel's Very Beginner's Cream Biscuits, which uses flour, cream and butter.
"Southern biscuits stand out because they are made with a low gluten flour," she said. "It's different from other flours. The best for biscuits are White Lily, Martha White, Southern Biscuit and Midstate Mills."
These can be ordered online, or you can make a substitute.
"To substitute, purchase an all-purpose flour, not wheat bread flour, such as Pillsbury or Gold Medal. King Arthur all-purpose flour behaves like a bread flour having higher gluten," she said. "Mix 1/4 pastry or cake flour with 3/4 all-purpose flour and see how tender it is. If you desire a more tender biscuit, increase the amount of pastry or cake flour in relationship to the all-purpose."
Get a flexible cutting board. "Or a Silpat baking sheet. Rather than kneading a dough, fold it by folding the flexible board or using hands. Start with a sticky rough dough, pat it out to the desired thickness, fold in half, pat out, fold in half, and repeat. Pat out to desired thickness."
Dupree recommends flouring the board as you work. Use a 2- to 2 ½-inch round or square, straight-sided biscuit cutter with a sharp edge.
"Work from outside of the dough in to get more biscuits," she said. "Beware of twisting the cutter as it presses down on the dough. This too creates an irregular exterior as well as pushing down the sides, which prevents the biscuits from rising."
Place biscuits in a cake pan or on a small pizza pan.
"A smaller pan is better than a large one, so the heat can circulate evenly over the pan," she said.
Whether they're served as an interesting entrée or as a side to a meal, biscuits always satisfy. Pass the butter, please!
Contact the writer: 636-0271.