HINSDALE COUNTY • The thrill-seeking people in Jeeps and ATVs rumble forward on Engineer Pass, this steep, hard path at nearly 13,000 feet, where the San Juan Mountains scrape the sky in every direction and the wind blows cold.
Out of sight is the scene at the end of a side road, down the meadow.
"Muchas gracias, muchas gracias," Dominic Inda says to the man whose skin is darkened by the sun. Inda bows slightly as he gives Jesus Solorzana Astete a firm handshake.
Astete is the hired herder of another rancher. But not having much else, sheep men help other sheep men, so Inda is borrowing Astete's services, while his own man mends a sprained ankle. Ricardo Mendoza Ulloa, carrying an H-2A visa from Peru, like Astete, remains at camp, prepared to help however he can despite the right foot swelling from the flip-flops he wears.
He's back for a fourth year because here there is "paz," peace. He stands by the little wagon with "HOME" labeled above the door. He wields the bending staff, the biblical symbol of the shepherd who always has kept watch of the animal that can't defend itself.
A good herder, Ulloa says, watches the sheep "como si fueran suyas" — as if they are his own. And that's what he intends to do, despite the injury that came as he was moving the flock through this high country, in search of the summer tundra's high-quality nutrition.
"No matter what you ask of him, he's going to go above and beyond," says Inda, a second-generation sheep producer who once managed to hire an American herder, a friend. The man got bucked off a horse and decided the job wasn't for him.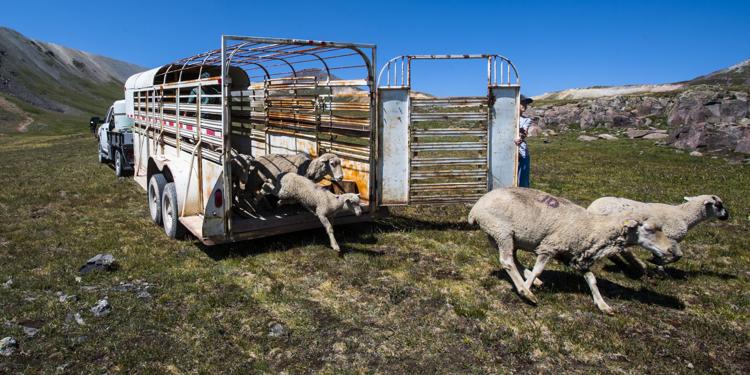 Inda's father came from Spain to raise sheep in Colorado, like so many Spanish-speaking men before him. It took then what it takes today: grit.
"It takes guys who are willing to brave the conditions," Inda says, "and be by themselves."
The old western tradition will be honored Tuesday, Aug. 7, on Engineer Pass during the 20th Sheep Day, the off-the-radar celebration between Ouray and Lake City that ranchers started as a way for their industry to be seen and understood. The wagons criticized for their livability, or lack thereof, are set to be displayed where living conditions are some of the harshest. Passersby can feel the wool and taste the meat.
"Having the experience first-hand, seeing that stunning scenery, this huge alpine scenery you can see forever and ever, and seeing the sheep in the middle of it, it's like seeing something on TV," says Clare Hydock, who helps organize the event for the U.S. Forest Service. "And realizing the lifestyle continues in 2018, wow."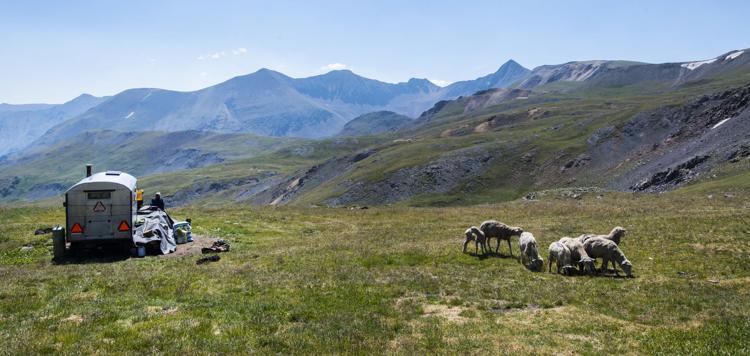 The shepherd is still in his wagon, though now it might be equipped with solar panels and running water, and cellphones are common. He still orders the border collies that keep the flock in line. He's still making money for his family and feeling the loneliness that urged some throughout history to carve messages on aspen trunks, notes and images of love longing and faith keeping.
But sheep are fading throughout Colorado. The Grand Mesa, Uncompahgre and Gunnison National Forest that Hydek represents reports a grazing trend similar to that across the state.
The forest permitted 122,000 sheep in 1919, after World War I saw a great demand for wool. That number was 67,000 in the years shortly after World War II, the next demand. Now the number is closer to 27,000.
"The demand is just not there," Inda says.
While cotton and polyester dominate clothing lines, synthetics have replaced wool. Americans eat chicken and beef, lamb being a luxury served cheaper frozen from Australia or New Zealand.
But Muslims around the country prefer Colorado lambs for their natural upbringing, says Andrew Gulliford, history professor at Durango's Fort Lewis College. He found that fact as he researched his new book, "The Woolly West: Colorado's Hidden History of Sheepscapes."
Gulliford has learned of other threats to the industry. Land managers, he says, are increasingly wary of domestic sheep transmitting harmful diseases to the numbered bighorn sheep. Imposing guard dogs are increasingly wary of more outdoor enthusiasts.
As wolf reintroduction debate swirls, what would the predators mean for ranchers? What could the current administration's anti-immigrant rhetoric mean for the future of the H-2A program?
"The high country is really going to be a flashpoint for a variety of things in the next decade or two," Gulliford says.
But Inda's immediate concern is the drought gripping the Southwest. Sheep are needing to trek farther for water, their protectors with them. Ulloa called his boss late last Saturday with the sprained ankle, and Inda drove through the night on the rugged roads to reach his herder in need.
Inda's in it to keep his family tradition alive. "It's a way of life," he says. "It's a way of life that's harder than others sometimes."
He leaves his shepherds with well wishes and joins the traffic high on Engineer Pass. It's a remote, unlikely place for people, but more visitors have been "hermosa," Ulloa says, beautiful.
He's easy to miss this day. Everybody goes up ahead, and he's down this side road, in pain but content, just him and his sheep.