BOULDER • A manager at Neptune Mountaineering spots Gary Neptune, hard to miss as he is barefoot, as he commonly is. Commonly, in midconversation, he'll prop one foot on his knee so that he is standing on one leg, as if meditating, as if making sure his balance hasn't failed him at 74.
"Get my note?" the manager asks.
No, Neptune did not.
"I have a box of rocks."
Neptune lights up. "Oh!"
He's been expecting the next supply hand-picked by climber Huntley Ingalls during his legendary, 1960s escapades in the desert. The rocks have been donated by relatives of Ingalls, who died in 2018.
They're here in a glass case honoring him and pioneering partner Layton Kor, whose "super hammer" hangs beside written correspondence from its previous guardian:
"What a great idea to give Kor's hammer to Gary Neptune so that other people can see it."
Many others have had the same idea.
Elsewhere between Neptune Mountaineering's racks and shelves is gear from Anderl Heckmair, used on the first ascent of Eiger's north face. "I think it was his 81st birthday," Neptune recalls of their meeting. "He gave me the present."
Another time the store hosted Peter Habeler for a speaking engagement. He donated the down suit displayed there, the one he used on the first ascent of Everest without oxygen. Nearby is a backpack from John Huston, the first American to cross the North Pole unsupported.
Here are some other tattered coats, splintered wood skis and peeling leather boots from other audacious expeditions. Here are more rusted axes and crampons and ragtag versions of pitons and carabiners from 1800s Europe. Here's the equipment that Americans put together after World War II.
Here are the pants Neptune fashioned for his Everest climb of 1983, stuffed with pillow feathers. And here's something a Sherpa gave him during another Himalayan trip: a left boot purportedly along for the first Everest climb.
It was not worn by Edmund Hillary. But the man grinned when Neptune handed it over to him to sign.
Boulder's decorated outdoorsman and beloved shopkeeper is also the trusted keeper of climbing lore. He doesn't tout the collection — driving by on busy Broadway, you wouldn't know what more lurked in Neptune Mountaineering.
"Why not spread the word on social media?," Neptune has been asked. For one, he doesn't really use social media. And for another, he says: "There's a real value in coming into the store and looking at it all and touching it. There's something special about that."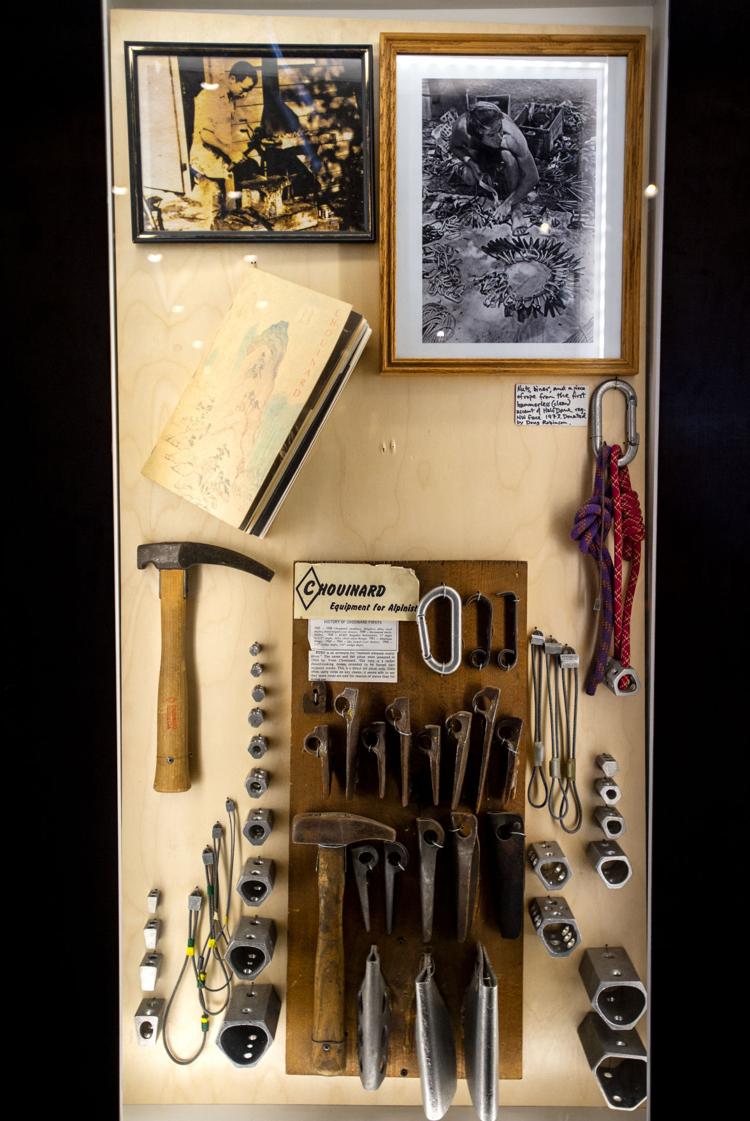 There was something special about the Egyptian pyramids. Neptune spent a couple of his formative years around them, the son of a traveling oil man. Those ancient structures inspired Neptune's interest in history.
As for his interest in climbing, that was sparked in Egypt, too. He made a best friend, Rob, whose father climbed before taking a bullet in the ankle during the war. "He didn't talk about (climbing) a ton," Neptune says. "But still, the whole vision of this guy. ..."
And the sight of the Alps during the family's brief stay in Villars, Switzerland. And the sight of Everest in that book he picked up as a schoolkid in Missouri. ...
He went on to graduate high school in Indiana. He never relinquished that dream of climbing, nor did he lose touch with Rob. The two hatched a plan to hitchhike Europe, a three-month odyssey that would put Neptune on his path to the planet's highest realms.
The Matterhorn was among their stops.
"It wasn't terribly crowded back then," Neptune fondly recalls, crediting the lack of "distractions" to their fairly quick finish in an afternoon.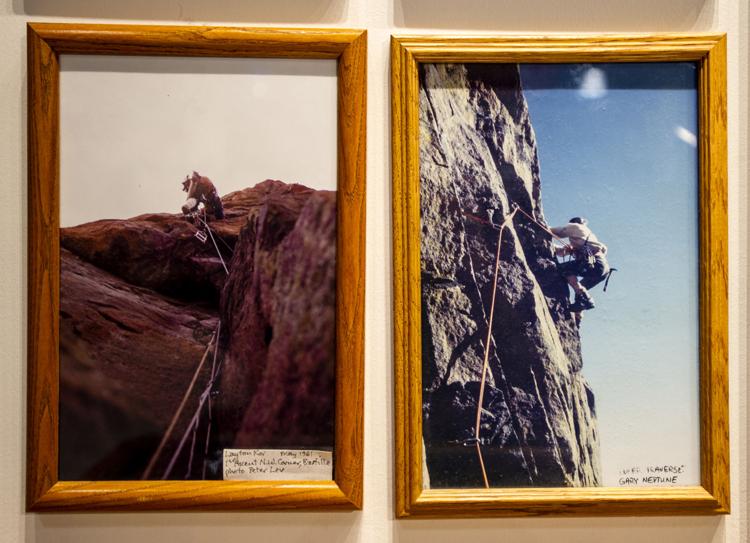 He honed his skills more in 1965, cutting his teeth on Boulder's Flatirons and every 14,000-foot peak he could manage in the summer. He scored a temporary job watching dogs — a means to escape dreary Texas to glorious Colorado.
Yes, he regretted his choice of Rice University. He was, at least, afforded the opportunity of a research trip to Antarctica. On the job, he convinced a fellow student into scaling Mount Andrus with him. "Boy, when we got back, they were so angry," Neptune says.
He wanted to live on his own terms. And with alleviating word that he would not be going to Vietnam — a failed, miraculous physical — he could do just that.
So he moved to a place he loved, Boulder. Eventually, in 1973, he turned some inheritance money into Neptune Mountaineering. He figured he'd repair shoes, sell some gear, "just be a little part of the climbing community," he says.
"It never occurred to me that I was going to be trying to make a living off of some of the poorest people in the world. But that's what I did, and I managed to survive."
He'd live in a trailer on the cheap, grow his food in the garden. He'd find time for the mountains: Ama Dablam his first Himalayan outing in '81, Pakistan's fearsome Gasherbrum II later, and ski touring in between in such vaunted territories as Chamonix.
All throughout, the store garnered acclaim with Neptune bringing in the world's great alpinists to talk. Listeners sat on the floor, which grew from 1,000 square feet initially, to 3,000 a decade later, to nearly 20,000 today.
Amazing, Neptune thinks, considering REI's arrival in Boulder and the internet age that spelled the end for his local counterparts. The years got harder at the shop.
But the headaches aren't his anymore. After 40 years, he sold. Now his sole responsibility is the history he treasures, his old world.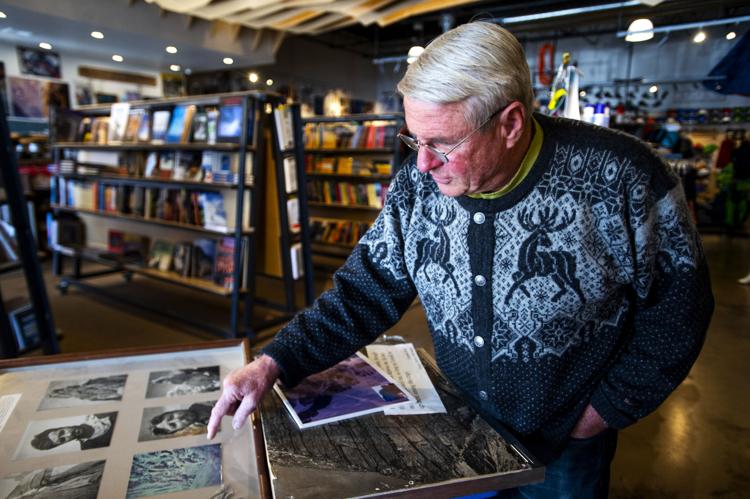 Some of today's climbers appreciate it, he says. "But mostly they're unbelievably ignorant."
Mostly, it seems to him, they disregard the environment and those before them, wrecking rock and replacing bolts to suit their own lower standards. It's as troubling to Neptune as that picture that went viral, showing a parade of people on Everest. "That's not climbing," he says.
And here in Colorado's wilds, he's seen a trend of irresponsibly by inviting the masses with more parking lots and paved roads and such. "I'm not a big fan of all that bigger, bigger, bigger stuff."
Maybe he sounds like a curmudgeon. He's had friends ask him where his humor has gone.
It's at the museum, little chucklers here and there, including an old newspaper headline: "Brain damage leads to mountaineering, study says."
Maybe that's what keeps him daydreaming. There's more to do all right. "Plenty," he says. "But I'm getting too old for it now."
His phone buzzes. A message. He's due somewhere else.
"Well, I better get going."
It's a cold, overcast day, the concrete out the front door even colder, and out he goes in his bare feet.