Where most people see trash, Manitou Springs artist Steve Wood pictures possibility.
An abandoned metal grocery cart half full of sundry odds and ends could be reincarnated as art.
Broken chunks of concrete could become bases for sculptures or stepping stones on a new walking path.
Old bicycle wheels could be strung together to form a fence.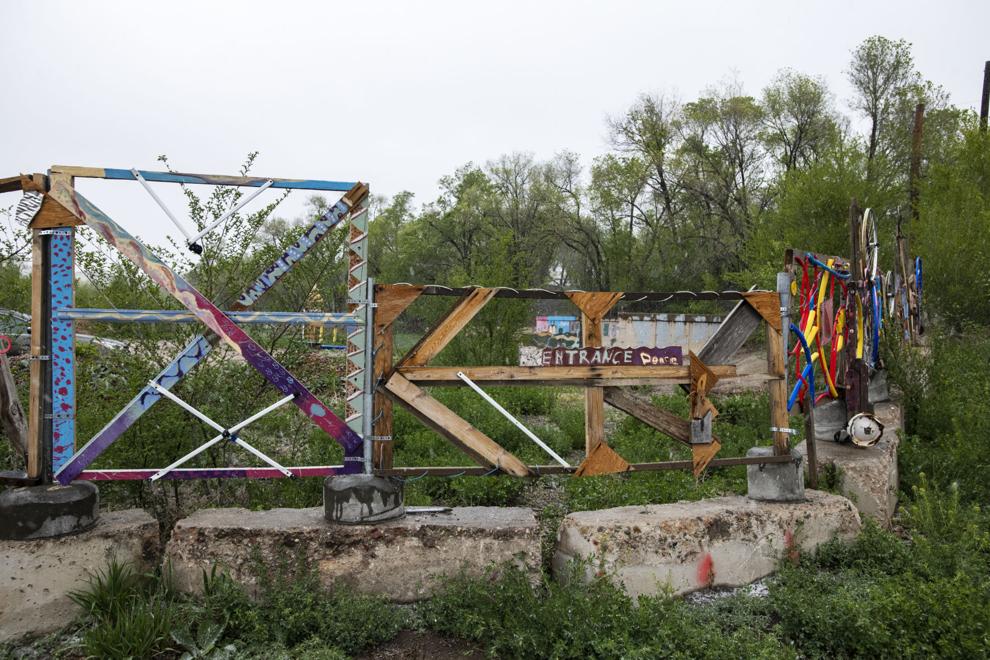 Wood's philosophy of turning eyesores into something eye-catching is in motion at the new headquarters of Concrete Couch, the organization he founded.
For 15 years, the nonprofit has orchestrated community art projects in public spaces, such as murals, bridges, towers, mosaics, playgrounds and park benches. Neighbors, military families, veterans, Title 1 schools, adjudicated teens, senior citizens and developmentally challenged people help with the improvements under the organization's mission to "work with kids and community groups to create public art, to build community, and to create environments and experiences that humanize our world."
After months of securing grants and other donations, Concrete Couch in April bought a former cement and asphalt batch plant next to the railroad tracks near Las Vegas Street.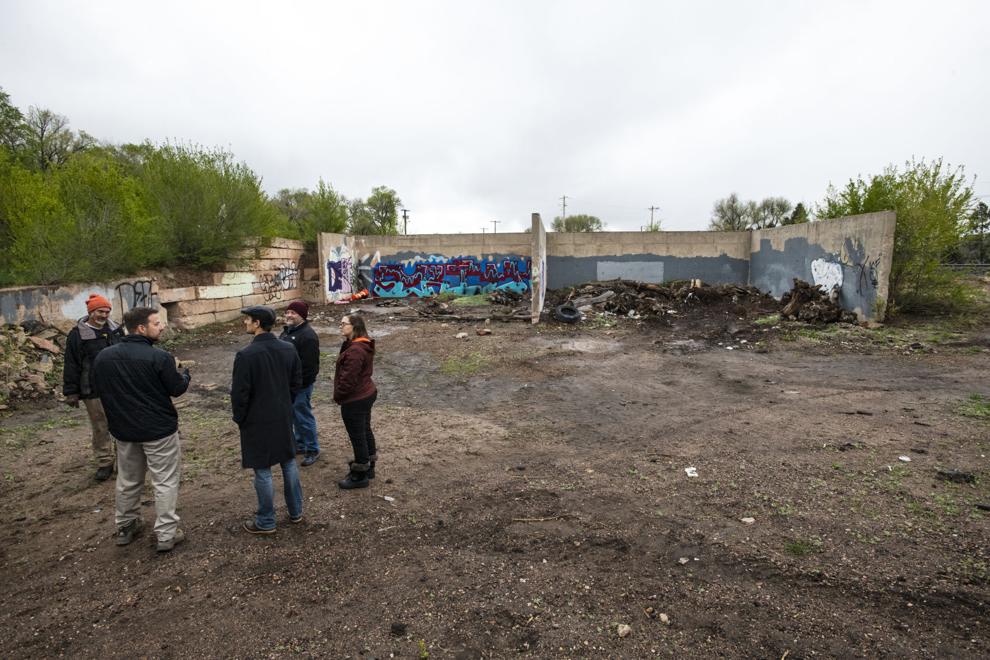 "I'm super psyched about this," Wood said while giving a tour of the land. "What a great opportunity for Concrete Couch, as a community building organization, to embed ourselves in the center of Colorado Springs."
The vacant land, at 1100 S. Royer St., contains what Wood estimates as "hundreds of thousands of yards" of dumped concrete and rocks.
In recent years, the 5.67-acre parcel had been an informal compound for more than 100 homeless campers.
Wood had a contract on the land since last August but had to wait for a HUD grant to come through to complete the purchase. He initially tried to work with the city to let the squatters stay, but that idea didn't seem feasible, and city workers made them decamp and leave the premises.
Over the past few months, Wood and his board members, volunteers and summer interns began transforming the site into what Wood envisions as a community hub, called Concrete Coyote.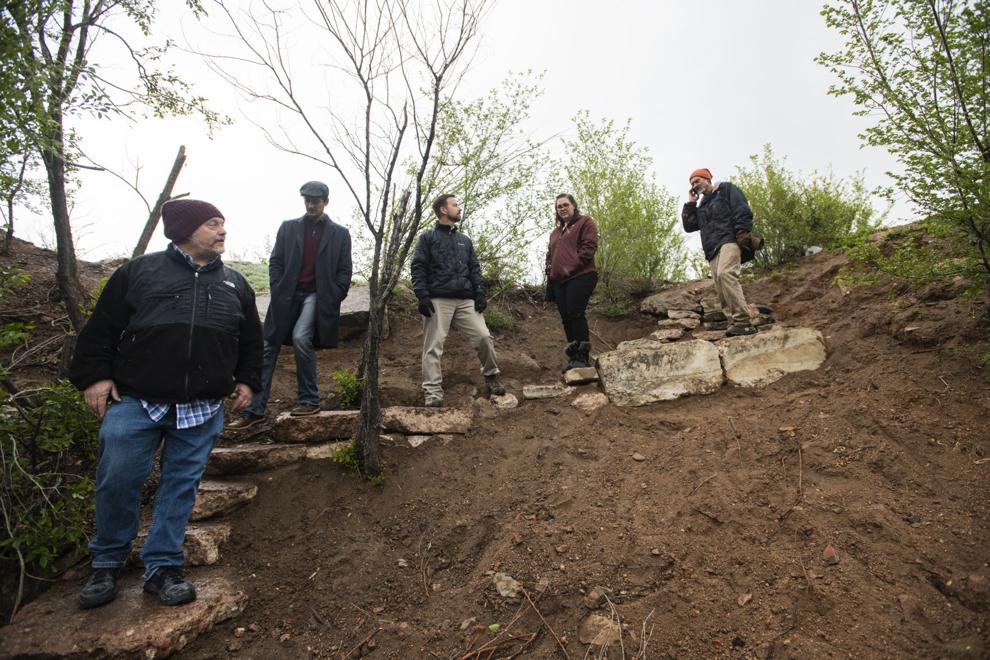 "Steve came up with this vision of Concrete Coyote being an immersive art experience that is educational and fun for all," said Concrete Couch board member Jonny O'Lonergan, an art teacher at Air Academy High School.
Concrete Couch bought the property for $200,000 from the Legacy Institute, which funds public education, public leadership and community development in Colorado Springs.
The HUD grant picked up half the cost. A $100,000 grant from the Legacy Institute funded the remainder.
"What I really like about partnering with Steve and his team is they put a lot of effort into working with neighbors, kids and other folks, so every project is truly a community effort," said Legacy Institute CEO Zach McComsey.
One-third to one-half of the land will be designated as an easement for Colorado Springs Parks, Recreation and Cultural Services to complete the last leg of The Legacy Loop, a 10-mile trail, park and recreation area encircling downtown.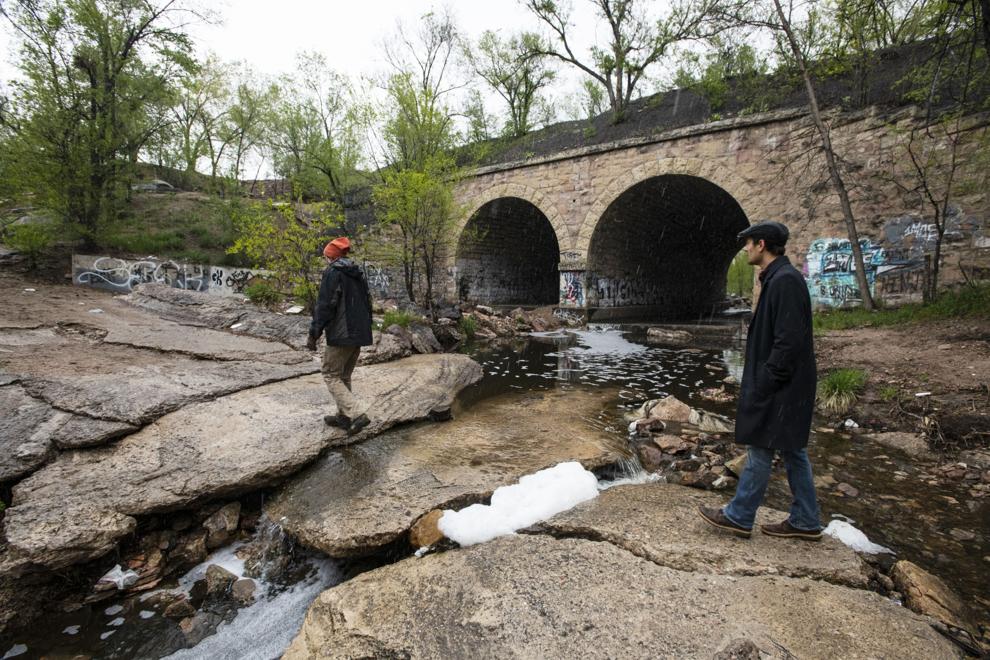 Wood's crew has started building a hiking path on the property's west end, where the Shooks Run creek flows through a double tunnel and moseys south.
A fledgling orchard with fruit trees is blooming where discarded drug needles, shards of broken glass, food wrappers, human waste and other refuse had littered the ground.
Students from Pikes Peak Community College, Atlas Prep and Community Prep schools built tiny sheds and a tiny house that will become an office and quarters for a caretaker.
Students also created a fence out of, yes, old bicycle wheels and colorful boards.
Chase Bernard, a Cheyenne Mountain High School student, helped paint the fence.
"I felt it would be a good experience to do things I've never done before," he said. "I like the fence because it's decorative and stands out to people who pass by."
Wood and PPCC student Clay Bussanich welded a 22-foot tall, 750-pound hammer of recycled rebar, pencil rod and sheet metal that will stand at the entrance to the property, once backhoe services are donated to carve out the spot where it will stand.
"I think it's cool a construction-themed project marks the start of the development," Bussanich said. "I like how giant it is, and I like the solid silvery color."
The work has shaped his future.
"I learned to weld at Concrete Couch," he said, "and now it's turning into my career."
Palmer High School student David Reese-Cole made a stop sign that says "Hammer Time."
"I like what the big hammer represents: construction and work," he said. "I like that a lot of good people work here."
The land would have been tough to "activate" for a developer, McComsey said, because of its configuration, location and the easement for the trail system.
But it seems perfect for Wood's organization, he said.
"It's near the Hillside neighborhood, and they're hoping to make a community makerspace to do a lot of projects with neighbors," McComsey said.
A makerspace is a do-it-yourself space where people gather to create, invent and learn. A kitchen, an urban garden, a welding area, an art area and others could be incorporated at Coyote Couch.
As part of the plan, remnants of the old concrete batch plant will be roofed and converted into storage space. A suspension bridge could be built over Shooks Run creek to connect the ridges of the property, and Wood wants to build a solar farm.
Wood dreams of art shows, festivals, live music, a sculpture park, gardening and composting, educational classes, a community-built playground, job training and other offerings.
But reaching the pinnacle of such goals will be a long process.
The property has no water or electricity, and connecting to existing lines will be expensive. Bathrooms are a necessity on the site, which now has a port-a-potty camouflaged by a pointed triangular hut.
Concrete Couch has raised $600,000 toward a $1.2 million goal to develop the site, Wood said. He's hoping developers will contribute some money to help build what he considers a valuable community asset in a depressed area of town.
Acceptance is another issue. Large red letters stating "No Trespassing" at the entrance hasn't stopped vandalism, including graffiti on painted murals and fence destruction.
To help neighbors, including those who don't have homes, Wood opens the property weekly for snacks, mingling and learning new things.
Building community ties is lacking in society today, O'Lonergan said.
"Town plazas and city markets have gone away because of large corporate businesses, and relationships that went with them started to disintegrate," he said. "We're helping to rebuild those connections and opportunities to bond, with a place to mingle, eat, learn, schmooze and share."
Contact the writer: 719-476-1656.