Starting at The Denver Post before a decade at The New York Times, Alex Berenson left journalism to launch his fiction career, bursting onto the scene with "The Faithful Spy." Inspired by his war correspondence, his first mystery thriller was a bestseller.
He continued with a popular series. "Honestly, I was getting paid very well to write those books," he says from his Hudson Valley, N.Y., home. "It's funny when people accuse me of doing this for the money. I get paid a lot more to write fiction than to write nonfiction.
"But this is something I feel I need to do. That's why I'm doing it."
By "this," Berenson means his deep dive back into nonfiction. As for accusations, he has faced many since January's release of "Tell Your Children: The Truth About Marijuana, Mental Illness, and Violence."
The Nation and Rolling Stone called the book "fear-mongering" and "trolling," respectively. Vox wrote it off as "an exercise in cherry-picking data and presenting correlation as causation." But The Marshall Project, the nonpartisan investigative reporting center, deemed it "an intensively researched and passionate dissent from the now prevailing view that marijuana is relatively harmless."
Berenson also was blasted in an open letter by 75 scholars and clinicians for "irresponsibly and dangerously claim(ing) a causal link between marijuana use and increases in rates of psychosis and schizophrenia."
Which is all disappointing to Berenson, who will state his case in Colorado Springs and Denver this week during talks sponsored by The Gazette, Colorado Politics and Children's Hospital Colorado.
The opioid epidemic has come in the profiting wake of companies such as Purdue Pharma, "and now a for-profit community has sprung up for the use of" marijuana, Berenson says. Fellow journalists should be asking harder questions, he says. "It's crazy to me that that hasn't happened."
He expected the criticism but not the personal attacks — the suggestions to get his kids high and the harassing calls to his wife, a forensic psychiatrist. It was her repeated mentions of marijuana in violent cases that made Berenson curious in the first place. He previously considered himself "a libertarian" on pot, having smoked "a handful of times in college and after," he says. "I didn't particularly care about it one way or another."
He expected controversy before he even typed the prologue, which establishes the book as an argument and, in his words, "not balanced." Berenson's stance is further announced by the title, a nod to "Reefer Madness." (The early propaganda film originally was called "Tell Your Children.")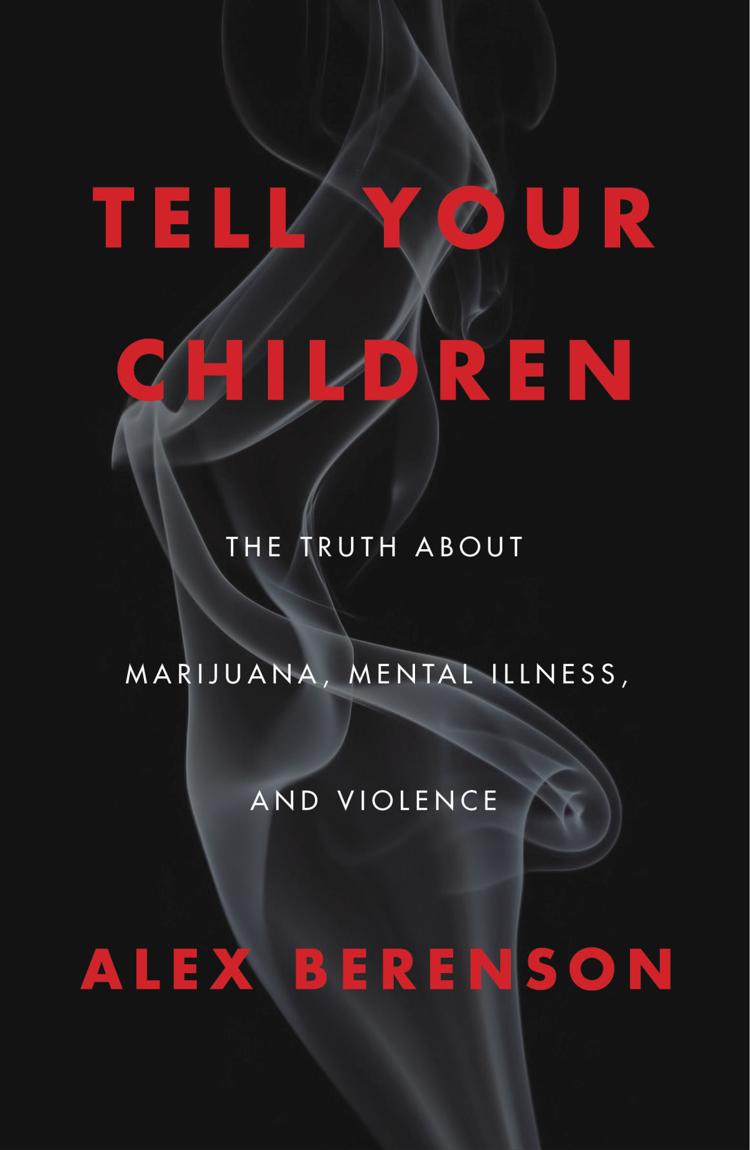 Yes, Berenson knew users wouldn't appreciate his book.
"People have a really strange attachment to this drug," he says. "I think most people who use alcohol, if they're using it every day and certainly if they're using it all day every day, they're going to acknowledge, you know what, maybe I have a little problem with this.
"And by the way, if you're using cocaine or heroine or methamphetamine like that, you're not even gonna tell people. But cannabis people are proud to tell you they wake and bake."
Berenson, a 1994 Yale graduate, cites a 2017 study by the National Academy of Medicine that said "cannabis use is likely to increase the risk of developing schizophrenia and other psychoses; the higher the use, the greater the risk." In a New Yorker piece stirred by Berenson's findings and titled "Is Marijuana as Safe as We Think?", Malcolm Gladwell wrote that the committee's statement was "one of its few unequivocal conclusions."
But committee member Ziva Cooper took to Twitter in January to say "we did NOT conclude that cannabis causes schizophrenia." She wrote that since the report, "we now know that genetic risk for schizophrenia predicts cannabis use" and that cannabidiol "improves outcomes in patients with schizophrenia."
Berenson has stood by his reporting. After his wife switched the light bulb in 2016, he went to London to meet with concerned psychiatrists at King's College, among scientists around the world he interviewed. He pulled records from several states and nations. He came to the Colorado prison holding Richard Kirk to talk at length with the man who blamed a marijuana edible for shooting and killing his wife in 2014.
Berenson says he could have reported longer. "But my feeling was, I don't need to do that, I don't need to reinvent the wheel here, because science is really clear. And this is a really important issue for public health ... It's more important that I get it out."